Garritan has a great reputation for creating immaculately sampled instruments and its latest could just be the biggest of them all. The CFX Concert Grand is sampled from the Yamaha piano of the same name found in Abbey Road's Studio One, using all the legendary kit at this globally-renowned location. A quick visit to the product website will give you lots of background on the instrument and how it was recorded.
Heavy Hitter
CFX comes on a USB stick and there's a good reason for this: it's huge. Although the stick itself is only 32 GB, the sample data contained on it has been heavily zipped up in order to make it fit so when you install you have two choices. The Compact install weighs in at just under 25 GB and the full install at a whopping 122 GB. It looks as if you aren't going to be given the choice to send these files to an external drive but after you click Install, you are mercifully prompted to do so. Even installing the compact version took around 8-10 minutes on a very fast MacBook Pro so if you do opt for the full install you could probably go and make your dinner while it completes.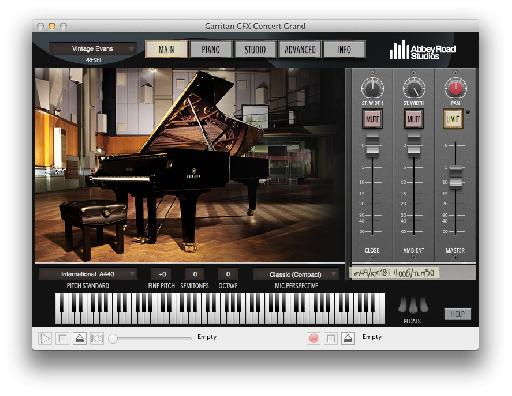 A simple but powerful interface and a whacking great source library.
The instrument runs in standalone mode in the ARIA player or as a plug-in in VST, AU, AAX and RTAS formats and needs OS X 10.7, Windows 7 or higher. 4 GB RAM is the minimum with 8 GB recommended, especially for the full install. Once up and running, things are fairly straightforward. The Main tab gives you a master control area with levels and stereo width dials for close and ambient mics. The mic perspective menu also lets you switch between different mic setups which can really alter the character of the sound. You can swap pitch standards and detune the sounds too. Actually these control sections are omnipresent and remain regardless of what tab you are in.
In the Piano menu you get to alter the behavior of the piano's internal components like sympathetic resonance, release volume, pedal noise, lid height and so on. The Studio tab is where you can alter reverb type and level, listen from the audience or performer perspective and control two three-band EQs to shape the sound. In the Advanced tab it's possible to tweak velocity curves, dynamic range and polyphony.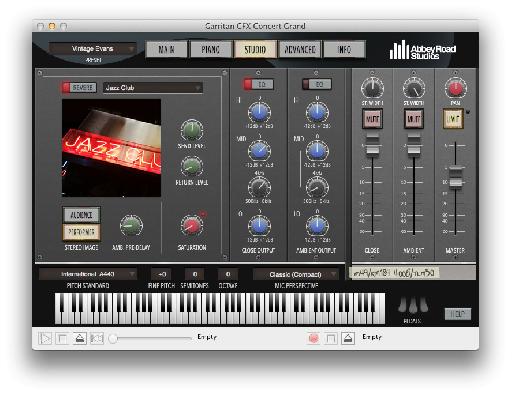 Tweak studio settings to control the ambience and character of the piano.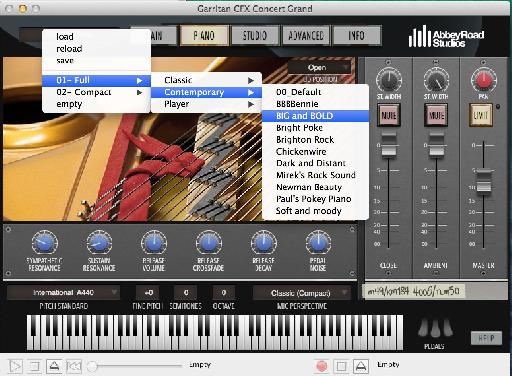 The presets available depend on which install type you chose '" full or compact.
Piano, man
The presets are breathtaking and this is one of the most stunning virtual pianos I have ever heard. The use of many velocity layers really pays dividends and results in an instrument that is incredibly expressive, nuanced and capable of being alternately fragile or thundering and cinematic. It really rewards a skilled player too, though it's likely that it will tend to be better ivory-tinklers that would buy a high-end virtual instrument like this in the first place. The quality of the source instrument and the many mics used to record it are evident and being able to flip between mic setups and tweak the piano's character is both rewarding and easy to do. It's true that it's probably at the pricier end of the virtual piano market and the system requirements are high, but then this is an exceptional instrument.
Price: $299.95 / £199 GBP
Pros: Gorgeous sound. Amazing playability. Ease of use. Attention to detail is breathtaking. As close as you'll get to owning a real Yamaha.
Cons: The full install is absolutely vast.