FXpansion has form when it comes to building great software beatboxes, and when I first reviewed GURU (now succeeded by Geist) many years ago it struck me as a uniquely powerful beat slicing and programming tool. Tremor is still a beatbox, but of a completely different sort. It's a synthetic drum machine, specialising in electronic and experimental beats. This stands in contrast to many software drum machines which make a point of trying to sound like real drums, invariably using multisamples. The most obvious alternative software drum synth out there is probably Reason's Kong Drum Designer, though that is of course part of Reason itself.
Synth source
Tremor comes in all major formats for Mac and PC, and works as a standalone application or as a plug-in inside your DAW. At $149 / £99 it's reasonably priced for what is actually a very accomplished instrument. At its heart, Tremor is made up of eight synthesizers, each of which plays back one of your synthesized drum sounds. These are interchangeable so although by default synth 1 tends to be a kick drum sound, any engine can be used for any sound you like. The engines act monophonically, though they can be set to be polyphonic, at the risk of higher CPU usage. Sounds begin with an oscillator which here is derived from the company's DCAM synthesis system, and uses harmonic partials similar to a drum skin's vibrations. Sub oscillators and tuned noise sources are then added, and the signal passed to modelled drive, filter and effects sections and envelopes for shaping.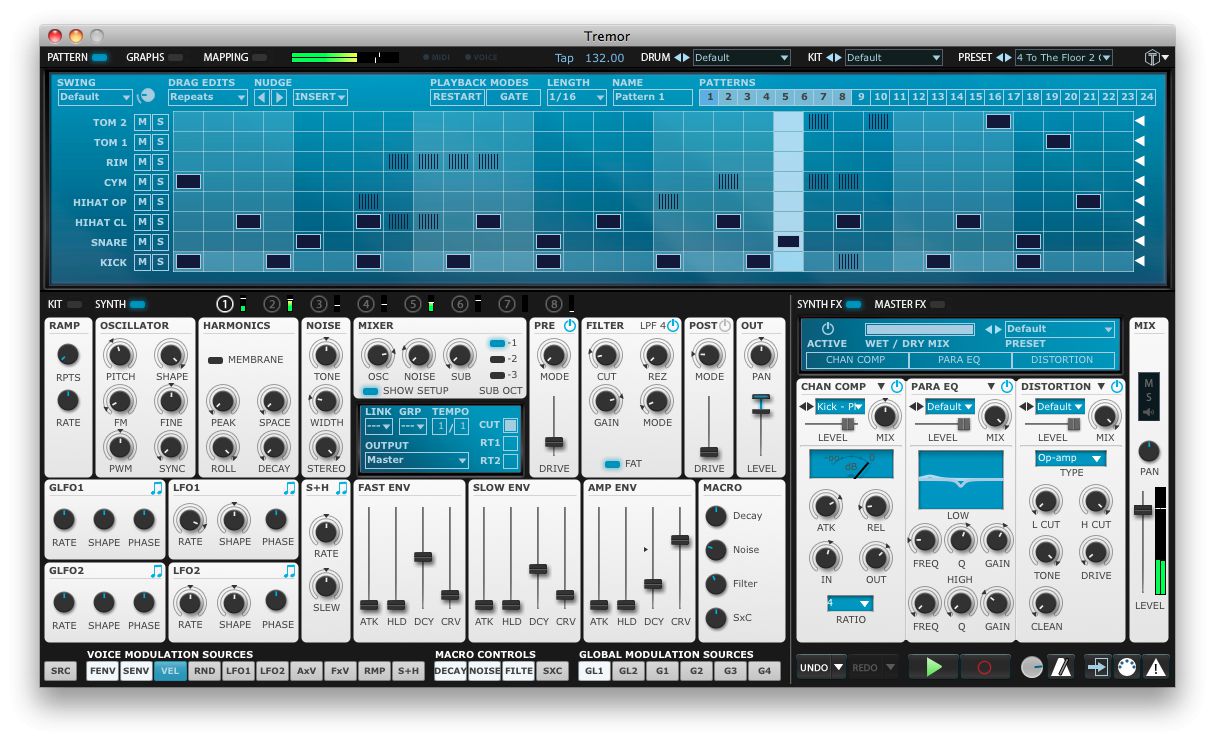 Before we get too far ahead of ourselves, let's look at the design. The lower left corner is dominated by the synths, and these can be selected either by clicking on their numbers or by pressing a MIDI key to trigger a specific note. To turn this automatic midi selection off, there is a button in the transport section (next to the metronome on/off button). The Synth view has plenty of controls and there's not space to list them all here, but suffice it to say that you can easily shape and sculpt each sound using oscillator, harmonic and noise controls, a mixer to blend the three where you can also assign sounds to up to eight sub outputs, and multiple envelopes. There's also global and regular LFOs, as well as macro controls for quick access to commonly used parameters. I really liked the "Ramp" control, which lets you make a sound repeat quickly, for creating rolls or flam effects.
The synthesis section is pretty deep, and provides great flexibility for you to tweak and shape your sounds, For more instant gratification however, or if you're not a hardcore synth tweaker, you can go into Kit view, which provides a much simpler way to play with the eight sounds. Here you get Macro controls, pan, a level fader and output assignment. There are also preset channel settings accessible in this section which let you quickly swap one sound for another.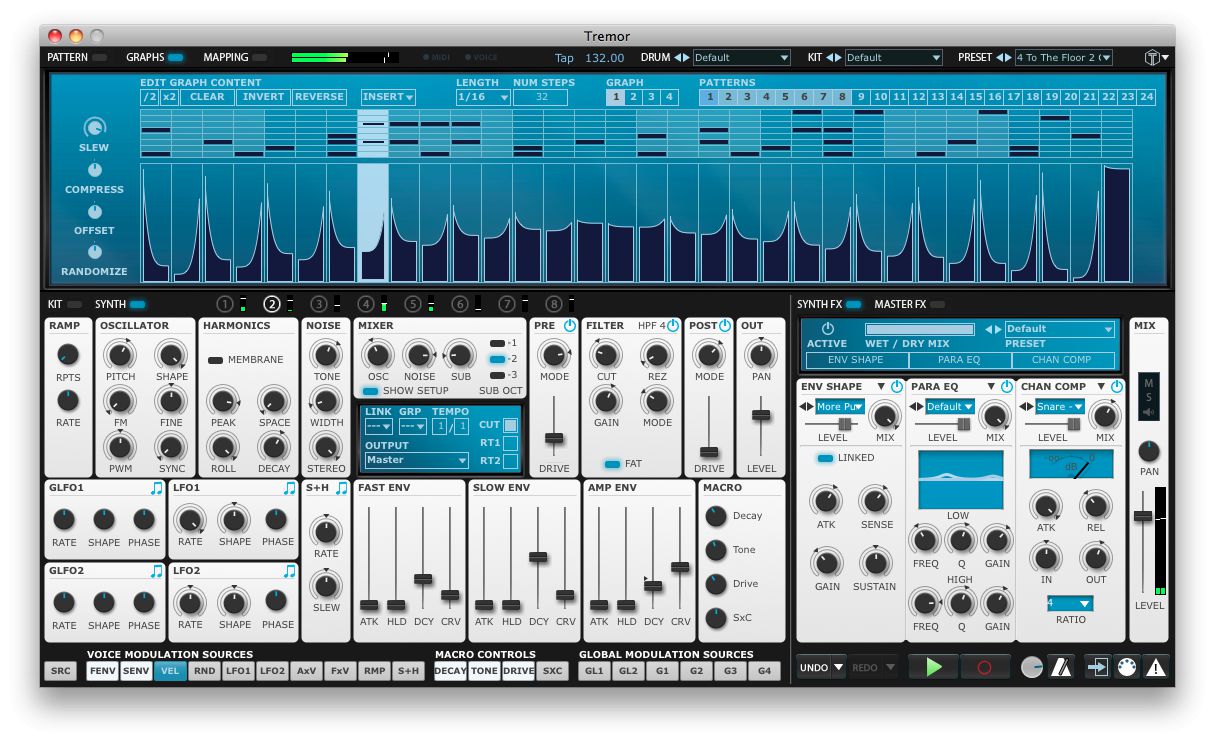 Programming beats

Each of the eight synth engines has access to up to three effect slots, and you can choose from distortion, dynamics, EQ, filter, delays, reverbs and several more. There are also three master effect slots, so overall there's a fair amount of onboard effects processing at your disposal. The other major component of Tremor is its sequencer, and this works on a grid system that will be familiar to Geist users. Click in a grid square to add a hit for a particular drum sound, change the quantize amount and swing to alter the feel, and drag the pattern length control for each row to set it independently. This is great because it means you can loop patterns within patterns, so the snare for example plays eight steps while the rest of the beats play 32, or any combination you like. You can copy, paste and edit up to 24 patterns per patch, and there are clever editing tools like the ability to drag to control playback probability, velocity and repeats. Programming is tremendous fun and you will find that just by playing around you can make some great sounding electronic beats. The Insert menu is helpful, letting you quickly add whole rows of patterns at once without having to click in multiple squares.
As well as Pattern mode there's a mode called Graph, and this uses the TransMod system to modulate synth parameters at the same time as they are being triggered by the pattern sequencer. The result is near-infinite potential for sound manipulation, and TransMod works by letting you route a single modulation source to multiple synthesis and effect parameters, each with its own definable depth. It's very powerful, though it does take a little getting used to when you are accustomed to more conventional systems. A read of the manual is required to really get a handle on it, but once it clicks it's a really clever way of working. Whether you use TransMod will depend on how detailed you want to get with sound modulation. If heavy synthesis isn't your thing, you can get along quite happily without delving into it.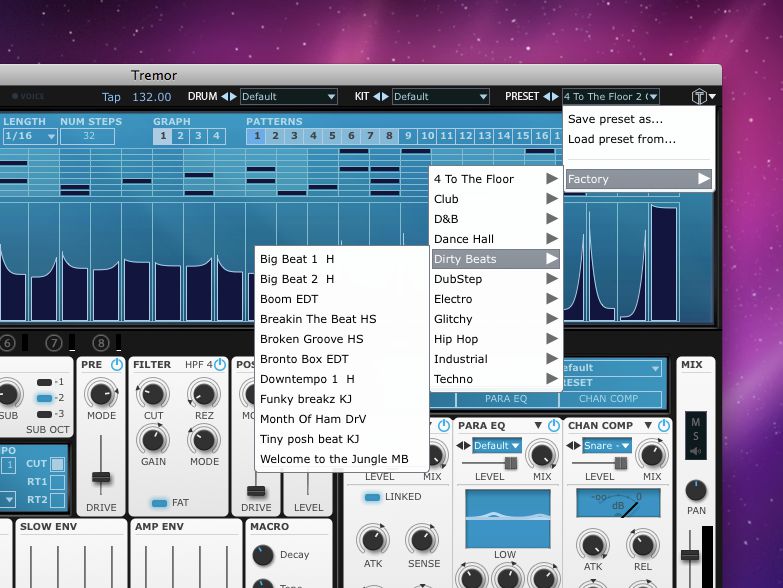 Earth shaker
Tremor is a very powerful drum synthesizer, and perhaps the most powerful one I've ever used. There's a huge depth of sound tweaking available, though like all great instruments it can also be used by beginners who just want to lash together some cool sounding beats. The synths that generate the drums are heavy and authentic sounding, cracking and fizzing or shaking the floor with sub bass as required. Pushing things to get a harsher, more distorted and crunchy sound is easy, and the effects add a lot to the depth and power of the instrument's output. Step sequencing is very straightforward, and there are some neat programming tools to make your beats more interesting. For those who appreciate the minutiae of synthesis, there's extensive control over every aspect of every sound, as well as the unusual but powerful TransMod modulation matrix. For anyone making electronic music, Tremor is a serious contender to become the most essential beatbox in your arsenal.
Find out more by visiting www.fxpansion.com