FXpansion macht seit innovative Pro-Audio-Software-Instrumente und-Effekte für einige Zeit, aber ihre für die Unternehmens-Flaggschiff BFD Drums, dass es vielleicht am besten bekannt. Obwohl Trommeln eines der Klänge am häufigsten in Form von Software simuliert werden, die Bar für neue Produkte eingestellt wurde unglaublich hoch, so ist es immer mit Aufregung, dass wir den Deckel heben an einer neuen Version von BFD. Tatsächlich waren BFD 1 und 2 Titanen in den Tag, und Version 3 dürfte sich dieser Trend zu tun akustischen Drums wirklich gut weiter. Bevor wir zu den Details kommen jedoch ein Überblick.
Also, was ist es?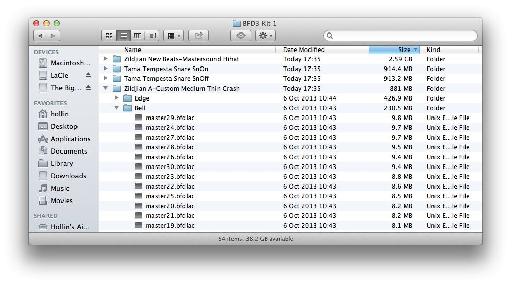 Die Sample-Content ist 55 GB, wenn sie vollständig ausgepackt, so möchten Sie vielleicht, um es auf einem sekundären Audio-Laufwerk legen.
Die Systemanforderungen sind über das, was youd für ein großes, modernes virtuelles Instrument erwarten. So benotigen Sie Windows 7, Mac OS X 10.6.8 oder höher, 2 GB RAM und eine Dual-Core-CPU auf das Minimum. Idealerweise empfiehlt FXpansion ein Quad-Core-Chip und 3 GB RAM oder mehr. Die Sample-Bibliothek nutzt spezielle Kompressionsverfahren, aber der Installer ist noch mehr als 30 GB: Sie können diese downloaden oder habe es auf einem USB-Stick ausgeliefert. Bei der Installation können Sie wählen, minimal (18 GB), Standard (27 GB) oder voll (55 GB), Größen und dank der verlustfreien Komprimierung werden Sie nicht irgendeine Qualität Reduktion bei den kleineren Größen zu hören. Ohne Kompression, würde die Bibliothek nutzen 160 GB Speicherplatz, aber BFD3 dekomprimiert die Audio on the fly mit nur minimalem Overhead und nutzt eine effiziente Mix-Engine, es zu tun. Natürlich können Sie installieren die Töne auf einem sekundären oder ein externes Laufwerk, das eine Menge Leute tun möchten, vor allem auf dem Laptop-basierte Systeme
Wenn Sie BFD2 youll Hinweis verwendet, dass diese neue Version hat eine ganze grafische Überarbeitung. Es ist nicht genau hatte das iOS 7 Behandlung aber viel von der Unordnung gegangen, sind die Dinge flacher und stark. Die Farben sind gleichmäßiger und es gibt weniger auf skeuomorphism. Dies ist ein großer Schritt, da macht es alles fühlen schlanker und einfacher zu navigieren. Das Fenster kann nun auf der rechten Seite, um mehr Inhalte auf einem größeren Bildschirm zeigen erweitert werden, und es gibt umfangreiche Setup-Optionen, um das Verhalten des Instruments nach Ihren Wünschen zu zwicken.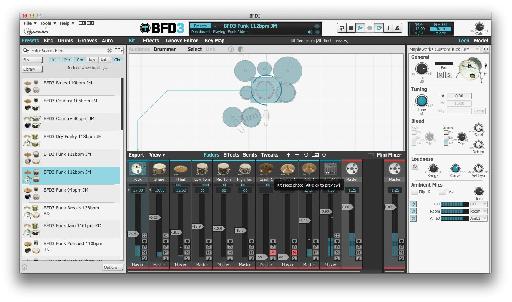 Der neue Look: glatte, schlanke und wirklich ziemlich gut.
Vorbei drummin
Am einfachsten, können Sie BFD3 Schlagzeug spielen mit irgendeiner Art von MIDI-Eingabegerät. Es gibt sieben neue Kits, in zwei Top-US-Studios und darunter spezielle Rock, Metal, Jazz und Pinsel-Sets aufgezeichnet. Details zu den Trommeln können auf der Website gefunden werden. Es gibt eine Reihe von Preset-Kits und Sie können jede von ihnen, indem Sie eine Trommel zwicken, tauschen sie für eine andere Snare, Becken, tom oder Kick wie Sie es wünschen. Denken Sie daran, dass zusätzliche Erweiterungen sind ebenfalls verfügbar, sollten Sie mehr Kits später hinzufügen. Ein Mischer ist in, mit dem Sie problemlos mischen die verschiedenen Trommeln ermöglicht gebaut, und natürlich sind sie vollständig voneinander getrennt, es sei denn Sie bluten zwischen Mikrofonen, die genau gesteuert werden kann einzuführen wählen. Es gibt einige wirklich nette Features wie die Fähigkeit, schnell zu drehen ein Kit von Drummer Publikum Perspektive verändert den Klang. Sie erhalten auch einstellbar tom Resonanz und Becken Wellengang Modellierung.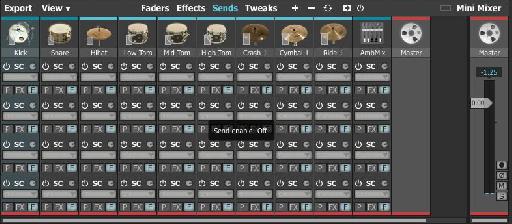 Der neue Mischer ist konfigurierbar und lässt Sie Ihre SUBMIX Kit im Detail.
Jede Drum-Sound kann gezwickt mit der Tech-und Modell-Panels auf der rechten Seite sein, und diese sind freundlich und leistungsstark zu bedienen, so dass Sie schnell den Klang jeder einzelnen Trommel und in der Tat das ganze Set nach Ihren Wünschen. Rückkehr in den Mischer, können Sie mehrere neue Trommel oder Aux-Kanäle, oder schalten verschiedenen Raummikrofone oder ausgeschaltet, um vollständig zwicken die gesamte Drum-Sound, und der Blick kann so konfiguriert werden, damit Sie sehen nur das, was du bist arbeiten werden. Seine sogar möglich, einzelne Kanäle als Audio direkt von BFD zu exportieren, so dass die Ausgabe Stämme ist ein Kinderspiel.
Werde der Strichmännchen
Im Falle youre nicht ein erfahrener Schlagzeuger, kommt BFD3 mit Tonnen von professionell aufgenommene Nuten zusammen mit einer ausgezeichneten integrierten Sequenzer, um Ihnen Programmteile. Wechselt zwischen den Rillen und voreingestellten youll finden eine Fülle von toe-Tapping, Kopfnicken Rock, Funk, Metal, Blues und andere Muster, die sofort einsetzbar sind. Gehen Sie in den Groove-Editor und Sie können bearbeiten und mess with diese mit dem leistungsstarken, aber sehr zugänglich Drumsequenzer mit Quantisierung und Programmier-Tools sowie umfangreiche Unterstützung Artikulation, das die Erstellung von Mustern weitaus komplexer als man sich mit der Hand zu spielen. Nur um klar sein, sind diese Rillen erstaunlich: ready-made, full-on Muster das wird Schlitz leicht in ein Projekt. Sie können Songs mit dem Song Sequenzer, und in der Key Map-Fenster völlig den MIDI-Mapping zu jedem Kit.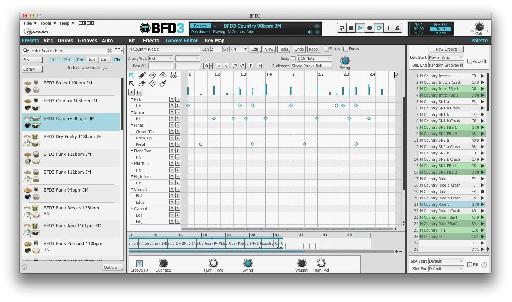 Laden, bearbeiten und Programm-Nuten mit der hervorragenden eingebauten Sequenzer.
Als ob die Trommel klingt werent bereits groß genug, erhalten Sie einen umfassenden Effekt-Sektion mit mehreren Dynamik, Reverb, Filter, Delay, Modulation, Antrieb und mehr, bezogen auf FXpansions DCAM Technologie. Die Kanäle können individuell für ultimative Klangbearbeitung Steuerung verarbeitet werden und Sie können sogar externe Signale für Sidechaining Zwecke. Der Mischer hat eine Reihe von unterschiedlichen Ansichten zur Verwaltung Inserts und Sends und Effekte können in mehreren Stufen aufgebracht werden, um wirklich helfen, um den Gesamtklang des Instruments zu neuen Höhen treiben.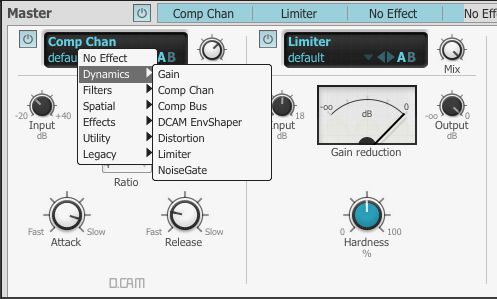 Theres eine Fülle von Auswirkungen auf Angebot und sie können an mehreren verschiedenen Stufen angewendet werden.
Abschließende Gedanken
Theres noch mehr zu BFD3 als wir Zeit hatten, zu schweigen, und mit einer Demo-Version kommt bald werden Sie in der Lage, die feinen Details für sich selbst zu entdecken. Aber in der Zwischenzeit, lesen Sie die Audio-Demos auf FXpansions Website. BFD3 ist ein unglaublich mächtig und herrlich klingende Drum-Instrument, das den Klang und von einigen Top-Kits an Ihren Fingerspitzen fühlen bringt. Sein Klang Gestaltung und Bildhauerei Fähigkeiten sind Superlative, und durch Optimierungen den gebündelten Nuten können Sie den Ton von einem professionellen Schlagzeuger in Ihrem Tracks für 229 / $ 349 zu bekommen, mit Upgrade-Preis auf der Website verfügbar. Wenn Sie wollen, die beste akustische Drum-Sounds zur Verfügung, ohne den immensen Aufwand der Erfassung sie selbst, ist ein bemerkenswert BFD3 Komplettlösung.
Web: