FXpansion has been making innovative pro audio software instruments and effects for some time, but it's for the company's flagship BFD drums that it is perhaps best known. Although drums are one of the sounds most frequently simulated in software form, the bar for new products has been set incredibly high so it's always with excitement that we lift the lid on a new version of BFD. Indeed, BFD 1 and 2 were titans in their day, and version 3 looks set to continue that trend of doing acoustic drums really well. Before we get to the details though, an overview.

So, what is it?
BFD3, like its predecessors, is a sample-based virtual instrument focussed on acoustic drum sounds. It runs as a standalone application or as a plug-in inside your DAW, on recent versions of Windows and OS X. In either mode it supports up to 16 outputs and has a built-in sequencer for creating patterns and songs, so it's quite possible to use it without a DAW. A number of digital drum kits are supported natively so you can hook up your pads and play like a real drummer as well as using MIDI keyboards and creating your own custom maps.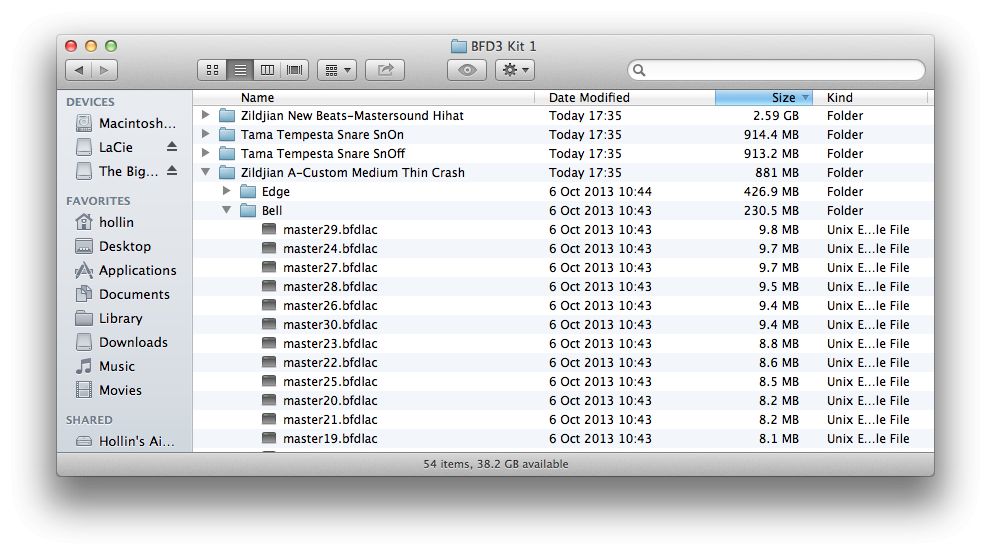 The sample content is 55 GB when fully unpacked, so you might want to put it on a secondary audio drive.
The system requirements are about what you'd expect for a big, modern virtual instrument. So you'll need Windows 7, Mac OS X 10.6.8 or later, 2 GB RAM and a dual-core CPU at the very minimum. Ideally, FXpansion recommends a quad-core chip and 3 GB RAM or more. The sample library uses special compression techniques, but the installer is still over 30 GB : you can download this or have it shipped on a USB stick. When installing, you can choose minimal (18 GB), standard (27 GB) or full (55 GB) sizes, and thanks to the lossless compression you won't hear any quality reduction at the smaller sizes. Without compression, the library would use 160 GB of space, but BFD3 decompresses the audio on the fly with only minimum overhead and uses an efficient mix engine to do it. You can of course install the sounds on a secondary or external drive, which a lot of people will want to do, especially on laptop-based systems
If you have used BFD2 you'll notice that this new version has had quite a graphical makeover. It's not exactly had the "iOS 7 treatment" but much of the clutter has gone, things are flatter and more stark. Colors are more uniform and there's less reliance on skeuomorphism. This is a great move, as it makes everything feel sleeker and easier to navigate. The window can now be expanded to the right to show more content on a larger screen, and there are comprehensive setup options to tweak the behavior of the instrument to your liking.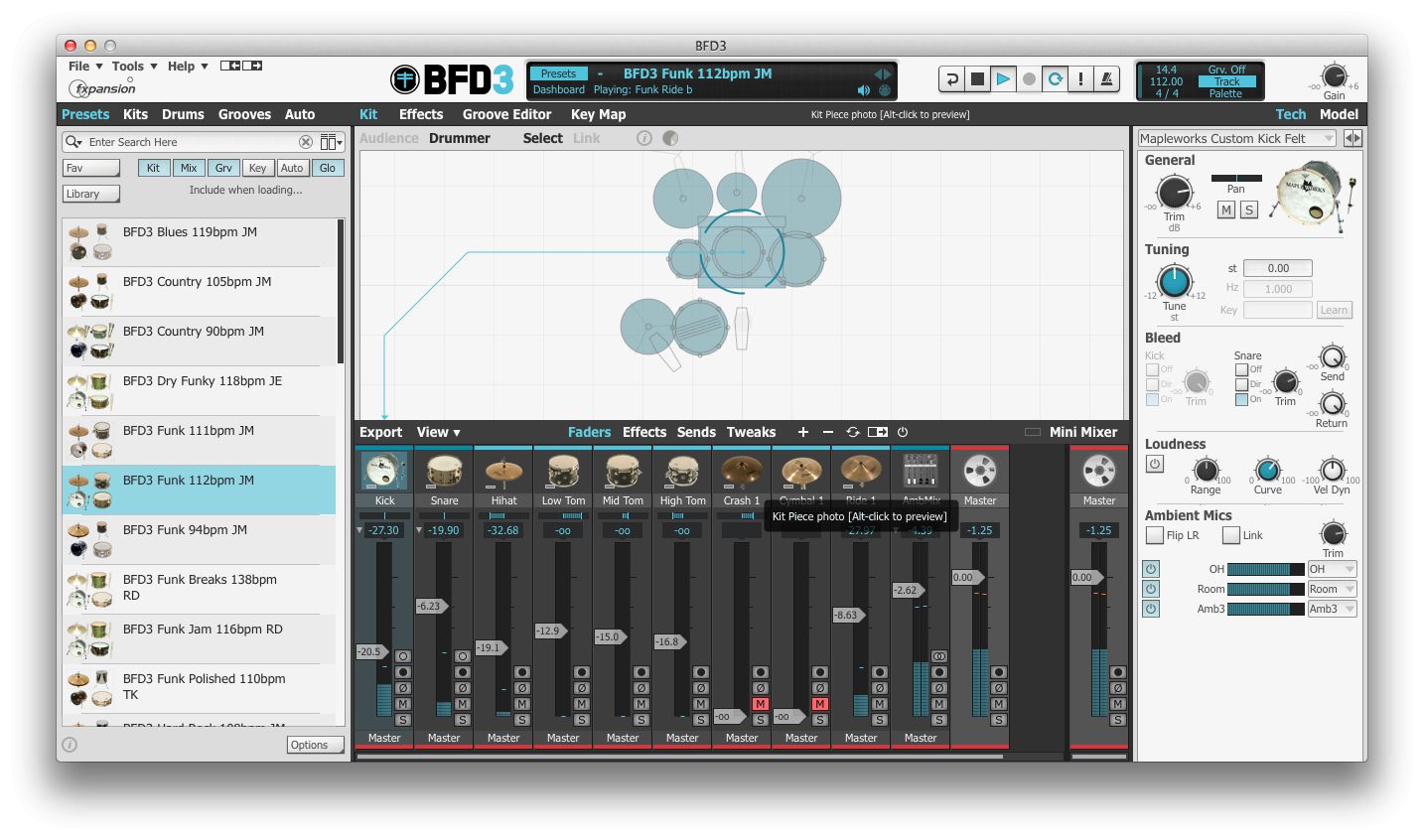 The new look : slick, sleek and really rather good.
Gone drummin'
At its most basic, BFD3 lets you play drums using any kind of MIDI input device. There are seven new kits, recorded in two top US studios and including dedicated rock, metal, jazz and brush kits. Details of the drums used can be found on the website. There are a number of preset kits and you can tweak any of these by selecting a drum, swapping it for another snare, cymbal, tom or kick as you wish. Remember that additional expansion packs are available too, should you want to add more kits later. A mixer is built in that allows you to easily blend the different drums, and of course they are completely isolated from one another unless you choose to introduce bleed between mics, which can be precisely controlled. There are some really nice features like the ability to quickly flip a kit from drummer to audience perspective, altering the sound. You also get adjustable tom resonance and cymbal swell modelling.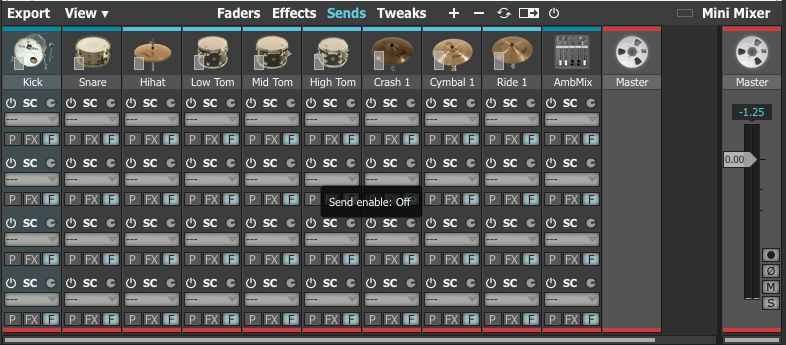 The new mixer is configurable and lets you submix your kit in great detail.
Any drum sound can be tweaked using the Tech and Model panels to the right, and these are friendly and powerful to use, letting you quickly tailor the sound of any individual drum and indeed the whole kit to your liking. Returning to the mixer, you can add multiple new drum or aux channels, or turn various room mics on or off to completely tweak the overall drum sound, and the view can be configured so you only see what you're working on. It's even possible to export individual channels as audio directly from BFD, so printing stems is a breeze.
Become the stickman
In case you're not a seasoned drummer, BFD3 comes with tons of professionally recorded grooves together with an excellent built-in sequencer to help you program parts. Cycle through the preset grooves and you'll find a wealth of toe-tapping, head nodding rock, funk, metal, blues and other patterns that are instantly useable. Go into the Groove Editor and you can edit and mess with these using the powerful but very accessible drum sequencer with quantization and programming tools as well as extensive articulation support, enabling the creation of patterns far more complex than you could play by hand. Just to be clear, these grooves are amazing : ready-made, full-on patterns that will slot easily into a project. You can create songs using the song sequencer, and in the Key Map window, fully customize the MIDI mapping to any kit.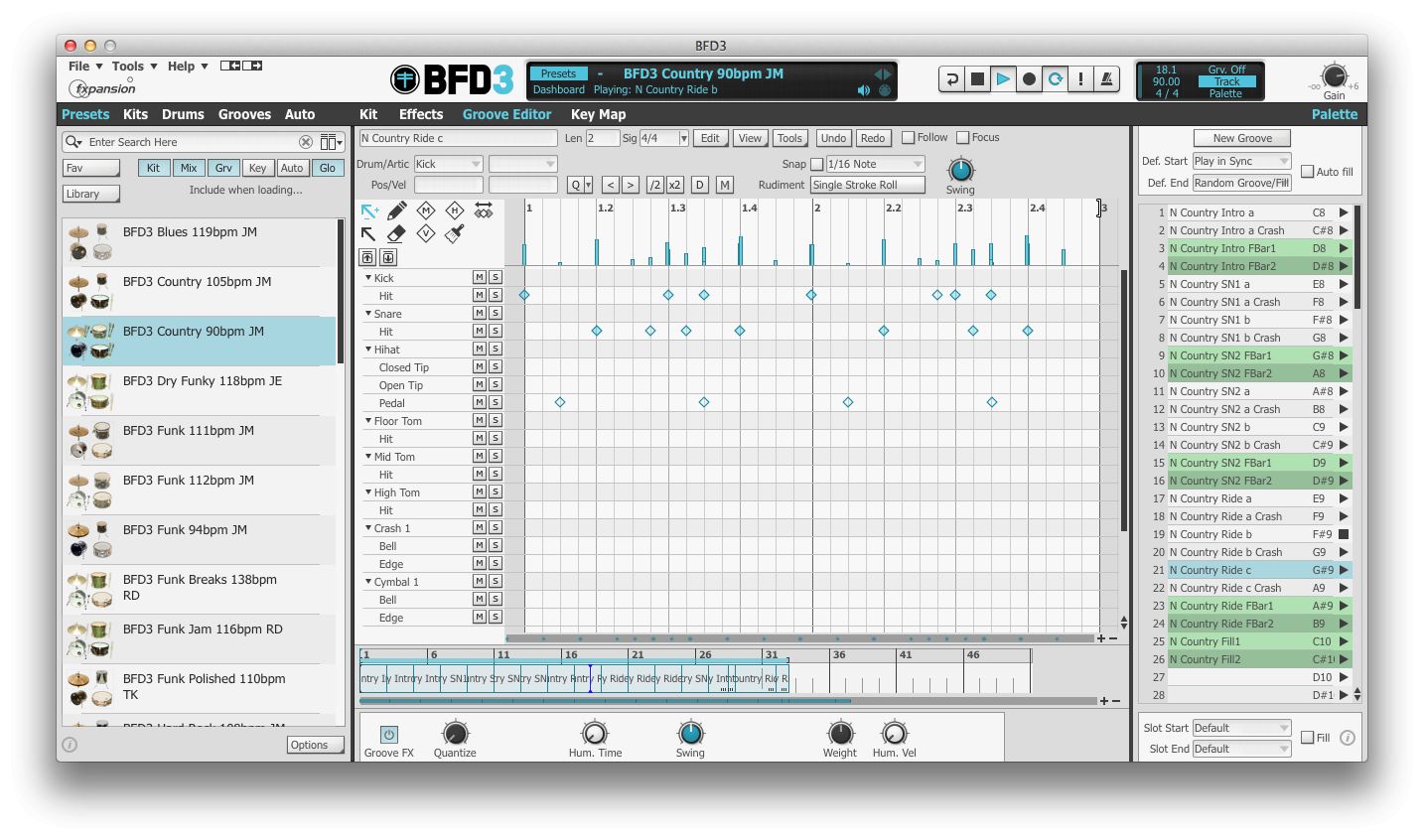 Load, edit and program grooves using the excellent built-in sequencer.
As if the drum sounds weren't already great enough, you get a comprehensive effects section with multiple dynamics, reverbs, filters, delays, modulation, drive and more, based on FXpansion's DCAM technology. Channels can be processed individually for ultimate sound shaping control and you can even use external signals for sidechaining purposes. The mixer has a number of different views to help you manage inserts and sends, and effects can be applied at multiple stages to really help to drive the overall sound of the instrument to new heights.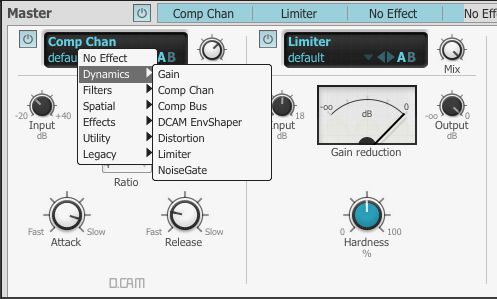 There's a wealth of effects on offer and they can be applied at multiple different stages.
Final thoughts
There's even more to BFD3 than we have had time to mention, and with a demo version coming soon you will be able to explore the finer details for yourself. But in the meantime, check out the audio demos on FXpansion's website. BFD3 is an incredibly powerful and gorgeous sounding drum instrument that puts the sound and feel of some top-notch kits at your fingertips. Its sound shaping and sculpting abilities are superlative, and by tweaking the bundled grooves you can get the sound of a pro drummer in your tracks for £229 / $349, with upgrade pricing available on the website. If you want the best acoustic drum sounds available without the immense hassle of recording them yourself, BFD3 is a remarkably complete solution.