FXpansion has been making innovative pro audio software instruments and effects for some time, but it's for the company's flagship BFD drums that it is perhaps best known. Although drums are one of the sounds most frequently simulated in software form, the bar for new products has been set incredibly high so it's always with excitement that we lift the lid on a new version of BFD. Indeed, BFD 1 and 2 were titans in their day, and version 3 looks set to continue that trend of doing acoustic drums really well. Before we get to the details though, an overview.

So, what is it?
BFD3, like its predecessors, is a sample-based virtual instrument focussed on acoustic drum sounds. It runs as a standalone application or as a plug-in inside your DAW, on recent versions of Windows and OS X. In either mode it supports up to 16 outputs and has a built-in sequencer for creating patterns and songs, so it's quite possible to use it without a DAW. A number of digital drum kits are supported natively so you can hook up your pads and play like a real drummer as well as using MIDI keyboards and creating your own custom maps.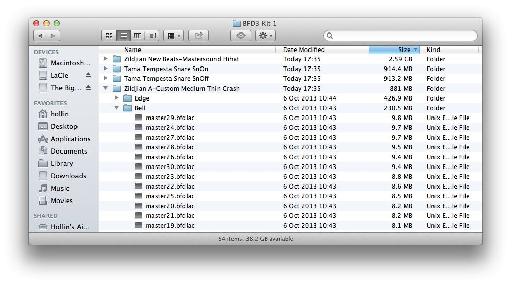 The sample content is 55 GB when fully unpacked, so you might want to put it on a secondary audio drive.
The system requirements are about what you'd expect for a big, modern virtual instrument. So you'll need Windows 7, Mac OS X 10.6.8 or later, 2 GB RAM and a dual-core CPU at the very minimum. Ideally, FXpansion recommends a quad-core chip and 3 GB RAM or more. The sample library uses special compression techniques, but the installer is still over 30 GB : you can download this or have it shipped on a USB stick. When installing, you can choose minimal (18 GB), standard (27 GB) or full (55 GB) sizes, and thanks to the lossless compression you won't hear any quality reduction at the smaller sizes. Without compression, the library would use 160 GB of space, but BFD3 decompresses the audio on the fly with only minimum overhead and uses an efficient mix engine to do it. You can of course install the sounds on a secondary or external drive, which a lot of people will want to do, especially on laptop-based systems
If you have used BFD2 you'll notice that this new version has had quite a graphical makeover. It's not exactly had the 'iOS 7 treatment'