Stagecraft Software has a variety of innovative audio software tools and plug-ins available geared towards EDM musicians and DJs. One of their free offerings is a Delay plug-in with different capabilities than most traditional Delay plugs. Most software delays come with knobs or sliders emulating hardware versions. The DJ Delay has a high resolution FFT spectrum display instead, allowing users to see how you are affecting the music across various frequency bands. Delays and filters are the cornerstone of modern music these days, especially in DJ sets. The Stagecraft development team wanted to create a tool that could combine a delay with customized filter to help create more depth when designing soundscapes. The filter sweep section can be used anytime to do a broad sweep on either side of the delay spectrum. In addition, there is an advanced beat quantization feature for creating polyrhythmic, panned delays. Time to give this thing a test drive!
Creating Delays using the Spectrum View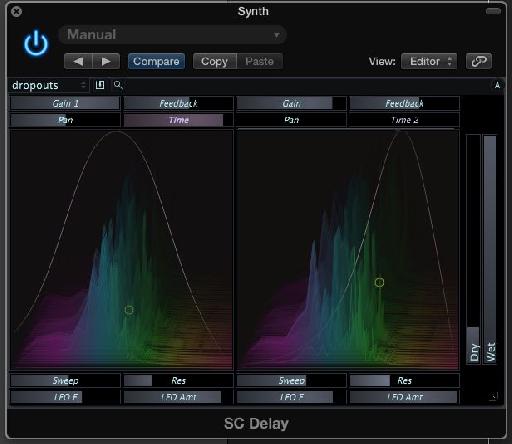 Stagecraft DJ Delay interface.
I loaded up DJ Delay in Logic and tried it out on some Apple Loops including drum, vocal and guitar loops. It works great on almost anything. Most of the presets provided really mangle and glitch the audio when using all the various parameters so I can see how this would be great for dance music and more experimental genres of electronic music.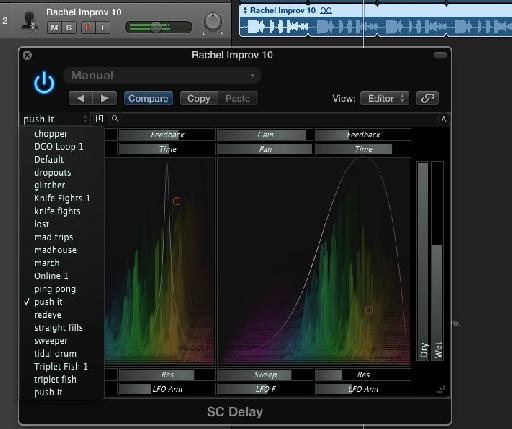 Preset drop-down Menu in DJ Delay.
I played around with panning the different timed delays and moved the Res Filter into the upper frequency range (and narrowed the band) to get some sizzling delay effects. The LFO slider moves between ranges of frequencies in time with the music depending how much you turn it up. When both delays are going at different quantization rates, frequency bands and LFO rates, things get interesting! Check out some of the presets provided for inspiration. A bunch of them have automated settings too. You can automate any of the delay parameters when creating presets, a handy feature.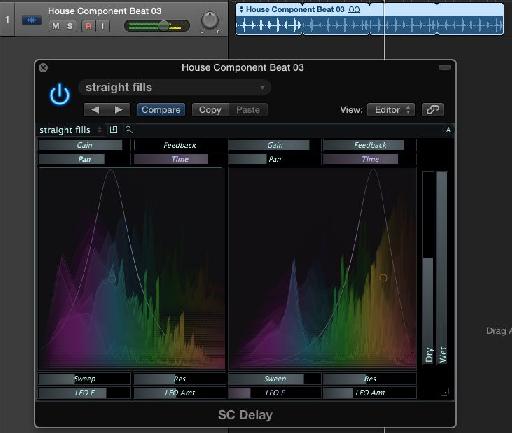 Automated parameters are in purple.
If you need to do detailed parameter editing, switch to the Editor window (pictured below).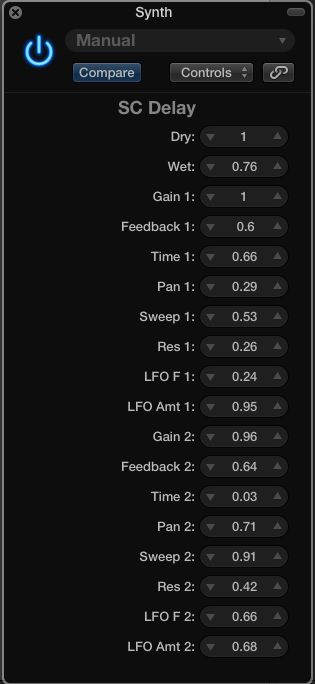 Editing Controls Window.
Performing with SC Delay
The key to performing with SC DJ Delay is mapping parameters to knobs or faders on your controller of choice. At the very least I would suggest having the Dry, Wet and Sweep (on either side) mapped for easy mixing on the fly. Right-click on the parameter and choose MIDI Learn to easily assign it to an external MIDI controller. Once you register the plug, you can create custom presets to use during live performance.
Try it Out!
You really can't beat the price here for this delay experiment, because it's FREE! This Delay plug-in should be in every EDM producer's toolbox. You can use the Delay for 30 days and after that you must submit your email address to keep using it. I'd say that's a good compromise. Plus, you will stay up to date on what Stagecraft is developing. If it's anything like the DJ Delay, you will want to be informed. Check out some of Stagecraft's other audio software tools with 30-day free trials.
Here's a YouTube video explaining some of updated features of DJ Delay: