In jedem Projekt-Studio, sind die Monitore wirklich The Buck Stops Here Stück Ausrüstung. Sie können die eindrucksvollsten Suite von Plug-Ins in der Welt, und wenn Sie Ihren Monitor-Lautsprecher haben, werden Ihre Sound-Färbung in einer ungewöhnlichen Art und Weise dann sind Ihre Chancen des Handwerks eine anständige Mischung sind ungefähr so ​​gut, wie meine 4-Jährigen Chancen, den Spielzeug Hüpfburg bleibe ich kaufte ihn letzte Woche (Anmerkung: Sein Zimmer ist eine tolle Sache, Durcheinander, das ist Geschichte.).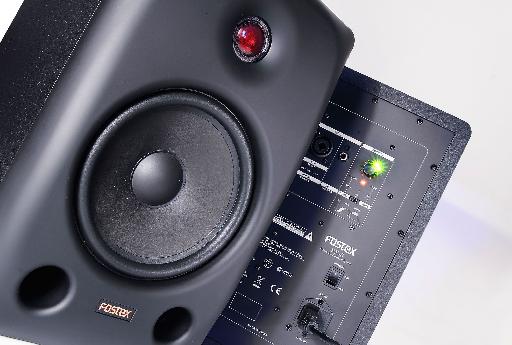 Die Features
Die Fostex PX-6 professionellen Monitorlautsprecher sind die größeren Geschwister der PX-5-Monitoren, aber mit 6,5-Zoll-LF und 1-Zoll-Hochtöner. Sie pumpen etwa 78 Watt Leistung und es gibt einige einzigartige DSP drin, die sie Ton genau und sauber zu reproduzieren hilft. Es ist ein XLR-Combo-Eingang auf der Rückseite sowie ein Cinch-Eingang für unsymmetrische Quellen.
Die LED-verstärkten Drehknopf 2 Funktionen. Mit einem Schalter darunter, können Sie zwischen Einstellen der Lautstärke oder Klang umschalten. Der Knopf selbst ist auch ein Knopf mit dem Sie zwischen Grob-und Feinanpassungen bei der Einstellung der Lautstärke wählen. Wenn Sie die EQ sind, passt die klickbare Rad zwischen Bass und Höhen.
Der Netzschalter ist auch in der Rückseite (grrr, wenn die Überwachung Unternehmen wird uns erkennen Macht Sparer, die zum Ausschalten alles, wenn nicht in Gebrauch? Mögen), das fand ich unbequem zu sein, bis ich von der einzigartigen Energiesparmodus der gelernt Der PX-Lautsprecher. Sie verfügen über eine automatische Standby-Modus, der den Stromverbrauch auf 0,5 W nach 4 Stunden kein Signal reduziert.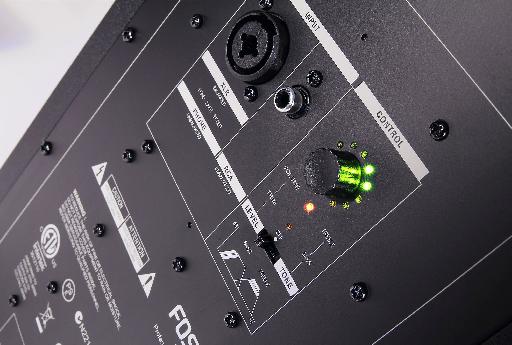 one of my favorite features of the PX-6 monitors is that when you turn them on, it uses an 'auto fade in' function.

Während es auf dem Thema der Macht, einer meiner Lieblings-Features von den PX-6 Monitore ist, dass, wenn Sie schalten Sie sie ein, eine Auto-Fade-Funktion nutzt. Dieser stellt automatisch die Lautstärke nach und nach auf das Niveau Sie zuvor gespeichert und hilft Ihnen jede knallen oder eine Beschädigung der Lautsprecher beim Einschalten zu vermeiden.

The Sound
Monitore sind so eine subjektive Produkt, das zu einem Fest aber die, die auf der am weitesten entfernten Rand als gut oder schlecht klingende zu kennzeichnen. Am Ende, was am wichtigsten ist, mit dem Klang wird diese Ihnen helfen mir, meine fertigen Mix schnell zu bekommen? Ich persönlich fand die PX überwacht, sehr knackig und offen. Ich habe gehört, alle Details wollte ich in der Mitte und das obere Ende war auf jeden Fall sauber. Bis zu den niedrigeren Frequenzen, habe ich den EQ auf der Rückseite ein wenig anpassen, um sie, wo ich fühlte, der Bass war genug definiert zu bekommen. Das könnte gehabt haben, um mit meiner Platzierung von ihnen in den Raum zu tun (sie sind körperlich viel kleiner als die Monitore habe ich mein Zimmer bereits für gesetzt), oder es nur sein konnte meinen Ohren immer auf einen anderen Klang als IM an verwendet . So oder so, ich war in der Lage, sie zu einem Punkt, wo ich fühlte einstellen zuversichtlich, ich könnte auf den PX-6 Monitore mischen und mit dem Ergebnis zufrieden.
Abschluss
Die Unter $ 1.000 pro Paar Monitor Kategorie aufheizt, und das bedeutet, große Dinge für den Verbraucher. Die PX-6-Monitore sind eine gute Wahl in dieser Preisklasse, und sie stapeln sich positiv auf andere Monitore in dieser Größe / Preisklasse.
Preis:
Vorteile:
Nachteile:
Website: