Review: Focusrite Scarlett 8i6
The third generation of Focusrite's Scarlett audio interfaces brings upgraded preamps, more flexible I/O and more features that make it hard to beat. Hollin Jones found out why.
When I started recording music over 20 years ago, the sight of Focusrite's distinctive red hardware was a sign that the studio I was working in knew what it was doing. And though I couldn't afford it at the time, the legendary company's gear has become far more accessible to a wider range of users since then. With its latest, 3rd generation of Scarlett audio / MIDI interfaces, the company brings up-to-date connectivity and a wealth of upgrades across the range. Let's have a look at what's new in my review model, the 8i6, which is the upper mid range model in terms of size and functionality.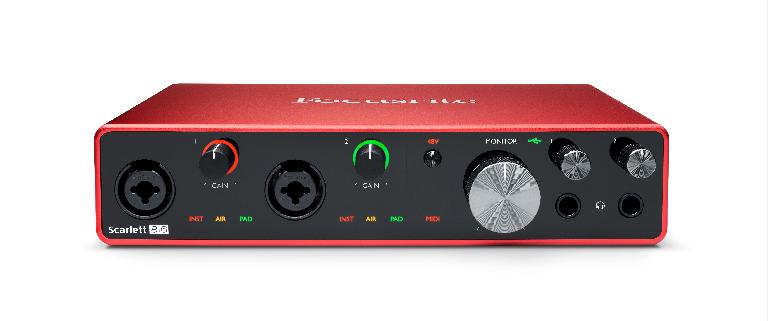 There's a new "interactive onboarding" feature where the first time you connect the interface, it mounts as a drive and when you click on the app, you are guided through the setup and signup process, and directed to your user area where you can download updates and the software that comes bundled with the hardware. It's a nice touch and works well, and should be helpful to users less experienced with the whole process of getting up and running.
Look And Feel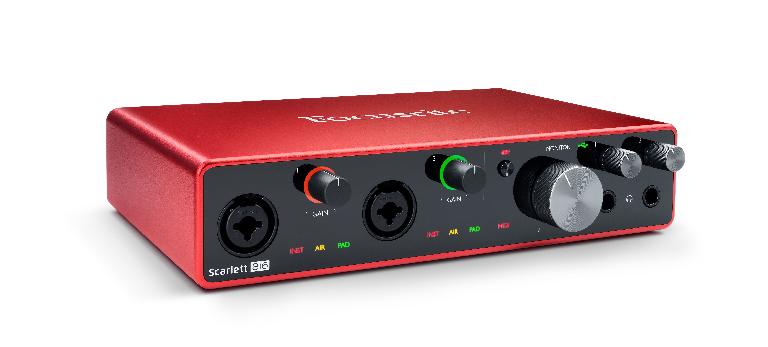 The design is gorgeous, with a sleek red metal finish and excellent build quality. The 8i6 offers a great balance of small footprint, portability and features, although as ever, solo artists might only require one of the smaller models, and those with more advanced I/O needs could look at the 18i8, though I'm betting the 8i6 will be a good balance for many kinds of musicians and producers.

Where the 2nd gen powered over USB, these models use mains power via the bundled PSU. This is a choice that's usually (though not exclusively) made by manufacturers when they want to prioritise performance over absolute convenience, since USB is only able to supply a limited amount of power. Connectivity is via USB though there's a twist here - the port on the unit is USB-C but the bundled cable is USB-C > USB-A. Focusrite says this is because its research found most people still haven't completely transitioned to USB-C. Indeed, my 2013 MacBook Pro doesn't have it, but is still a powerful music machine. So this is a good call I think - you will be able to use a C>C cable if you like, or the C>A cable if your machine is a little older.
Ins And Outs
On the rear panel you'll also find 4x line outs and 4x line ins with jack sockets, 1x1 MIDI I/O DIN ports and S/PDIF I/O. The front panel is simply laid out, with two combo input jacks that can accept line or XLR plugs. Inside are two new 3rd gen Scarlett mic preamps, and these now have an Air switch for adding a little high-end sparkle when recording, which is particularly good for vocals.

There are gain controls with halo level meters which I like, not least because they are very compact, and switchable phantom power. Backlit indicators also show you modes like instrument, pad and air, and MIDI activity. There's a large monitor dial and dual headphone outputs, each with independent level controls. This is always useful since it allows you to feed someone a monitor mix while also listening on your own headphones, when recording with open mics. A handy Loopback feature is included so you can now access a pair of virtual loopback inputs which allows you to capture a stereo feed of any combination of hardware input and software playback channels - useful for podcasting, live streaming and sampling of audio without lots of cabling.


It's compatible with Focusrite's excellent Control app for Mac, PC, iPhone and iPad, which lets you set up routing and other parameters in software. It needs to be running on the computer to accept input from an iOS device connected to the same wireless network, but this worked seamlessly in my tests, and it's an excellent way to configure and unlock the power of the hardware while still maintaining a simple set of actual physical controls on the box itself.
Performance
Latency was extremely low thanks to the solid drivers, and recording results predictably clean and clear thanks to the 24-bit, up to 192kHz converters. There's direct monitoring too, so you can hear your performance without latency before it passes to the computer. I didn't encounter any issues at all - everything just worked. The new preamps provide more gain, improved signal to noise ratio and lower distortion and it really shows in the recordings.

In terms of added value, the bundled software is pretty generous. You get Pro Tools First with the Focusrite Creative Pack of hundreds of instrument sounds as well as Ableton Live Lite. Softube's Time And Tone Bundle with reverb, delay, distortion and mastering is included, as is Focusrite's Red plugin suite of EQ and compressor. XLN Audio Addictive Keys provides one of four virtual keyboard instruments and there's also a three month subscription to Splice, and membership of the Focusrite Plug-In Collective that offers free software going forward.
Conclusion
The 3rd gen Scarlett range shares a number of common new features. You might only need one of the smaller models, or perhaps you want to connect lots of gear and leave it plugged in, in which case the larger one may be better for you. But I suspect for a lot of users, the 8i6 hits the sweet spot. With a good, solid build and a sensible, uncluttered layout, its new internals make setup and recording a breeze.
Results are excellent and I didn't encounter any issues at all. The Control app is easy yet powerful in use, and the bundled software means you won't have to particularly add anything to get up and running in a few minutes. Although there is competition at this feature level, Focusrite's design and approach here is a real winner, and pricing is sensible. For musicians and producers of all levels, this is a great recording and MIDI interface.