The Focusrite Red Preamp is a staple of many project and professional recording studios. Preamps can be like guitars in that everyone has a favorite one and about a million reasons why it is their favorite one. You'd be hard pressed, however, to find a modern studio where the engineer hasn't used or at least heard of the Focusrite Red series.
A Preamp for your Lunchbox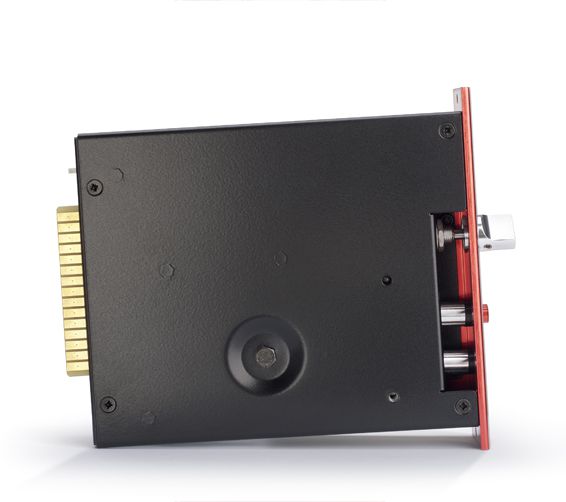 The Focusrite Red 1 500 series has no inputs or outputs without being plugged into a 500 series chassis. Pick a chassis, slide it in and you're good to go!
If you're not familiar with the 500 series concept, here it is in a nutshell. You have a chassis with a certain amount of empty slots. In these slots, you can put all sorts of cool stuff: preamps, EQs, effects, compressors… just about any type of outboard gear. It's a wonderfully convenient way to build your own 'studio to go' or channel strip that contains whatever you like. If you want to put 5 preamps in there with discrete outs from each one, go right ahead. If you choose to put one preamp and then chain it to an EQ, compressor and a limiter then that's cool too. The 'lunchbox' format is all about flexibility.
How Does it Look?
The Red One has a sleek, polished metal look to it. The backlit VU meter was a plus and gave it a real 'retro' feel. The knobs and buttons were clearly labeled, and there's no mistaking what you've got in your rack when you look at it. It retains the look of its various big brothers in the Focusrite Red line.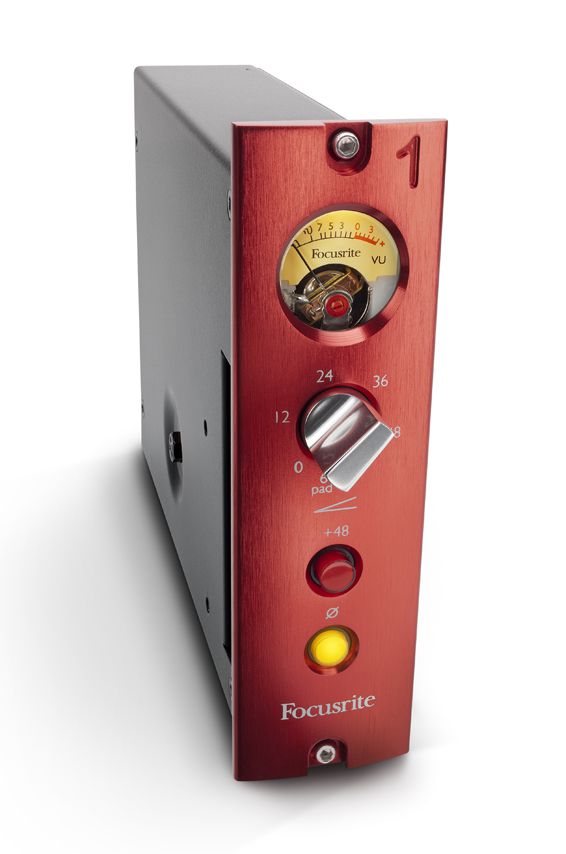 The Focusrite Red 1.
How Does it Feel?
The Red 1 has an extremely durable feel and the build quality is high. The front panel is extremely simple with only a VU meter, a single gain knob and two buttons (one for phase invert and one for phantom power) on the face. There are no other controls or features to speak of. This is a preamp, plain and simple. For a 500 series unit this makes sense. You'll want to put this in a chassis with some other elements and pair it up with them to create the 'ultimate channel strip'. There's a limited amount of real estate on the front of a 500 series compatible unit, and Focusrite kept it simple and effective here.
How Does it Sound?
I am familiar with the sound of the Focusrite Red series, so I was quite interested to see how it translated over to the 500 series style. I was pleased to hear that the sound quality did not disappoint. The Red 1 is a fairly transparent preamp. It has plenty of headroom, and the noise floor was extremely low. The noise floor can change if you don't have a good quality chassis, but there are plenty of great options out there from API, Radial and Aphex.
Conclusion
The Focusrite Red 1 is a great addition to any 500 series rack. Whether you are looking to create the channel strip of your dreams or to just want to add to your collection of preamps in a 500 series chassis, the Focusrite Red 1 will deliver. It's a transparent preamp, it won't color your sound on the way in, and is being offered at an affordable price.