With the iPad platform having matured at amazing speed in the four years since its creation, we now find ourselves in a situation where the computing hardware and apps available are advanced enough to allow proper music production to take place on these portable devices. The issue then of course becomes connectivity: Apple provides precious little of this, and while audio or MIDI devices that connect to your Lightning or 30-pin port work well, they are by definition limited to providing fairly basic audio or MIDI I/O.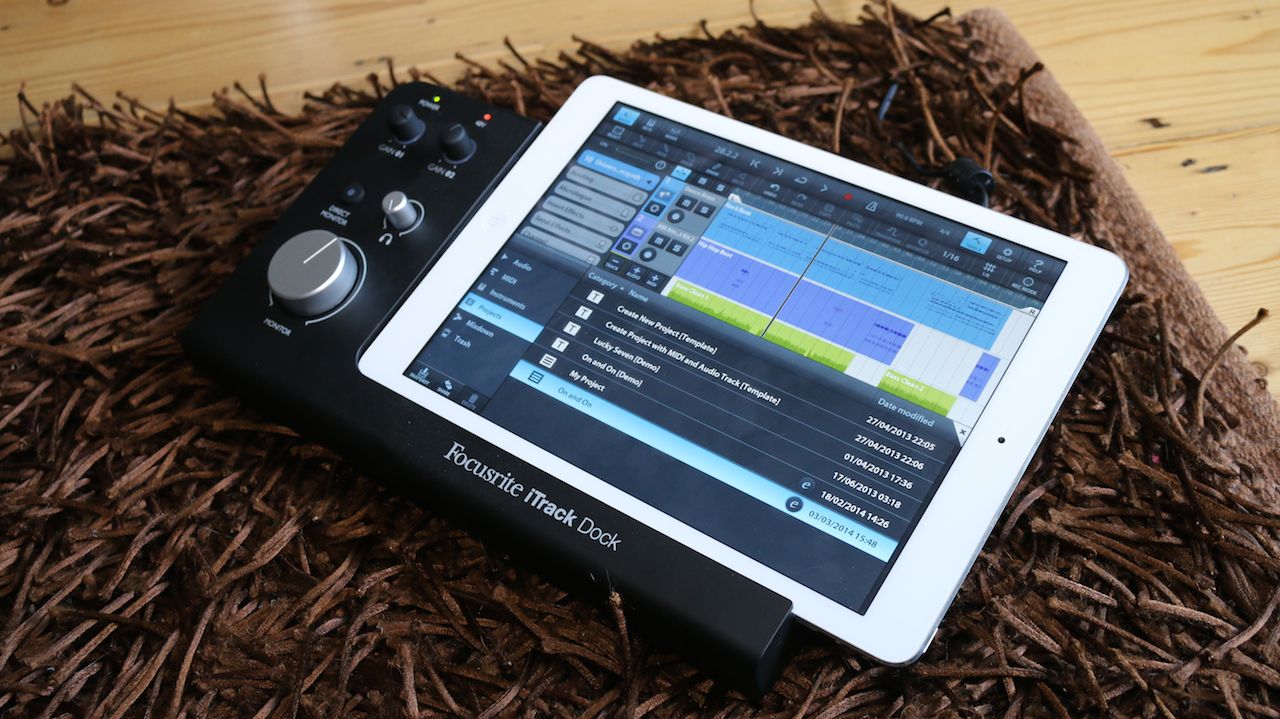 Docking stations
Enter the iPad Dock concept. This isn't new, but there are only a couple on the market at present. With an increasing number of USB interfaces (including some from Focusrite) getting class compliance—meaning they work with your Mac, PC and iPad—the iPad Dock has to work a little harder to justify your attention. In fact, the iTrack Dock is designed to be used pretty much instead of a computer, not with one. It also seeks to address the ergonomic issues that go with making music on an iPad. Namely, that Apple's USB Camera Connection Kit solution is not particularly elegant.
"It seeks to address the ergonomic issues that go with making music on an iPad."
The iTrack Dock is lightweight but solid and works with any Lightning-equipped iPad, which means a 4th generation or later "large" iPad and any iPad Mini. The Lightning connector on the unit can be moved up or down to fit, since the port will be at a different height depending on your model of iPad. While the Mini is almost exactly the size of the holding area, a full size iPad extends beyond its boundaries, though it is still held securely and this approach works fine. Users of earlier iPads with 30-pin connectors are out of luck, but you can at least assume that Lightning will be supported for some years to come. The Dock is deep enough to accommodate the thicker iPad 4 and comes with a fitment that raises the floor slightly for the newer, thinner models.

Ins and outs
The iPad allows a lot of information to flow through a single Lightning connection, and the iTrack Dock really exploits that potential by giving you a range of pro audio connections and routing them all to that single port. It also charges your iPad while it's connected, which is handy. On the rear panel, you will find the essential ports for audio and MIDI recording. Let's look at them in detail.

"The inputs use the same Focusrite mic pres as found in the company's Scarlett audio interfaces and offer crystal clear recording quality."
There are two XLR inputs with optional phantom power, and line inputs that can be used as an alternative connection for each of the two inputs. These use the same Focusrite mic pres as found in the company's Scarlett audio interfaces and offer crystal clear recording quality. Internal sampling is performed at up to 24-bit, 96 kHz and there's also an instrument input jack with lots of headroom that makes it perfect for plugging in a guitar. The stereo monitor outputs offer 105 dB of dynamic range, and you get a single headphone output with a dedicated level control.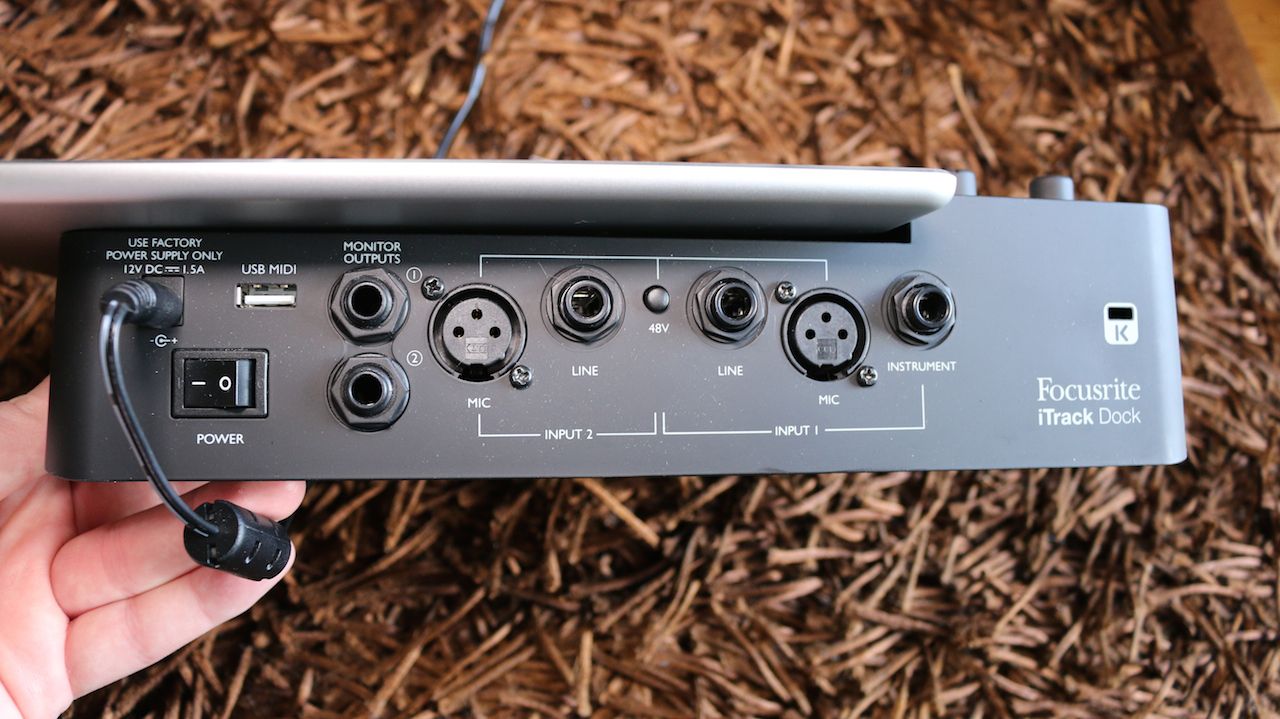 Helpfully, there's direct monitoring built in as well. As with any digital recording setup, there can be a delay between playing a sound in and hearing it back through your headphones or the monitor speakers. Direct monitoring eliminates this by feeding it back to you before it's been passed to the software. It's a more or less essential feature of modern recording interfaces, and a welcome addition here as it works very well.
Simple controls
The front panel sports a large monitor level knob as well as the aforementioned monitoring and headphone controls, and also gain knobs for both of the inputs. These use Focusrite's "gain halo" system which provides colored light around the outside of each one to display level. Green is good and red means you're clipping and need to back the gain off a little. This isn't quite as flexible as an LED meter would be, but given the constraints of space, it works perfectly well and saves on visual clutter.

The iTrack Dock is a capable audio device but it also has MIDI capabilities. On the rear panel is a female USB connection into which you can plug a MIDI control device like a keyboard, drum pad or pad controller. As well as passing MIDI signal to DAWs, synths and other apps running on your iPad (provided they are Core MIDI compatible), this also powers your MIDI device. As most MIDI controllers do support power over USB, this is a great addition and means that you can leave out one more power adaptor from your setup. Focusrite states that you can use wireless MIDI or an adaptor cable to link your computer to the iPad for MIDI and while this is true, neither are as elegant as using a directly connected controller.

In use
I tested the iTrack Dock with GarageBand for iPad, Cubasis, the free Focusrite Tape app and Auria and it performed excellently with each of them. There was no latency when playing synths from my MIDI keyboard powering over USB, and tracking audio was hassle-free, thanks to the direct monitoring option. You only get two audio inputs of course, and while many iPad apps are now capable of recording more audio tracks than this simultaneously, a lot of people recording on iPad will be capturing vocal and guitar, or overdubbing one track at a time rather than tracking whole drum kits, so I don't see this as a problem given the portability of the unit. You can always record multiple tracks as stereo submixed by external hardware if you really want to.

Final thoughts
"The iTrack Dock is a very compact and elegant way to record audio and MIDI on your iPad."
What you're getting here is a standalone recording solution for the iPad platform that's independent of a computer. Even though you probably also own a computer, the iTrack Dock is a very compact and elegant way to record audio and MIDI on your iPad and monitor back with an absolute minimum of fuss and with as few cables as possible left dangling about. It could definitely be used as the basis of an iPad-centric studio, as well as by people making music on the move that may not own a laptop or not want to take an expensive laptop on the road with them. With everything you need to track audio and MIDI and monitor back, this is a great addition to the toolkit of any iPad-owning musician.

Price: $199 USD / £169 GBP

Pros: Lightweight and well built. Good selection of I/O. Direct monitoring. Connect and power a MIDI controller.


Cons: No direct way to connect to your computer via MIDI. Pre-Lightning iPads not supported.


Web: www.focusrite.com