Although there is already a pretty huge choice when it comes to USB audio interfaces, now and again a product comes along that promises to deliver something a little different. It's just possible that Focusrite may have done that here with the new 'Forte'.
Let's dig into what the Forte has to offer and how its feature set differs from other compact interfaces in a similar price bracket.
First Impressions
Focusrite have never messed about when it comes to presentation, they obviously care about the way their products look and this ethos seems to extend right the way through to their packaging. It was a real pleasure unboxing the Forte and reminded me very much of receiving a new Apple product.
The Forte itself looks great and feels solid. It's almost completely constructed from brushed aluminum and has a good weight to it making it feel very durable. This really feels like products from the top end of Focusrite's range, so a good job all round.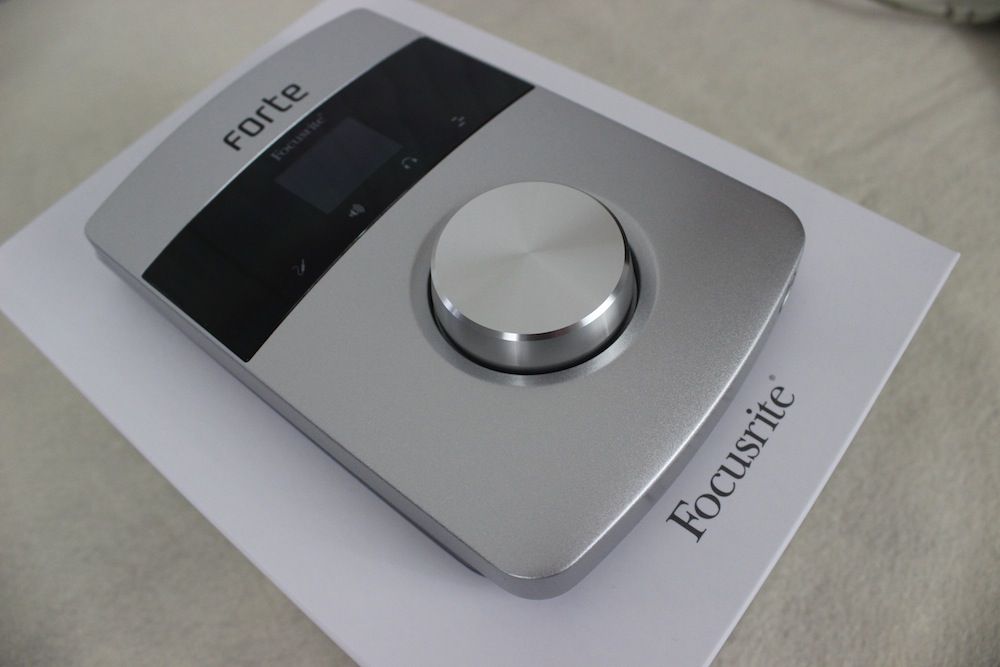 Unboxing the Forte revealed a very solid product.
As far as the Forte's look go, we'll not get too far into whether it does or doesn't look like another interface on the market. All you really need to know is it will look great on your desk. It's shiny, slick and has curves in all the right places.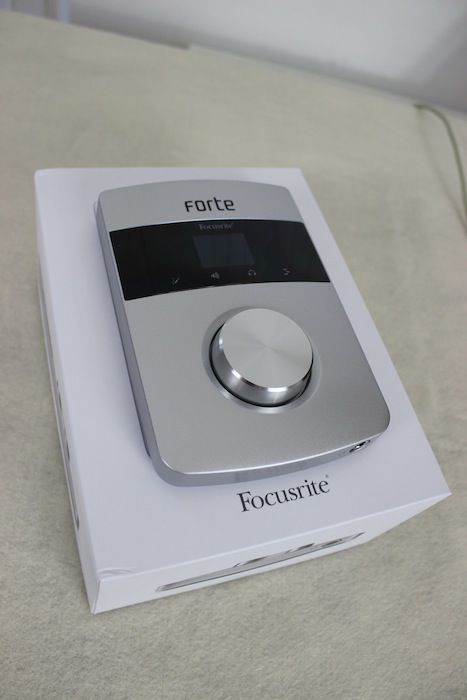 The Forte ready for action.
The cosmetics aside, we all know the most important thing is how well the kit performs. Let's take a look at the various parts of Forte and look at the results.
On Display
The Forte sports a single OLED display right in the centre of its body which displays an impressive amount of data about each input and the outputs. Without even entering the software control panel, you can activate phantom power, adjust levels, mute / dim outputs and even control your DAW.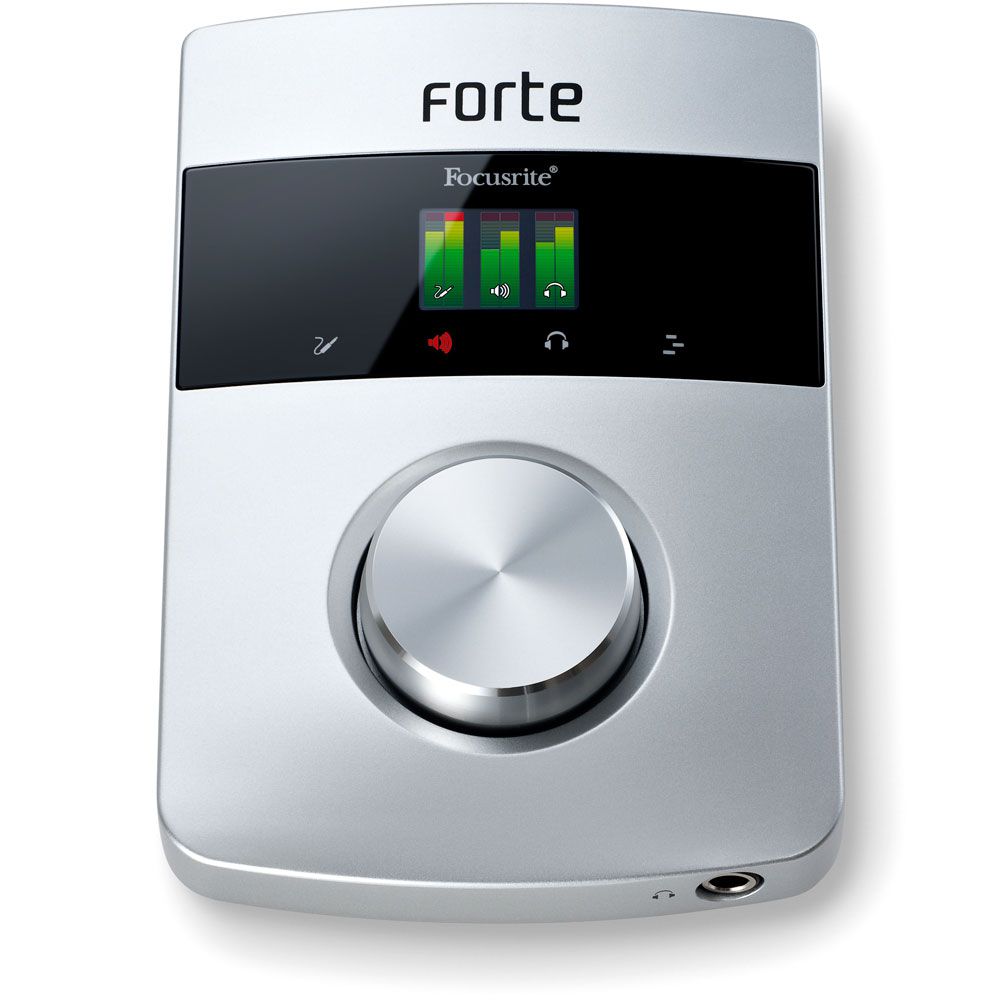 The single OLED display supplies some great visual feedback.
The DAW control is going to be really useful to people using the interface to record as you can use the main encoder to stop / start playback and activate recording. Turning the encoder can also adjust zoom or playback position.
On the subject of software, the 'Forte Control' software is actually some of the best looking I've seen to date. It's very well laid out and gives you total control of the interface's features from one simple App. There are three clearly designated areas here giving you access to input, output and routing controls.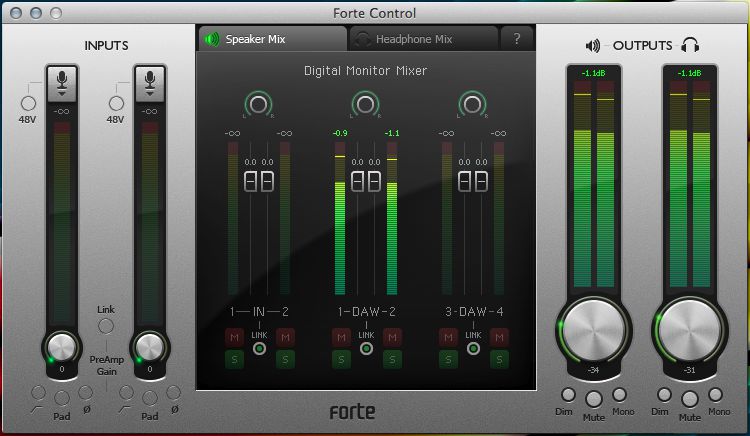 The Forte Control panel is very easy on the eye.
You will also get the new Midnight plug-in suite thrown in here. These will work on PC and Mac in a variety of formats and give you accurate models of the classic ISA110 EQ and ISA130 compressor. These actually come from the original Focusrite Forte large format console, from which the interface earns its name.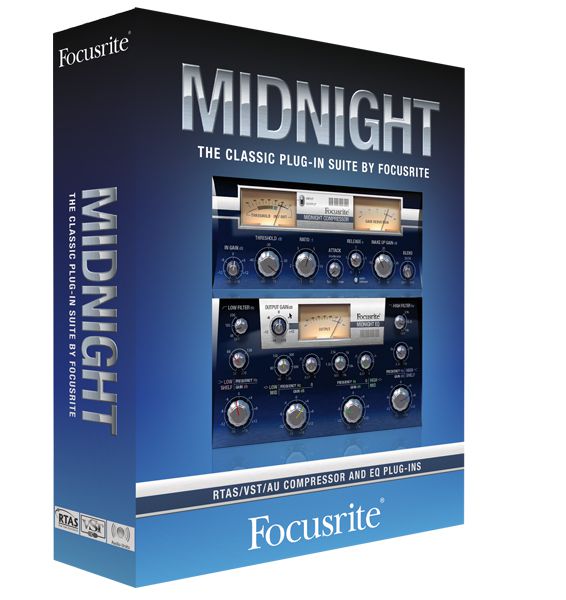 The bundled Midnight plug-in suite.
One thing to note here is that Forte is compatible with both Windows and OS X. This is going to be very welcome news to the throng of PC users that have been left out in the cold with the Apogee (Mac only) interfaces.
The Sound Of Silver
After admiring the unit and fiddling with its controls, I finally got round to the most important task: accessing how it sounds. Focusrite have used the pre-amp and converter tech from their high end 'RedNet' series of products here, and in everyday use, this really shows. Simply put, the output from the device is pristine.
This is a 2 in, 4 out interface with the main outputs located on the rear panel, while all of the mic and instrument inputs are relegated to a breakout cable. You can run the Forte without the breakout cable but you will obviously be limited to the stereo output only. All options for the inputs will be unavailable in this mode.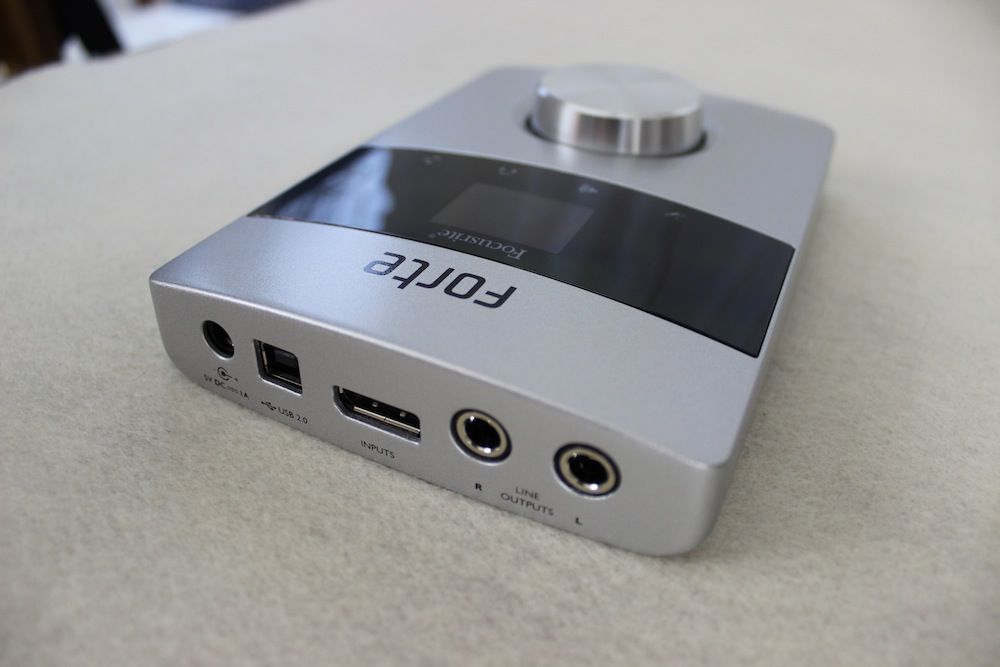 The rear panel of the Forte houses the essential connections.
If you require 48v phantom power for your microphones, you'll need to be plugged into the supplied power supply. Without the external power you'll be restricted to 'low power USB' mode. This also limits the headphone and speaker outputs to a ceiling of -18db.
The stereo image was solid and recordings made with the instrument and microphone inputs were as clean and dynamic as you could wish for. On comparison with several interfaces in my studio, I found that the Forte held up very well.
The sound produced here was a definite step up from TC Electronics' Konnekt range, while side by side comparison with an Apogee Quartet yielded less obvious differences. Both the Apogee and Focusrite outputs were clean, transparent and displayed excellent dynamics, so I really don't think you would be disappointed with either product.
Final Thoughts
This is a solid interface with awesome sound quality, and I really didn't expect anything else from Focusrite. It's actually great to see a new compact interface that is compatible with PC and Mac. If the Forte has an ace up its sleeve then this is probably it.
I think that Focusrite may have missed a trick when it comes to the main Encoder. You can't actually use it to mute or dim the main output. You can only achieve this by selecting the speaker output, via the dedicated touch pad and scrolling through a small menu. This sort of defeats the purpose of muting the output as you often need to do this quickly.
It would also be great if you could alter the overall responsiveness of the main encoder. I found that I had to move it a fair way to make basic adjustments. I'm sure these small details could be fixed in the future with software updates.
These very minor niggles aside I would say that this is an excellent interface perfectly capable of capturing professional recordings and mixing projects to release quality. Obviously, all this doesn't come cheap, but the fact you can use it with just about any computer is certainly a bonus.
So if you're looking for a portable recording solution that you can use in your own studio, on the road, or at a friend's place then take a look at Forte. Paired with a decent mic and a touch of talent you might actually be able to produce the next big thing.
Discover more about the Forte here.