Note: Strum Buddy will be demoed at the Summer NAMM 2017 show booth 1536 this coming weekend. If you're there we recommend you check it out.
I try to keep a guitar in every room of my home, the idea for which is: if it's easily within reach, I'm more likely to pick it up and practice. But electric guitars need some sort of amplification to really hear what you're doing, and I don't have an amp in every room. That's where the Strum Buddy comes in.
The 'Buddy' System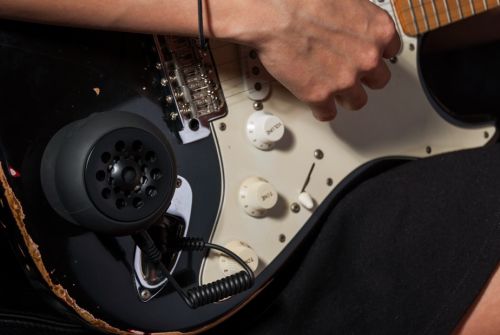 The Strum Buddy is a tennis ball-sized practice amp you attach to any guitar via its built-in suction cup mount. It's battery powered and even has effects. While the housing is plastic, it's wrapped in soft rubber and looks like something Batman would keep on his utility belt. It has a 40mm speaker with 6-watts of power. The onboard lithium-ion battery runs for about 3.5 hours, and charging is as simple as connecting its USB Micro port to any powered USB-equipped device. (Charging times are reduced by using higher current 2.1 Amp USB Ports.) The port is for charging only; no data connection is provided, and the USB cable is included. A multicolor LED indicates charging (red) fully charged (off), and power-on (green) status.
Getting Attached
Plugging the included 1/8"-to-1/4" cable into the audio port will turn on the power. There's no 'auto power off' feature, so make sure to disconnect the 1/8" port when you're done practicing just like you would any guitar with battery-powered electronics. The suction cup is deep and will stick on any smooth surface. However it's worth noting that any device that comes in contact with the body of your guitar has the ability to scratch the finish. Therefore make sure that your guitar is polished and free of surface debris, and wipe out the suction cup before affixing it to your prized possession. If your guitar has a pickguard, that's a great mounting spot.
Paling Around
The 6-watt amp is more than adequate for personal practice, and doesn't need a volume control because your guitar likely already has one. There are three buttons on the side of the Strum Buddy to enable the preset reverb, chorus, and crunch (distortion) effects. The chorus and reverb are really nice, the latter being a 'verb-delay combo, and the response of the crunch setting can be varied by adjusting the guitar volume knob. While nothing this size can sound like a full-sized amp, it sounds surprisingly good and certainly makes practicing more enjoyable and convenient.
There are a couple of things to keep in mind. First, high output pickups can cause both good and not-so-good feedback, especially when switching to the pickup nearest to the Strum Buddy. Turning the guitar down will usually rectify that issue. Also the rubber skin isn't so tight that the plastic chassis cannot spin around inside it. If that happens, just use the cutout for the USB port and 1/8" input jack as a benchmark to reorient the skin.
Conclusion
While I wasn't initially enthusiastic about a guitar-mounted practice amp, I didn't realize how much I was enjoying it until I'd exhausted the battery. Then I was like, "Aw man, I was having so much fun!" For the first time in a long time, the Strum Buddy had me practicing guitar for over three hours and enjoying every minute of it. It's just so simple to stick on, plug in, and play away. The effects are great and will keep you playing for hours. Whether you're a road warrior, a teacher, a student, or someone like me who likes groovy little gadgets, you'll totally dig the Strum Buddy.
Note: Strum Buddy will be demoed at the Summer NAMM 2017 show booth 1536 this coming weekend. If you're there we recommend you check it out.