It is no secret that I almost always like the libraries created by Fluffy Audio because for me, tone is king, and they always seem to capture a great tone in their libraries. My initial reaction to this product announcement was, however, "Do I really need a library with Renaissance and medieval instruments?" Probably not, I thought but as I played with it I found there were so many unique instruments that would work well either in an authentic period composition or in a hybrid composition that I simply have no other choices for, and with some that I do have, well, these sound better.
What is it?
Rinascimento is a Kontakt 5 library that only works with the full version of Kontakt 5, not the free Kontakt player. The players sampled were mostly from the respected La Rossignol Ensemble, Italian specialists in Renaissance and Medieval music. Some instruments required further effort to find the masterful players, but the Fluffy guys were diligent and did so. The instruments were recorded in a warm and lovely sounding hall. The library comes with three mic positions: close, mid, and far.
Included in the library are: three bowed instruments; two brass instruments; eight reed instruments; five recorders; two other flutes; seven lute instrument; five percussion instruments and harpsichord, virginal, and two organs. The lutes even have an Auto-Strummer. The twenty non-polyphonic instruments have full sustained legato transitions and four round robins for staccato. They are all highly playable with little fussiness. There is of course an included reverb that as I always do, I immediately turn off as I like to have my own reverbs. Not that there is anything wrong with the included reverb.
Requirements:
Full version of Kontakt 5.5.2 or newer, 29 GB installed
Getting Started
The first thing I loved immediately upon opening an instrument was the fact that you see descriptions of the instrument and its history. After all, some of these are instruments that composers do not necessarily have a working knowledge of. I am a well-trained guy but there were several I have never even heard of. Rauschpfeife?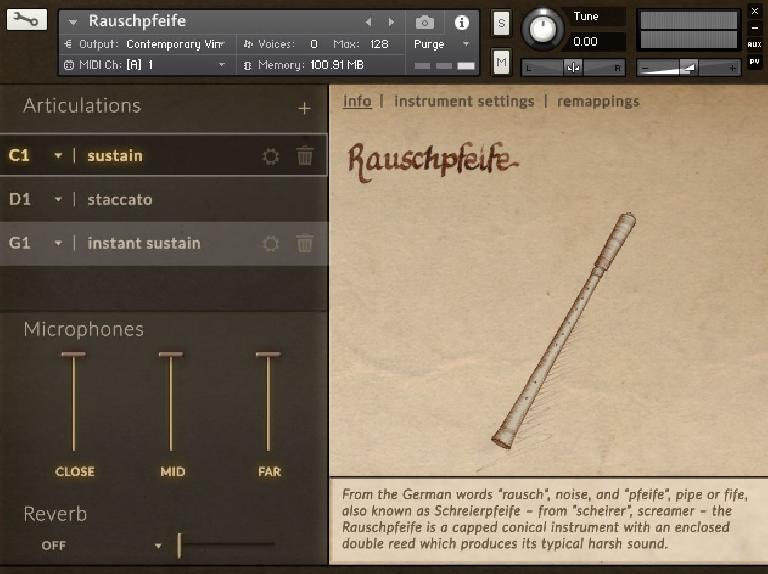 Don't be put off by the fact that there are not a ton of articulations. These older instruments did not have all the abilities of articulations that modern instruments have, so the three articulations included in instruments like the Rauschpfeife will take you a long way. The "instant sustain" articulations confused me at first. They are simply momentary keyswitches that on a legato patch retriggers the notes when you hold it down. I do think that "retrigger" might have been a clearer name choice,
There are three pages; the default info page, an instrument settings page, and a remappings page. The instrument settings can be very helpful for tailoring the sound to your taste by retuning, humanizing the tuning, controlling the dynamic range, and adjusting the velocity control to optimize use from your controller. The remapping page allows you to change MIDI CC assignments to control modeled vibrato in legato instruments.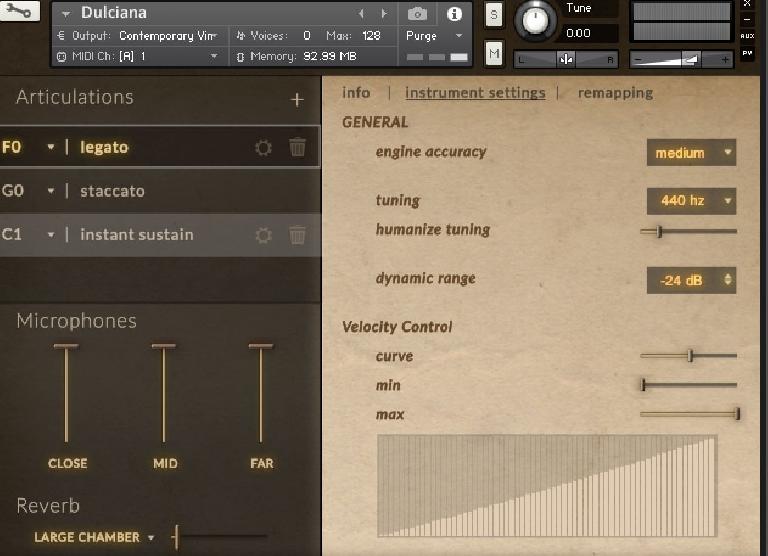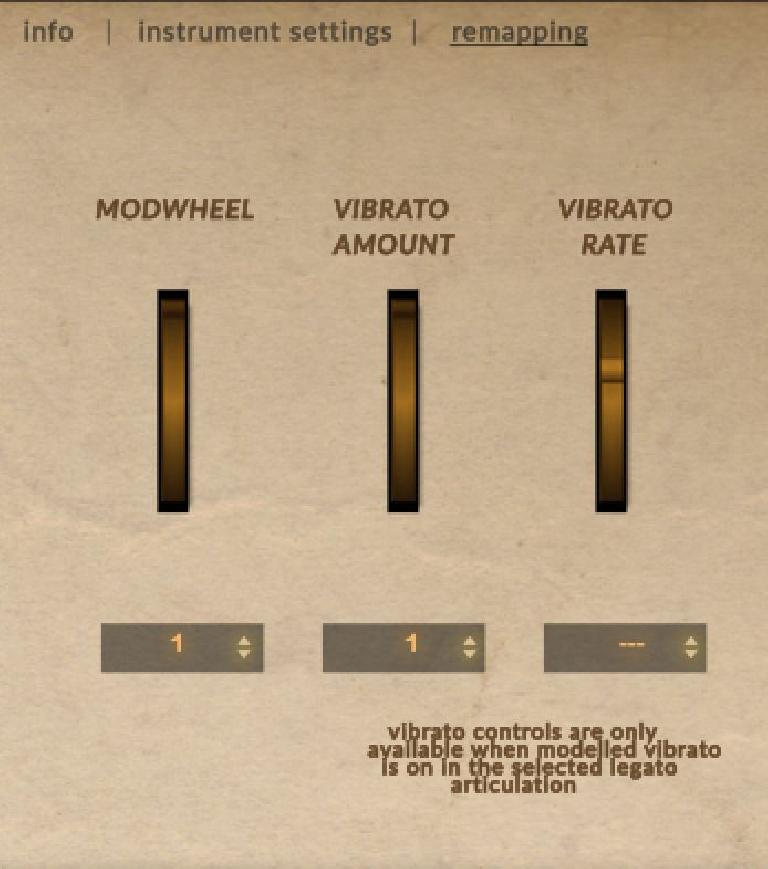 The Auto-Strummer designer page
The lute instruments have, as you can see, a keyswitch for fast chords and slow chords.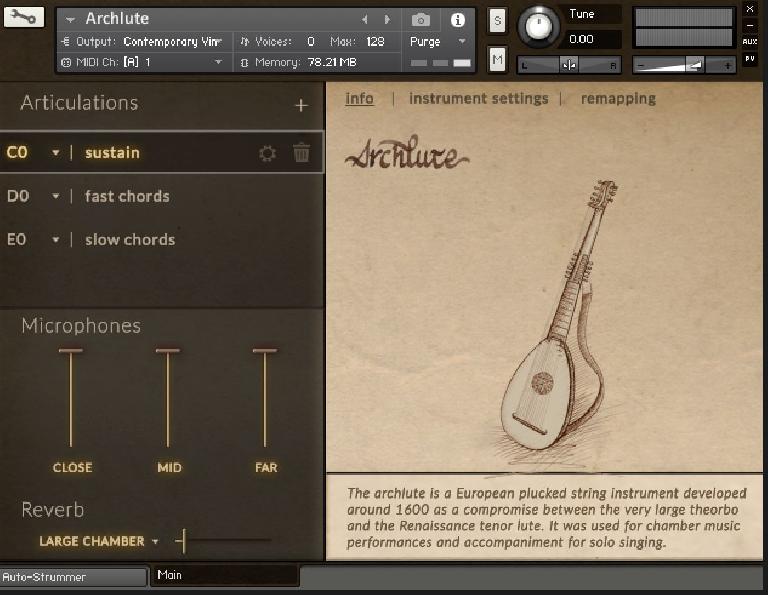 But wait, there's more. There is a powerful Auto-Strummer designer page that is similar to other guitar strummers but gives you even more control than most.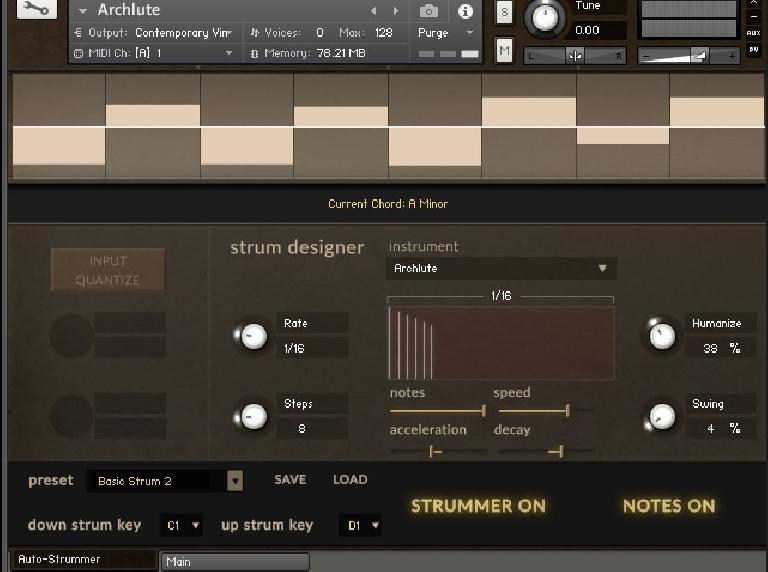 As you see, when you turn on the Strummer you have control over the rate, the number of steps, speed, acceleration, decay, humanization and swing, with up strum and down strum trigger keys. There are several presets and you can of course create and save your own.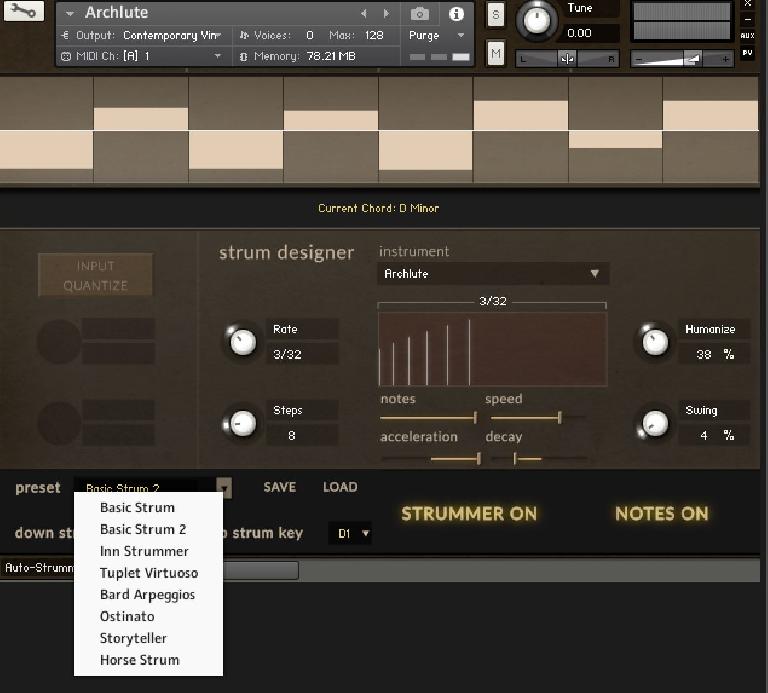 There is always a lag with these kind of strummers that requires input quantizing in your DAW, but Fluffy Audio has given you the ability to turn on and set values for Input Quantize right in the instrument. Turning the Notes On to Notes Off means that you only hear the strumming and not the initial attack of the notes you play.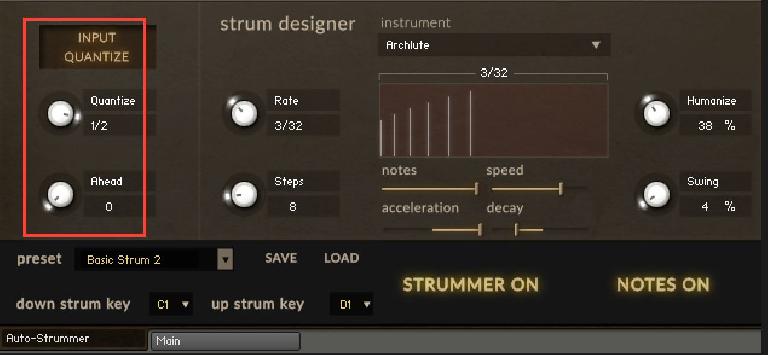 It is really powerful and all the lutes just sound great to me, as well as the Baroque Guitar.
There are just too many great instruments to cover here in this review: Krumhorns and such; recorders; strings instruments like the Hurdy Gurdy; brass instruments, especially the haunting Soprano Cornett, and even a set of percussion instruments in one patched mapped to different keys that to me screams instant Renaissance Faire.
There are even some lovely organs and harpsichords, including a virginal. My only complaint is that in the organ instrument the keyswitches to the different articulations are not readily visible in the GUI, as they are below the normal visible range of Kontakt and they are not user assignable.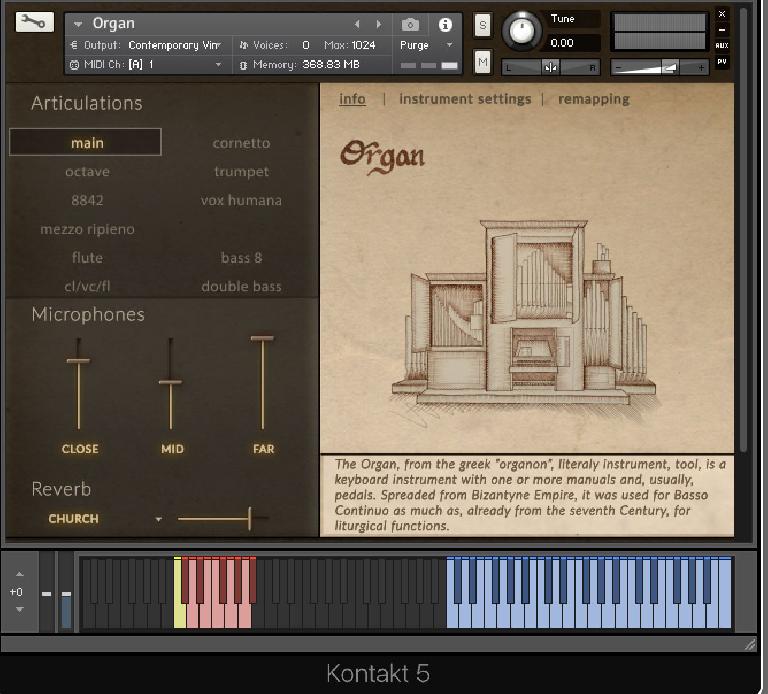 So What Do I Love?
With Fluffy Audio, it is always the sound. Whenever I play one of their instruments I find that the sound I hear just makes me want to compose, and so they instantly find a place in my templates.
Some of my initial favorite instruments are:
The recorders, they all sound simply lovely.
The previously mentioned Soprano Cornett.
All the lutes. I will use these a lot.
The Positive Organ, a simple organ made to be portable that was in use pre-Renaissance. It has a lovely, haunting quality.
The Renaissance Percussion.
Truthfully, it would be quicker to list the ones I don't like, which are faithful to the instruments I am sure but just not sounds that appeal to me. Until I need them in a score. This is a unique library that can add colors to your palette for which you probably do not have quality comparable ones.
Price: $299.
Pros: Beautifully recorded and unique set of instruments. The Auto-Strummer and fast and slow chord strums for the lutes. Great level of control and yet very playable and easy to learn.
Cons: Doesn't work with the free Kontakt player. No user assignable keyswitches for the articulations in the Organ instrument.