If you're interested in unlocking further secrets of sound design in Ableton Live, and you're looking for some dark, complex and imaginative pads to inspire your performance, I may have a cool, awesome pad collection for you. Flintpope, up-and-coming sound designer, extraordinaire has released a very cool, and very thoughtful Ableton Session that includes 36 Pads. In this review, I'd like to go over 36 pads with you!

Session, Session
After downloading 36 pads from flintpope.com, I began installing the pack that is 36 Pads. Once I was done 'unpacking', I went to the destination folder that I'd selected during the install and opened the session folder that laid therein. True to his word, Flint's 36 Pads eventually line the Session arrangement's horizon in front of me. This is also where my interest and my frustration with 36 Pads ignites. Let me explain...

Everyone's a Critic
It's always nice to see another person's session. You get to see the way that they color their tracks, the way they organize everything, the way that their arrangements are divided up, and so on. And so, it's nice to see Flint's thought process as I jump in. As I begin arming each track and playing my MIDI controller, I'm given slow, sonic, building pads, existing within the familiar frameworks of the Ableton Instrument Rack. The patches are only numbered, so bear with me. Pad 31, for example, is multi-layered with a lot of dimensionality (like all of the pads). However, it features a nice, mellow arp synth, where some of the pads are just straight pads. There's also a nice routing system that is in place (Flint's Simple Pad Maker comes into play here), giving you control over cool functions within Grain Delay, Simple Delay, Reverb and Phaser within some very nice sweet spot settings.
The overall sound culminates into a wonderful palette of drones and ambiences for those doing Ambient, Downtempo, some Lounge, Jungle, Drum n Bass, and Glitch Hop. Because Flint does label most of the effects within the chains of his Instrument Racks, you get a really nice look into his mind, as you see how the settings effect the sounds.
However, the fact that I had to describe a patch number is pretty irritating. In fact, because all of the pads exist as tracks within the session, you're finding yourself having to remember numbers, as opposed to patch names, which are a little easier to remember in my world. Also, because all the pads that are included are within the project file, you have to keep going back to the included song, within your browser, and so on.
This last paragraph aside, I really, really think highly of the work that went into these pads and the sounds that each pad produce. As a fan of synthesis, as a fan of sound design, and as a big fan of pads, I would love to know the titles of each pad Flint created, as it just gives you a nice peek into the intention and thought process, as well as suggestions for usage.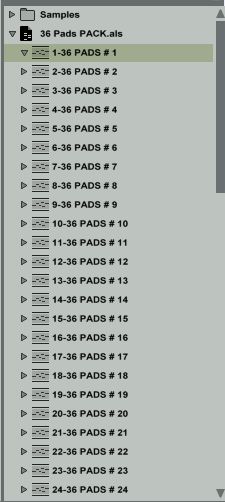 Now, the price of 36 Pads definitely will make you forgive the missing names, and so on. Flintpope offer 36 Pads for under $10, at around $5–6. This is awesome because you really do gain both some great patches, samples (if you bust out some of his included wave files) and some awesome examples of patches that you can make on your own.
Price: £4 GBP (approx $5.75)
Pros: Great pads with some cool mappings produce an eerie, dark, and sometimes majestic set of environments and melody.
Cons: No patch labels, at least in the version I got. Also, patches are all saved within session.
Web: www.flintpope.com