Review: Fingersonic EXP1 Synth
This portable hardware synth has a computer brain, 15 voice polyphony and MIDI in and out. Hollin Jones found there's more to EXP1 than meets the eye.
Fingersonic is a developer based in Italy and its debut product is this clever little handheld synth, the EXP1. Designed to work independently of any other gear if required, it can also be expanded to interact with and be triggered by external MIDI equipment. We've seen a number of these kinds of handhelds become popular in recent years, most notably the Pocket Operator series, so there's clearly a demand out there.
What Is It?
The unit is shaped like a grand piano and although it does actually have a piano sound available, it's really a synth and beatbox. Like the Pocket Operators it's provided without a case, so it's a little raw in that the soldering and circuit board are exposed. You'll need to be fairly careful throwing it around although in itself it is sturdy if handled properly. It powers off six AA batteries or via USB, which means not just a computer but most any phone charger for example. When USB power is connected the on/off switch is bypassed and the unit is always on.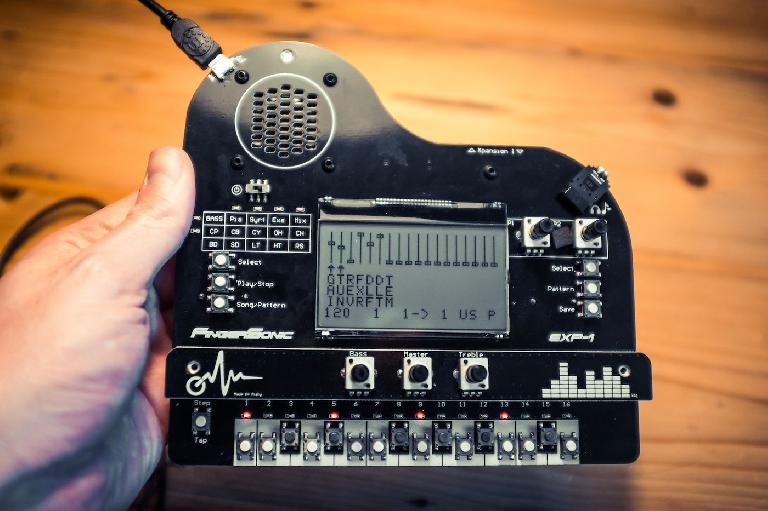 There are a few things to be found on the faceplate of the EXP1. It has a built-in speaker which can go quite loud and is certainly good enough for working on the move. Or if the people on the bus are starting to look annoyed, there's a headphone / line out socket too. In the centre of the instrument is a large graphic LCD running "FaderOS", which I hadn't heard of but seems to be the company's custom operating system. The screen isn't backlit which can make viewing tricky in certain conditions, but presumably saves on power consumption. Internally, EXP1 has a 120MHz ARM processor, 1MB Flash storage and 196KB RAM so it's essentially a tiny computer.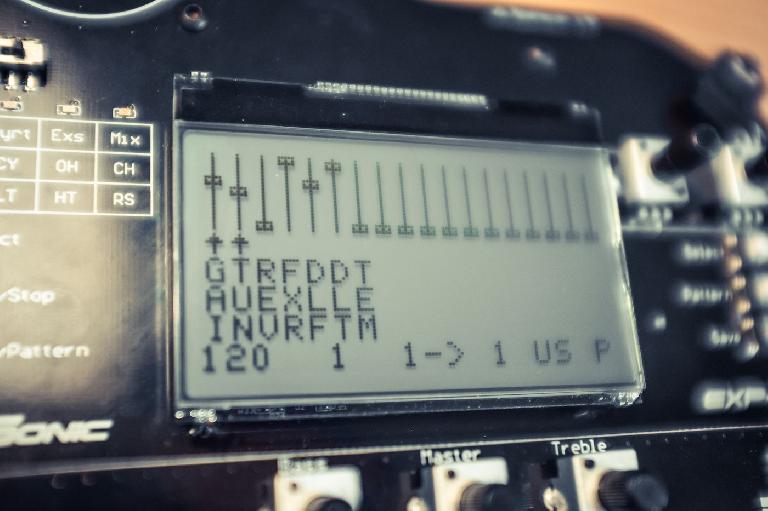 The display is large relative to the other controls and displays important information depending on the mode you are in - the faders typically represent values, be they level or numeric. You use the Select controls to the right to move between parameters onscreen and then the two control knobs to edit the data. Normally this consists of tasks like changing volume, effect level, pitch and so on. It's quite intuitive when you get used to it.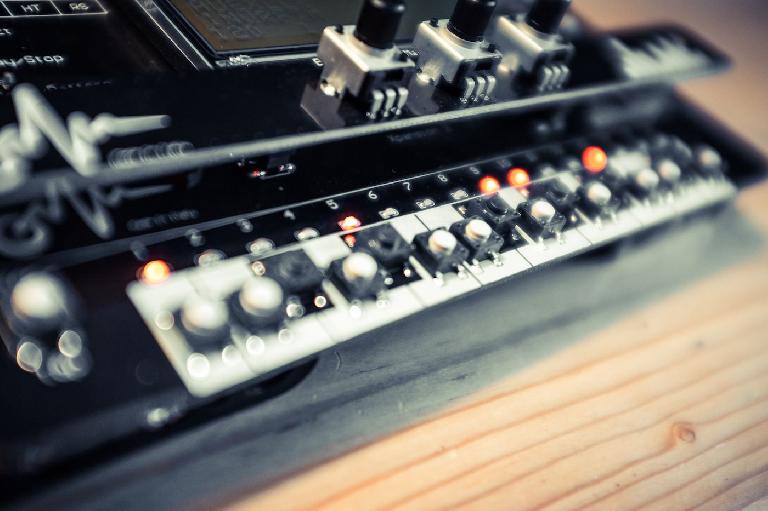 Performance Controls
The 16-button 'keyboard' along the bottom is used for programming pattern steps or as a live playing micro keyboard and also for selecting different patterns. There are tiny red LEDs here that show you what is selected, and the technique for programming is similar to many old style hardware step sequencers. Select a voice, set a tempo and use the buttons to enter notes. Unlike on the Pocket Operators, the buttons here are laid out lengthways which does make it slightly more intuitive to work with, just like on a vintage drum machine. There's Sequencer, Live and Arpeggio modes to provide you with a range of techniques for playing the synth. There are three arpeggiators.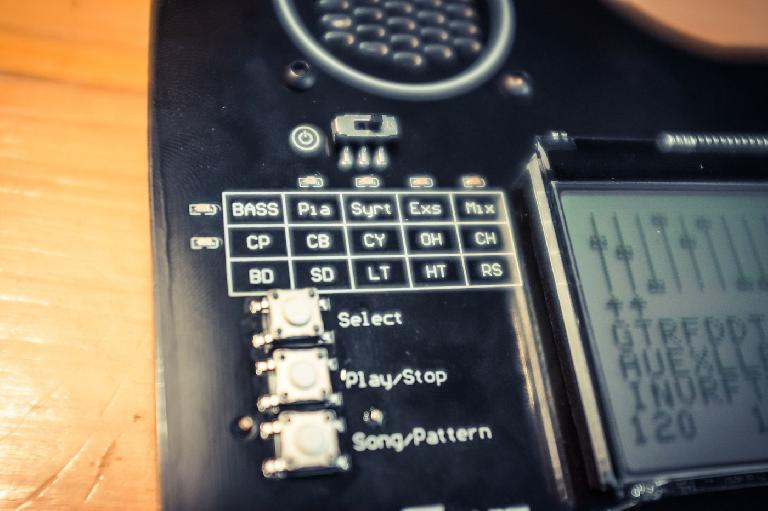 Speaking of voices, the EXP1 has several which you select and navigate using the Voice section. As noted, voices can be edited to varying extents depending on the voice, using the screen and virtual faders. There's a 10-part drum section that produces distinctly retro, crisp and heavy electronic beats and by playing around you can detune these sounds, change their attack and so on. There's also a vintage bass synth that can crank out some fat electronic bass sounds, and a mono dance music piano voice. A 3-voice-polyphonic analogue modelling synth rounds out the surprisingly varied set of sounds and you get 15 voices of polyphony in total which enables you to create some pretty complex patterns. The sequencer supports rhythm mode for beats as well as note list for synths.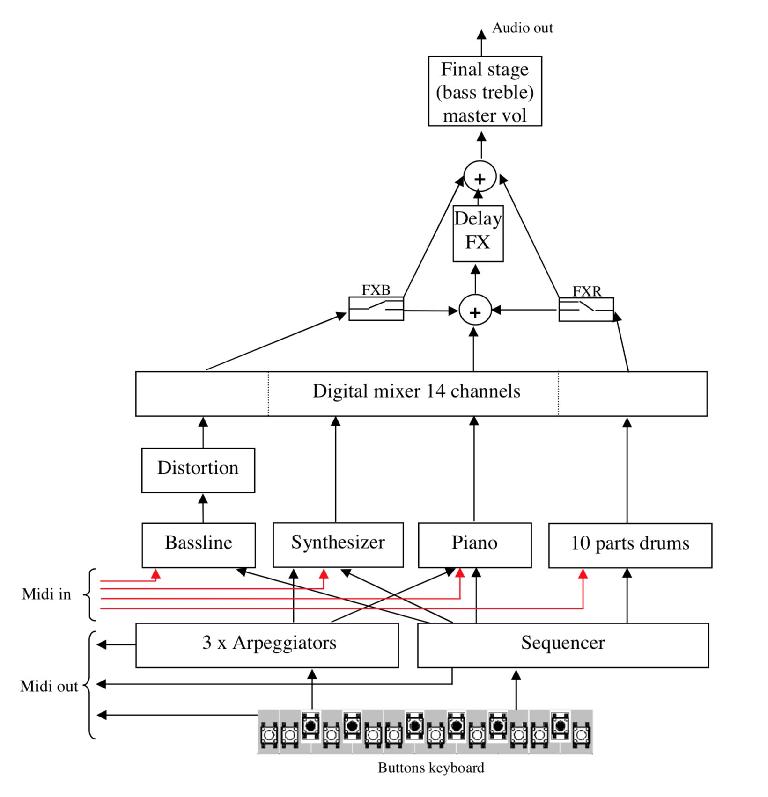 Thanks For The Memory
There are 16 synth patches and 16 pattern memories, and a Song mode for chaining patterns together. An effects section lets you add reverb, distortion or delay to specific sounds and there's even a track reserved for external sequencing via USB or the optional MIDI expansion which adds 3.5mm to DIN capability for direct connection to MIDI hardware.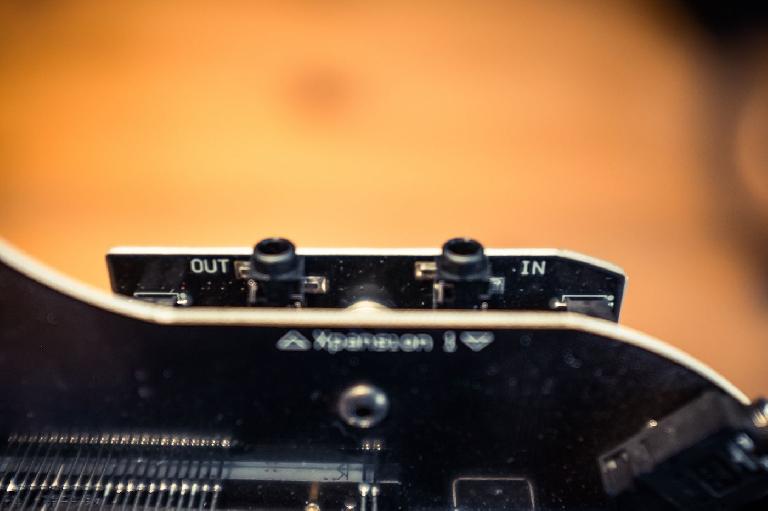 Also available as a hardware add-on is a tone section that gives you hands-on access to bass, treble and master volume via three knobs, which is nice for realtime control. This has to be soldered on if you purchase it separately. The standard edition as mentioned previously does have a USB port for MIDI as well as power and this can also be used to save and transfer patches via SYSEX. Interestingly, Fingersonic makes it clear that Android MIDI connectivity is also supported via the relevant add-on cable, which isn't as common as you might think.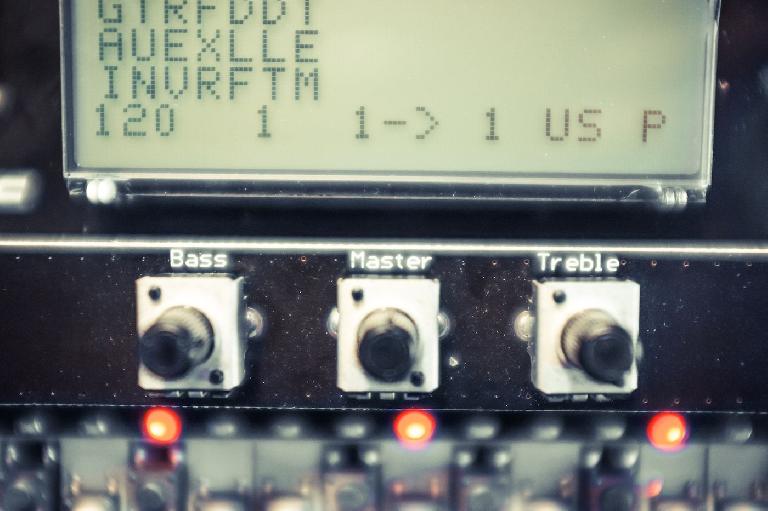 Conclusion
The EXP1 is a fascinating little instrument with a great, unique sound. The company's custom Fader OS is a clever way of giving you visual feedback, and arguably clearer and easier to understand than some other similar systems. Limited space means there is a learning curve - not all on-body labels are immediately obvious, and some tools and commands are necessarily accessed via button combinations, but this isn't a huge problem and is common in devices like this.
It's got more sounds and greater polyphony than you might expect, thanks largely to its computer brain, and the sounds are tweakable, with effects available too. Battery power and a speaker make it super portable, while USB power and headphones provide alternative ways to use it. MIDI over USB is a nice touch as is the ability to combine it with other equipment via a computer. If you really want to connect it directly to MIDI hardware, the optional MIDI expander is available for 40 EUR. The tone / volume expansion is helpful too, and an extra 32 EUR. Various combinations of add-ons and accessories can be bundled together too, with the Gold Edition (it's not gold in colour by the way) coming with all the extras and costing 307 EUR plus VAT.
EXP1 is a cool, fun and powerful little portable synth and sequencer with the ability to talk to external gear. It's certainly got its own sound and can make excellent beats and sequences. The price probably places it slightly beyond an impulse buy, but then it is a more advanced instrument than many others in this category.
Price: -EXP-1 245€
-EXP-1 Gold Edition 307€ (includes EXP-1 + Xpansion 1 + Xpansion 2 + USB otg cable + MIDI Jack/Din 3.5mm cable)
-Xpansion 1 module (MIDI In/Out interface with 2 x jack 3.5mm) 40€
-Xpansion 2 module (3 additive controls Bass/Treble/Master) 32€
-USB + Otg cable 5€
-MIDI Jack/Din 3.5mm cable 15€
Pros: More powerful than it looks. Sounds great. Make cool beats and sequences. Intuitive step sequencing. Talk to external MIDI software and hardware. Decent polyphony and voice selection. Battery power and speaker.
Cons: These un-cased synths are by definition more delicate. Arguably a little expensive if you're looking for a novelty synth - which this is not.