A couple of months ago, I decided that I wanted to get out and perform the songs from my new album live, singing and playing my main keyboard part live with mixes of the tracks from it sans those two elements from an iPad. It quickly became apparent to me that the iOS Music app was not well suited for someone to perform live with tracks, pausing to talk to the audience between songs, balancing levels, adding fade ins and fade outs, etc.
What Is It?
Go Button 3 in an iOS app that works with the iPad, iPhone, and iPod Touch, specifically designed as a "cue" playback system for live shows. I use it for songs, but it can just as easily be used for sound FX or any other audio clips. Within a "Show" you can build a list of cues and play them one at a time, or play multiple clips simultaneously, automatically go from one to another, loop them, trim them, on a cue by cue basis. Each show can have an unlimited number of cues. The app supports WAV, AIFF, AICF, MRA, AAC, MP3, MOV,CAF, 3GP,and MPEG 4 audio, as long as they are not DRM-protected.
There is a free version and a "Pro" license for $99.99. The free version only allows you to save one show while the Pro license allows you unlimited shows, depending on your storage level. You can delete shows, duplicate them, share them with iTunes file sharing, Air Drop, Dropbox, via email, etc.
The amount of control is really great. Each cue can play back an entire audio file, or a portion. Multiple cues can reference the same audio file, each can have their own volume, pan, and fade settings. Cues can auto stop, auto follow with a preset wait time, overlap with a negative wait time, duck by preset percentage, and in the cue settings you can create defaults so that when you add a new cue into a show, it follows those defaults.
It also has up to 96 "Hits." They are a simple cue to play for example a sound effect. You can have them assembled on the main page, depending on how you resize the elements in the page, and press or hold to play, or trigger using keys on a Bluetooth keyboard. You can control the app remotely using any Bluetooth device that supports the Audio/Video Remote Control Profile that conforms to Apple's standards.
Requirements:
iPad 2 or newer, iPhone 4 or newer, iPod Touch 5th generation or newer
IOS 8.4 or newer
Getting Started
When you install Go Button 3 you will see that there is an Example Song with cues and Hits already created to show you its capabilities. What I did not realize is that if I deleted it, which I did, you cannot get it back without reinstalling the app! For me, as a performing singer-songwriter not interested in having a lot of hits, it was no longer necessary.
What I did find disconcerting was the lack of a downloadable PDF manual. There is online documentation on the Figure 53 website that I literally had to copy and past into Microsoft Word to print out for reference. I think they need to deal with this ASAP. That said though, their tech support via email is exceptional. They respond quickly, are very patient and very helpful, even if you only get the free version.
In the Sidebar, you can determine some of your Show preferences for layout,

But it is remarkably flexible. My choices are pretty simple.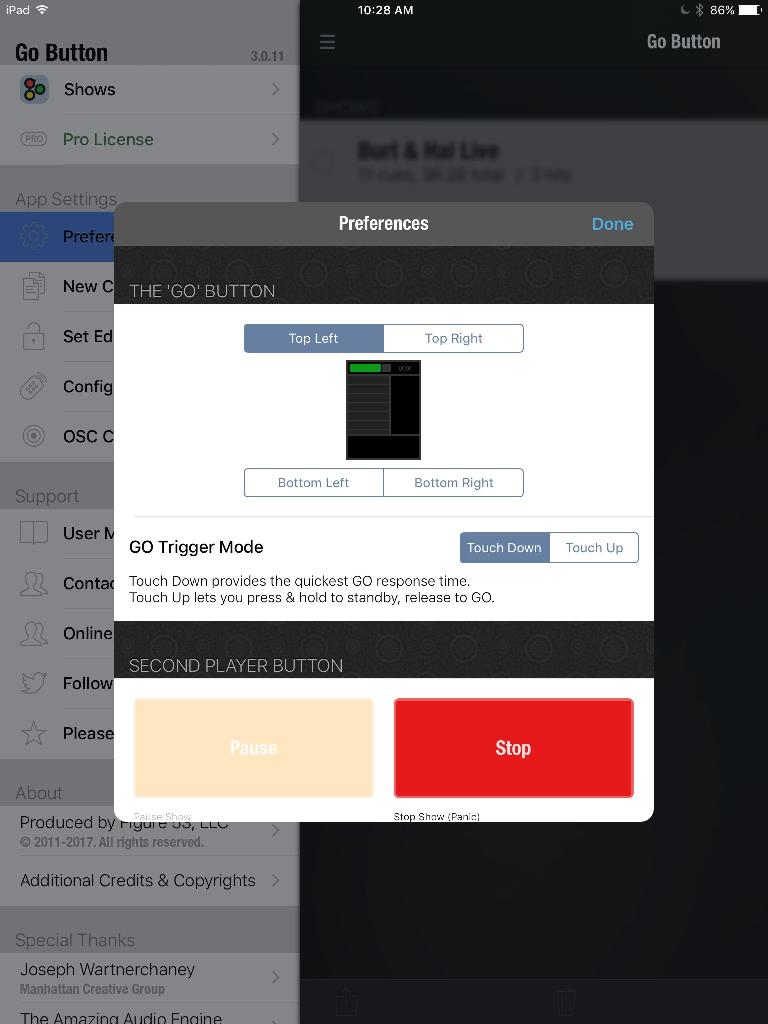 My cues preferences are for Auto Stop, with no fades in or fadeouts, or auto following, and no Hits. I have my second button set to Stop, not Pause. That is because my tracks are as I want them, except for some level adjustments. So when I create a new Show for this review, I have an empty one.
Clicking either the + Add Cue or the + sign at the top allows me to begin to populate the show with individual cues, although with file sharing in iTunes, I can add a whole playlist. Since I have uploaded all my iTunes tracks for my album from iTunes to the Cloud, and from there to the Music app on my iPad, they are all there to choose from. (As I was doing a second set of Burt Bacharach-Hal David songs, they are there as well.)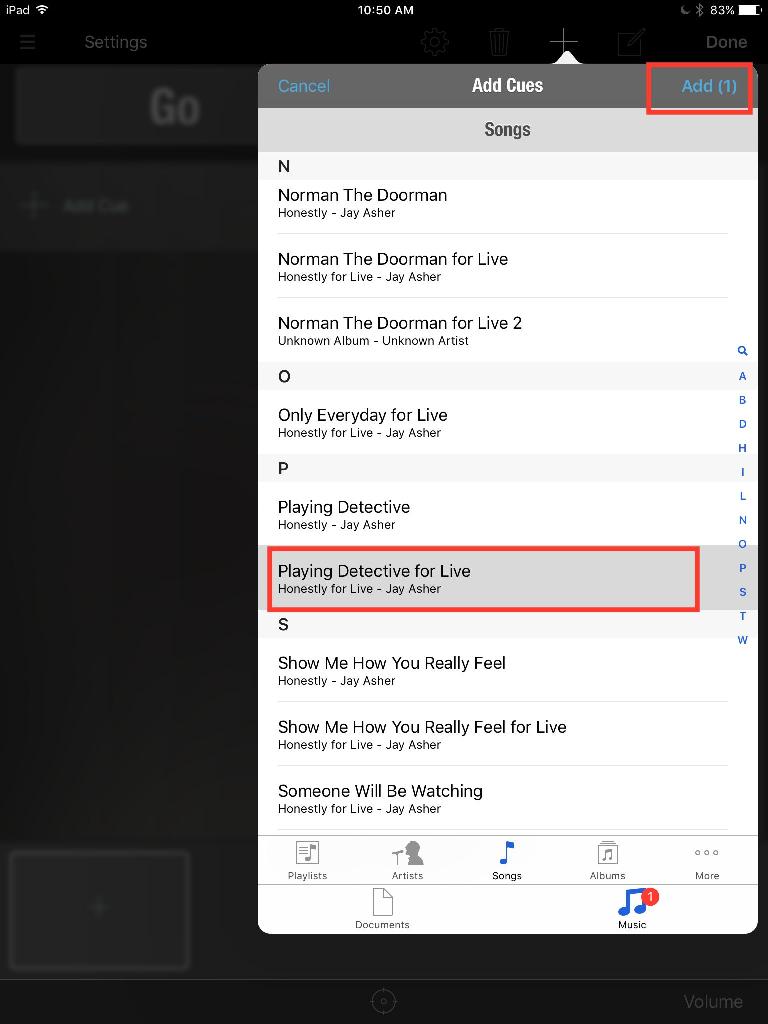 Adding the cue gives me behavioral choices. Again mine are pretty simple.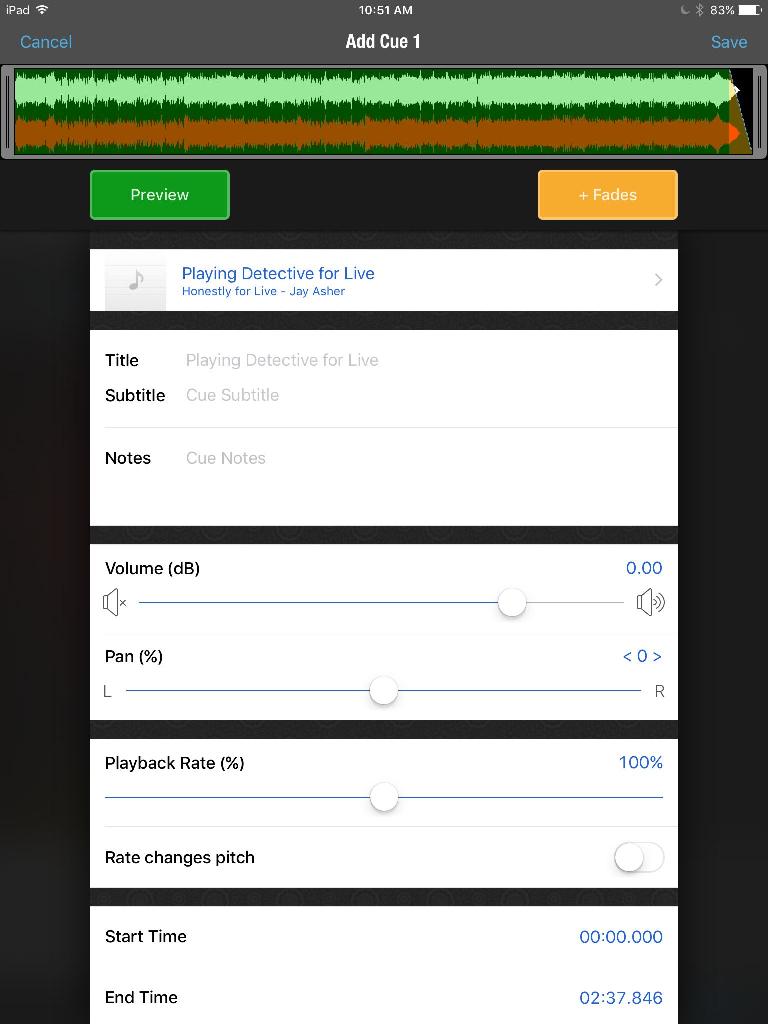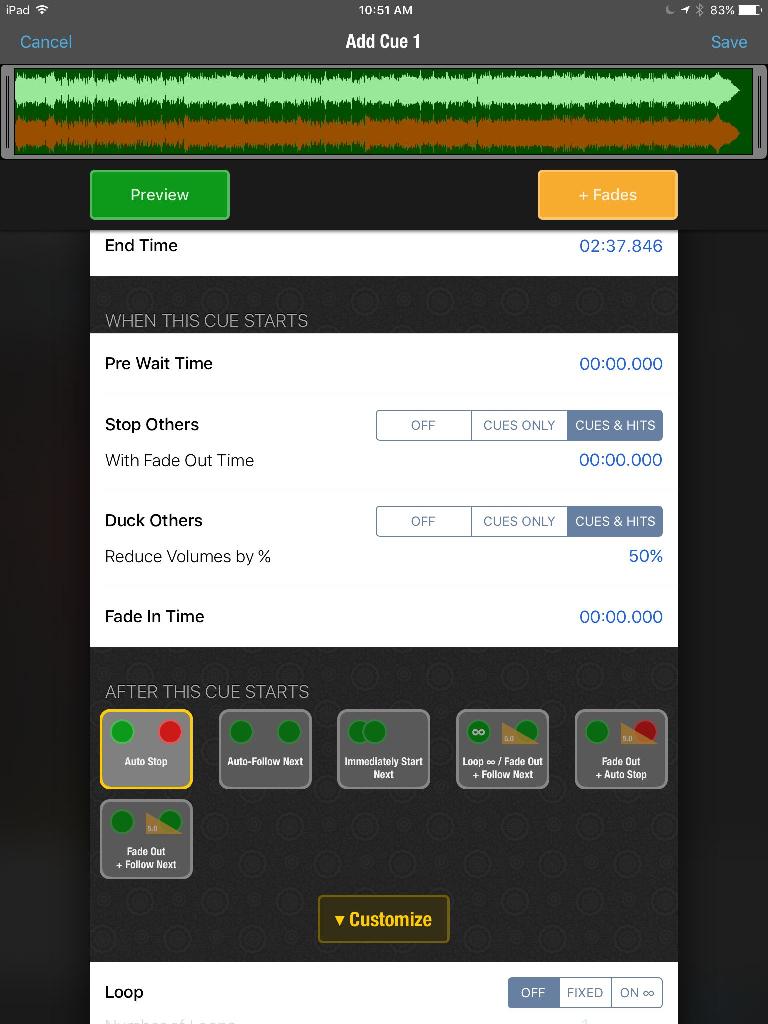 Continuing on, I create the playlist for my set and Go Button 3 auto saves it for me. Now if I simply press the Go 1 button the track plays. The elapsed Timer starts to run and it highlight the second track so when this first track stops, I will only have to press Go 2 when I am ready. For my second set, if I only have the free version, I can continue to add the cues. With the Pro version, which I recommend, I can create another show for my second set. I used Go Button 3 to perform two sets on September 2, and it worked flawlessly!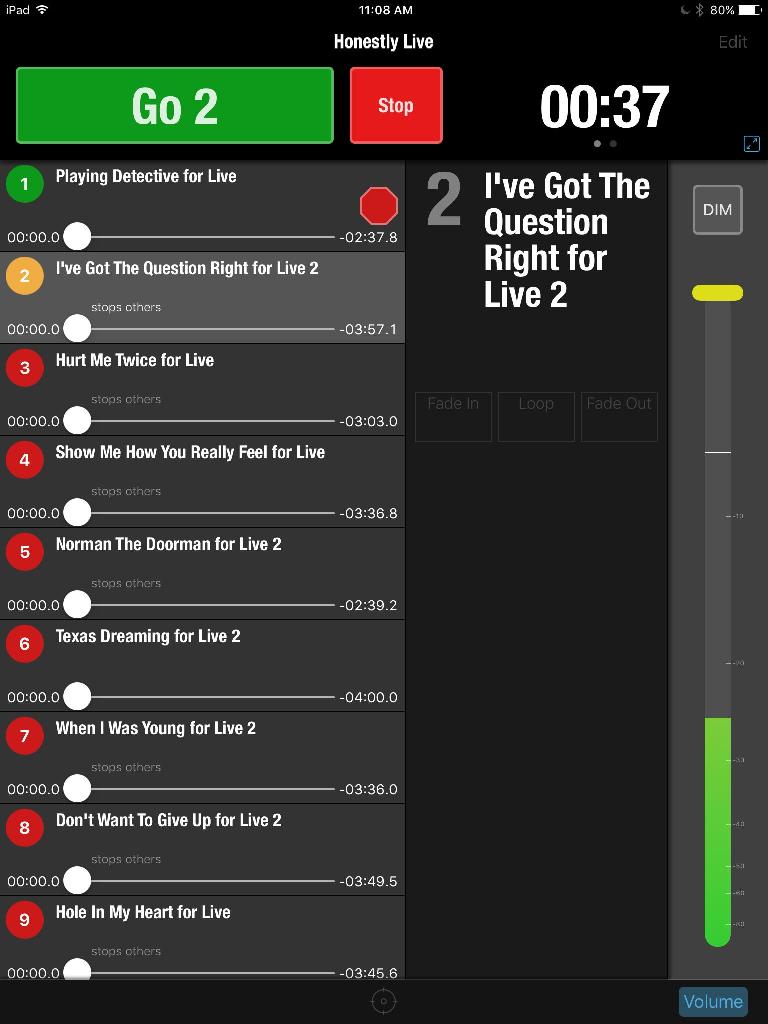 Conclusion
If you want to perform live using backing tracks or sound FX playing from an iPad, iPhone or iPod Touch, this is a terrific app.
Price: Free for basic license, $99.99 for Pro license purchasable from the App Store after you download the free version.
Pros: Great control over the behavior and the look of it. Tech support via email is terrific. Once you understand the basic elements, pretty easy to create the shows you want.
Cons: No downloadable PDF manual. Some settings that are on a cue by cue basis, I would prefer to be global to the Show, but you might not.