Fiddlewax Pro is an intriguing app for iPad that's designed to let you compose without necessarily needing too many conventional musical skills. Billed as a music sketchpad and MIDI controller, it is surprisingly lightweight and futuristic-looking and does a good job of packing almost all its functionality into a single screen.
It's pretty busy to look at, but once you learn where everything is (not a massive undertaking) it makes sense and you'll be quickly darting around. There are twelve instruments ranging from traditional things like pianos and acoustic drums through to electric guitars, saxophone and electronic kits. An expandable keyboard sits near the center and around it are shortcuts for playing chords, adding accidentals and changing scales. It supports 10-finger multitouch, though you'll probably struggle to achieve that many fingers with any accuracy. It does however give you great visual feedback as to what chords you're playing at any given time. Multiple scale types can be activated and you can create variations by holding modifier buttons.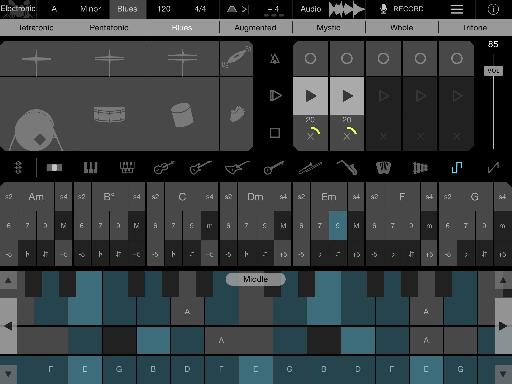 Take Control
Along the top edge is a sort of control bar where you can set up the behavior of the app. Control scale, tempo, time signature master effects and quantize as well as audio and MIDI output routing and more. You can load samples in from other apps, record them directly into the app itself or use external sources and also load SoundFont files to expand your sound set. It's possible to record performances as audio and then output this both as a stereo M4A file and a multi-channel MIDI file to import into a DAW. You can also add mic input to introduce more signal, and you get up to 90 minutes of recording time per session which is pretty impressive. Recordings are easily shared to the cloud or by email.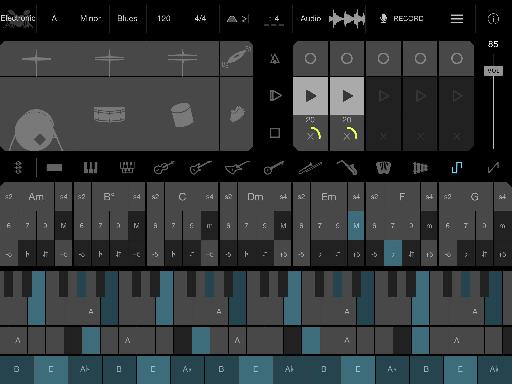 There's an onboard looping section that's vaguely reminiscent of the way Ableton Live works, just on a smaller scale. There are five loopers each with layering and sync capabilities and you can use these to build up patterns as you go. There's also undo available and the loopers are fun and easy to use, even if the technique of loop recording tends to steer you in a certain stylistic direction. The app supports all the latest protocols too so you're able to use Audiobus and Inter-App Audio to stream sound to other apps, and output MIDI to other apps or out to desktop software via Wi-Fi or Bluetooth. This last option in particular is great because it means you can trigger your favorite synth in Logic or your best Kontakt instrument using Fiddlewax's clever MIDI tools.
Fiddle more
Fiddlewax Pro is an interesting instrument and one of the few that focuses more on music theory than sound tweaking. It's more about playing notes than many of the more esoteric MIDI controller apps which tend to prioritize letting you assign anything to anything. Here, you really use your iPad for playing and the clever layout of notes, shortcuts and modifiers really does make it easy to play complex parts without needing to be an accomplished player. It's quite a unique app, but one that you may well find useful.
Price: $19.99 / £13.99
Web: https://fiddlewax.com/pro/
Pros: Comprehensive set of MIDI performance features. Record or load your own samples and import SoundFonts. Record and upload your performances. Learn about scales, chords and music theory.
Cons: Not a conventional DAW, if that's what you're after. Editing your MIDI performances is basic.