The Hammond organ is one of the most widely emulated sounds in music technology, though this doesn't mean that every version hits the mark. Quite apart from the sound generation, the hands-on use of drawbars is for many players an essential part of the performing experience, and for that you need hardware. German manufacturer Ferrofish has come up with the B4000+, a Hammond sound module with nine drawbars and plenty of ins and outs. It's powered by an ARM Cortex M3 and Sharc DSP processors, allowing three fully polyphonic manuals to be used. Polyphony is an important factor with organ sounds, since you often find yourself holding lots of notes at once, so you don't want to be running out of power.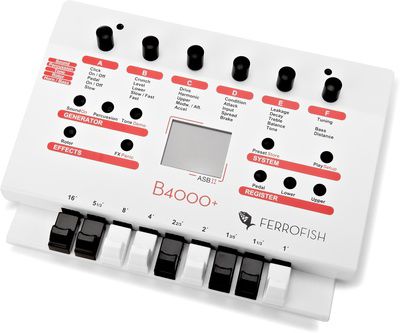 The B4000+ is small but perfectly formed, and feels rugged and sturdy.
The box itself is small but very solid and made of metal, with optional sticky feet supplied. Around the back are two MIDI inputs for connecting keyboards to the upper and lower manuals plus a pedal input. There's a footswitch input too as well as a single audio in for processing sounds through the onboard effects and a headphone output. A USB port allows MIDI to be sent to your Mac or PC, effectively turning the unit into a MIDI interface of sorts. There's a downloadable librarian app for patches, and firmware updates are also performed over USB.

Connect two MIDI keyboards and a dedicated pedal controller for an authentic Hammond playing experience.
Get started
Fire the box up and it's pretty straightforward to use. The six dials along the top feel reassuringly solid and you can press the Preset button to dive straight in. The small TFT color display is surprisingly useful and switches to display whatever you select. It makes using the B4000+ much easier than, say, an LCD screen would, since it can do graphics pretty well.
The dials can be made to control almost any parameter and their functions are shown printed on the front panel, with one basically for each section: sound, percussion, tone, rotor and horn / bass. This is easy to pick up and get used to, and you'll soon be zapping to the right section to alter any aspect of the sound. Flipping between registers is easy too with dedicated buttons, and the onboard effects: rotary, chorus, reverb and compression, are simple to tweak as well.
The whole point of having a hardware Hammond module is to use the drawbars, and here they're excellent, with just the right amount of click and resistance. They respond to whichever register you are currently in, and changing the sound on the fly is a joy, dialing in different tonewheels as well as affecting key click, leakage and even mic position with the other controls.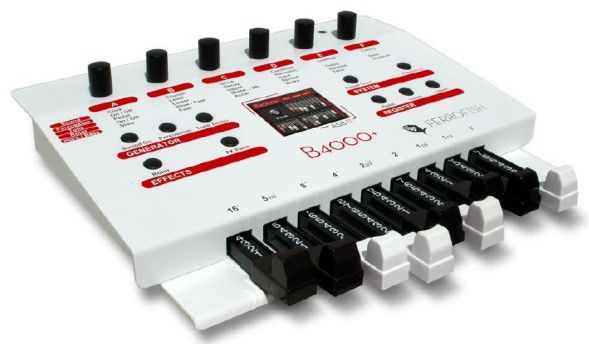 The drawbars feel great and you get to pretend to be Jimmy Smith…
Final thoughts
The B4000+ sounds great, whether you're after a clean, church-style organ or a gritty, swirling, biting jazz / blues kind of sound. Although compact, it packs tons of functionality in, and provides a really authentic feeling Hammond experience, especially when used live. Simply add a MIDI keyboard – or preferably, two. It can be picked up for around £312 / $480 (aprox.) and if you're serious about your organ sounds, that's a pretty attractive prospect.