I've long been a fan of FabFilter's impressive array of effects processors and also of its smaller but equally impressive selection of synthesizers. The company's designers have an almost unique talent for interface design, something that is especially important for plug-ins that are very powerful and flexile. Twin 2 is a plug-in synth for Mac and PC and comes in all major formats. It's remarkably affordable too, at just $154 / £99 / 129 Euro for a whole lot of synth.
The first thing that strikes you about Twin 2 is that it's not trying to look like any kind of existing hardware, because it's not like any existing hardware synth. At the same time it avoids the overly complex, scientific look of some other modern software synths that can put some people off getting to know them. Yes, it's not exactly for beginners either and there is an element of the circuit diagram about some of its sections, but this is actually to the benefit of the user, not their confusion.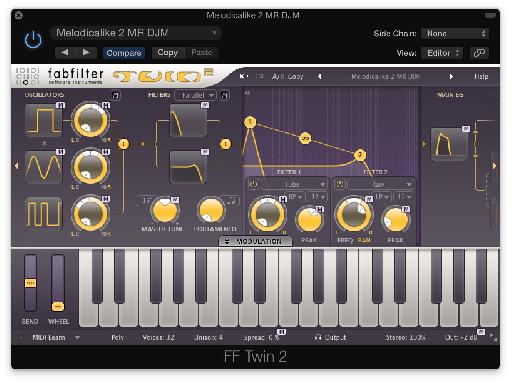 Sound starts with three high quality oscillators with PWM, phase sync and hard sync and these are located to the left. Click on any one of these and you can drag the mouse inside its display box to quickly change settings in a very intuitive way. A window also slides out to let you make other settings like octave and waveform. You can mix all three with level controls and the signal is sent to a filter section with similar control boxes. For both sections and for others inside the synth, preset menus let you save and load settings for that section only. A delay section follows, with highly configurable parameters again based on a signal flow system and with slide-out sections for making detailed changes. There's a virtual keyboard, and global controls including polyphony, unison, stereo spread and MIDI learn amongst other things.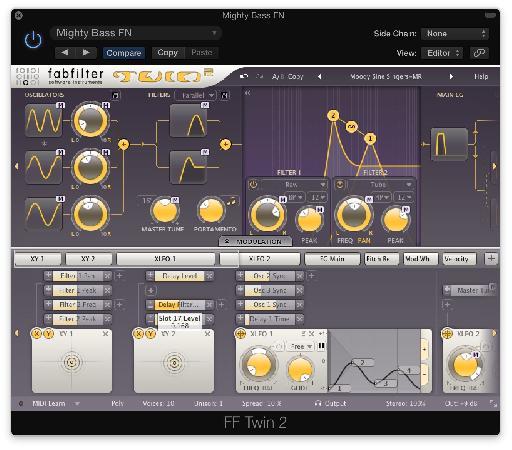 One of Twin 2's most powerful features is its modulation capabilities. Click to reveal the Mod section and you'll see an extensive, scrollable area where a huge range of parameters can be used to modulate a whole bunch of things within the synth. Crucially, this works by dragging and dropping sources to targets with the mouse, which is a really nice way to work. Selecting a parameter will cause the interface to be dimmed and potential targets to light up, meaning you can see exactly where you can send it. Of course you might want to brush up a little on synthesis to really get the most out of this system but if you have an idea what you're doing, it's incredibly powerful and also fun to use.
The sounds are awesome as well : Twin 2 can produce everything from massive basses through acid sequences, spiky atmospheres and eerie textures and even beats thanks to its advanced modulators. There are 1600 presets which is more than enough to keep you going and that's before you've even started to tweak. Twin 2 is an excellent synth with a huge capacity for sound creation. There's a fully functional 30-day trial available for you to check out.
Price: $154 USD / £99 GBP / 129 Euro

Pros: Gorgeous, slick interface. Very powerful but understandable modulation system. Excellent presets. Very useful help system. Huge depth of sound creation possibilities.
Cons: Learn a little about synthesis to really get the most out of tweaking and creating your own patches.