FabFilter have carved out a reputation as standard-bearing purveyors of cutting-edge multi-platform mixing and mastering plug-ins. But what about the fun stuff—creative tools to make the wild noises and soundscapes that inspire the writing process? FabFilter have been quietly but steadily delivering the goods on this front as well, with Saturn, Twin 2, and Volcano 2 leading the charge—and now Timeless 2 is available with an incredibly unique and highly programmable modular delay system.
Buckets of Win
There are few effect sounds more sought-after in modern electronic production than the classic "bucket-brigade" style of a saturated tape delay, the signal decaying and breaking up as feedback reaches fever pitch, pitch gliding smoothly along with delay time adjustments. Plenty of faithful virtual reproductions are out there, and if this is what you're seeking, Timeless 2 won't disappoint. In fact, it just might be the very cream of the crop!
Linkable stereo delays with fully self-oscillating feedback and cross-feedback controls, host-syncable delay times with easy controls to snap or glide between musical values (including triplets and dotted notes), plus a pair of FabFilter's signature filters that can be applied in serial, parallel or on a per channel basis already make this a top-flight delay unit. If you're looking for a more digital sounding delay without the pitch artifacts of an analog tape delay, the handy stretch mode has got you covered—and the freeze toggle allows you to instantly hold the current delay cycle in a loop.
Dual Filtration
As you might expect from a FabFilter device, the two filters are incredible. With eleven selectable filter models including Raw, Tube, Hollow, Extreme and of course FabFilter One, low-, high-, and band-pass filter types, and 12-, 24-, and super steep 48-dB poles, the sound shaping possibilities are huge. Even better, both filters are visible in the same graphic display so you can quickly see how they'll shape your delay output.

Full delay with filter view enabled.
Modulation Madness
Where Timeless 2 truly excels—and what really sets it apart from any other delay plug-in on the market as a creative tool—is with its super powerful modulation section. With XY controls, sync-able LFOs, Envelope Generators, Envelope Followers, and external MIDI Sources available to control any parameter throughout the unit merely by clicking and dragging, the creative potential is far beyond what would appear on the surface.
Simply by virtue of having separate Dry and Wet parameter controls—rather than a standard Dry/Wet balance—you can manipulate incoming and outgoing signal in a variety of ways. Linking different delay paths to different channels of an XY controller, or re-sequencing the timing of a pattern completely via clever LFO programming, resulting in everything from wild chorus and flange effects to beat-juggling rhythmic tools.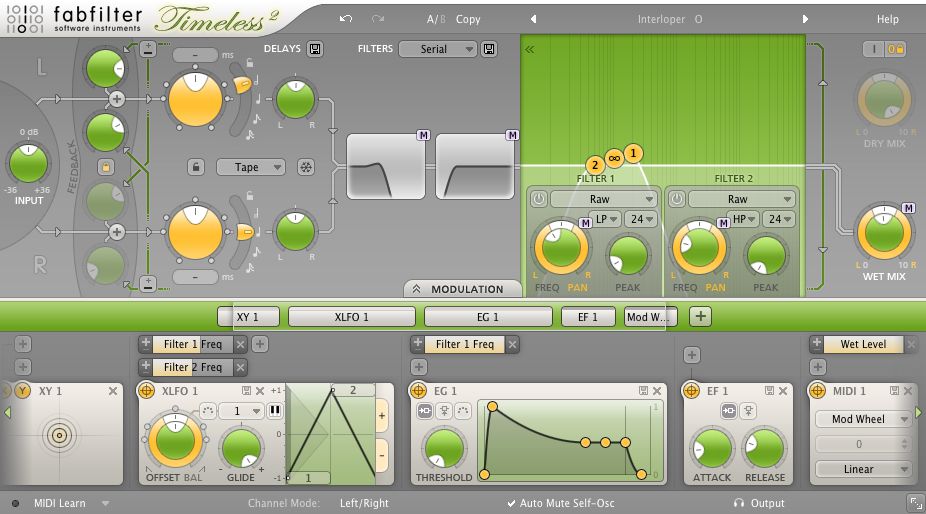 Modulation in action.
Time Is The Instrument
With an extensive patch library spanning Chorus, Distortion, Dub, Guitar, Long, Percussion, Resonator, Sequence and a numbe of other categories, you'll get to see the wide range of what's capable with Timeless 2 very quickly—and use them as starting points to reverse engineer the incredible amount of filter routing, modulation and other options. Whether you're looking for classic analog dub delays or a creative tool of surprisingly monstrous proportions, Timeless 2 is worth a good, hard look.