Toontrack have until now been a company synonymous with great drum libraries. Their new innovative product EZKeys sees them showing a more melodic side with a sampled piano.

The Piano
The piano Toontrack have sampled is a Model D Steinway grand. As you would expect from Toontrack the detail of the sampling is fantastic and the instrument is a joy to play, even for someone with as little keyboard dexterity as myself!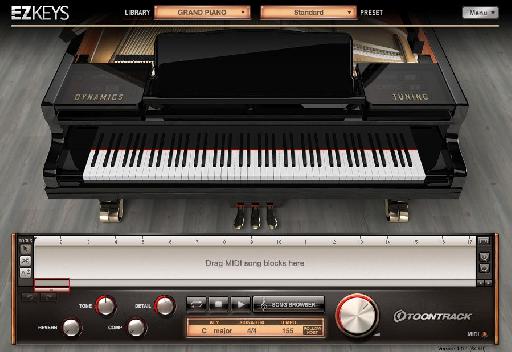 There are three pedal modes which can be addressed by MIDI CCs. Sustain is controlled by the regular Sustain Pedal (CC#64) while Sostenuto (only sustains notes that are held when the pedal is depressed) is on CC#66. CC#67 controls the Soft Pedal option which gives a muted and warmer tone to the piano.
Hidden panels on the interface allow for adjusting the velocity curves and range as well as tuning and transpose functions.

The '