So in case you missed it, November 2012 was Metal Month over at Toontrack. This has become a regular occurrence where the good folks at Toontrack go back to their roots and celebrate all things Metal by releasing a bunch of new products aimed purely at the Metal market.
The second product released (the first being the '˜Rock Solid' EZ Expansion) was an expansion pack for EZMix 2 called '˜Metal Guitar Gods'. This provides EZMix users with 50 preset sounds for Guitar and Bass designed by some bona fide metal guitar gods.
So who are these gods you speak of Toby?
Fredrik Thordendal
As one half of the sledgehammer guitar sound of Swedish metal band Meshuggah (along with MÃ¥rten Hagström) Fredrik Thordendal is just the man you want for the job when it comes to creating crushingly heavy guitar sounds! Meshuggah are well known for their low tuned 8 string guitar tones (down to F) which coined the term '˜Djent' (as in Djent-Djent-Djent).
Mixing wildly complex polyrhythms and technical ability, Meshuggah are hard to beat when it comes to heavy!!
Drummer Thomas Haake also shares a long history with Toontrack. Their first product '˜Drumkit From Hell' was based on one of his kits. He has also contributed kits to The Metal Foundry SDX and Metalheads EZX.
Misha '˜Bulb' Mansoor
Misha Mansoor has been about on the metal scene for a while and has become quite a player in the progressive metal scene. Not only is he a highly talented guitarist and writer/producer but a seriously good drum programmer, check out Animals As Leaders debut album!
Misha is currently playing in Periphery which he also produces. And let me tell you, they aren't messing about!!
Mattias IA Eklundh
Swedish born Mattias IA Eklundh is one of those guitarist that's full of surprises. As guitarist in Freak Kitchen and hired gun for bands like Soilwork Eklundh has proven himself as a highly experimental guitarist and composer.
He's probably most well know for his ability to extract harmonics from places on the fretboard you didn't even know existed! He'll then take that harmonic and melt your face with it!!
Devin Townsend
Few people are regarded as highly in the metal scene as Devin Townsend. With one of the most varied back catalogs of any artist I know it's kind of hard to know what he'll do next. One thing is for sure though he can knock out some of the heaviest riffs known to man!
From the extreme metal of Strapping Young Lad to the ambient acoustic lilt of '˜Ghost' to the pop infused metal of '˜Addicted' and '˜Epicloud' Devin does what he feels like at the time, even if it's a metal opera about a coffee drinking alien called Ziltoid.
An highly accomplished guitarist, vocalist and producer Devin has a very unique style that's instantly recognizable, from his crushing octave riffs to his wall of sound production techniques.
The Presets
The presets in Metal Guitar Gods are fairly varied although they err to the side of huge distorted tones. There's some great clean tones and highly useable clean and dirty Bass sounds just a click away using the EZMix browser.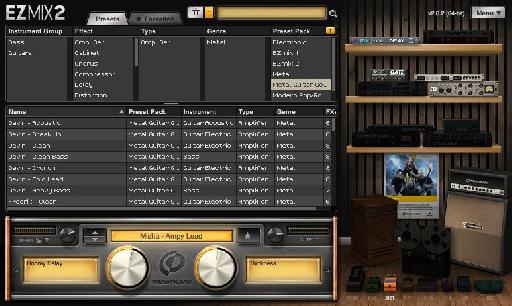 But let's face it, this is mainly about bone crushing guitar sounds! If that's what your after then you won't be disappointed! The rhythm tones from all the contributors are killer and provide all the cut and dirt you need for major riffage!
There are also some really great lead tones as well, providing huge amounts of gain yet remaining smooth and defined.
Getting sounds together for a track is so simple, thanks to EZMix's point and shoot philosophy! I broke out the 7 string and got a quick riff on the go in minutes. All Toontrack here from the drums (Metal Foundry) to the bass and guitar sounds!
EZ!!!!!
Unleash your metal guitar God side
here
.