In a musical universe where everything old seems to eventually become new again, it's no wonder classic spring reverbs have been making a major comeback of late. Among many other deserving accolades, Eventide's name has grown synonymous with top-notch reverb algorithms – so it's little surprise they would arrive with a spring reverb plug-in all their own.
Largely popularized due to their compact size and portability which allowed them to be built into many vintage guitar amps, spring reverbs are most often associated with guitar-driven genres from the '60s and '70s such as surf rock and rockabilly. But that twangy spaciousness can be used to great effect on all manner of sounds.
Notably with Blackhole and other recent effect plug-ins, Eventide has developed an intuitive interface that combines traditional reverb features with a few unique settings all their own, and Spring uses this same sleek format.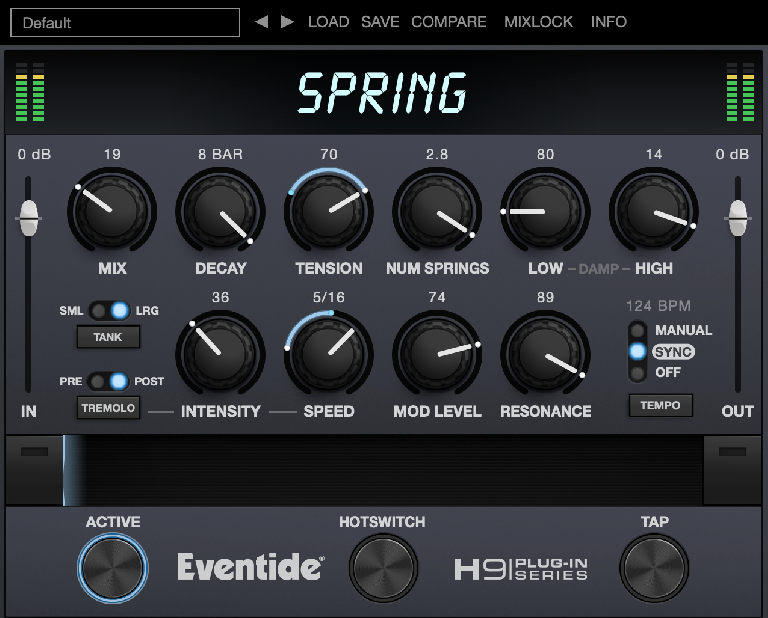 Discrete In and Out gain sliders combine with a Verb Mix dial to finesse the blend and level of reverb signal Spring emits. Sync-able Decay time along with separate Low and High damping controls govern the duration and resulting frequency range of Spring's lush reverb.
Where it starts to get interesting is with the Tension dial. This controls how loose the springs are, with shorter values producing shorter, higher-pitched reflections, and higher values dispersing lower pitched reflections over longer periods – quite fun to adjust in real-time. Next to this is the Num Springs dial, which smoothly transforms from the boxier result of a single spring to the comparatively more expansive diffusion of three springs vibrating simultaneously.
A simple switch changes between a Small or Large Tank emulation, resulting in sharper or softer reflections, respectively. The Resonance dial adds metallic harmonics to the reverberated signal, helpful for making it stand out in a mix or doing more unique sound design. A Mod Level dial adds fixed-rate modulation for classic chorusing that provides a special sheen in conjunction with higher Resonance values.
Finally, a Tremolo can be added before or after the reverb – a hallmark of spring reverb's golden era that can be redeployed here for all kinds of fun sound design exploits. With the amount of Tremolo controlled by an Intensity dial, the Speed dial can be set to Hertz with Tempo off, toggled to host-synchronized note values, or set to a Manual mode of metrical values while entering the target BPM yourself.
This combination of unique and powerful features with Eventide's state-of-the-art Spring reverb algorithm should be more than enough to convince anyone looking for a vintage reverb to grab Spring for its current low price of just $29 USD. Factor in their unique Hot Switch and Ribbon Control for real-time (or automated) control of multiple parameters simultaneously, and it seems Eventide has produced yet another winner.
Meanwhile, the diverse range of included presets really show off Spring's range, from spacious sound design washes to lively percussive enhancement, and the bouncy lushness that spring reverbs are known for. Any producers seeking lush reverb with unique dynamism and plenty of control would be well-advised to give Spring a go.