One of Eventide's most revered reverb algorithms, Blackhole is famous for its expansive spatialization and richly harmonic decay. Previously featured in Eventide's DSP4000 and H8000 units, and eventually their Space guitar pedal, here it's been ported to AU, VST, and AAX native plug-in formats, with a number of features that make it incredibly playable for mix engineers and musicians alike.
Interstellar Sounds
Reverb as an instrument unto itself might seem far-fetched, but Blackhole fetches far further than your average reverb unit. A deceptively simple interface consisting of ten knobs, two sliders, and six buttons invites instant tweaking.
A simple Mix dial, along with the Input and Output gain sliders, adjust the amount of reverb signal audible. The Gravity knob is a dual-mode decay control, with short, dense decays at noon spreading out to lengthier decays all the way right; sweeping left of center enters inverse mode, delivering a range of reverse decays—while the Size knob smoothly zooms from the tiniest realms to vast intergalactic distances. Predelay—which can be conveniently synced to your host clock, and utilized, with feedback, as a full-fledged built-in delay line—helps define the response, along with Low and High shelving EQ controls.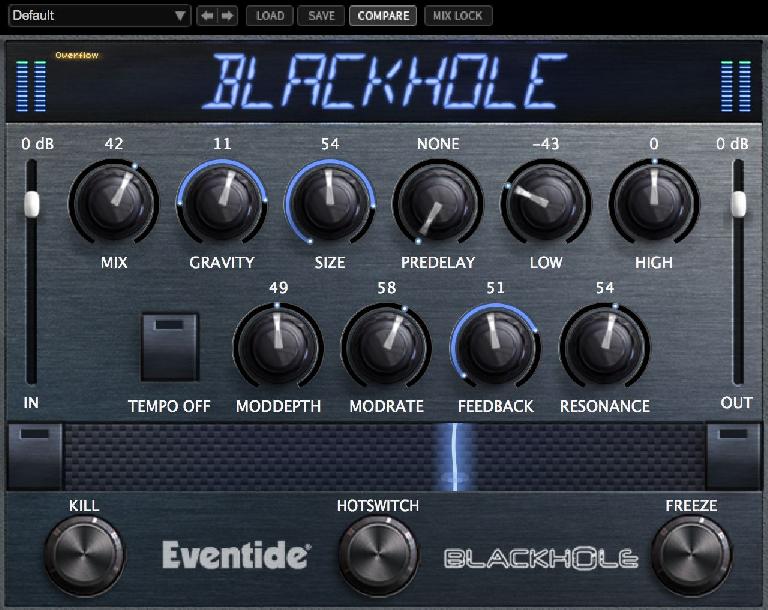 Modulation of the reverb tail via the ModDepth and ModRate dials provides a subtle chorusing sheen, while the Resonance control boost peaks at the Low and High shelving frequencies, adding a degree of harmonic emphasis. Finally, the Feedback controls the recursion of the predelay, with higher values resulting in the Infinite setting—limitless decay—and a full twist all the way right resulting in a tail Freeze, all of which makes it uniquely useful as a built-in delay on its own.
Inner Space
If being drenched in lush washes of reverb isn't enough to get you excited, Blackhole boasts some innovative interface features to make things interesting. The ribbon control—the strip below the main dials—can be assigned to control multiple parameters, each with their own range assigned. Each dial has a blue dot in the circle around it; grab this dot and pull it right to set the maximum range, represented by a blue line, and grab the ensuing dot on the left of the line to adjust the minimum value. Once this is configured for two or more parameters, grab the wavy blue line in the ribbon area, drag it left or right, and watch all the associated parameters change simultaneously, within their assigned ranges. While all the individual dials are available for host automation, so is the Ribbon controller itself—so editing your tweaks is wonderfully simple.
Meanwhile, the Hot Switch allows you to toggle between two stored parameter settings. The Kill button eliminates the input signal, allowing the tail to hang, while the Freeze button holds the reverb tail in place, hanging around for other parameter tweaks to create atmospheric crescendos and pitch gliding size tweaks.
Event Horizon
After just 24 hours of usage, it's hard to imagine a more desirable go-to reverb. The sound quality is simply outstanding, all the essential features are there, and it invites a degree of painless creativity that standard reverb units just can't match. Throw in a selection of presets from seminal producer Flood, Sigur Ros, Jonsi & Alex, legendary guitarist Vernon Reid, and virtuoso engineer Richard Devine, and you've got all kinds of starting points to show you just what it can do. Despite the cost, this is one Blackhole I was all too happy to get sucked into.
Price: $199 USD, $199 USD Anthology X cross-grade.
Pros: Incredible sound, easy on the CPU, intuitive interface that invites creative tweaking and automation.
Cons: No inverse assignments to ribbon control; normally a bit expensive—currently on sale though.