Review: Erica Synths Pico System 1
If you love modular synths but don't have the space for huge boxes, Erica Synths' Pico System 1 combines a ton of sound modules into a tiny package - and it sounds massive.
Although I love synths, I don't have the time, space or frankly the money to get heavily into building large modular systems. It's a serious undertaking however you slice it. What I DO like however is when someone creates something that takes the power of a big modular system and puts it into a form factor that I understand. Latvia's Erica Synths have built quite the reputation for themselves with an ever-expanding stable of hardware synth modules, but its latest is designed just for people like me. And, perhaps, for you too.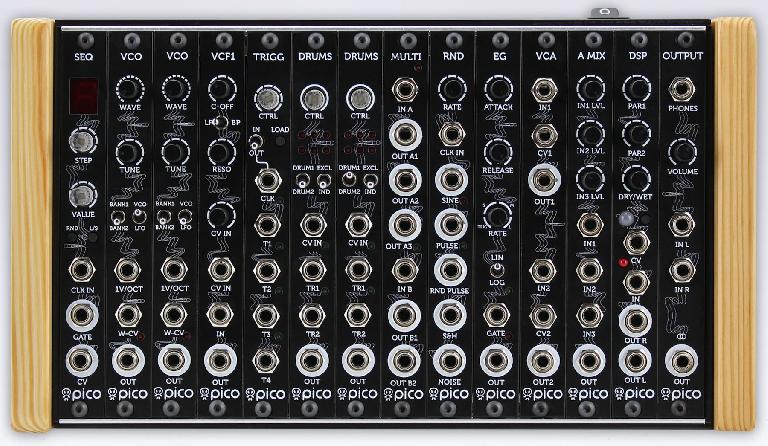 The Pico System 1 combines 14 of the company's Pico modules into a single unit, with all the behind-the-scenes work already done. There are around 28 modules in the family, but Erica has chosen the ones most suited to an all-in-one system and that are going to be the most use to you when learning and advancing your modular skills and performances. Essentially the idea is to do some of the initial legwork for you in terms of figuring out what you will need to build a system, plus fit it all snugly into a nice case with a single power socket. It's modular synthesis without the messing about.
Form Factor
The Pico System 1 is small – around the size of a box of chocolates – but very solid and reassuringly heavy given its size. It comes with 25 patch cables sorted by colour and length, so that you get a good selection of options and can visually keep track of what's going on. You might always use a certain colour cable for Gate CV, just as an example, although all the cables work identically.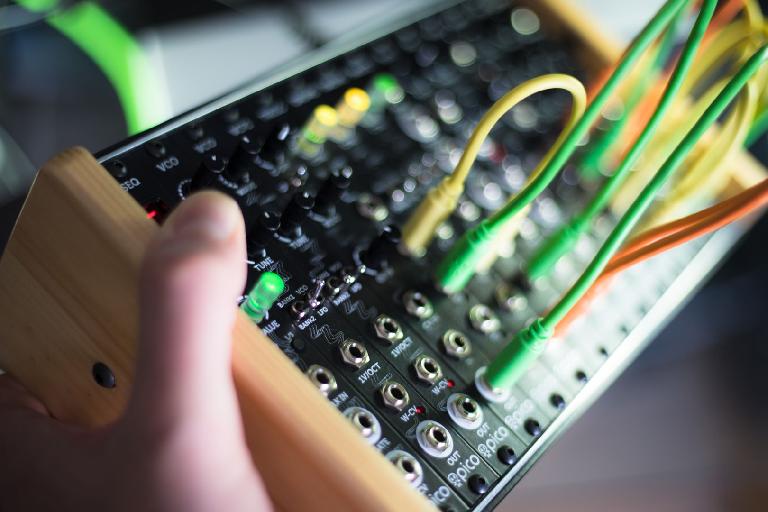 Some basics on synthesis will really help you – in fact it's more or less essential to know what the modules actually do. This system has no presets, it's an entirely organic workflow. Each time you want to make a patch you have to do it manually. We're firmly in hardware country here. Luckily, Erica supplies a printed booklet with some handy suggested patch setups to get you started. Wire up a drone synth or a drumbeat pretty quickly by following the examples. The booklet also contains blank printouts so that you can draw your own patches in. Make sure to scan or photocopy a blank page so you never run out.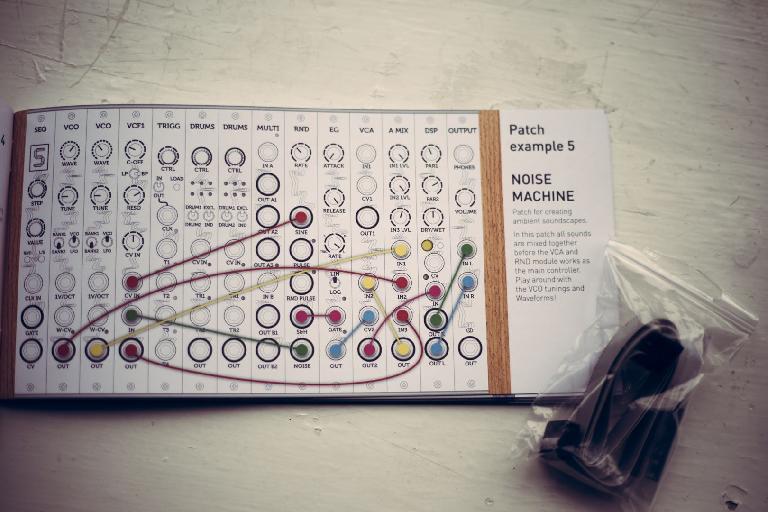 Module By Module
As you'd expect, each of the slender modules is clearly labelled and they have done a great job of cramming a ton of I/O and control into a very small space without requiring you to squint to see it. When I did my "quick start", I began by following one of the drum patches in the example document. I'd already figured out of course that I'd need to have a source, a trigger, some processing and a mixer and output stage would be involved, but following the template helps you to familiarise yourself with how the system is laid out. As well as ports and knobs, the clear-coloured dials can be pressed to change their function and they have multi coloured LED backlighting to show their state. Rather than describe every module in detail I'm going to copy the official list and descriptions here, since it makes everything very easy to see at a glance.
SEQ – powerful 16 step sequencer with 16 pattern memory
2xVCO – 32 custom waves in 2 banks, great 1V/oct tracking and LFO mode
VCF1 – Polivoks-inspired LP/BP VCF, ideal for acidish basslines
TRIGG – 4 trigger polyrhythmic pattern generator that also serves as a master clock for the system. Web-based pattern designer app allows user to upload own patterns
2xDRUMS – 64 sample player with 3 adjustable parameters and CV control over them. Web-based app and Pico Programmer (included) allows user to upload his own sound samples
MULTI – buffered audio/CV/clock signal splitter
EG – lin/log ASR envelope generator that works also as LFO
VCA – dual linear VCA
RND – sine/pulse LFO and random events (random trigger, S&H and noise) generator
DSP – stereo effects processor with 8 great sounding custom effects
A MIX – 3 input audio mixer
OUTPUT – stereo output module with headphone amplifier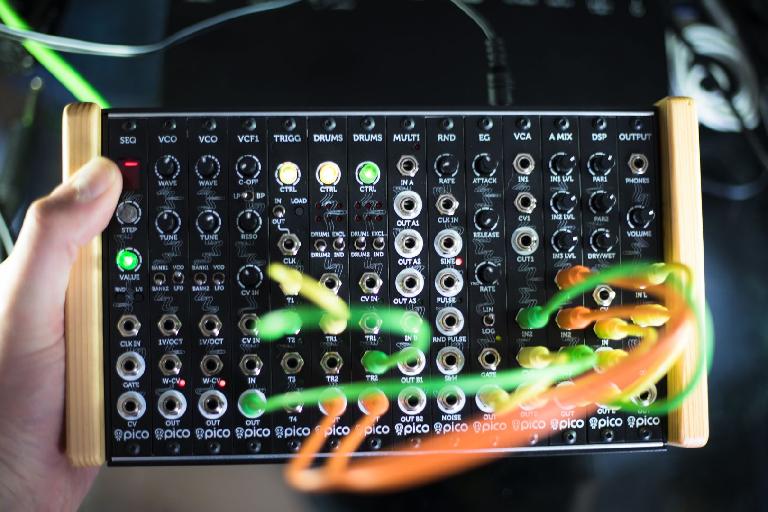 So what you have is some interesting ways to generate sounds (two VCOs and two sample-based drum modules), a sequencer and pattern generator, various ways to shape and morph the signal, a stereo FX processor and a mixer. I'm simplifying that – each of the modules has a bunch of its own settings and the nature of modular patching means your options are virtually limitless. The onboard fx section is particularly cool, letting you add hard-edged delays do your beats, crunch and crush to basses and much more.
But Wait – Presets?
Having said that this system is entirely organic, there are actually some elements of preset data lurking around the place. The sequencer has a 16-slot memory, the VCOs have a selection of 32 waves. The TRIGG module lets you upload your own patterns using a combination of a web-based pattern designer and its CLK input. The drum modules let you upload your own samples, again using a web-based app but also this time using the supplied Pico Programmer, a small physical interface that you connect to the rear of the module using USB and although this does mean unscrewing the module to access it, it's still a great facility to have. In a sense then, this ostensibly pre-created system can actually be modified in ways you might not have expected.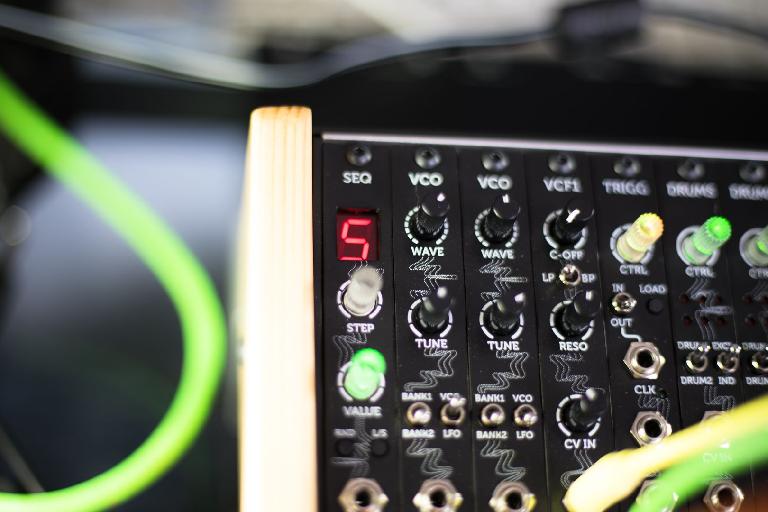 It sounds fantastic too, that authenticity that you only really get with modular hardware. The different source modules are capable of everything from fat, acid basses to drones, harsh sequences, noise and huge beats. Since it's freely patchable, you are able to twist, morph and mangle any sound in almost any conceivable way. And although it's a self contained system it does of course have a fair few inputs, meaning it's perfectly possible to introduce external CV-capable gear. You really can get a phenomenal range of sounds out of this system if you understand how the different modules can work together, from serene dreamscapes to terrifying, harsh beats.
Conclusion
Erica highlights the suitability of the system for live performance and it's certainly an excellent way to create sounds live on the go and mess with them in real time. You'll need to know what you're doing – often, a single wrongly patched cable means no sound, or a tone rather than a pulsating lead line. That's true of all patchable synths, in whatever format. To be frank, you're not likely to spend this much on something merely in the hope that you might use it one day.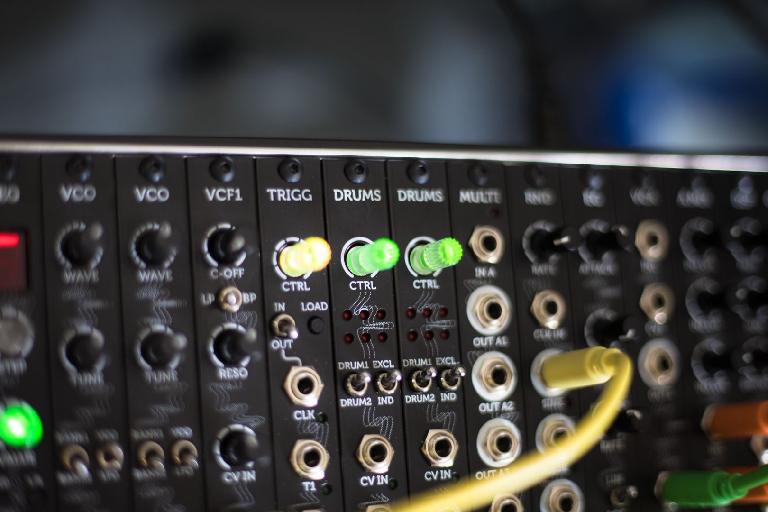 It's for synth enthusiasts, yes, but not just for experts. It sounds immense and is extremely powerful, but Erica has absolutely achieved its aim of making something that can introduce you to the world of patchable modular synths without requiring a degree in electronics. I love the small form factor, the amazing sound, the pre-selected modules and the tweakability. It's fun to use and also a very serious machine – an unusual combination. It's an excellent way to learn and advance your modular skills and knowledge that comes highly recommended.
Price: 1000 Euro plus VAT
Pros: Extremely portable and well built. Pre-selected Pico modules in a self-contained system. Sounds amazing. Multiple sequences and waveforms plus the ability to upload own samples and patterns. Endless patching possibilities. Combine with external CV gear. Perfect for the studio and the stage. Powerful yet fun.
Cons: Uploading your own drum samples is slightly fiddly.
Web: http://ericasynths.lv/en/shop/eurorack-systems/pico-system/