Latvian synth specialists Erica Synths have been steadily building their lineup of unique analogue instruments and processors and the latest is the Fusion VCO module. Designed to be used in a rack setup, you'll need to connect the power using the special bundled cables and take an audio output to wherever you want the sound to be directed from the Mix Out.
The VCO in the module has three waveforms: sine, triangle and square and these can all have their shape changed using the waveshape knob. The waveshape can also be modified by connecting a Wave CV input which enables you to create a modulating effect, and you can route FM in as well over CV to create a much more intense modulating effect.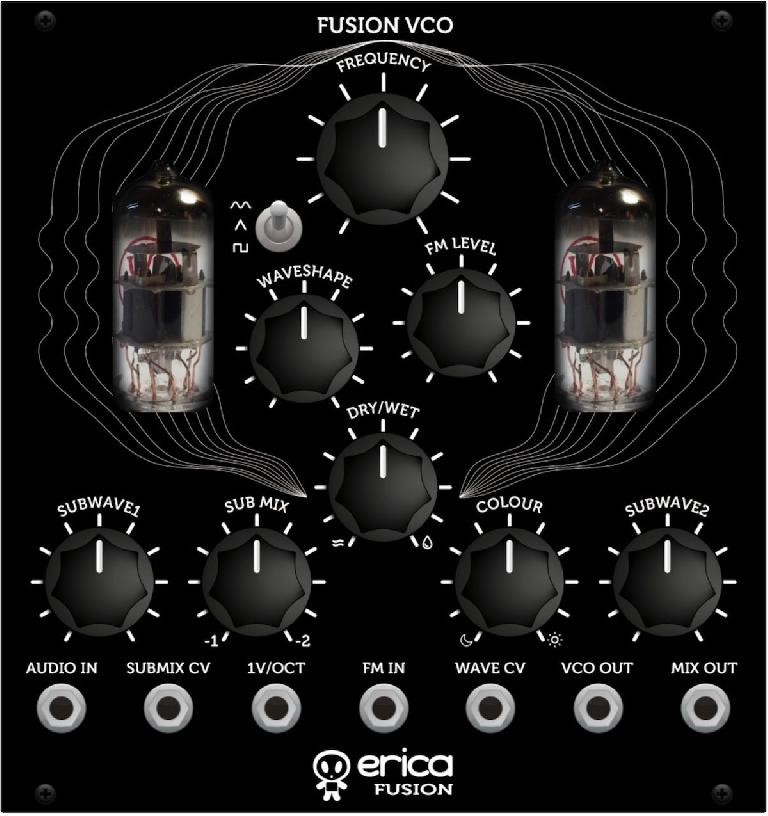 Dive Deep
Things get even more interesting when you start to work with the sub oscillator sections, which bring the two vacuum tubes into play. These add sub waves 1 and 2 octaves lower respectively, and the dry/wet knob lets you control how much of the sub signal is blended with the main sound. This gives a much heavier and fatter character to the sound by introducing lower sonic elements. The Sub Wave dials can be used to change the shape of the sub waves to further tweak the character of the signal. By playing with the various knobs, you can achieve a pretty varied spectrum of different tones from thin and reedy to fat with plenty of unison.
Another interesting thing to try is route in external VCO signal via the Audio In jack, which bypasses the internal VCO. This gives you a way to mix signal from elsewhere with the unit's two sub oscillators generated by the tubes, for greater flexibility.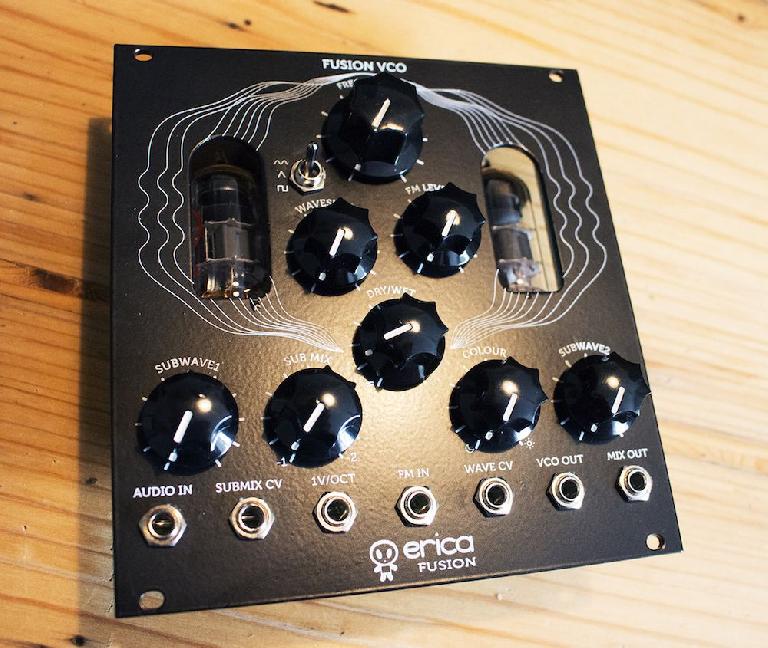 Bigger Picture
You can incorporate this module into any rack setup of course, but it's been designed as part of the Fusion Drone system, (https://ask.audio/articles/erica-synths-fusion-drone-eurorack-synth-system-released-it-sounds-stunningly-esoteric) which combines several matched sound generating and processing modules together in a special unit. Although I haven't had a chance to play with the whole thing, on the strength of this VCO portion of the system it would be incredible.
The Fusion VCO—whether mixed and matched with other rack gear of with other members of its synth family—is a gorgeous sounding module that encourages experimentation and provides you with controls that are friendly and won't blind you with science. The addition of the tube-driven subs adds a whole new depth to the sound, and introducing some FM or other CV in and tweaking shapes and blending mixes using the knobs is highly creative and produces some great results. As a VCO module you'll need to own some other kit as well—this isn't really a one-box instrument. But with the growing popularity of modular gear, Erica Synths' products stand out as well built, great-sounding and truly unique.