Embertone is Alex Davis and Jonathan Churchill, two guys who produce Kontakt-based sampled instruments that are simple and straightforward, and also inexpensive. Since there are so many complex mega-instruments around already, it was a nice change to look at a few that took a simpler approach. The instruments require the full version of Kontakt, version 4.2.4 or higher.
First up is Chapman trumpet, priced at $30 and made up of 44.1kHz, 24-bit samples. It has one lite and one full trumpet patch, both of which sound mellow and smooth, with the character of an old style filmic trumpet. Think The Godfather, basically. Controls are simple and there are three modes: monophonic legato, staccato and polyphonic sustain, as well as a convolution reverb on / off control. The mod wheel controls the amount of vibrato and MIDI CC11 controls volume and dynamics, so it's pretty easy to play with the nature of the sound a little. There's a third patch called Tuba which uses the same samples, pitched down two octaves. Despite that it actually sounds great, and had I not read about it using the same samples, I'd have guessed it was an actual sampled tuba.
Next up is the Jubal Flute, priced at $15. This has mono and poly modes as well as reverb on / off, and that's about it. Again it sounds excellent, very realistic and cinematic and would also fit into slower, ballad-oriented music tracks. As with the other instruments you can use the onboard reverb which has a very "live" feel to it, or turn it off and use whatever other effects you may have available on your system.
The Tiny Grand ($25) is a sampled 30-note toy piano that uses more than 3000 discrete samples, nine velocity layers and 10 round robins. It sounds small and tinkly, which is of course exactly how it's supposed to sound. There are a few more controls than on the other instruments too. A Release control alters the amount of key click sound in the signal, and the reverb has dry and wet controls. You can choose between 13 types of reverb too, which is nice. An EQ section provides frequency and gain controls for three bands – low, mid and high, and helps you to shape the sound.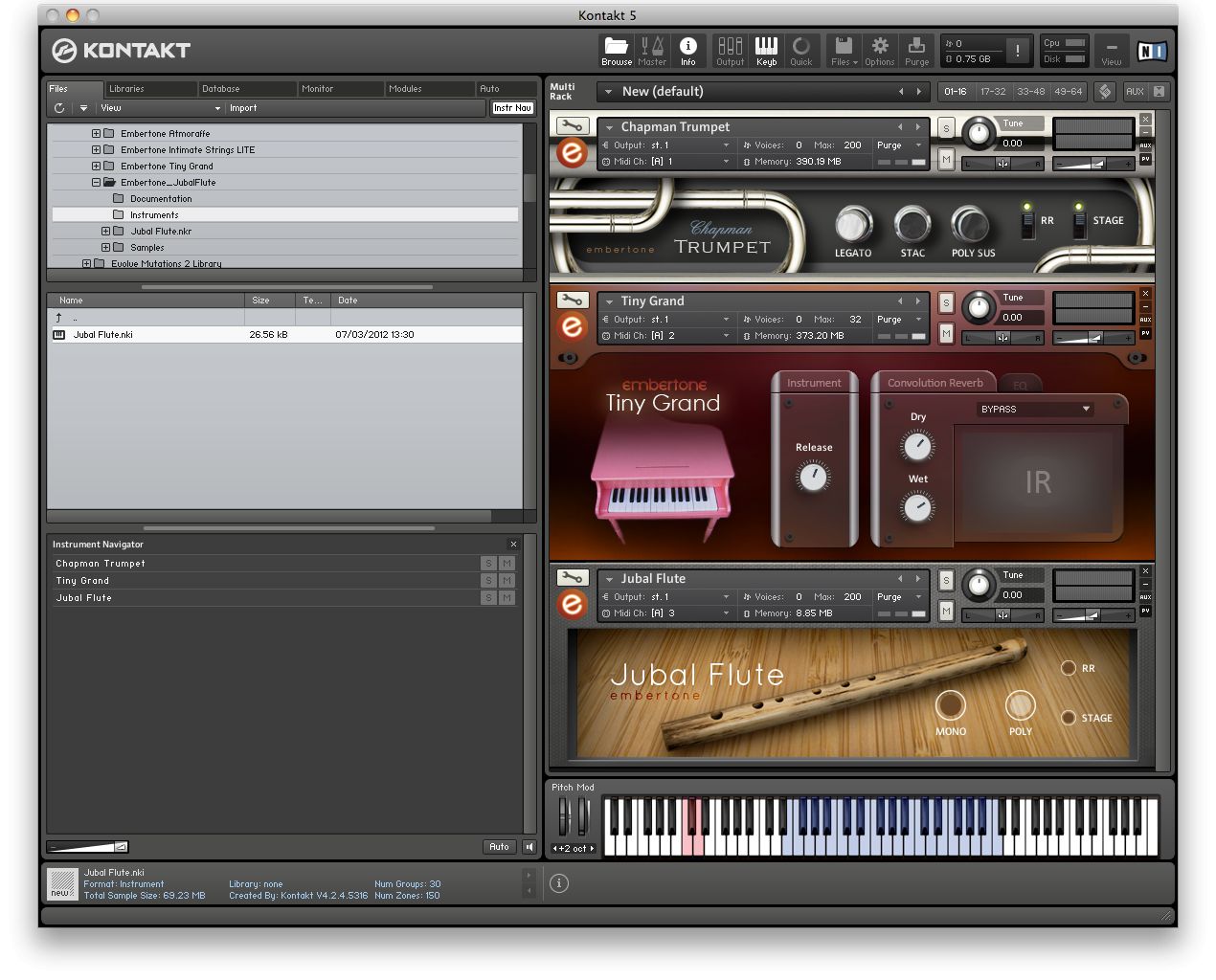 The toy piano, flute and trumpet instruments are simple but effective.
Embertone also has a couple of free instruments that you can download. The Atomraffe is a weird thing with no controls and made up of cow, dinosaur and elf sounds. I'm not sure how much use it is, but it's free. A little more serious is Intimate Strings Lite, which is much more practical, a 500MB instrument that uses four string players to generate its sounds. There are three patches : legato, sordino and sustain and I have to say they are excellent. In fact you should definitely download this instrument while you're checking out the others, as it's better than some virtual strings out there that cost real money.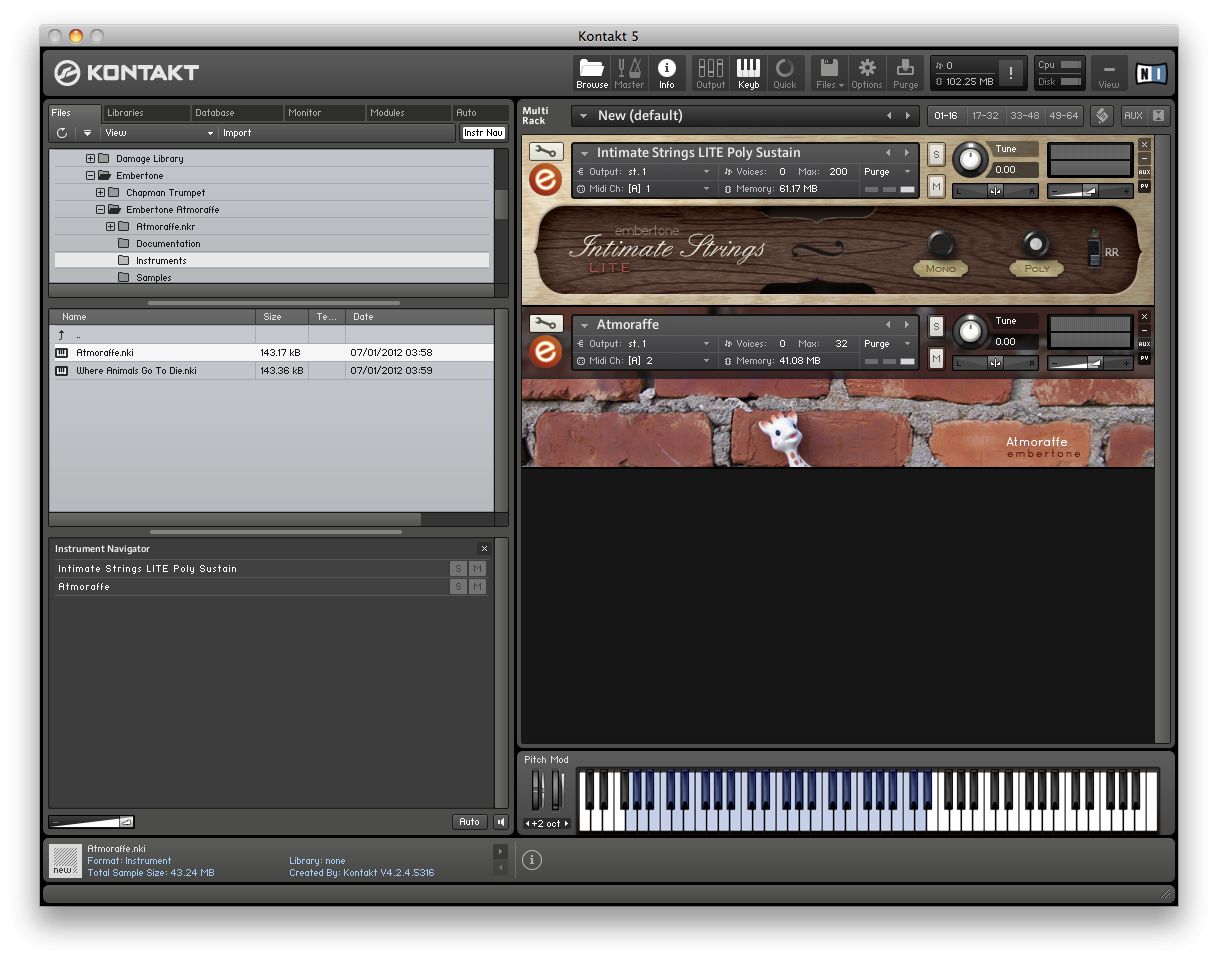 Of the free instruments, Atomraffe is pretty strange but Intimate Strings is excellent.
Final thoughts
Embertone is a small operation but its instruments are simple, inexpensive, and great sounding. If you have a recent version of Kontakt, they will definitely fill a gap in your sonic toolbox.