Embertone samples unique instruments in great detail following in the footsteps of companies they admire like Tone Hammer and Sonic Couture. This wonderful movement of multi-sampled solo instruments of all kinds is paving the way for a sensibility of quality over quantity, allowing composers to pick and become specialized in their own palette of sounds.
Embertone has a list of Instruments with unique tittles like Jubal Flute, Tomato Paste Kalimba and Chapman Trumpet. They find fantastic musicians and composers with wonderful instruments and record thousands of samples to get the depth of expression demanded by today's sample-based composers. The sample libraries are often named after the instrument maker or the artist recording the samples. Embertone instruments are very reasonably priced for the quality. In this article, I am reviewing The Friedlander Violin ($110), a wonderful deep solo violin with the most realistic sound I've heard.
The Specs
Over 3500 unique samples were recorded for this library including bow changes, staccatos and sustained legato notes. Eight round robins were recorded for variation as well as four dynamic layers. The Friedlander Violin library loads up easily in the free Kontakt 5 player and after an easy authorization through Native Instrument's Service Center, I was off and playing. The sound of strong attacks and bow noise add to the realism of this instrument as well. A custom-scripted Ensemble mode allows for a violin section up to 8 panned accordingly. Also included are patches for iPad control via Touch OSC for automating the unique vibrato controls. Friedlander violin was recorded in 48khz/24 bit stereo and is offered as a high resolution download at 24 bit or at 16 bit. I auditioned the library at 16 bit and found the quality to be wonderful and the instrument large enough to deal with in terms of RAM required. Embertone thankfully provides low ram patches that use a fourth of the RAM of the full patches but still sound great.

The Interface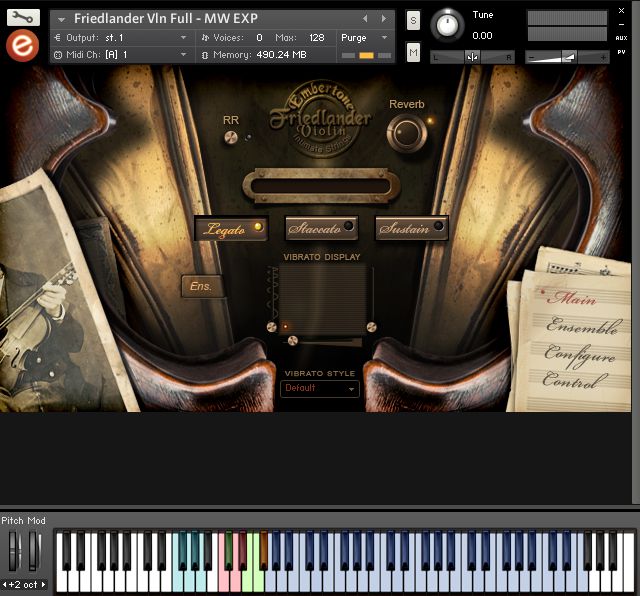 Friedlander Violin Main Window.
The Friedlander Violin loads in Kontakt 5 as a library so there's no need to hunt through your files browser for patches. Not all sample libraries are doing this these days and it's nice to see a smaller developer providing this simple, but important feature. There are four main windows in the sampler. The Main window shows basic controls like legato, staccato and sustain as well as the innovative vibrato display. Round robin sample recall can be enabled via the 'RR' button and a decent reverb can also be applied. The Ensemble window allows composers to create a violin section, the Configure window provides more detailed sound sculpting control and the Control section is where the key switches are explained in addition to programmable MIDI CC's.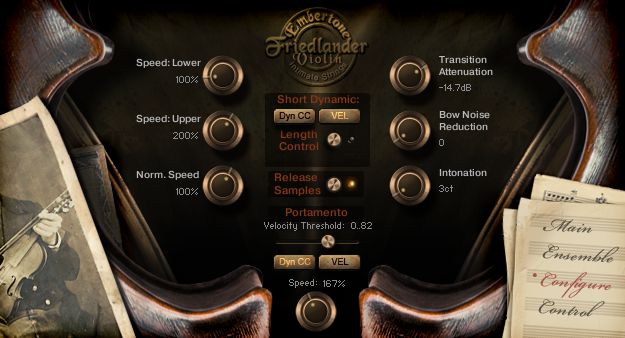 Friedlander Violin Configure Window.
Violin Ensemble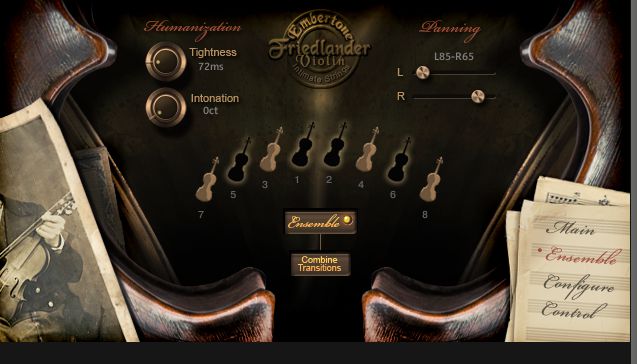 Friedlander Violin Ensemble Window.
An ensemble section is included in the sampler allowing for the 8 violin samples to be played at once. When panned hard left and right, the effect is a full violin section, handy in situations where there is a background chordal string part supporting a lead melody or another Friedlander violin melody. The intimate close-miked recordings add special nuance not found in other libraries, especially when it comes to legato lines. The great addition of the 'combine transitions' button creates smooth legato transitions as section. In the screen shot above, I show a smaller violin section by de-selecting some of the violins but still keeping a little bit of the stereo effect.

Key Switching Articulations
Keyswitching and CC Controls.
The 'control' section of the sampler shows the MIDI CC's programed into the sampler for fast access via key switching in addition to CC Chooser. The CC Chooser offers the capability to design the range of change across many parameters. Dynamic and slur changes are on one axis and a range of vibrato changes including style, speed, color, amplitude and pitch on the other. Embertone's interface is intuitive and offers maximum flexibility. I could see myself spending hours exploring the variation of sound possible using the CC Chooser. The key switches provided allow quick access to different articulation when recording parts.

Playing with Vibrato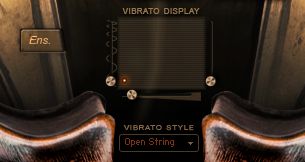 Vibrato Control Interface on Main Window.
Another feature that sets this violin library apart from others is the Vibrato control feature and vibrato style options. All the Friedlander samples were recorded without vibrato to ensure maximum flexibility in crafting authentic performances. Libraries in the past have provided various layers of vibrato samples to cross-fade together, but they do not provide the 100 or so layers of dynamic and speed control gradation of Embertone's modeled vibrato. It's not hard to imagine being able to use Touch OSC on the iPad to control the Vibrato in the EFV sampler with one hand while playing an expressive melody with the other. Or, just automate the vibrato to suit your melody in your DAW's midi editor. Embertone has included some different modeled vibratos for variation including Default, Progressive, Open String, Gentle and Passionate. I could hear a real color and texture difference between them while auditioning.

Creating Absolute Realism (Source Video)
Embertone provides audio examples of the violin on their website and most notably, a short compositon by film composer, James Newton Howard. The Embertone team captured the pristine sound of the violin solo from his composition 'Noah Visits' from the movie 'The Village' by combining an emotional melodic line with seasoned sense of sound sculpting. I was really sold on this library after hearing what they did with it. In the promo video available, you can see how automating bow switches, dynamics, vibrato amplitude and vibrato dynamics all work together to create a stunning sense of realism.

Even for composers who already own orchestral libraries with solo violins, the Embertone Friedlander Violin would be a welcome addition to their sound palette. This could become the next go-to sampled solo violin for composers who want a wide range of dynamic and expressive controls at their fingertips.