During my time involved in music production I have used countless bits of kit to try and get the perfect sound. Amongst the boxes that have graced my studio have been some pretty pricey analog synths, very pricey analogue compressors and also some desirable EQs.
After turning to DSP and going 100% digital, one thing I haven't missed is the constant routing and patch bay manipulation. So the big question is… can a modern analogue EQ show me what I've been missing and turn me back to the ways of hardware? We'll find out as we look at the new Elysia filter Rack.
First Impressions
Before we get going, it's worth pointing out that this EQ also comes in a 500 series format for you lunchbox users. The two units are identical in operation they just differ in layout and size (obviously). I got the 19 inch rack version to test… now that's out of the way let's take a look.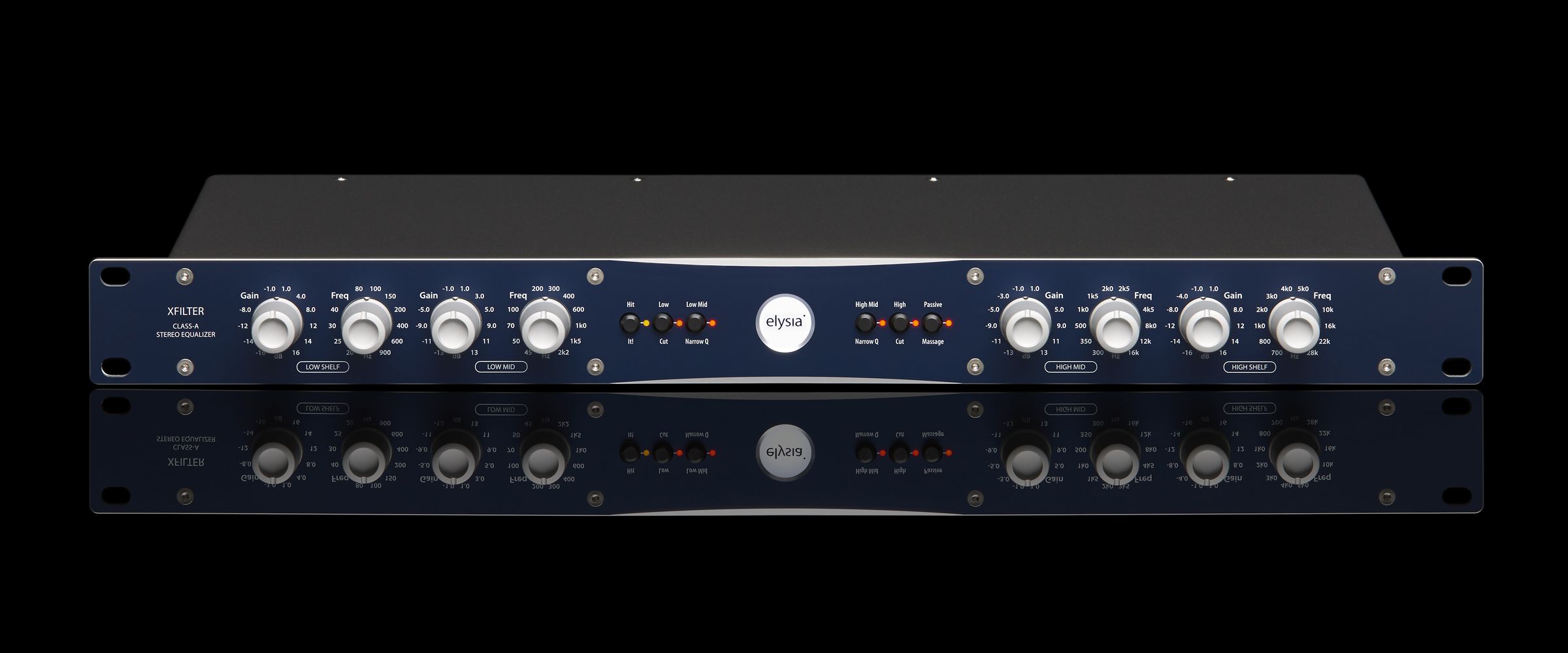 (Pic 1) The xfilter rack in all its glory.
On prizing the xfilter out of its secure packaging, the first thing that struck me was how simple and un-assuming this unit is. It doesn't have any metering to speak of and doesn't try to be clever in its layout. The controls are extremely clear and I had a handle on its operation before I even turned it on.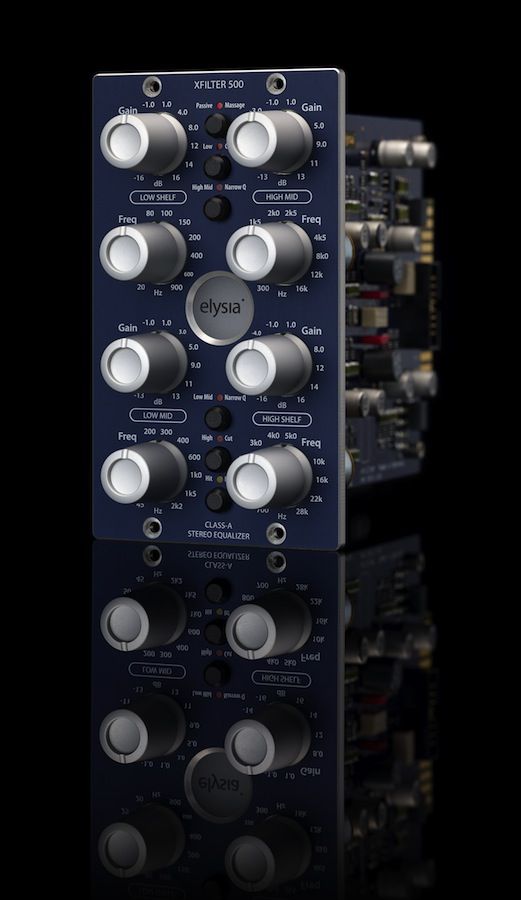 (Pic 1b) The xfilter 500 series is compact in comparison.
"This is German engineering at its best, everything is metal and everything feels bulletproof. "
On powering up I was greeted by a pleasant glowing Elysia logo to ensure me the analog heart was receiving power. I hooked the unit up via balanced cables to my Apogee Quartet and honestly couldn't wait to start tweaking the hell out of it. A good start.

Build Quality
I'll get into the specs and connections of the xfilter next but first let's talk about how it's built. In a word… perfectly. This is German engineering at its best, everything is metal and everything feels bulletproof.
It's not only the casing that is rugged but the knobs are extremely sturdy as well (milled aluminium at a guess) and a quick turn will give you that satisfaction only a high end knob can! This is not a cheap unit but they certainly don't let you down on the build here. This is about as good as it gets.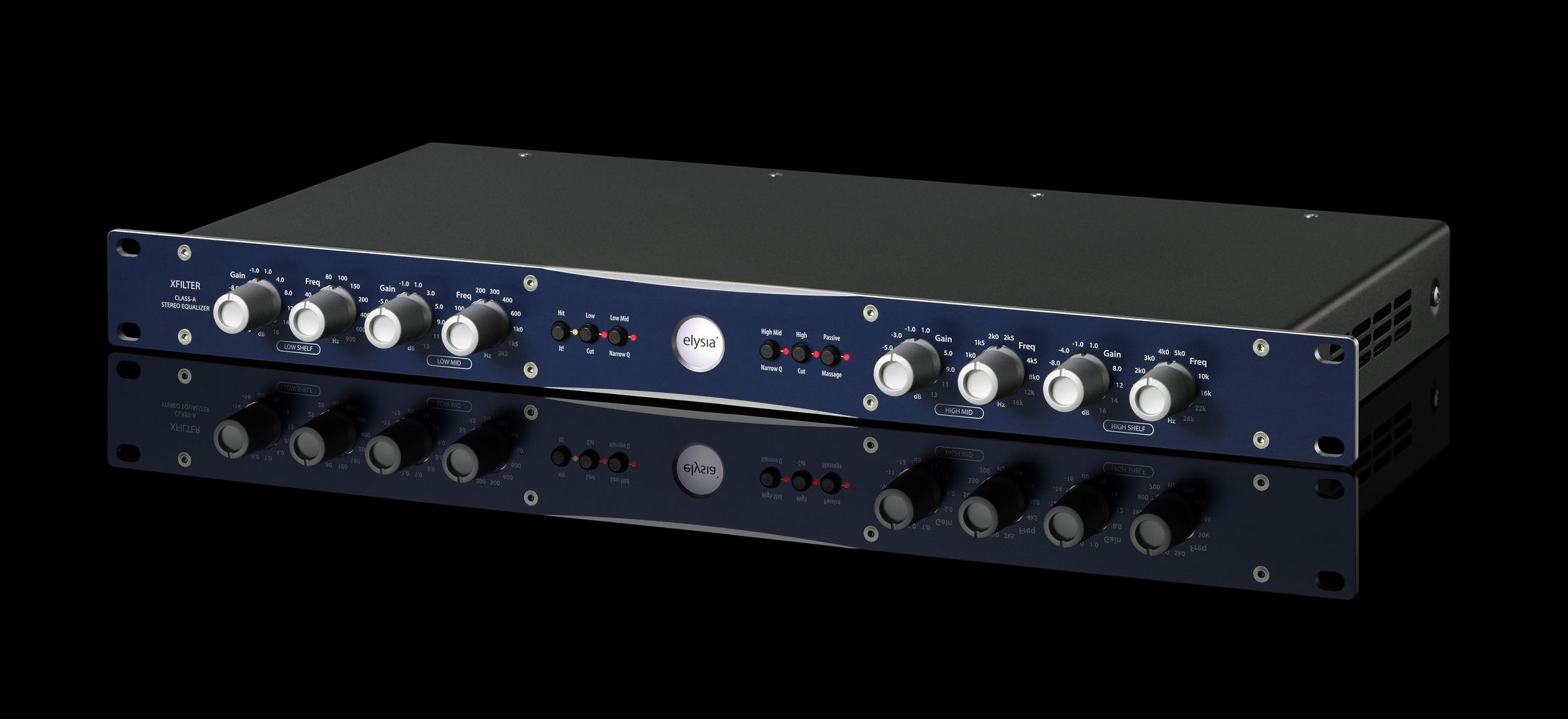 (Pic 2) Build quality here is second to none.
Although everything is solid the xfilter is actually quite light. Some analog EQs and compressors I've used have weighed in at about 5 tons, so pretty glad I can actually lift this one to get it rack mounted.
Specs And Connections
This EQ essentially shares the same DNA as Elysia's more expensive 'museq' product. It has its 'heart and soul' as the company put it on their site. It is cut down yes but more importantly it shares the same circuitry and is built in the same way. If you want that high-end analog EQ sound, but don't want to sell your car then this is a very sensible way of doing it.
The xfilter is a true stereo linked EQ so all the controls on the front will effect the entire stereo field so it's perfect for buss treatment and mastering. All this said you can simply plug in one side and operate it in mono.
Talking of connections on the rear you'll find balanced XLR and jack connections, along with power and insert points. So connecting things up to pretty much any set up shouldn't be too much of a challenge.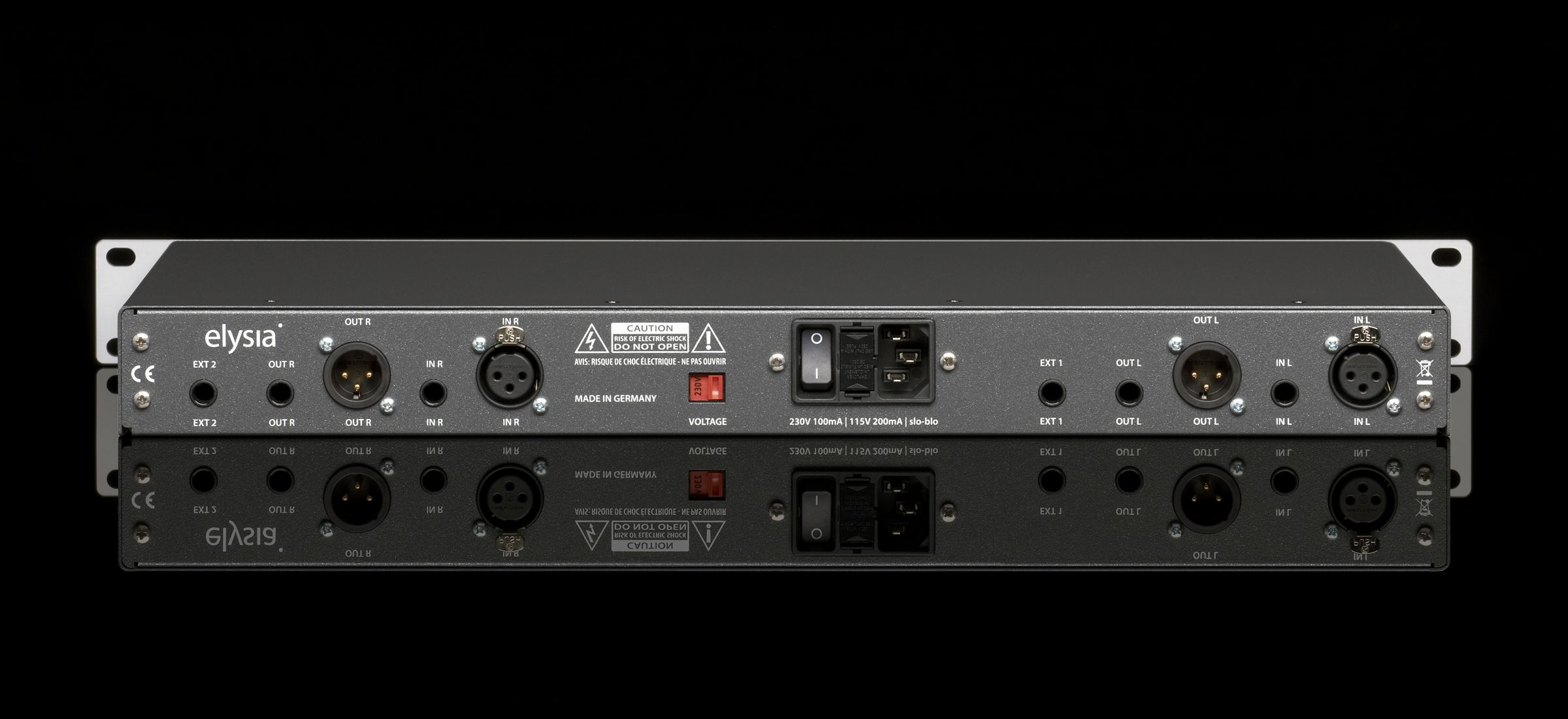 (Pic 3) The XFilters rear connections.
"Everything you need to sculpt your sounds is here."
When it comes to feature set, you won't be overwhelmed but everything you need to sculpt yours sounds is here. It offer four filters in total, a high and low shelf and two mid peak filters.
The mid range filters can be set to high Q for more surgical boosts or cuts and the high and low shelves can become resonant to create high and low pass filters. This is all done by the click of two unobtrusive buttons. This is a really clever way of getting around a limited control set whilst remaining super flexible.
There are also some nice touches like a very smooth 'hit it' bypass button that induces no nasty clicks and pop and also a extra passive high end filter. This is applied by using the 'Passive Massage' function. We'll take a look at how all this sounds next…

In The Mix
With everything hooked up I started to feed some program material though the XFilter. Boy… does this sound good and when I say good I mean great. Literal ear candy. I was almost disappointed that I had been producing material without one of these in my rack.
OK so you may not come away from the purchase of one of these with much change from £1000 but honestly it's worth it. This is the audio equivalent of double cream. The lows were deep and controlled whilst the highs simply sparkled. I found that I could add heaps of gain without things becoming hyped and the result was always organic whether adding or subtracting gain.
"This is the audio equivalent of double cream."
The resonant fitters are great and add a whole new angle while the Passive Massage is just awesome and pretty much stayed permanently engaged the entire time I tested the unit. Unfortunately as I write this I am not in my studio so can't include any audio but take it from me… it rocks.
I found the effects of the EQ to be an enhancement to just about any sound source, including single instruments, drum busses and entire masters. The only downside was when I turned it off! And yes just like a Pultec, this actually has a perceivably positive effect on your audio when engaged with no gain added.
X-Filter Vs The Best of the Rest

Putting my elation aside for moment I went back to my absolute favourite software EQs, namely the UAD Massive Passive, SPL PassEQ and UAD Pultec models. I even tried out the Sonnox EQ and other high-end digital models.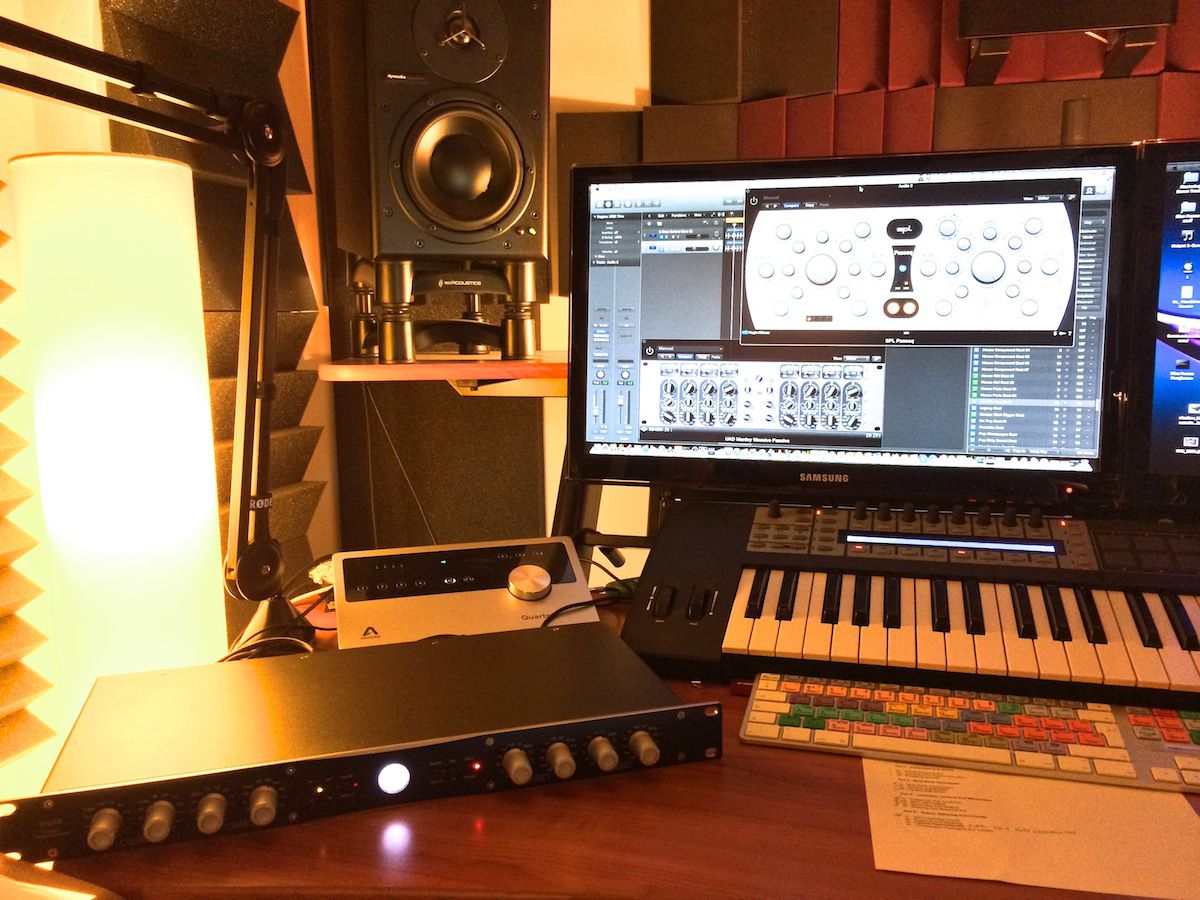 (Pic 5) The XFilter being put through its paces against some high-end software EQs.
The good news is all of the software EQs still sounded great as I applied them… the bad news? They simply couldn't touch the sonic goodness that the Elysia was creating. I guess in some cases you really do get what you pay for. 

"They [software EQs] simply couldn't touch the sonic goodness that the Elysia was creating."
Conclusion
So will I be dumping all my software in favor of a bunch of expensive EQs? Simply put, unlikely; but I think that a single high-end EQ like this hooked up to some reliable converters is a great addition to any studio, especially if you are doing your own critical mixing and mastering and by that I mean preparing your material for release or commercial purposes.
If you are considering getting an analog EQ for this purpose you really couldn't go wrong with the XFilter. It's cost effective as far as analog EQs go and it will do just about everything you'll need it to and a touch more.
"If you are considering getting an analog EQ you really couldn't go wrong with the XFilter."
This really is an awesome bit of kit… so if you have a well treated room, good monitors and a solid converter/ interface it may well be worthwhile buying this rather than your next ten software EQs!