Love analog gear but longing for an easy way to implement it into your software setup? Look no further. Elektron has officially released the long awaited Overbridge which does just that and more. The future is now… welcome to a world where analog hardware integrates directly with your digital audio setup.
The Low Down
The Overbridge is a free software suite that connects Elektron Analog series hardware to Mac or Windows computers. Until this official 1.0 release, it has been available as a public beta which means that the Swedish-based company has been hard at work developing new features, fixing bugs and making improvements to the features that currently exist.
Significant progress is apparent in their latest release which now supports the Analog Rytm as well as the Analog Keys and Analog Four. There's a new CV page for controlling analog control voltage, a sound browser and a beautiful makeover to the FX page.
Easy Living
First and foremost, the Overbridge makes Elektron gear more manageable and easy to use. For enthusiasts new to programming hardware, these powerful boxes might seem daunting to dive into at first. Even for the experienced, the learning curve can be quite steep as you'll need to memorize button combinations and familiarize how to navigate through menus, libraries, and more sub-menus to get the results you desire. The Overbridge however makes programming straightforward and way more intuitive. The plugins' interface is well laid out, simple to use, and the GUI is beautifully designed. If you've ever used a virtual instrument, you'll be up and running in no time. Analog hardware with easily manageable DAW control… it's like having your cake and eating it too.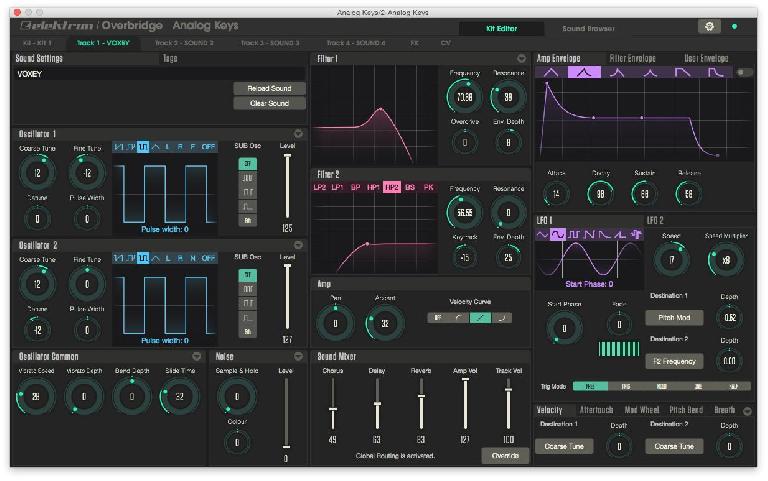 Audio Bridge
The Overbridge is not just a software device for controlling Elektron analog hardware. It's also an audio bridge that acts like a soundcard. No more need for running dozens of costly, cluttering audio cables across the studio. Each unit connects directly to your computer and supports multi-tracking via a single USB cable.
Overbridge is not just a software device for controlling Elektron analog hardware. It's also an audio bridge that acts like a soundcard.
Even better news, audio connectivity is bidirectional. Not only can you run sound out of your Elektron hardware but you can also run multi-channel audio from your DAW back into them, still using only a single USB cable. Exploit the onboard hardware effect processors to mangle sound to your heart's content! All of this works independently of your sound card, which means you'll still have access to all of your additional I/O connectivity.

The Overbridge control panel runs as a standalone application. It is here that you select the audio settings for each of your devices. Input and output can be independently assigned as either 16- or 24-bit resolution. Track routing to and from the machines is also set here and is independent of your soundcard. Assigning tracks to individual inputs or outputs is easily toggled off and on with the click of a switch.
The amount of tracks being sent or received affects the USB bandwidth which is metered at the bottom of the control panel. Using lower bit depth settings enables you to route more tracks independently. Fortunately, each unit connected has their own bandwidth settings. This allows for greater control when allocating tracks and keeps other hardware from limiting total bandwidth.
If you've ever used a virtual instrument, you'll be up and running in no time. Analog hardware with easily manageable DAW control… it's like having your cake and eating it too.
Elektron recommends connecting the units directly to your computer's USB ports. If you're like the rest of us trying to connect a million different devices, you'll need to use a Multiple Transaction Translator hub as the products are USB 2.0 full speed (12 Mb/s) devices. A Multi TT hub will enable multiple devices to share USB 2.0 high speed (480 Mb/s) bandwidth, a normal hub will not.
Note: Elektron will soon be releasing the Overhub, a high-performance Multiple Transaction Translator Hub that will connect up to 7 USB devices.
Sources and Destinations
For those of you wanting to dig deep into sound design, synthesis and programming, Overbridge has made this extremely accessible. Using the plugin's interface, route any control to any destination by simply right-clicking the parameter of choice and choosing a destination from the drop-down menu. All of the routing is clearly labeled in the menu so that users can identify all sources and destinations easily.
As an example, in the screenshot below I have chosen to route Filter 2's frequency cutoff to LFO 2.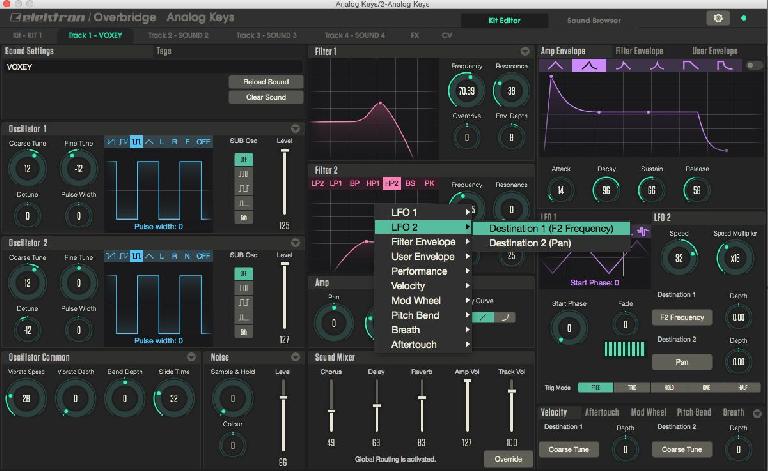 If you wish to remove this assignment, go to the destination, right-click and choose 'none' from the menu.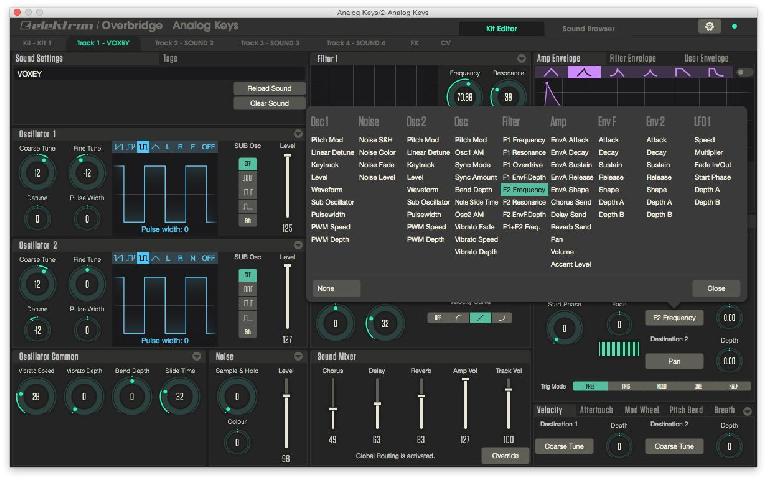 The buck doesn't stop there though as this also applies to mapping performance controls. For those of you unfamiliar, performance mode on the Elektron hardware makes it possible to control several parameters from any track simultaneously with a single knob (or a pad in the case of the Analog Rytm). Admittedly, this was a bit of a tedious process on the units themselves. Gone are those days as Overbridge has a section dedicated to managing all routing and depth settings.
Sequencer to Host
My all time favorite feature on Elektron machines is their advanced step sequencer. Although you'll be able to sequence directly via your DAW, you'll still want to utilize the functionality that the unique onboard sequencer offers, especially the parameter locks!
Parameter locks allow parameters assigned to sequencer steps to have their own values. This means that different modulation, samples or waveforms can be triggered by each sequencer step. Combined with the ability to assign each pattern a different step length, this makes Elektron's sequencers some of the most powerful on the planet.
With the ability to assign each pattern a different step length, this makes Elektron's sequencers some of the most powerful on the planet.
Syncing employs Elektron's custom technology and not standard MIDI Sync. The sequencers will sync to your DAW by enabling the 'Sync Sequencer to host' feature under the 'Plugin Settings' menu for each one of your units. You will not have to adjust any of the sync preferences in your host as the Overbridge itself takes care of this.
Note: You can adjust buffer settings in the plugin or the control panel under options > buffer settings.
Sound Browser
For me, this feature is worth its weight in gold as it has helped speed up workflow immensely. Quickly drag and drop to load sounds into tracks or save them to the sound pool. Sounds can be browsed alphabetically or by category. There are even cleverly titled categories such as 'epic', 'fail', 'mine' and 'favorite'.
A Few More Special Goodies
For those of you owning an Analog Rytm, you're able to load and browse samples for each track via the plugin.
Once an audio file is loaded, the editor window displays the waveform. The playback length can be adjusted by dragging the start and end markers or by using the dials below. Since these parameters can be mapped to your controller or automated though your DAW, users can sweep through loaded recorded audio in realtime. Just think of the possibilities!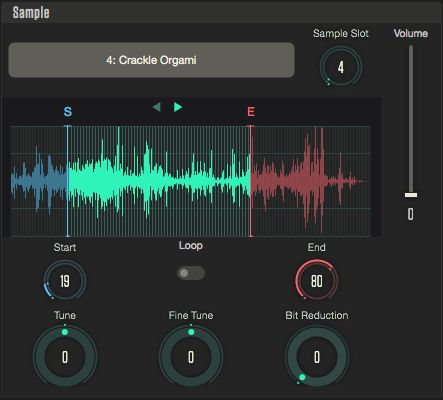 The Sample Editor.
There's something special for Analog Keys/Four owners too. These units have a dedicated CV track that can be used to control external equipment capable of receiving CV/Gate signals. There's now a page that let's you assign and edit the parameters graphically. This means you'll be able to control, modulate and automate these settlings directly through your DAW of choice.
Reflection and Moving Forward
From speaking directly with Elektron, I know this has taken a tremendous amount of resources to pull together. Great things take time, money and effort. The company has stated that this is only the beginning and that more features will be added to future releases. Their goals are certainly visionary and the fact that they are not charging for the software suite makes it even more impressive. For those of you wanting to join the ranks of Elektron Analog owners but have been intimidated by the learning curve, hesitate no further… Overbridge to the rescue!
Key Features
Multi-tracking via single USB cable
Overbridge Control Panel
Ability to custom name hardware devices
CoreAudio / ASIO / WDM sound card functionality
Mac and Windows support
VST plugin support for Ableton Live
VST Plugin Key Features
Analog Four / Keys / Rytm plugins
Multiple Elektron units support
Kit/Sound editing capabilities
Sound / sample browsing
Sequencing via Elektron sequencer synced to DAW
Sequencing via DAW
Parameter automation
Price: Free
Pros:
Free software suite (Mac/Windows) for Analog series owners
Control your Elektron Analog hardware as if using a VST plugin
Easy way in to using and programming Elektron Analog gear
Intuitive and beautifully designed graphic interface
Acts as standalone sound bridge via a single USB cable
Cons:
Only for Elektron Analog series. Not available for Octatrack, Machinedrum,etc.
Still a 1.0 release. As with many new releases, early adopters may experience some bugs.