Review: Elektron Octatrack MKII, OS 1.30C
Elektron's Octatrack MKII brings hardware upgrades to one of the world's most serious sequencers. Timo Preece explores what's new, plus some unexpected goodies in the new software.
Noted for its depth of multi-functionality and renowned for its sophisticated complexity, Elektron's Octatrack DPS1, an 8-voice sampler with built-in sequencer and eight MIDI control tracks, is venerable to the point of cult status. An instrument with strong enduring appeal elevated to worship by some, it's deemed one of the world's most powerful hardware sequencer/samplers.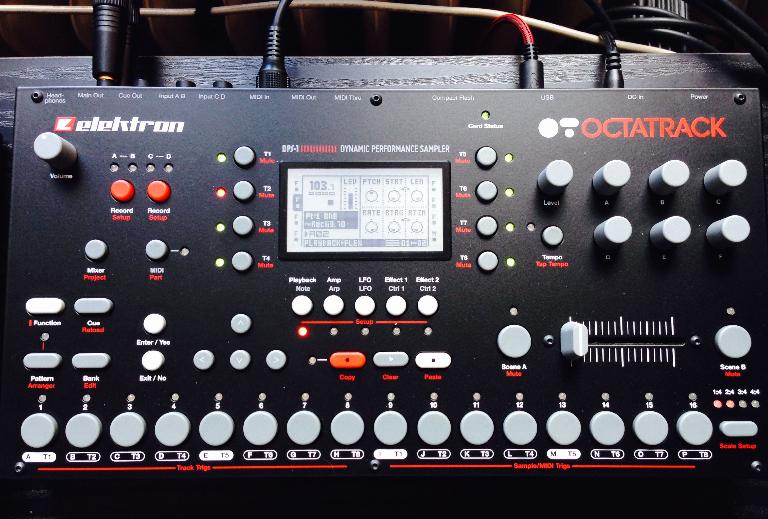 Tracking the hum and chatter, there's been an abundance of back and forth regarding the updated Octatrack MKII and what this means for original Octatrack owners. Are there significant benefits to upgrading and what are they? What about the uninitiated wanting to get into the Octatrack game… how has the new MKII affected the notoriously steep learning curve?
As an owner of the Octatrack MKI, I was keen to discover what enhancements this highly reputable Swedish manufacturer encapsulated in its next generation re-creation. After several weeks of high performance test driving, here are some of my findings, observations and opinions.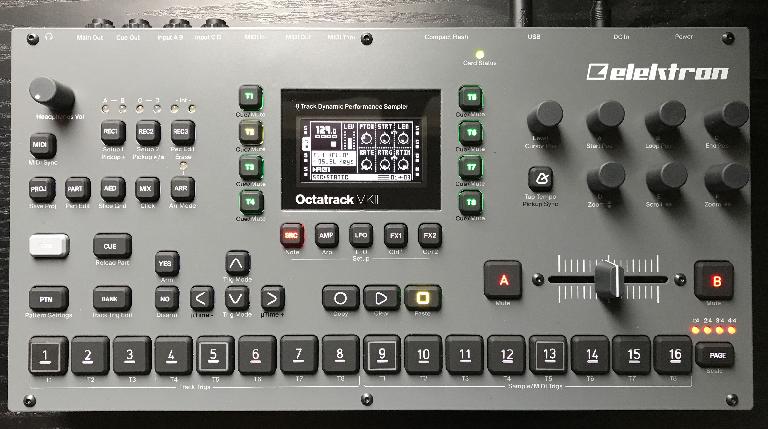 Hardware Spelunking
First and foremost, the MKII is a mechanical update to the original Octatrack (MKI), originally released in 2011. With a long-standing and significant product life span, parts become increasingly difficult to acquire, some possibly obsolete, needing to be replaced by modern counterparts. Avowedly this became Elektron's opportunity to update and improve the OT's design layout, rendering the interface more tactile, manageable and less complicated to navigate without completely reinventing the wheel.
The MKII's redesign gives us a revamped button layout, which offers easier access and clearer labeling to functions that were otherwise buried in menus or required abstruse button combinations. The multi-colored Digitakt-style backlit buttons are a welcome enhancement as they make performing in dimly illuminated spaces like clubs or dark studios much more manageable, while elegantly elucidating trig status, record, playback, and track states more clearly.
The Hi-res encoders are smooth, super responsive and an improvement when making finer and tighter adjustments compared to the MKI. Additionally, the MKII gets a new "contactless silky smooth performance crossfader," which indeed does feel velvety responsive and seems to have a bit shorter throw than the MKI equivalent.
Additional Hardware Enhancements
Octatrack MKII introduces a crisp 128 × 64 pixel OLED screen. The white on black high contrast display makes it easier to discern from indirect viewing angles. I found with the MKI, in certain lighting situations I would need to look down from directly above, while this isn't the case with the MKII.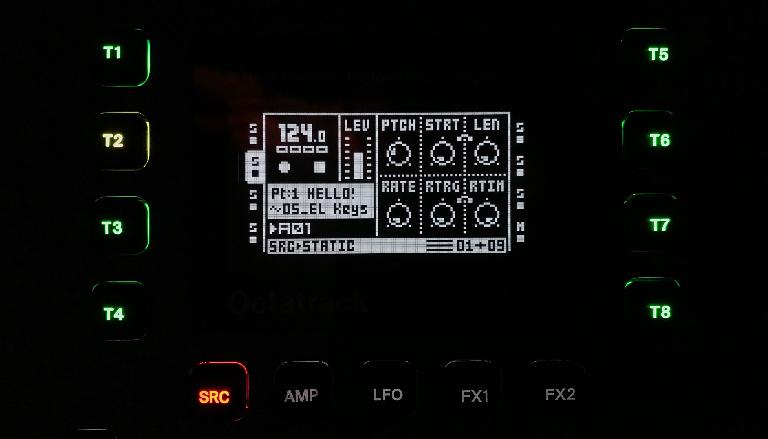 Elektron upgraded the audio inputs from unbalanced to balanced, giving us a total of four input jacks. Use either 1/4" mono phone plug (unbalanced connection) or 1/4" (Tip/Ring/Sleeve) phone plug (balanced connection). For those using the Octatrack MKII to route external audio, including live looping, realtime sampling and effects processing, this means more options for better connectivity, cleaner signal, less noise and more headroom.
Soft Additions
Elektron is a company known to stand behind their inventions, enhancing their products' functionality by offering software updates at no additional cost. Here's where things get especially good for everyone all around…
Elektron offers updates and extended functionality to both the MKI and II. This means that the original Octatrack will function identically to its newer counterpart, even to the extent that moving your CompactFlash storage to another OT machine is interchangeable. Elektron states the MKII is "fully compatible with Octatrack MKI projects/data." Hanging onto your MKI might not be such a bad idea if you're touring and need a backup!
In order to take advantage, OT owners will need to download the free software update on Elektron's support and downloads page.
Note - The initial OS that shipped with my MKII was buggy, froze and crashed frequently. OS 1.30C seems to have fixed those issues. I've not had problems since updating.

Conditional Conditions
The addition of sequencer trig conditions boosts the Octatrack even deeper into über-ultra sequencer status. Joining the ranks of the Analog Rytm, Four, Keys and Digitakt, both the MKI and MKII can trigger samples and parameter locks based on ratios, random probabilities and other programmed conditions.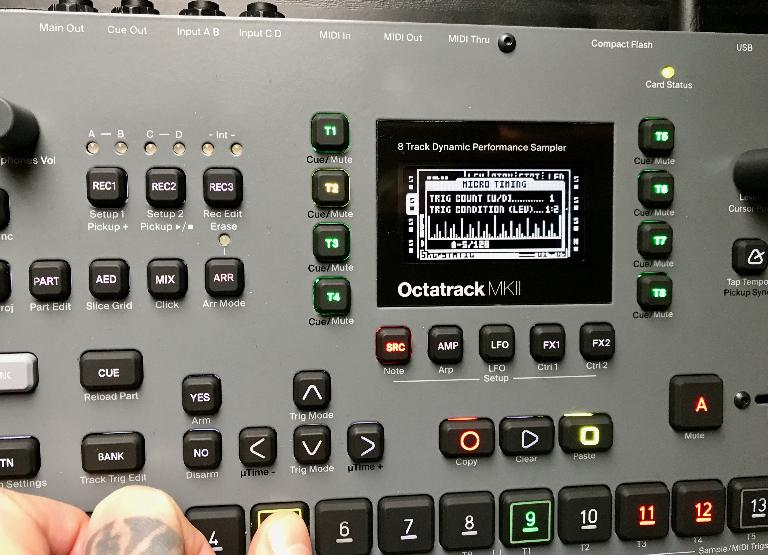 The predictability of step sequencing becomes less predictable if algorithmic variations are programmed to happen periodically. What if there's a way to add additional notes and/or parameter automation that doesn't happen each iteration but instead occurs a percentage of the time based on a probability ratio or a specified number of pattern iterations?
Elektron's sequencer note condition options are vast and span from being predictable to random based on the modifier of choice… these conditions are not limited to individual tracks. Neighboring tracks can also trigger variations to happen or not happen. For example, say I have a bass hit that occurs once out of every three sequence iterations. When the bass hit triggers, I can use it to mute or activate the neighboring kick on the same step of an adjacent track.
Additionally, Octatrack users will enjoy the new Fill Mode that plays back trigs (set to Fill) for one pattern iteration when desired. Fill Mode will activate when the pattern loops and remain active until it loops again. It is also possible to momentarily activate fill mode by pressing [UP] + [PAGE]. The fill mode will then be active for as long as [PAGE] is being held down.
No Water Over the Bridge
As mentioned, the Octatrack MKII is a mechanical update and not a full blown redesign, which I speculate is what is required to add Elektron's patented Overbridge support. Although this is to be somewhat expected, it might be a bit disappointing those looking for streamlined computer integration like the Digitakt. However, on the flip side, many users remain completely unconcerned as they use the Octatrack as a means to escape computers, contending its workflow is intact in its own right without such entanglement.
Note - Overbridge is a software suite that enables users to control Elektron hardware with dedicated software plugins and stream multi-channel audio over USB to a digital audio workstation.
New Factory Content
Recent news after receiving my unit: Elektron announced new factory content is complete, and from now on included with all Octatrack MKII purchases. For those of you who already purchased and registered, they've added this free of charge to the sound pack section of your user account, ready for download and installation.
After expanding the compressed download, the content was 6GB worth of loops and single hit samples by reputable companies such as Loopmasters, Elektron, Origin Sound, Sample Magic and Samples from Mars. It's a vast collection and a well rounded variety of moods, instrumentation and genres geared towards electronic music production. All very high quality and, for the most part, quite a tasty assorted selection. The new factory content is only available free of charge to MKII owners.
Upgrading or Hanging On
If you're in possession of the OT MKI and are wondering if you should upgrade or if you're someone in the market trying to decide if it's worth the extra dosh for the MKII, these next points might help you decide.
A quick glance through the classifieds here in Germany gave me the impression that the OT MKI is holding value quite well and reselling between €900-1000. The remake is approximately an additional €500… for that, here's a summary of what you get:
Revamped hardware layout - More intuitive navigation, easier to manipulate, less need to menu dive (important for performance situations or real time creation).
Clearer labeling - Function [FUNC] key modified parameters (secondary functions) are often printed in gray text on the panel, which were often difficult to remember unless you've spent time memorizing or developed significant muscle memory.
Additional illuminated buttons - Quick access to Project, Part, Audio Editor, Mix, Arrangement and corresponding secondary functions.
Improved display - More easily viewable in certain lighting conditions and at various indirect angles.
3 year limited warranty - Peace of mind. Older components wear down over time, become obsolete and not easily replaced.
Durable back-lit buttons - Huge improvement for visually identifying trig and track states, especially in low light situations. Higher quality, more robust and rated for 50 million presses.
Precise hi-res encoders - Smoother and more accurate control (Not that the MKI's are all that shabby).
Contactless crossfader - Silky smooth, shorter throw but not the biggest selling point IMHO.
Balanced/Unbalanced Inputs - More options for better connectivity, cleaner signal, less noise and more headroom.
Hotter Output - Change of levels at the output, around 6dB higher than the MKI.
Internal Record Button - An additional dedicated button used for real-time sampling from internal sources.
Factory Content - 6GB worth of high quality assorted loops and single hit samples.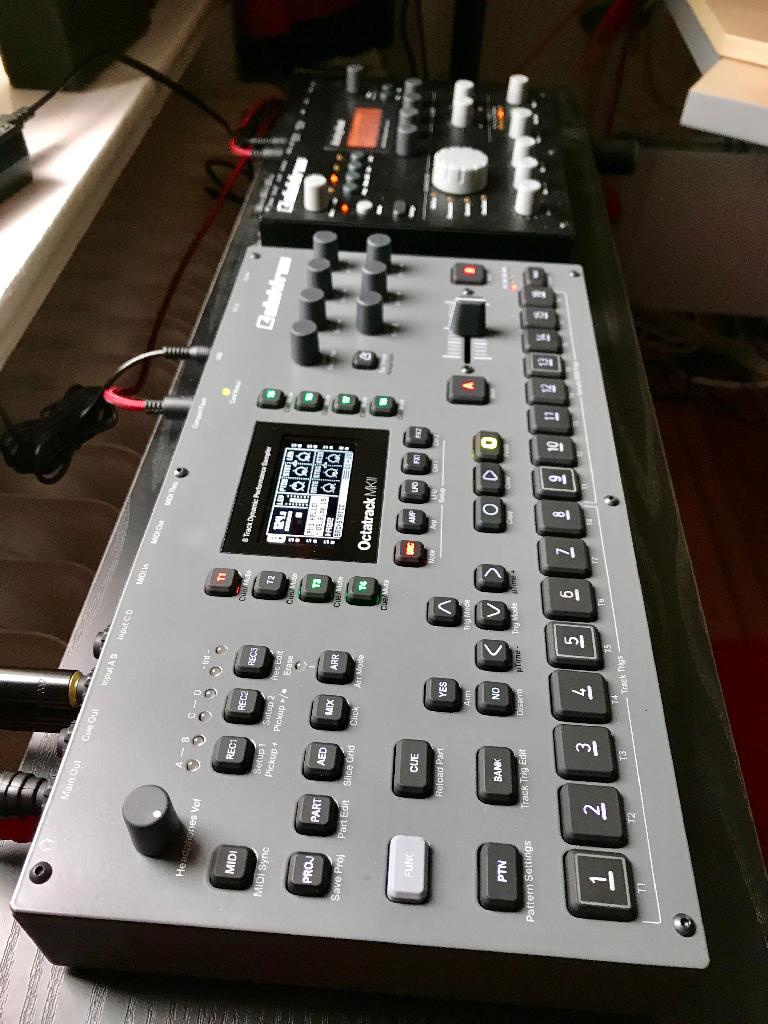 Bottom Line
If you're an owner of the MKI and the Octatrack is the hub of your performance or studio setup, upgrading maybe a worthwhile investment. I do find the workflow more straightforward, the interface easier to manage, the layout more intuitive and the additional buttons and improvements well thought-out. It's obvious that Elektron has listened to its users and taken their concerns to mind when updating an already great machine.
If you're a newbie wanting to get into the Octatrack club and debating over which version to get, the MKII assuredly is a more manageable choice for navigating. The improved interface has more controls and clearer labeling. Backlit buttons with color differentiation helps instate a more intuitive workflow, thus providing an easier learning curve. However, be warned the OT still is vastly deep and requires hands-on exploration to get up to speed.
On the flip side, the OT MKI is still significantly relevant. With the 1.30B update, both machines' operating systems are identical. Therefore function-wise, you're working with the same instrument. Some will choose to hang onto the MKI, save money and use the extra cash to purchase something else. Others on the prowl but finding the MKII a bit too costly, take advantage of this opportunity and grab the original while the price is right!
Price: 1,449.00 EUR
Pros:
Updated OS with Conditional Trigs for both MKI and MKII
Cleaner more intuitive layout and navigation
Updated high quality components (screen, buttons, encoders, crossfader)
Balanced audio inputs
Cons:
Still no OverBridge support