Review – EastWest Hollywood Orchestra Opus Edition
One of the best-loved virtual orchestras on the market gets a brand new player and a ton of new content. Could this be the only orchestral collection you ever need?
When it comes to orchestral scoring tools for Hollywood movies, EastWest has long set the standard with its epic sample-based virtual instruments. Now the company has updated its Hollywood Orchestra series to take advantage of the new Opus player, which replaces its Play software and brings significant upgrades across the board. This is a serious and heavyweight collection of tools, but EastWest has put great effort into making them easy to use and hugely flexible. So where to begin?
Heavy Hitter
You start by authorizing your libraries in the EastWest downloader app, which you also use to download the various sound collections. Be aware, these are some vast files, with some libraries weighing in at over 200 GB each so you will probably want to offload them onto large, fast external drives. The initial download takes a while but one of the new features in Opus is the ability to download any missing libraries or samples from inside the player which is a nice touch.
The collections are based on some existing libraries so part of the download consists of those files, but most of the libraries as well as being updated for the Opus player have a bunch more content added now, including an 18-violin string section for Hollywood Strings and new brass and woodwind multi ensembles all meticulously sampled from top-flight musicians that have played on countless movie scores. Much of the file size, of course, comes from the inclusion of many different articulations, so crucial to achieving an authentic performance when recreating orchestral sounds. The recordings were made by Shawn Murphy, a veteran of over 5000 feature films including Star Wars, Indiana Jones, Titanic and many more so the pedigree is exemplary.
Opus Player
Each of the libraries shares a common interface with a few differences depending on the instrument type—the way you play percussion for example differs from the way you play strings. A shared feature is the inclusion of three "moods" that affect an instrument's playback style. Soft, Classic and Epic are available, which are fairly self-explanatory. There are also performance options including portamento, legato and for strings, con sordino. A sensitivity control allows you to change the responsiveness of an instrument, while an Envelope section lets you shape the sound.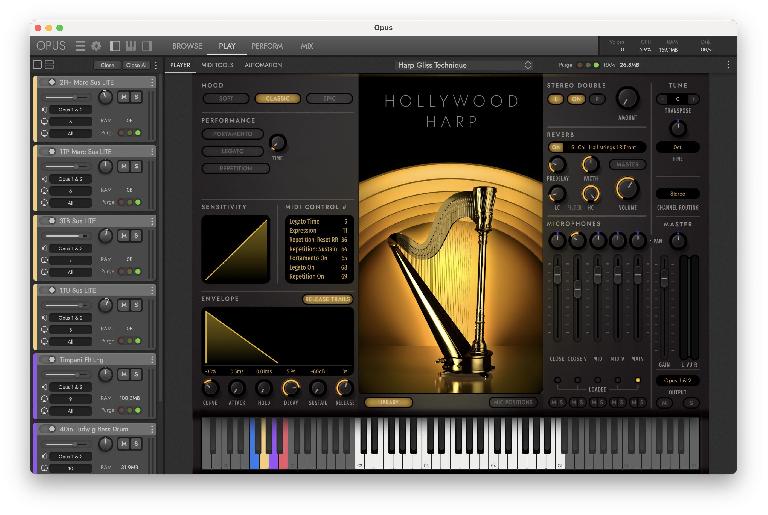 Virtual Stage
A great deal of work has gone into the recordings and you get five separate mic setups that can be used all together or individually, with a mixer and panner sections as well as a virtual stage display that lets you see where the mics are located—a handy way to visualize how the sound is being picked up when you are balancing more than one mic. Each collection now has a Master Keyswitch patch where articulations can be customized in the new Opus articulations palette.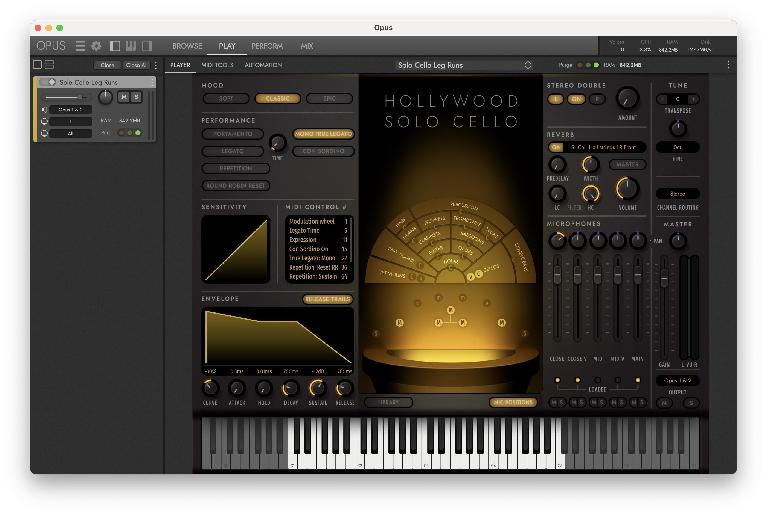 For those unfamiliar with articulations, they are different playing styles that you can trigger during playback or by programming MIDI notes to change the way notes are performed, replicating the nuances of a real performance. This takes some skill, of course, but with practice the results are incredible. It's the kind of thing that is nigh-on impossible to do really convincingly using synthesis, hence the very large number of source samples used here to capture every tiny detail. You also get some gorgeous reverbs to make everything swim beautifully in the soundstage, indeed there's a large selection including some specific real spaces that you can use to create the sound of a particular location.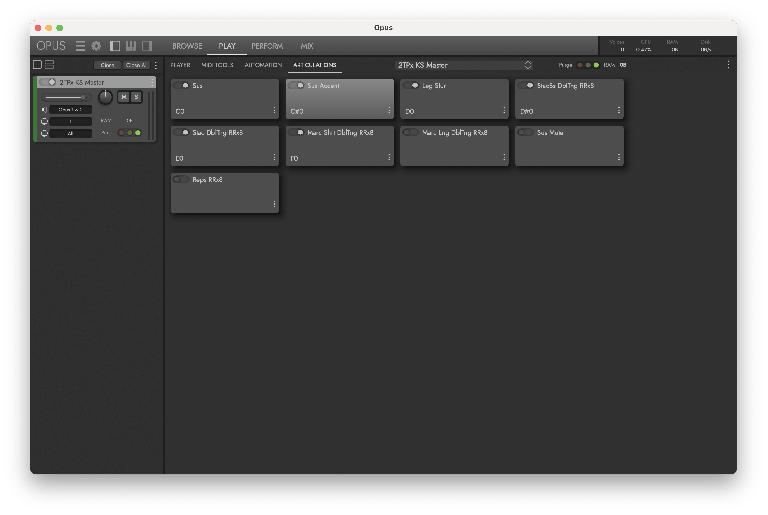 Making Scores
An added bonus is the inclusion of the new Hollywood Orchestrator. Developed in collaboration with Sonuscore, it uses all the instruments in Hollywood Orchestra Opus Edition to create real-time arrangements based on your MIDI input via an innovative Scoring Engine. Playing chords with one hand and shaping expression with the other, it also comes with over 500 customizable presets to help you generate dynamic and complex scores quickly and easily.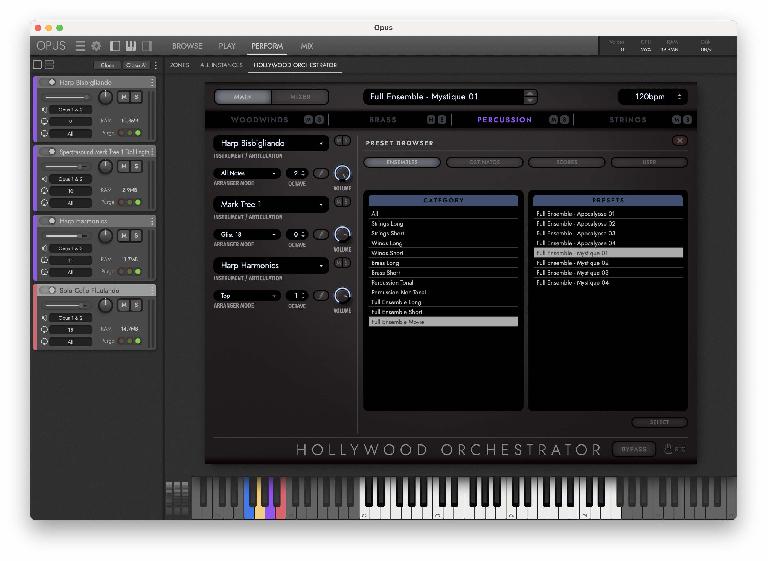 It uses multiple parts, each with their own sequencers and in each one you can choose from a selection of instruments and articulations, also selecting how to split and layer them across key ranges. Though it takes a little learning—there's a huge amount you can do like having multiple timing feels across a patch—it's a very powerful tool with a vast depth of customisability. The Opus player adds yet more tools including a MIDI input section for creating chords and other input transformers, automation and a full mixer section with yet more onboard effects.
Conclusion
This collection, updated for the Opus player, contains several libraries—Brass, Orchestral Woodwinds, Percussion, Solo Violin, Solo Cello and Hollywood Harp as well as the new Orchestrator. The work EastWest has done on the new player is the result of many years of development and it shows—it's slick and easy to use despite having an incredible depth of features. To get the most out of it you will need to have a grasp of basic orchestral conventions and terminology, but then if you're looking at buying this you're probably pretty serious about scoring for film or TV.
At the time of writing, it's on sale but even at the regular price it's many, many times less expensive than actually recording an orchestra yourself. In an age of slightly cookie-cutter cinematic scores (think any superhero movie), Hollywood Orchestra offers an immaculately recorded and produced collection of sounds that nobody would know hadn't been recorded to order. The articulations and gorgeous reverbs make for a believable experience, and you can get any feel from gentle right through to dashing and dynamic. With a little learning, the Orchestrator can also help you create highly useable sequences too. This is a serious orchestral collection that's much easier to get to grips with than these kinds of vast multisampled instruments used to be. If you work in scoring in pretty much any capacity, it could be the only instrument you ever need.
Price: From $19.99/month as part of Compser Cloud subscription One-off purchase SRP $995 On sale for $299
Pros: Incredible sound. Multiple articulations for each collection. Opus adds powerful tools. Easy to use considering the power on offer. Hollywood Orchestrator is a great bonus. Cheaper than hiring an orchestra.
Cons: Vast library sizes mean initial download is slow. Rewards some knowledge of music theory and scoring conventions.
Web: https://www.soundsonline.com/orchestral/hollywood-orchestra-opus-edition