Review – EastWest Forbidden Planet
This 54 GB hybrid sampled synth collection aims to give you the ultimate modern scoring tools right out of the box. But does it deliver?
When EastWest wanted to create a full synth collection that was based not on software oscillators but on combining electronic synth layers with orchestral, world instruments, choral samples and sound effects, they turned to producers Doug Rogers and Nick Phoenix. Using the newly developed Opus player and engine, the pair built Forbidden Planet, a 54 GB sampled behemoth that makes use of the advanced sound shaping controls in the new software to give you incredible control over drones, sequences and sound effects that are perfect for modern scoring and sound design as well as great for EDM producers. But is it a one-stop shop for modern games and movies?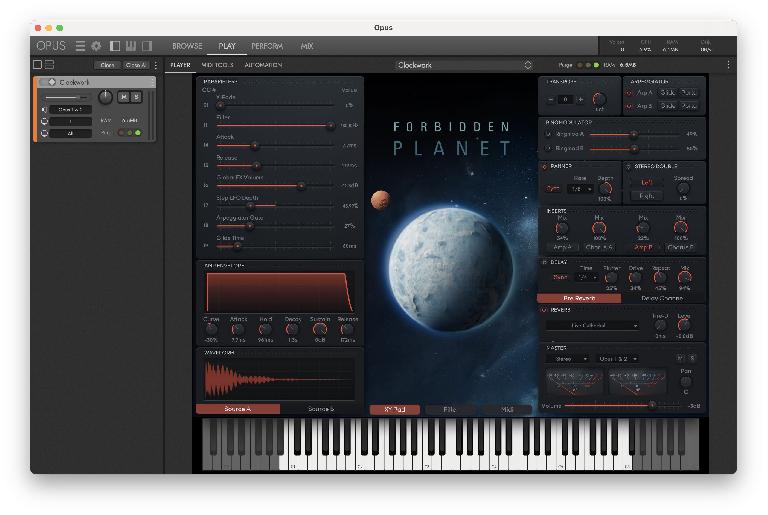 Setting Up
If you're not already an EastWest user, you'll need to download the Installation Centre software as well as the OPUS player, and authentication is via the iLok software which you'll also need to have installed. At 54 GB this library is pretty large though not compared to some of EW's others – thankfully you can save the files to an external hard drive either during or after download so they needn't take up valuable space on your internal drive.
System requirements are relatively OK for most modern music machines, with MacOS 10.13 or Windows 10 needed, a quad-core CPU at 2.7 GHz or faster and, realistically, an SSD drive. 16GB RAM is a minimum and 32 GB recommended which might count out older models, though really any pro setup should have at least 16 GB these days. Our test machine was a 2020 16-inch MacBook Pro with 16 GB RAM and for convenience, we offloaded the library onto a 1 TB USB-C thumb drive which proved to be a perfectly serviceable solution.
XY Movement
Loading up the library you'll find the sounds divided into 8 categories – arpeggiator, bass, drones, FX, leads pads, polysynths and a quick start section with some 'go-to' sounds in it. There are over 600 presets in total. They have been designed to be usable out of the box without extensive tweaking, though it is of course possible to tailor them to suit your needs. Much of this centers around the XY pad modelled around a planet. Pick up the "moon" and move it around and you'll dramatically alter the sound. Moving it left and right changes the blend between two contrasting sources, chosen from analog, acoustic, synthetic and cinematic sounds. The vertical position controls filter frequency and is perfect for creating sweeping gestures, manipulating the output however you wish.
Digging Deeper
The panel on the left lets you control major parameters like attack, release, global FX volume, arpeggiator gate and glide time and there's also an Amp Envelope section to control the evolution of a sound. On the right is the effects section with easy-to-configure ring modulators, panning, stereo doubling, delay and reverb as well as an insert section with independent amp and chorus slots for sounds A and B. As well as a master transpose you'll also find two powerful arpeggiators with glide and portamento options. Pop open the arp control panel and you can configure each one, drawing in values with the mouse, changing patterns, swing and even de-syncing them for crazy results. You can copy and paste settings between each one as well as assigning it to control volume, filter or pan so each can be affecting different parameters. The arps help you create some really dynamic and exciting effects, which can be heard quickly by simply choosing a preset from the arps section of the library. Filter, step LFO and Mod Envelope control sections allow further shaping and animation of your patches.
OPUS Extras
For an instrument that produces complex sounds, the actual interface of Forbidden Planet is comparatively straightforward. Where things step up to the next level are when you explore the extended features of the OPUS player. To begin with there's the MIDI Tools tab from where you can add what are a range of MIDI insert effects like chorder, humanizer, restrict to scale and more, to achieve more complex MIDI input from quite simple playing by hand. Then there's the Automation panel where you manage MIDI controller mapping, and the Mix section where you can add and tweak a range of high-quality mix FX independently of the library itself. All presets have pre-mapped FX setups to speed you along.
Conclusion
Forbidden Planet sounds gorgeous, a ready-made toolbox of tones, textures, drones and sequences that are perfect for scoring and indeed for more electronic styles of music production. It rewards judicious use of movement and automation – the XY pad is a joy to use, dynamically shifting and morphing from ambience to snarling. MIDI assignment is easy via right click and the two arpeggiators make it simple to quickly create involving and engaging sequences. Perhaps inevitably not every one of its 600 presets exactly jumps out of the box at you, but there's more than enough that do that you'll be inspired to score chase sequences, moments of dread and many more without having to do much tweaking at all. And if you do want to customize the sounds, that's straightforward too.
Price: $19.99/month as part of Composer Cloud subscription
One-off purchase SRP $399.99
On sale for $159.60
Pros: Excellent for dynamic synth-based scoring. Quality retro and futuristic vibes. Powerful arpeggiator and effects. Encourages creativity with XY pads and automation. OPUS player expands features.
Cons: Sizable core library might need to be stored externally. Some patches a little vanilla.
Web: https://www.soundsonline.com/synth-and-effects/forbidden-planet