Back in the day when broadband started to become a more commonplace speed for accessing the internet, many people speculated about how we might see subscription only services for our beloved DAWs. Well we're now moving into 2016, internet speeds are blazing yet it's only Avid's Pro Tools and Cakewalk's SONAR that's available in this on-demand fashion—the other top-dogs seem to be sticking with a traditional purchase and upgrade fee payment strategy. I'm not going to go into all the pros and cons of owning versus renting your production tools as this is vast and heavily shaped by your own personal needs, but it's a hot debate since some companies like Adobe have now gone 100% down the rental route and ditched the option to buy.
With this in mind, it's interesting that EastWest have decided to open up access to their usually very expensive sample-based instrument library at an opt-in and -out, monthly or yearly subscription price. You can still buy the different instrument collections to own, but from my perspective when it'd take around 30 years based on paying the monthly rate for the Complete Plan, it doesn't make sense to own it. But that's me and I grow bored of my tools after exhausting their creative scope after a few years, your outlook may differ.
Cheap, Vast and Accessible Libraries
For those who aren't aware, EastWest are the creators of one of the biggest and most revered sample-based instrument libraries out there. Mostly known for the Hollywood orchestral instruments collection, there's much more available in terms of quantity and diversity. It's so vast that the Complete Plan's data is over 700 GB to download. Though the connection is reliably solid, it took me over 48 hours to grab the entire package, and I'm on a connection of over 60 Mbps download speeds. But, you can always download instruments as you need or want to explore them. For those with slower broadband connections, Composer Cloud Plus provides access to the Platinum/Diamond collections which are supplied on a "high-performance" hard drive. This is available yearly for $699 USD with no monthly option.

The number of instruments and range of timbres is fantastic with the Complete Plan, as you can see there's way too much to describe here, but the quality is high throughout.
Some of my personal favourites are rhythmic like the Stormdrum and Ministry of Rock series, but alongside great orchestral and film scoring tools, there's some interesting 'mood' tools including The Dark Side and Scoring Tools to name a few.
How Broad to Make your Palette
The three payment plans start with a Limited Free Trial where you get four instruments for a month to try out. Next is the Student Plan available for students and teachers via an education email address for verification. This plan offers seven instrument products and whereas the trial dictates the four instruments you get, you can at least choose your seven instruments to use here. Personally, unless finances are very tight, I'd opt for the Complete Plan with all available instruments as the Student Plan's seven choices are fixed per year which is too rigid for my tastes.
Composers who regularly work to a brief and need high-quality recordings with a good level of articulation will of course enjoy what's on offer here. But to me, as many of the products have already been reviewed with this end-user in mind, it doesn't make sense to go over covered ground. Where I am interested is how this benefits a contemporary electronic music programmer who wants a rich tapestry of sounds to work with and the dynamics we need as the pursuit for loudness is finally starting to meet its demise. When it comes to composing without having a pre-established end-game, I've also found the Complete Plan to be a valuable tool.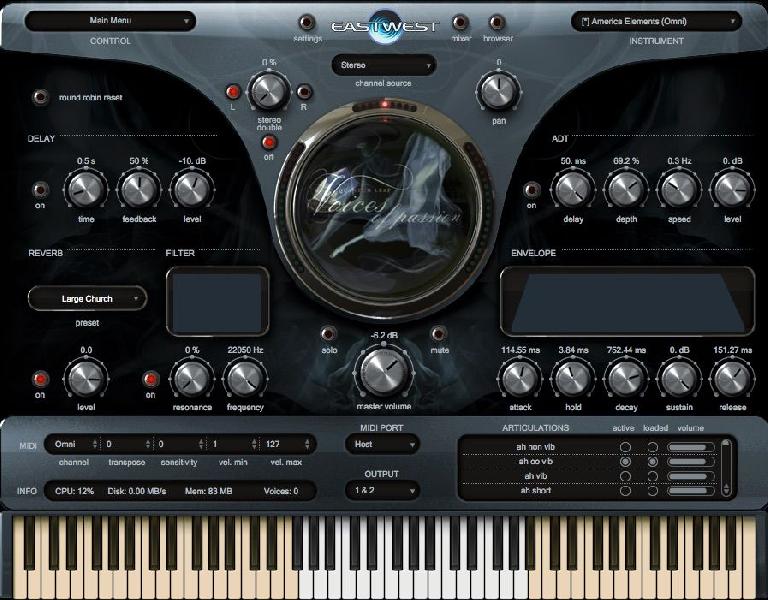 Though the presentation of the Play plug-in (or standalone) changes, the core shaping tools throughout the library tend to consist of amp envelope, filtering, stereo spread and other FX to tailor sounds into your projects.
Working this way lends itself to perhaps use the service more as a sample/loop creation tool, or at least to render down ideas when they are composed and balanced to free up resources for other composition and mixing duties. So an option here is that you just rent a month at a time when you want to explore the types of sounds on offer here, then you can flatten this work to audio when you're more in the arrangement and mixing headspace which means even better value for money.
Experience of it All
As I worked through the library I really enjoyed the quality and variation from one instrument to the next but I found the Graphical User Interface suffered some ergonomic issues. I've found this with sample-based instrument creators in the past so it's not unique to EastWest. Things just feel a little dated in terms of having a fluid, immediate access to sounds and by this I don't mean the sample loading times. I'm talking about the little things that hinder creative workflow like having to move a mouse up and down a column of presets to then double-click each one before deciding if it's the right sound for your current needs or not.
Editor's Note: Please be aware that like many other Kontakt and sample-based instruments EastWest loads samples and articulations which is why there are menus and colums of presets. These ensure the user loads samples as needed. The same goes for the reverb presets, which being convolution-based are why they are behind a pop-up menu system.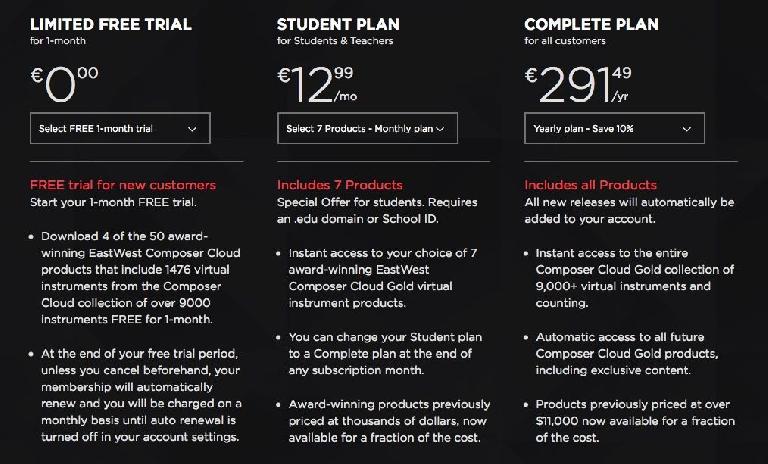 I feel the ability to start and stop your membership as you please makes sense as many of us don't use the same tools for ever and you may find EastWest's library works anywhere between long- to short-term for practical or creative reasons.
Although I don't personally see much attraction in the lower subscription tariffs EastWest offer, I can't see anyone regretting paying for a month or more for the Complete Plan to explore expanding their sonic palette with some incredible and dynamic instruments.
Price:
Limited Free Trial €0/$0
Student Plan €12.99/$14.99 per month, €140.29/$161.89 per year (10% discount)
Complete Plan €26.99/$29.99 per month, €291.49/$323.89 per year (10% discount)
Pros: Affordable access to high-quality sounds and articulations can help to enhance your current production level . Vast library available on an 'as needed basis'. Complete Plan includes over 9000 virtual instruments with new releases automatically added.
Cons: GUI workflow would benefit from a few improvements . The envelopes are a little rigid for anyone looking to shape sounds to their needs at the source, but re-sampling or mix processing can work around this to some extent.
Web:
http://www.soundsonline-europe.com