Before checking out Voices of the Empire, I hadn't really used an East West instrument since the days of Quantum Leap Symphonic Orchestra. Having not checked in on the company in about 15 years, I was looking forward to seeing what their modernized audio engine looked and sounded like. I was a little skeptical about how much I'd use an instrument designed around a single vocalist, but after installing and calling up the first patch, I knew this was going to be a lot of fun.
The Stats
Voices of the Empire (or VoE, as we'll call it from here on out) is a 14 gigabyte library built around the voice of Uyanga Bold - a professional opera singer with perfect pitch who is fluent in Russian, Mongolian, French, and German. I know this because after hearing the first few patches of VoE, I was mesmerized by her voice and had to learn more about her.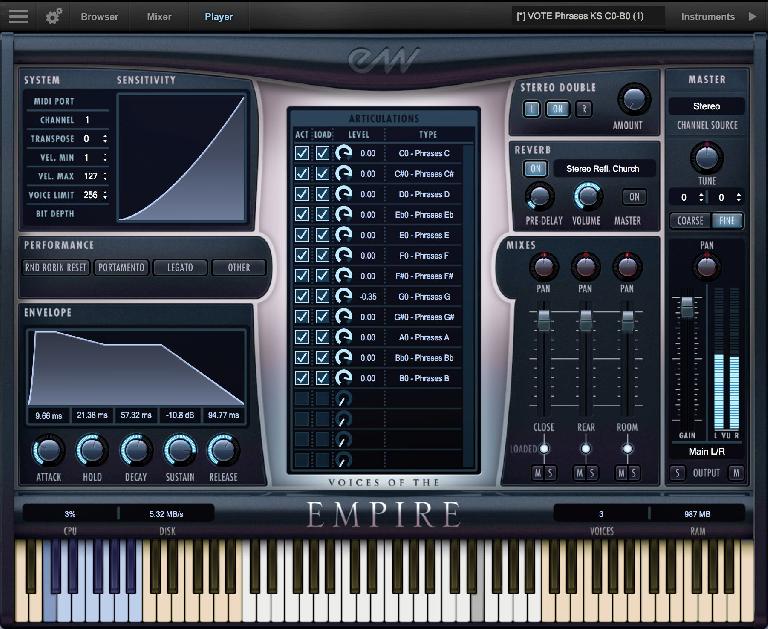 Multilingual Music
VoE includes multisampled vocal instruments in Mongolian, Bulgarian, and Western styles. There are phrases, legato patches, vowel builders and words all compiled into a massive yet easy to navigate interface.
The engine requires PLAY 6 as well as the East West Installation Center which authorizes VoE to your iLok. There is a single license available, so if you're looking to take this with you, you're going to have to bring that dongle.
The Engine
Not having jumped into PLAY 6 before, I was happy to find a modernized interface that was pretty easy to understand without having to dive too far into the manual. The engine itself was very efficient, never giving me glitches even at very low buffer settings, and in terms of memory VoE ate up about 2 gigs or so with most patches.
The browser is quick and snappy, and I was able to switch between legato instruments and phrase playback with ease. Finding a sound quickly is not an issue with VoE, and everything is organized into a very easy to find paradigm.
The Sound Of The Empire
Voices of the Empire is truly stunning. The sounds are impeccably recorded, wonderfully useful and remarkably creative. I was completely floored with how much time I wanted to spend with this instrument, and I couldn't believe I'd find so much diversity and creativity in a sample library based on a single singer. There are plenty of phrases recorded chromatically, tons of words divided up by their vowel sounds, and the legato 'ooh' sound instrument sounds smooth and realistic. Nothing about this library feels digital, and everything I played ended up sounding like the singer was in the room with me.

I haven't the foggiest idea of what any of the words mean that I was playing, but my oh my, did they sound beautiful. This is a rare instrument that makes you want to learn more about the source material, and inspires you to write music specifically to use it.
Conclusion
This is an easy one to recommend to ANY composer out there. The sounds are expertly recorded, the word/phrase/sound choices are incredibly useful, and the price is currently discounted. Two big thumbs up.
Price
: $299
Pros
: Impeccably recorded samples, diverse library of vowel and consonant sounds, a very authentic sounding instrument, efficient engine
Cons
: Only a single license authorized by iLok, so you're taking your iLok with you if you want to use this live with a laptop.
Web
:
http://www.soundsonline.com/voices-of-the-empire