You've probably noticed that music gear can be a little addictive, by now. If you've been building up your MIDI gear, buying new devices from Korg, Roland, and so on, you're probably getting to the point that you find yourself in need of a device like the E-RM Multiclock. In this review, let's go over how the Multiclock can assist you in syncing either multiple DIN, or MIDI-based devices through your computer. Or, how the Multiclock might be just the standalone clock source that you've been hoping for.
German Build, German Precision
I love it when I get heavy boxes in the mail. Especially, heavy, small boxes. This usually means that whatever is inside is built like a tank. And, that's exactly the impression that was reinforced once I finally pulled the Multiclock out of the box, straight over from Germany. This thing is built to last.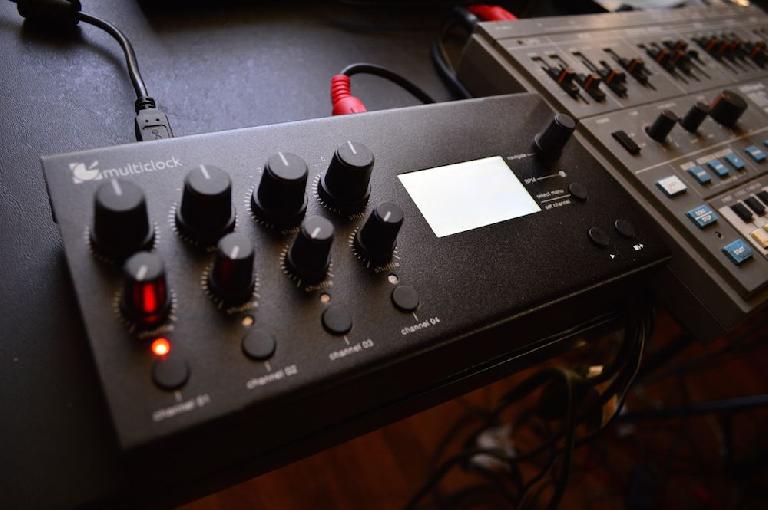 The E-RM Multiclock works as either a standalone clock source capable of sending MIDI, or DIN/Sync 24, and even analog clock signal over four built-in 5-pin outputs. There's also a MIDI IN, coupled with a quarter inch input, for accepting analog clock source, or MIDI IN, DIN/Sync. In addition, it becomes a MIDI Interface when connected to a computer via USB. It also features four Shift knobs, for light, or serious sync adjustments, outside of your DAW.
Initially, I'd gotten excited about the Multiclock, as I have a DIN based device (MC-202), as well as several volca devices, which accept MIDI Input. So, one box takes care of DIN and MIDI in one shot. I'm excited! I was also very excited initially about the Shift knobs, as I've had some light drift with some devices from time to time. I was very pleased to experience some silky, smooth knobs that you can tell cost a little extra. Also, the buttons and the navigator knob (rotary) are firmly locked in. No wiggle, or cheapness. Very nicely done!
Installation
Setup was easy! After plugging in the Multiclock to the wall, and via USB to my computer, I simply went into Ableton Live and enabled all four ports (which appear independently within the MIDI Setup Page).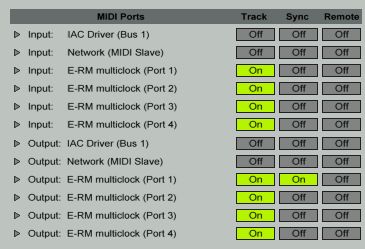 Next, I went into the channel menu for the E-RM, itself and set the MIDI Out to DIN, instead.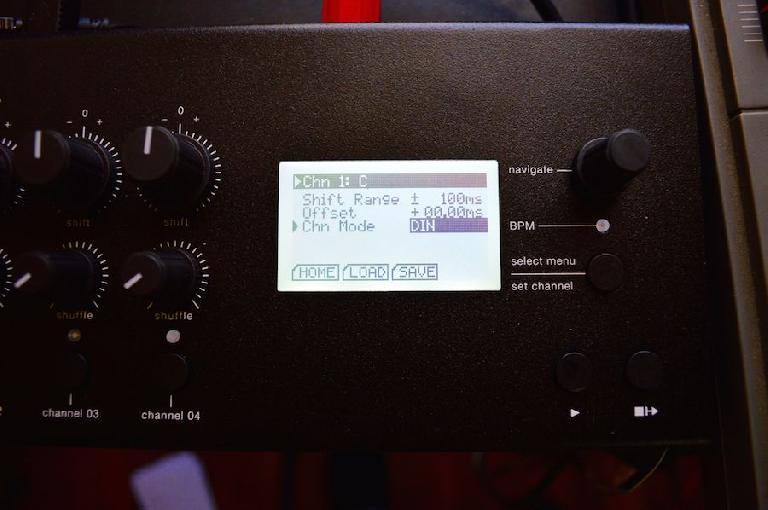 Once a pattern was programmed into the 202, and I pressed play in Ableton Live, the 202 started playing, just like magic. I even MIDI'd up a volca, or two to run along with it. One device in DIN, two in MIDI, one converter box.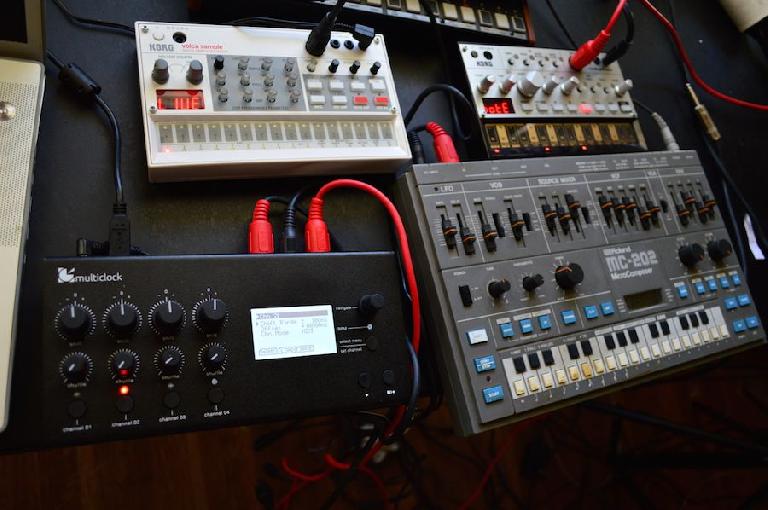 As, a converter box for another clock source, the E-RM worked well, also. I tried sending DIN/Sync from my 202, making it the clock source. Once I'd gone into the Multiclock's manual and switched the input from USB MIDI to DIN Sync, the Multiclock jumped to it.
Conclusions
The Multiclock, for someone like me, who is moving through lots of different eras and styles of gear comes in really handy. I was also happy to discover that I can send from the internal LFO, out of MIDI channel 1's secondary 1/4" output, and have my volca get real CV sync! Granted, some configuration is involved, but it does work, I'm happy to say.
So, in a nutshell, if you've already invested heavily in multiple forms of vintage, and modern electronic music gear that work with MIDI, CV, DIN/Sync, and you're looking for an option that will take care of everything, in one shot, as well as give you the ability to fine-tune your sync, as well as additional cool abilities like being able to merge notes over multiple MIDI ports.... Well, I would highly recommend taking a look at the E-RM Multi-clock. It's built like a tank, and it's just as functional/powerful!
Price: $600
Pros: Accurate, jitter free conversion box that really does the job of allowing you to sync multiple types of devices. Well put together! Roadworthy!
Cons: May be cost prohibitive to some. Does require some setup!