You may have seen some of our reviews of Gothic Instruments' DRONAR series of virtual instruments - if not, you can check them out here https://ask.audio/articles/review-dronar-hybrid-module-for-kontakt, https://ask.audio/articles/review-gothic-instruments-dronar-guitarscapes and https://ask.audio/articles/review-dronar-live-strings-module.

Now, the company has combined all eight of its existing DRONAR libraries into one, and given it a streamlined interface to boot. DRONAR Master Edition weighs in at a whopping 50GB and contains over 2000 presets. Aiming to be a one-stop shop for composers, scoring and sound designers everywhere, it's available at various discounted prices if you already own some of the modules - check the site for full details.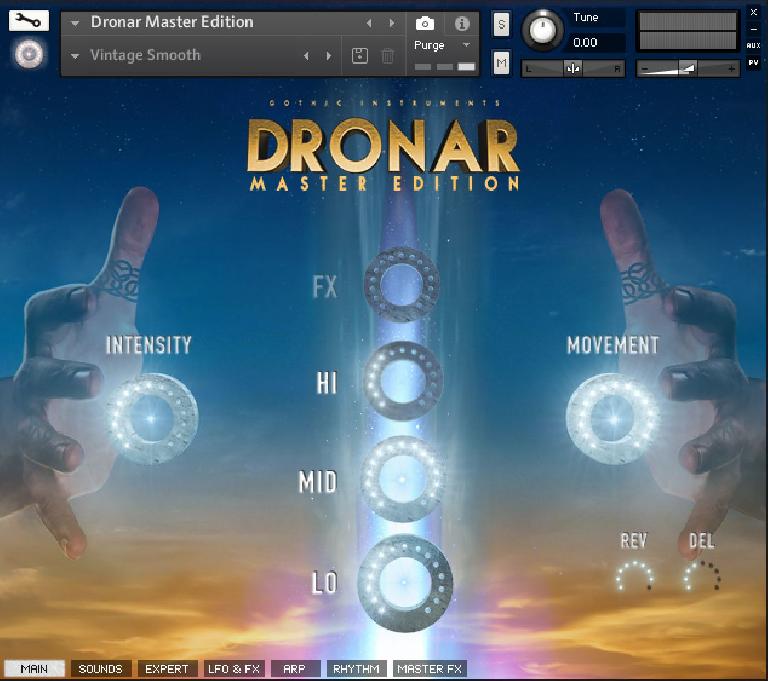 Master Tracks
DRONAR Master Edition runs in the free version of Kontakt Player (and the full version of course, though it's not a prerequisite) which means it's available to pretty much anyone. The installation process is the same as the others, it just takes a little longer to download since the library is so huge. As is usually the case, the files can be offloaded to a secondary hard drive. Dronar Master Edition brings together the content from the first eight Dronar modules — Hybrid, Guitarscapes, Live Strings, Dark Synthesis, Cinematic Atmospheres, Vintage Synth, Brass and Metal & Glass and gives them a fairly simple and easy-to-use interface.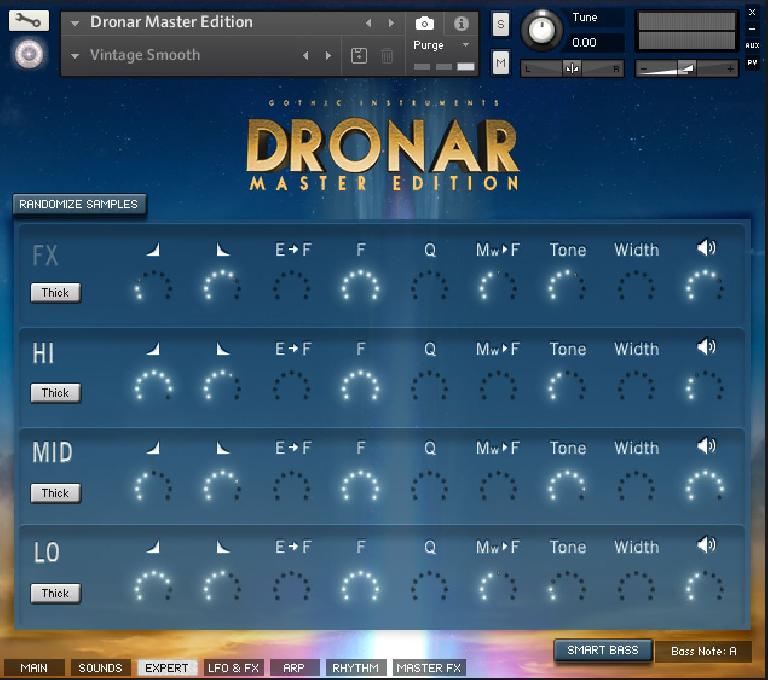 The Main page contains the familiar controls - Hi, Mid and Lo layer level control knobs as well as an FX control, Movement and Intensity controls and reverb and delay. This is all designed for immediacy, letting you quickly shape the sound without necessarily going into lots of technical detail about what's being changed. This is actually very helpful when you're mid-flow, enabling faster workflow in many cases.
Demo 1
Of course there are deeper controls to be found as well, and along the base are a series of section buttons. The Sounds section lets you assign a sound to any of the layers mentioned in the Main section, as well as having level and width settings. A Randomize button here will throw a whole new set of sounds in each time it's pressed. The Expert section has more fine grained controls for each level though again, it's all easy enough to follow.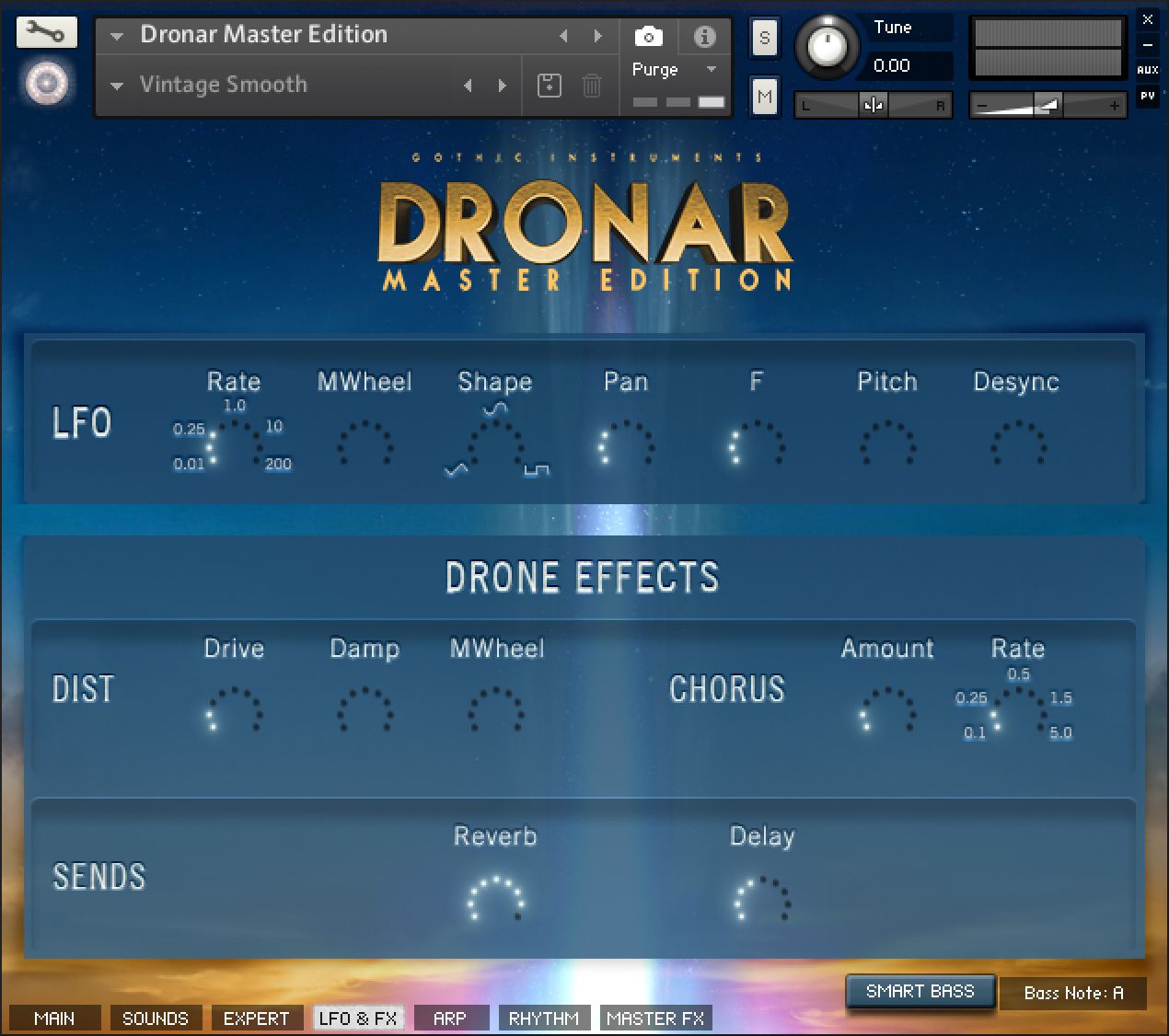 LFO and FX provides straightforward means to control sends and modulation, and the ARP section allows tweakable arpeggiation per-layer. Rhythm adds patterns to any of the three layers, and a master fx section has EQ, compression, delay, reverb and gate across the instrument's outputs.
Demo 2
Conclusion
Sonically, each of the DRONAR modules has been a form of soundtrack-in-a-box, albeit with differing characters. Combined here, they make the Master Edition an absolute treasure trove of textures, ambiences, leads, rhythms and atmospheres. Composers or soundtrack designers of any level and in more or less any genre (save perhaps romantic comedy) will find much to like. It manages to strike a balance between being very detailed - tweak and blend the layers to get just what you want - while also keeping its controls simple. Absolute control freaks might want more menus and boxes, but most people will appreciate the straightforward way in which you are encouraged to work. For anyone working with cinematic sound design, this could be the last instrument you ever need to buy.
Price:
Regular price £309 inc. VAT
Many upgrade paths exist - see website.
Pros:
Vast collection of sounds and patches. Very simple to learn and use. Tweak and customise sounds easily. Amazing scoring and sound design library. Affordable considering what you get. Upgrade pricing means if you're already in the DRONAR system you can save.
Cons:
Control freaks might like more menus and boxes, but they're likely to be in the minority.
Web:
https://www.timespace.com/blogs/news/coming-soon-dronar-master-edition-from-gothic-instruments