DFX-QUAD is a Multi-FX Max For Live device that allows for users to add quirky and interesting effects to their audio. There's a choice of nine effects available, and four effects can be chosen at a time. With all the effects devices that are already out there, would DFX-QUAD really be able to offer something different to producers? I put the device through its paces in an Ableton session to find out how DFX-QUAD transforms sound.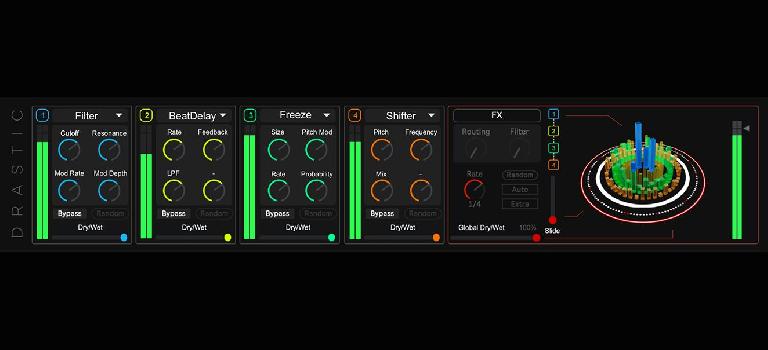 DFX-QUAD works with Ableton Live 10 Suite, but for any lower versions of Ableton an installation of Max for Live is required. Max for Live comes with Live Suite but it must be purchased as an add-on to be used with Live Standard. Those who want to use DFX-QUAD need to be willing to do the preparation work to get Max for Live working inside Ableton Live 9 or lower versions, or upgrade to Ableton Live Suite.
Modules

The device allows users to select from nine effects, including Bitcrusher, BeatDelay, Chorus, Convolution, Delay, Filter, Freeze, Reverb and Shifter and use up to four of these effects in the chain. There's also a variety of presets that are included, which are a helpful place to start out when applying DFX-QUAD's effects. Users can change signal flow routing on the fly and randomize the dry/wet for each module. The effects can be used individually, or up to four effects can be used at a time. Additionally, the audio signal can be tweaked on the fly via the master 'route' knob.

Each module has up to four parameters for effect modulation, and each module includes a bypass button, random (which allows you to randomize the knob values) and Dry/Wet.
Master FX Section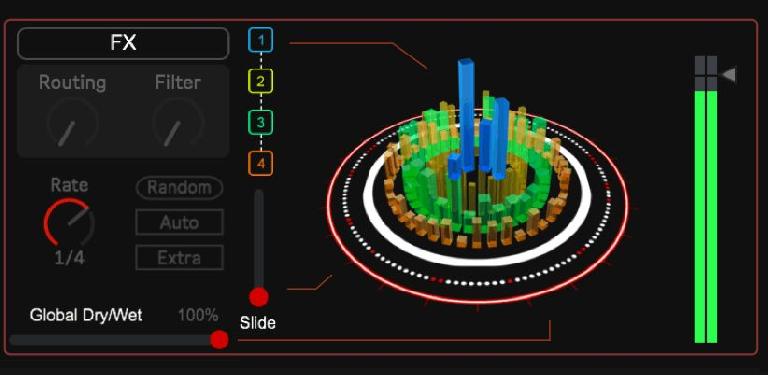 On the far right hand side of the device is the Master FX section. The routing of the order of the modules can be changed to affect the overall sound. For example, 1-2-3-4 will have the audio signal processed in that order and 1-4-2 will process the audio in that particular order. This section includes a Master Filter that's independent of the global dry/wet.

The Randomizer can be used manually to randomize parameter values in each module, along with the 'auto' mode which will randomize in sync with tempo, controllable via "Rate" knob.

Random options include Rate (the rate/beat division to which the randomizer changes the values of knobs/sliders), Random, which randomizes the module knob when pressed and Auto, which turns randomizer onto auto-pilot mode. Auto can be a useful feature for creating unpredictable effects on the fly.

There's also an Extra feature which randomizes dry/wet and bypass on the device. Lastly, Slide allows the user to select whether knobs 'Snap' to value or 'Slide' to value when on random mode. '