Review: DJ Tech Tools Chroma Cables
The interconnects you use can be just as important as the gear at either end of them. Here, Sara Simms checks out two great-looking sets of cables - but how do they sound?
DJ Tech Tools is a company that's always innovating interesting products for the DJ market, and have recently released their new Chroma Cables USB-C and Chroma Audio Cables. The cables look great and come in fun colours that you can easily see in the booth. But how would the cables perform? I tested out their new cables in a session to see if they'd stand up to the rigours of gigging and studio use.
Audio Optimized USB-C Cables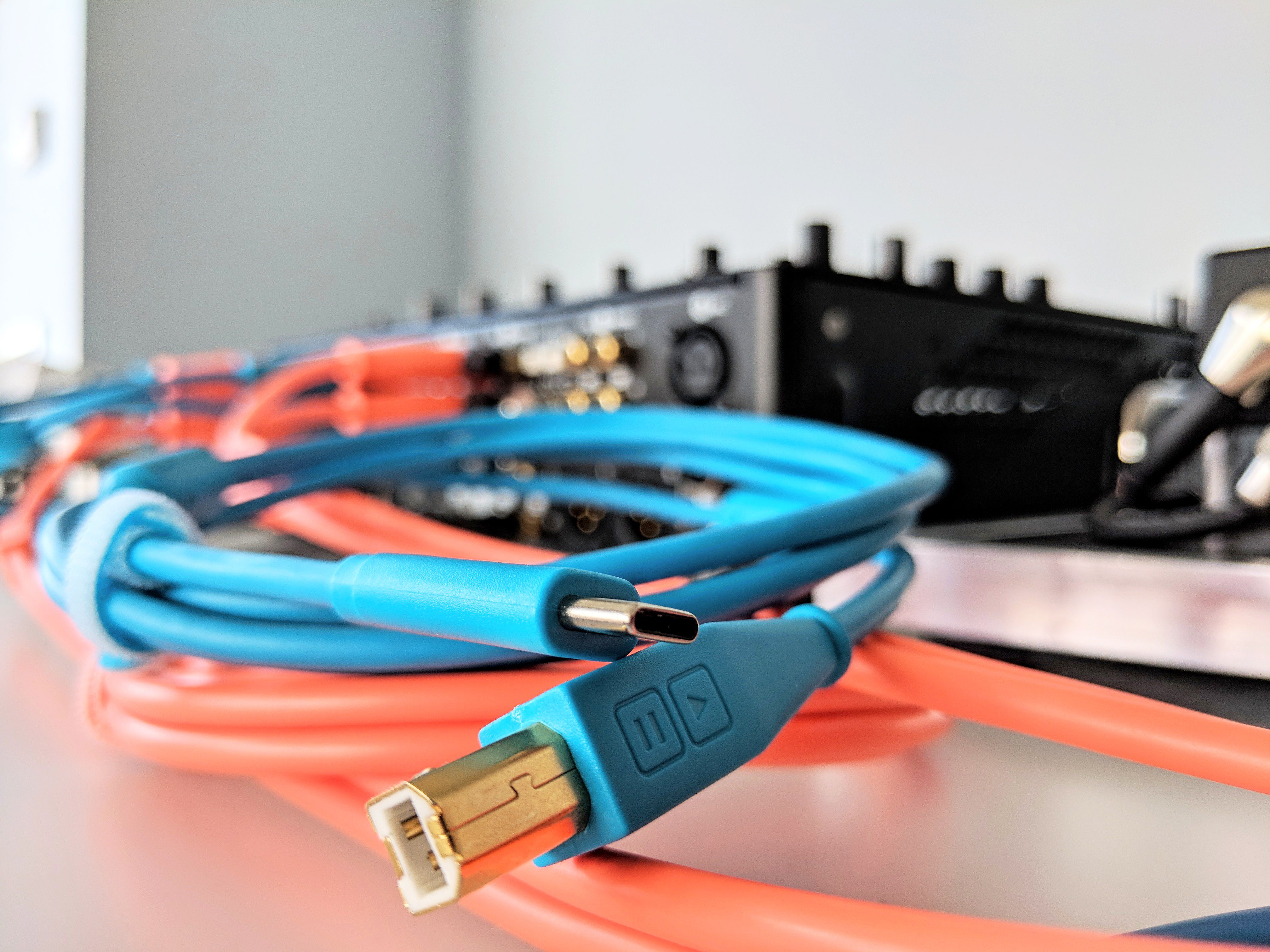 USB Type-C is the new standard connector for charging and data on laptops, phones and tablets. While not every device has this powerful port yet, a number of laptops including the Apple MacBook, Dell XPS 13, Asus ZenBook 3 Deluxe, HP Elitebook x360 and a few other brands utilize it. DJ Tech Tools is keeping up with the times and unveiled an audio optimized USB-C to USB-B cable. Their new Chroma Cable is quite useful, as it means that you won't need to use an adapter to use the latest laptop and with your DJ and studio gear that have USB-B ports.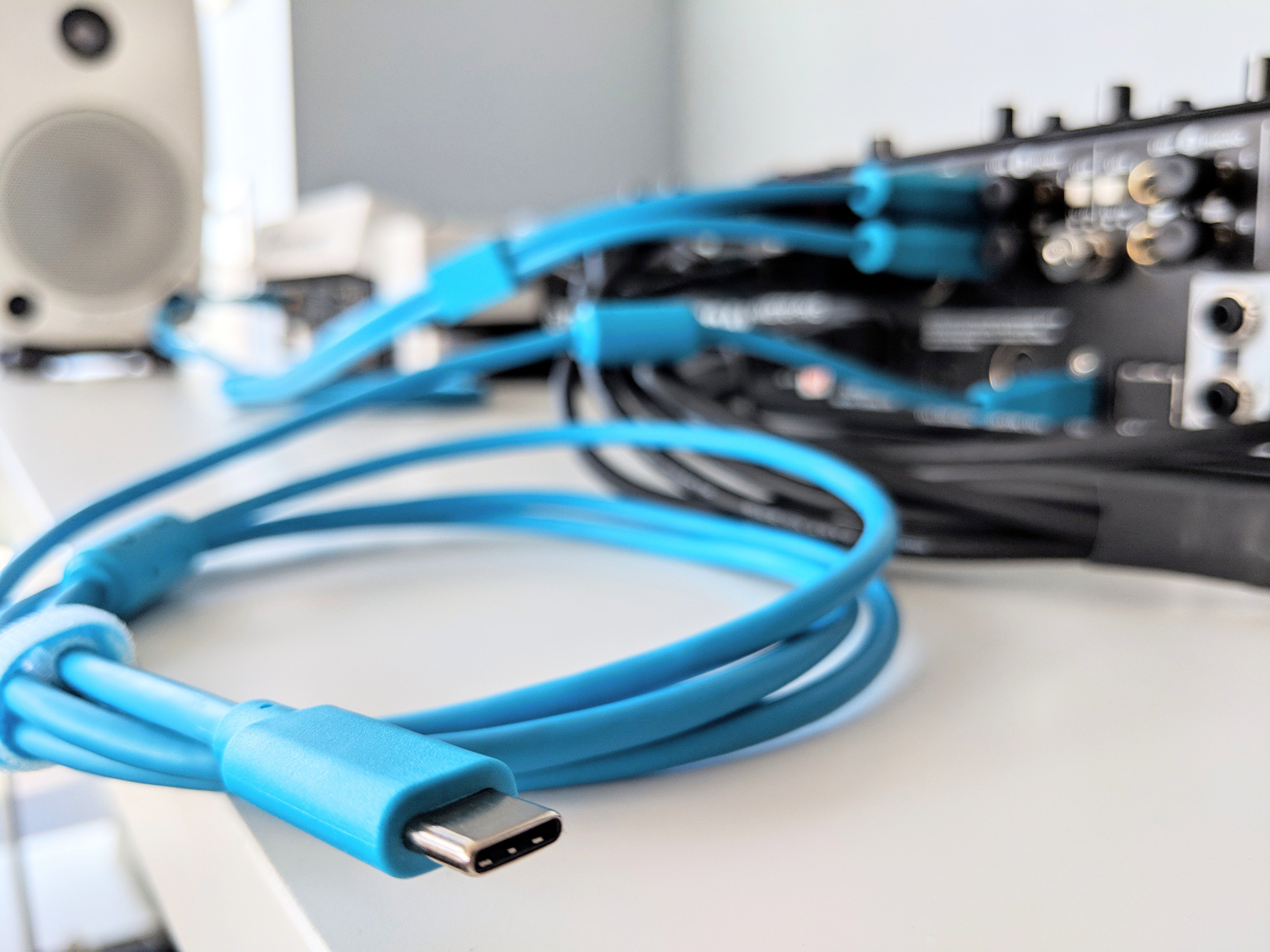 Each USB-C cable has two ferrite core chokes, one at each end of the cable to help to prevent signal dropouts. Paired with fully-braided shielding, the cables eliminate interference along the signal path from club lights and other electrical sources. The high quality connectors help to ensure that the cable will last a long time. The connectors fit snugly into USB ports, and each cable includes a DJ Tech Tools velcro cable wrap to keep cables nice and tidy. The USB-C cables are audio optimized, include noise-filtering features and are tested to with all USB-B devices.
I believe these cables are a timely innovation as they eliminate the need for adapters when connecting equipment to new laptops. The cables are printed with the DJ Tech Tools logo and come in blue and white. The two different colours help to clearly organize equipment that you're plugging into a laptop. One of my small critiques would be to include a few more colours in the product line. These Chroma Cables will certainly come in handy for those who stay up to date with cutting edge technology!
Pros: Audio optimized and include noise-filtering features. Fully-braided shielding. Eliminates the need for USB adapters. Cable wrap included

Cons: I'd love to see other colours (eg. black) included in the collection

Price: $14.99

Length: Cables are 1.5 meters (~5 feet) long from end to end.
Available from: https://store.djtechtools.com/products/chroma-cables-usb-c
Chroma Audio Cables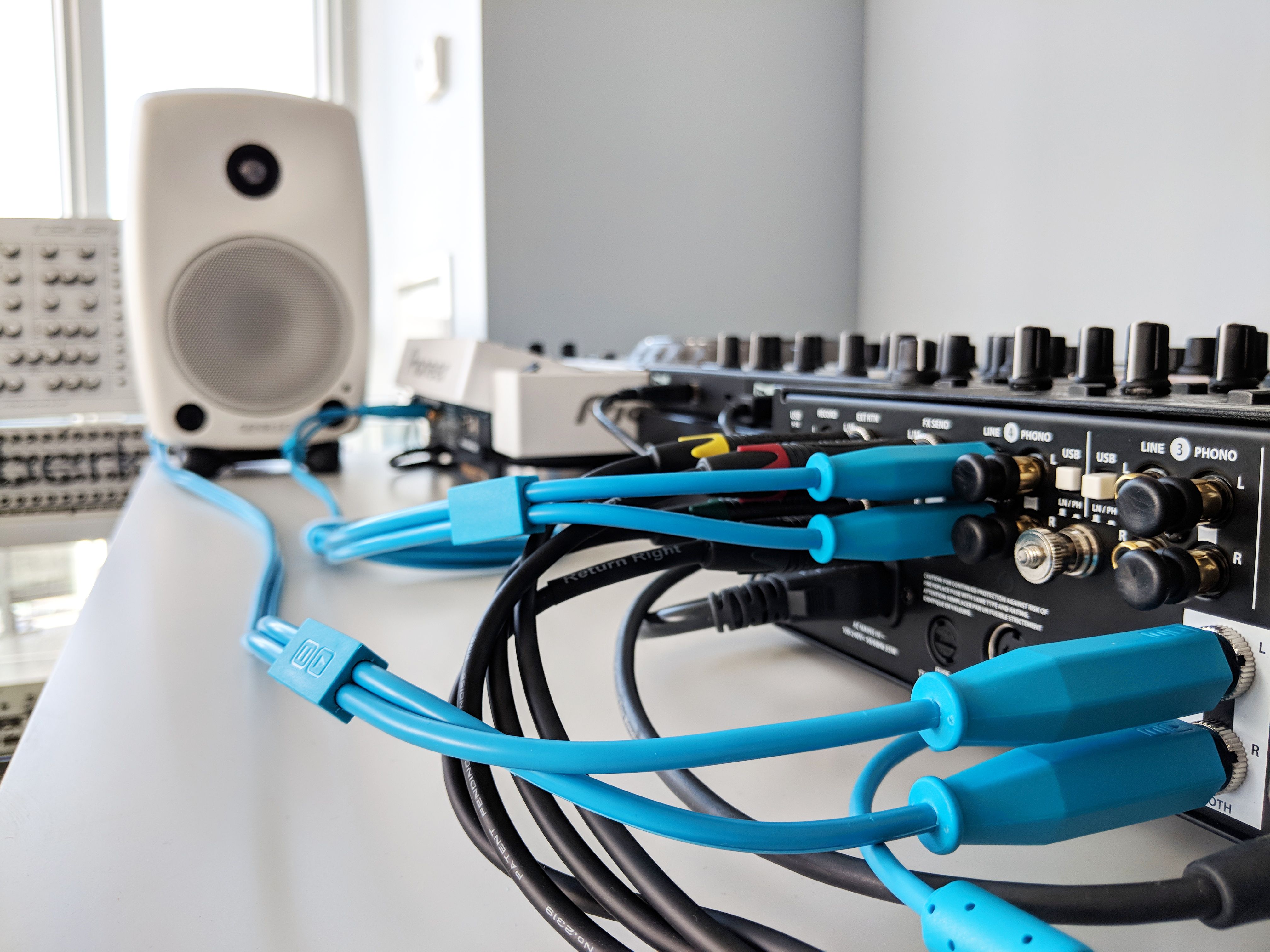 DJ Tech Tools has recently begun to produce audio cables designed for the stage and studio. The vibrant Chroma Audio Cables come in blue, orange and red and are available in RCA, 1/4" and RCA to 1/4" varieties. I tested out the DJ Tech Tools RCA cable with my Pioneer DJ CDJ and then tested a standard RCA cable with the same setup and found that the DJ Tech Tools cable performed every bit as well. I discovered that the audio quality of the DJ Tech Tools cable sounded quite similar to the RCA cable and both performed equally well. I also tested out DJ Tech Tools's 1/4" cable with my Roland TR-8 and compared the quality of the signal to a pair of standard 1/4" cables with the TR-8. I learned that the Chroma Cable is able to transmit audio clearly and reliably. It was challenging to tell the differences in audio quality between cables, which means that the Chroma Audio Cables sound every bit as good as industry standard audio cables.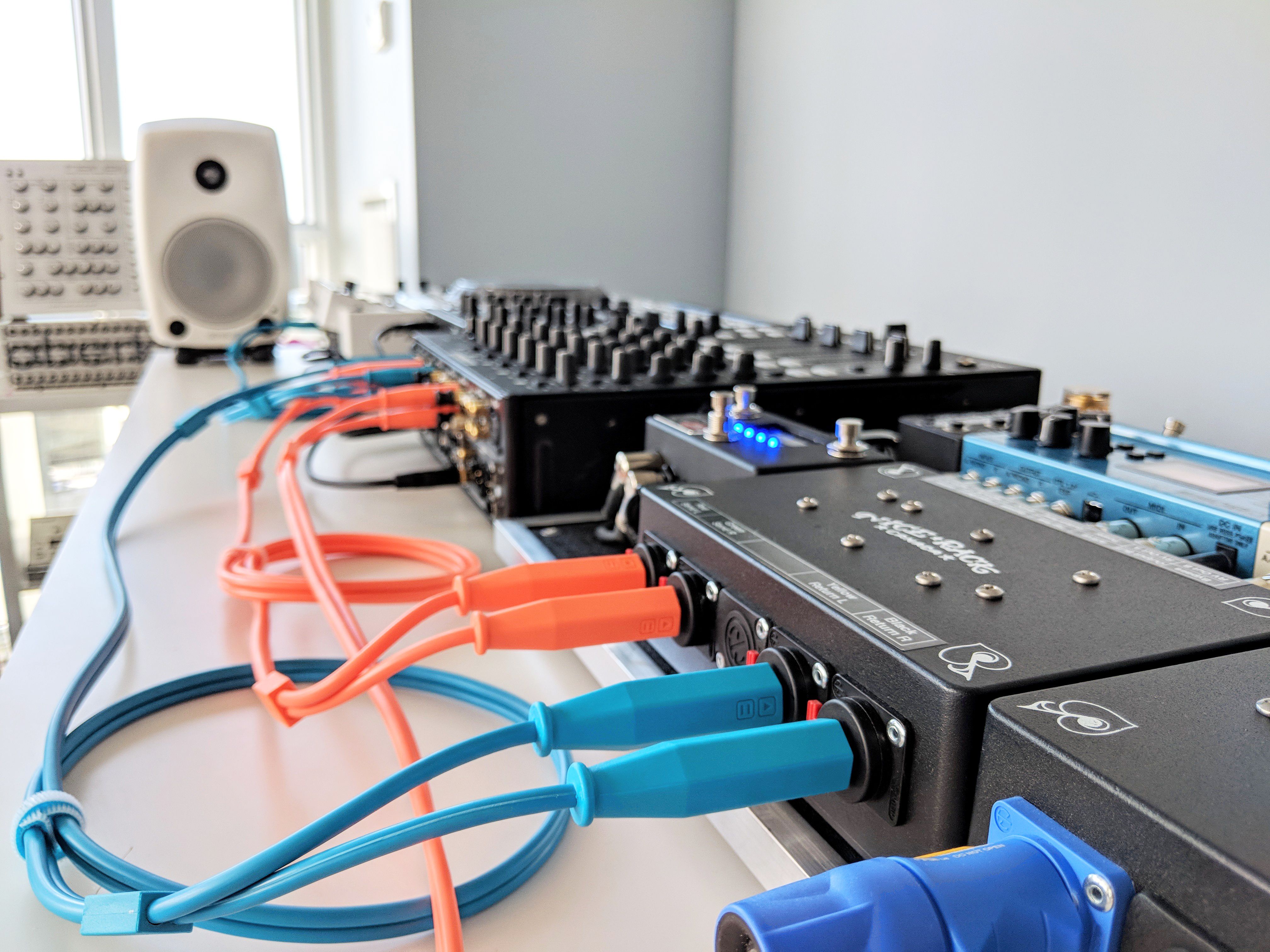 DJ Tech Tools Chroma Cables don't only sound good, they look great too. Stylishly designed, the cables are wrapped in high quality soft rubber and have gold plated connectors on either end. The end of each connector is covered with a harder plastic finish with a unique hexagon shape and has the DJ Tech Tools logo on it. Another useful feature on each cable is a rectangular protector that slides up and down to widen or shorten the cable and has printed +/- markings that clearly distinguish between channels. I think personally I would have preferred a L/R (Left/Right) labelling system, as most equipment is labelled this way, or even having the L/R letters marked on the end of each individual cable. However, this is a small detail as the +/- system works just as well and comes in handy for plugging in cables.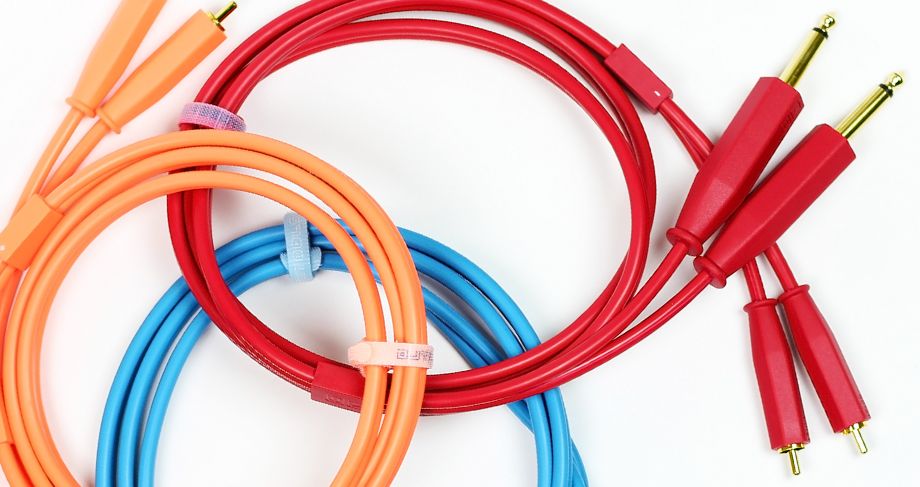 Every Chroma Audio Cable includes a velcro cable strap that helps to keep the cables organized. The bright cable colours are useful for colour coding connections so its easier to see which pieces of equipment are linked to each other. Overall, the Chroma Audio Cables are great and I believe DJs and producers everywhere will find them useful and appreciate their sound, style and vibrant colour.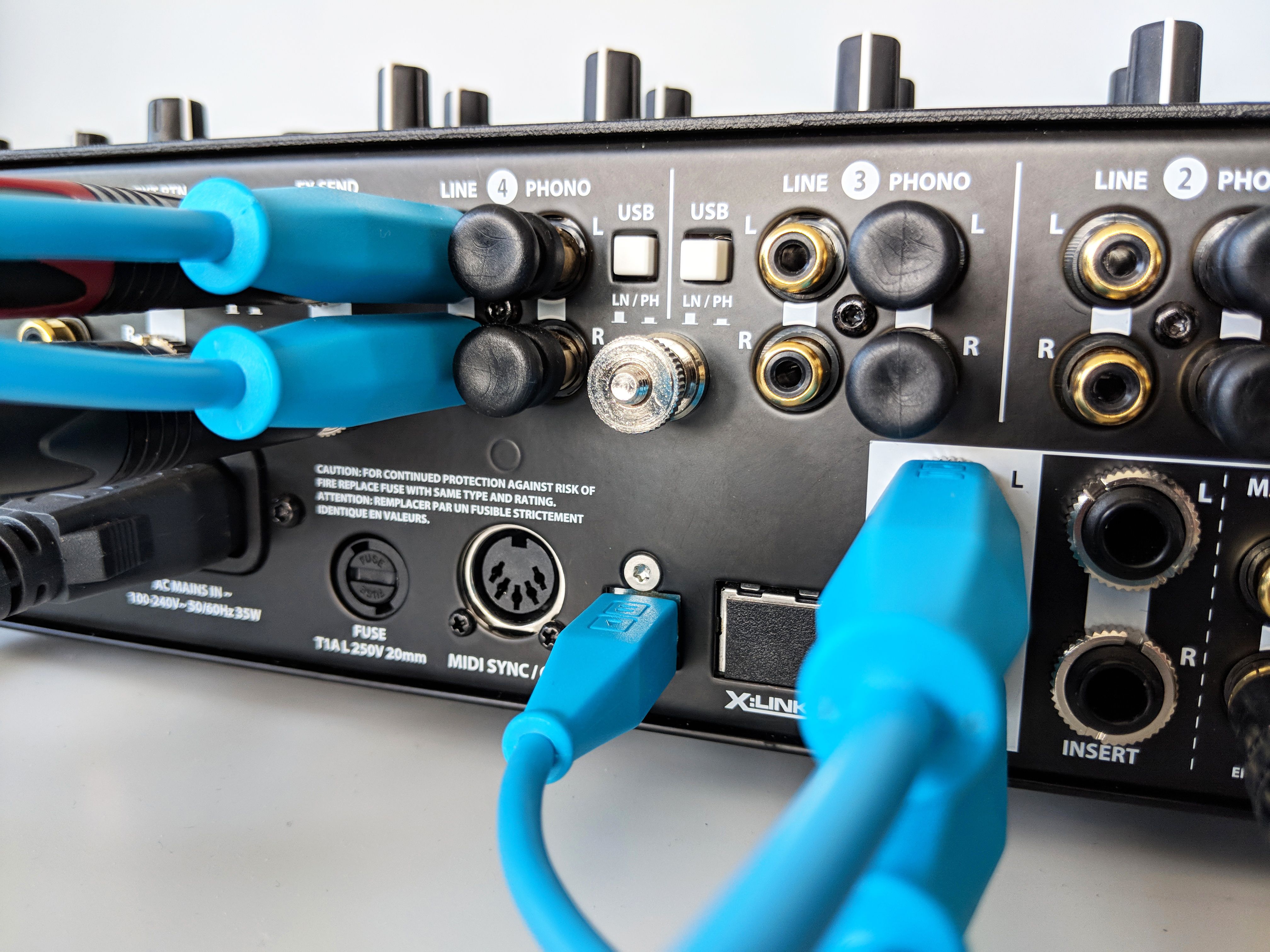 Price: Two or more, $22 per item, three or more $20 per item up to ten or more $17 per item
Length: Cables are 1.5 meters (~5 feet) long from end to end
Pros: Many types of cables available (RCA, 1/4" and RCA to 1/4"). Moveable strain reliefs with +/- markings. Good quality sound. Modern and functional style, Fun, bright colours. Includes cable wrap.
Cons: 

It would have been useful to have a 1/4" to XLR male and XLR female in the collection. More cable lengths (both shorter and longer) would be useful. I'd also like to see a black cable added. L/R markings (or the +/-) markings could be printed directly on the end of each cable.
Web: https://store.djtechtools.com/products/chroma-audio-cables