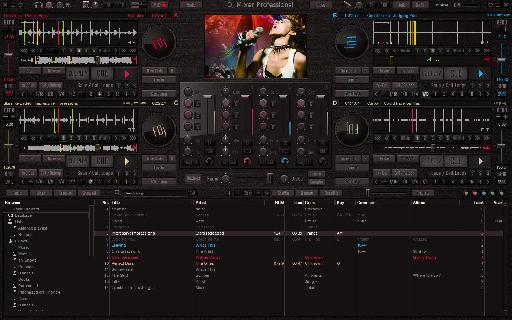 DJ Mixer Pro is a new DJ/VJ software aimed at both beginner and seasoned DJs. One of the best features of this program is its ability to mix both video and audio, which makes it an attractive software programs for video DJs and disc jockeys alike. DJ Mixer Pro packs a lot of useful features into its software and comes pre-mapped for many popular controllers. Let's take a look at what makes this new DJ software unique.
Overview
DJ Mixer Pro allows you to choose between mixing two or four decks together. The GUI layout is straightforward; each channel has a three-band EQ, filter and cue, as well as a key adjust feature which can be enabled. The mixer section (and especially the fader pots) are a little on the small side, but the software can be mapped to your MIDI controllers which would reduce the time DJs spend looking at the computer screen. The layout's look appears to have more space between features when you use DJ Mixer Pro in two deck mode. Overall, the busy layout is a tradeoff because this software program does really try its best to offer many useful and creative features to DJs.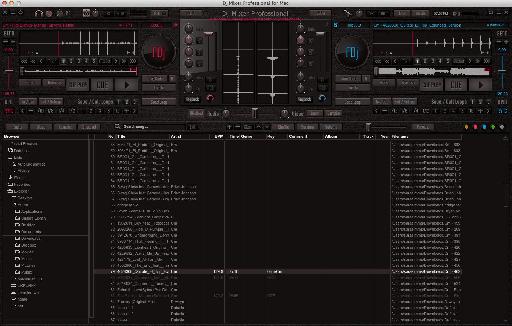 Two-deck mixing.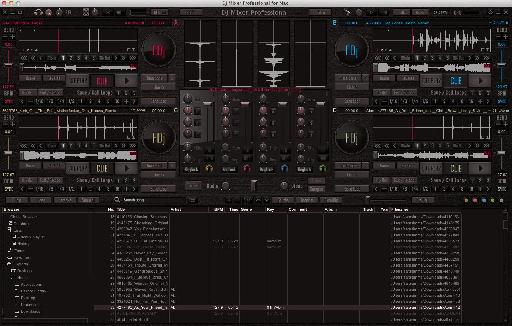 Four-deck mixing.
Each of the decks include a multitude of features, including the standard cueing, looping, and sync buttons. The sync function does seem to work relatively well, though I did have to click on the Sync button to have the two tracks Sync up after pressing play. I found the brake and reverse buttons to be thoughtful additions which would be fun to use during a set. Each deck also includes a line in switch (so you can route audio in from an external sound source) and you can send your loops to a built-in sampler. Once you've created a masterpiece, DJ Mixer Pro allows you to record your mix.
DJ Mixer Pro includes standard features like the ability to import your iTunes library and offers BPM and key detection. Seasoned jocks will find that DJ Mixer Pro is easy to learn to use and aspiring DJs will enjoy starting off with this program. It also includes a few unique features, like support for third party VST effects, time stretching and a sample player. You can also connect up to nine (yes nine!) MIDI or HID devices, which gives DJs a lot of power for creative exploration.
There's a long list of DJ controllers that DJ Mixer Pro comes pre-mapped for; including controllers by American Audio, Beyond, Numark, Behringer, Hercules, Gemini and Pioneer. Most of the controllers on the list are typically used by beginner/bedroom DJs and this program will be useful to those who are just starting out.
DJ Mixer Pro is a pretty solid addition to the growing list of DJ software that's available. The software does offer a lot of features and many external DJ controllers are supported and pre-mapped. If you'd like to try out the software for yourself, you can try out a demo version right from the DJ Mixer Pro site that allows you to test-drive the program for 20 minutes. Happy mixing!
Price: (DJ Mixer Professional 3) $119.96 USD

Pros: two and four deck mixing with standard digital mixing features, pre-mapped for many popular controllers (no configuration needed), video mixing, a good deal for the price
Cons: many controls are a little small when used in four deck mixing mode, fonts are small, and could be challenging to read when playing live