I was not in the market for a keyboard, period. I have several that serve my needs quite well, both in the studio and when I do live gigs. But as I walked the floor at the NAMM show, I came across a booth with some very attractive ones and a guy was playing a piano sound from one that really sounded great. So I slapped on some headphones and played. Wow!
What You Get
The Vivo S7 is an eighty-eight note digital piano, but it also has many features that you do not usually find in stage piano keyboards. It uses patented "T2L" sampling and modeling technology with high quality 24 bit samples. It has 79 tones and you can add SoundFont 2 files for additional sounds. It includes tons of FX, including 24 reverb types, delays, chorus, phaser, tremolos, 3 band EQ, rotary speaker, and overdrive.
Like the Arranger type keyboards, you can play included songs or record your own, overdub, and add tracks to play along with. It can memorize chords and freeze them to play a complex chord with one finger, and it all integrates with a free iOS app called X-Mure that I have not yet tried but am looking forward to working with. Creating and playing splits and layered sounds is really easy and fluid, making it excellent for live use. Saving favorites, either internally or on a USB stick is again, easy.
What I Love
This keyboard is a joy to play. The feel is great, and it is adjustable with a wide variety of settings from the lightest to the heaviest. The sounds respond extremely dynamically to your touch. The piano sounds are terrific and I am told that at a blind test at the London College of Music, 48 teachers and students struggled to identify which was a real Steinway Grand Piano and which was a "Home" model of the Dexibell pianos. Mechanical noises (which you can turn off) and key noises have all been added for heightened realism.
The Rhodes, Wurlitzer, CP 70 type digital grand, Clavinet and organs are all just terrific. Ditto the strings and pads. Bass and plucked sounds are fine. You have control over the amount of bell and growl in the Rhodes patches, click and percussion for the organs, and control of the envelopes. Lots of ways to customize, again, pretty easily. Also, the machine is handsome as is but you have a range of optional colored end panels for purchase.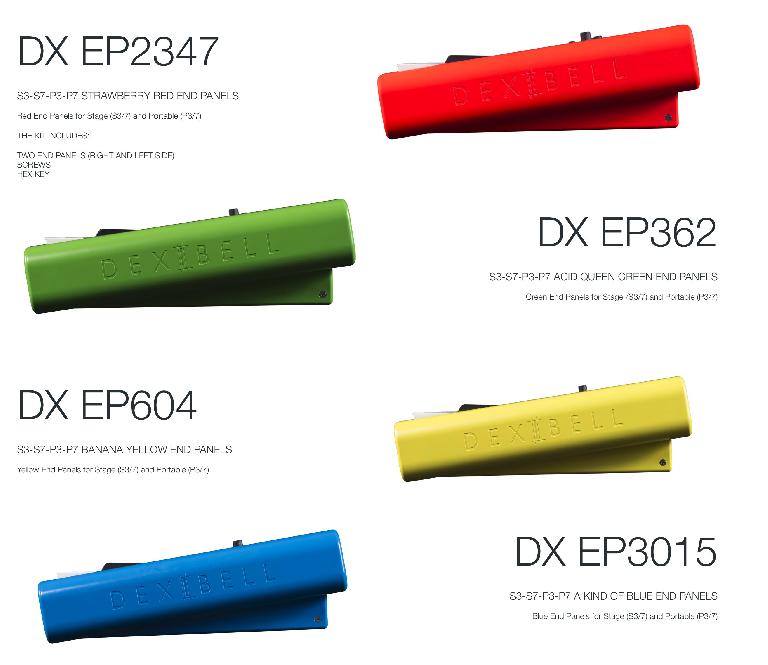 What I Don't Love
When it came time to listen to the brass and guitar sounds, I was rather disappointed. They simply did not sound as good as the other sounds. I expressed that to the lead developer, Luigi Bruti, and wondered if it was a case of "just in case you need some" that they were included, and he said that was exactly correct. It is a digital piano, not a synthesizer or sampler. He did point out that there are a ton of free sounds from SF2 sites, and that they also would be adding new sounds later. Also, on the strings and pads and a few other sounds, the vibrato is "baked in" and not user controllable. Another thing has to do with the damper (sustasin) pedal. There is not polarity adjustment in the controller settings so you will need a Roland compatible pedal, which does not come with the machine.
As you can see, the pitch bend and mod wheel are in an unusual position. I am not yet sure how I feel about that because it means retraining one's muscle memory a little, but it does add to the look.

There is also the Vivo S3, a 73 key version that may be a good option for gigging musicians because of its lighter weight. The action is not identical to the S7 but plays similarly and sonically they are identical. They also have "home" console and "portable" models, with built-in speakers. Dexibell is a strong new competitor in the digital piano world, giving Nord et al a real run for the money.
Price: MSRP $2199, MAP $1799
Pros: Plays great, looks great, with among the best piano and vintage electric pianos, pads and strings I have heard. Lots of customizability, easy to layer and create splits. Song mode and chord modes. Ability to import SF2 sounds. Optional colored end panels.
Cons: Brass and guitars sounds are not as good as the others. No pedal polarity control settings. No user vibrato control in certain patches.
Web: http://www.dexibell.com/index.php?route=product/category&path=68