Review: Denon DJ SC5000 Prime
Denon's pro-level DJ player has a 7-inch HD display with multi-touch gestures, '¨8-inch rugged metal jog wheel and much more besides. Sara Simms put it to the test.
When I was asked to review the Denon DJ SC5000 Prime players, I approached the project with an open mind. I had read many great things about the players, but admittedly was not familiar with any products from the Denon line. The Denon DJ SC5000 Prime are media players that aspire to become the new industry standard of players for DJs. Curious to find out if they'd really be capable of that title, I gave these award winning players a spin in my studio to find out what they're really made of.
Overview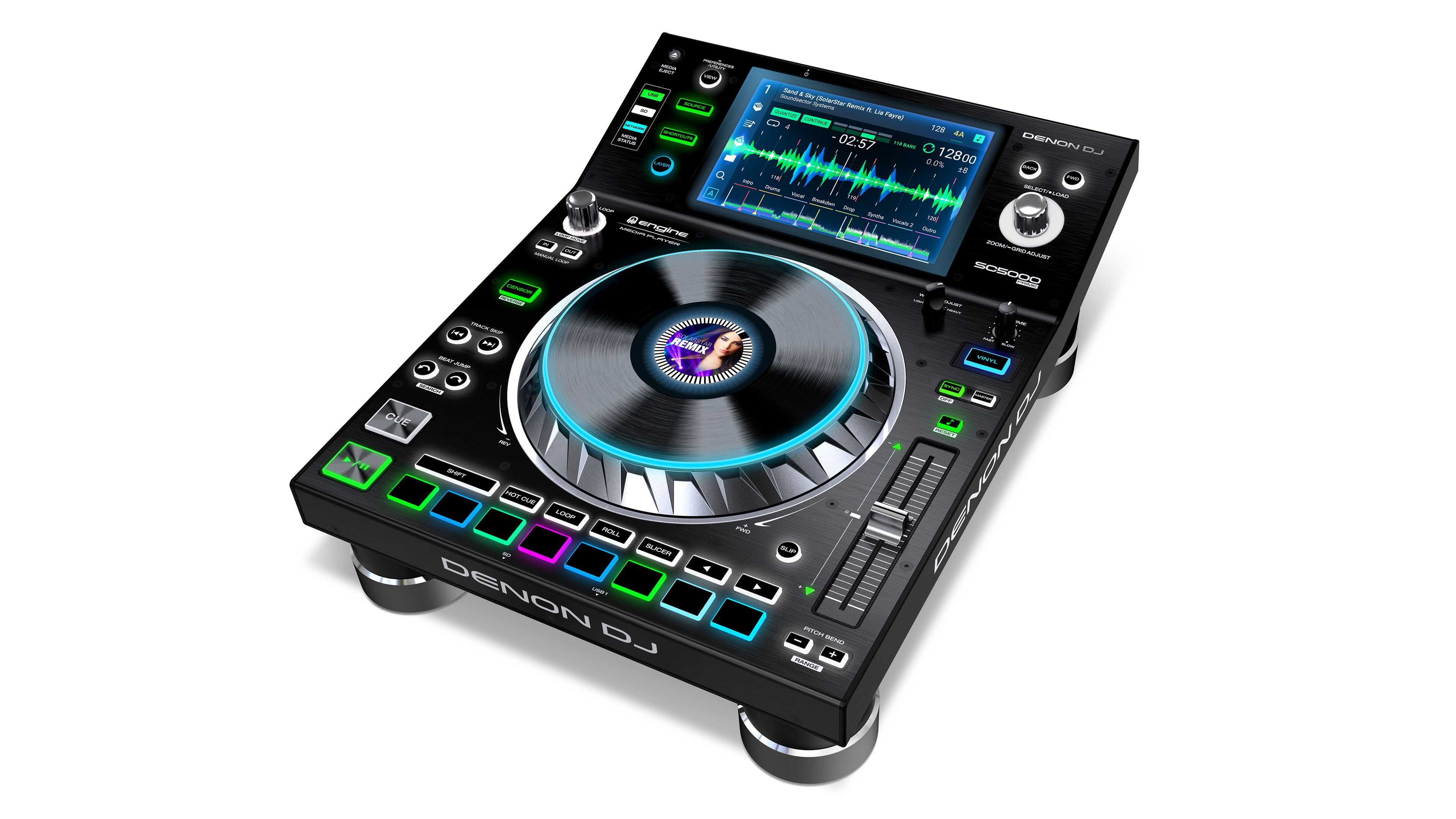 The Denon DJ SC5000 Prime is a playback deck/controller/media player. It's the first of its kind as it's capable of file analysis and features an innovative dual-layer deck capability, meaning you can play an entire set with just one deck and a mixer. The layout of the Denon DJ SC5000 Prime closely resembles the design of Pioneer DJ's media player and CDJ's. The overall design looks slick and professional and features rugged 8" silver metal jog wheels and a 7" multi-touch touch display screen. The player works together with Denon's Prime Engine software and features eight multifunction trigger pads for Cues, Loops, Slices and Rolls. The audio quality on these players is high and offers 24-bit/96kHz digital audio outputs.
Features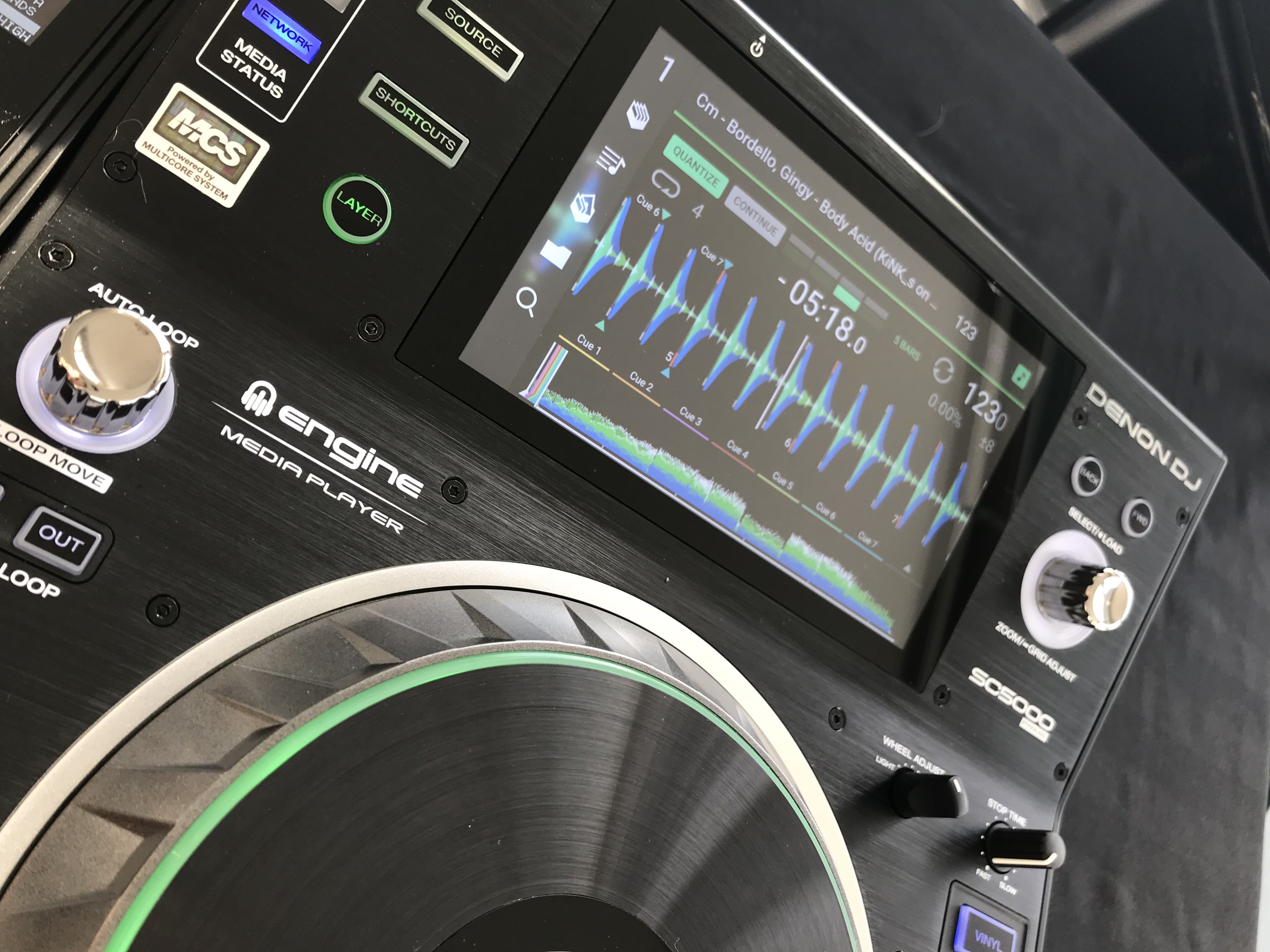 At the top of the player is the main multi-touch display. This display provides an intuitive way to navigate through playback and performance. There are standard controls such as the select/load button, manual looping buttons and an auto loop knob. There's also a pitch fader and pitch bend buttons, as well as standard features like Play/Pause, Cue, Track Skip, Beat Jump and Vinyl Mode. Each player features a Sync and Master button, and Key Lock/Pitch Reset buttons.
The player features Slip mode, which allows users to jump to cue points and use other features while the track's timeline continues. One feature I found particularly interesting is Censor mode, which works the same way as Slip, but in this mode the playback of the track will be reversed. When Censor mode is released the normal playback will resume from where the track would have been if it had been playing forward the whole time.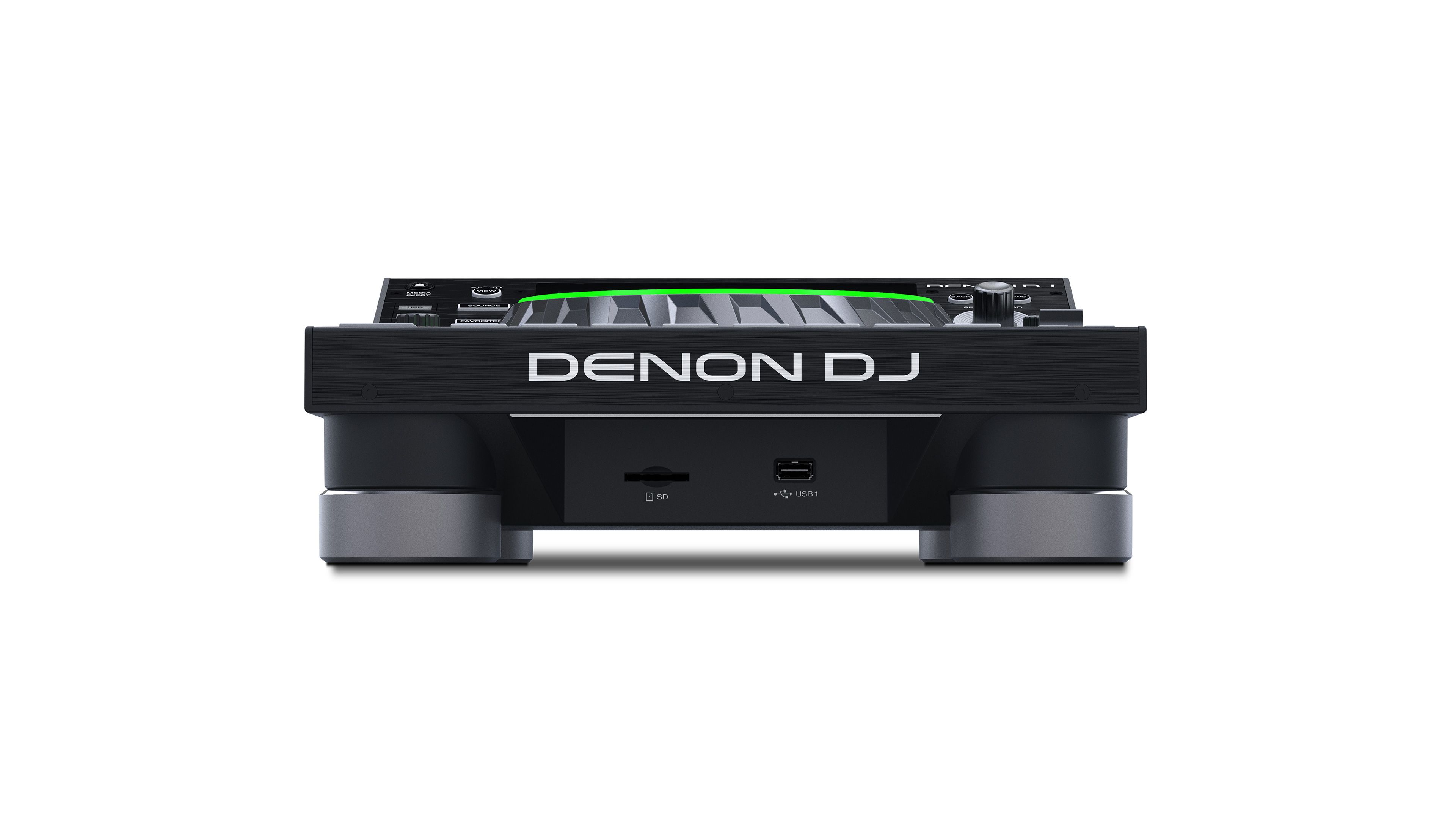 One thing I like about these players is the fact that the inserts for the USB and SD cards are located at the front of the unit. The edge of the player extends past where the USB and SD cards can be inserted, so that media cards stay safely tucked away during sets.
Rear Panel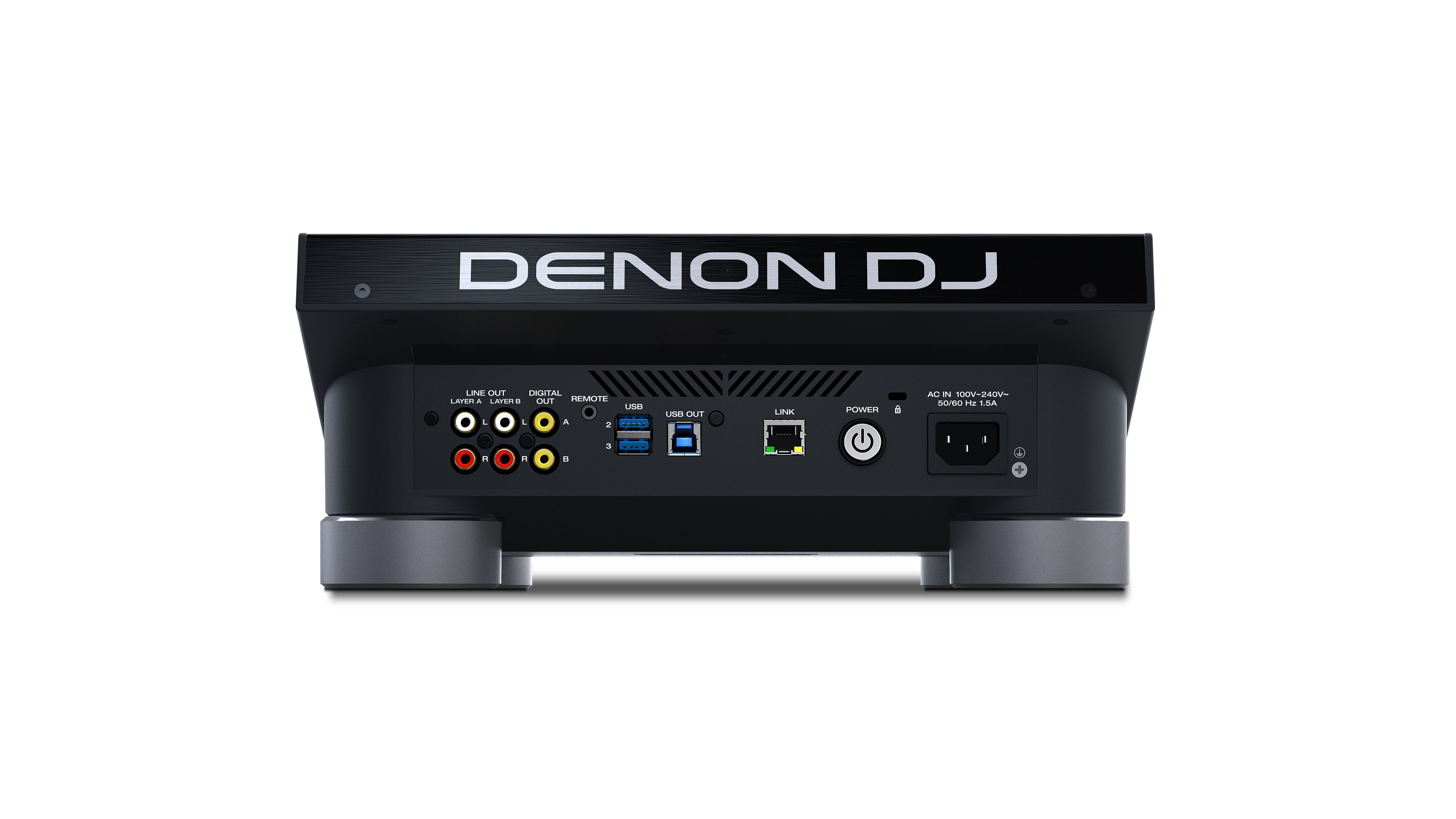 The rear panel features a power input, power button, link port for the players, USB Out port, two USB ports, RCA outputs for both Layers A and B, Digital RCA outputs, a Remote input and Kensington Lock Slot. I like how many USB ports the rear panel has available as this offers many connectivity options.


Main Display Overview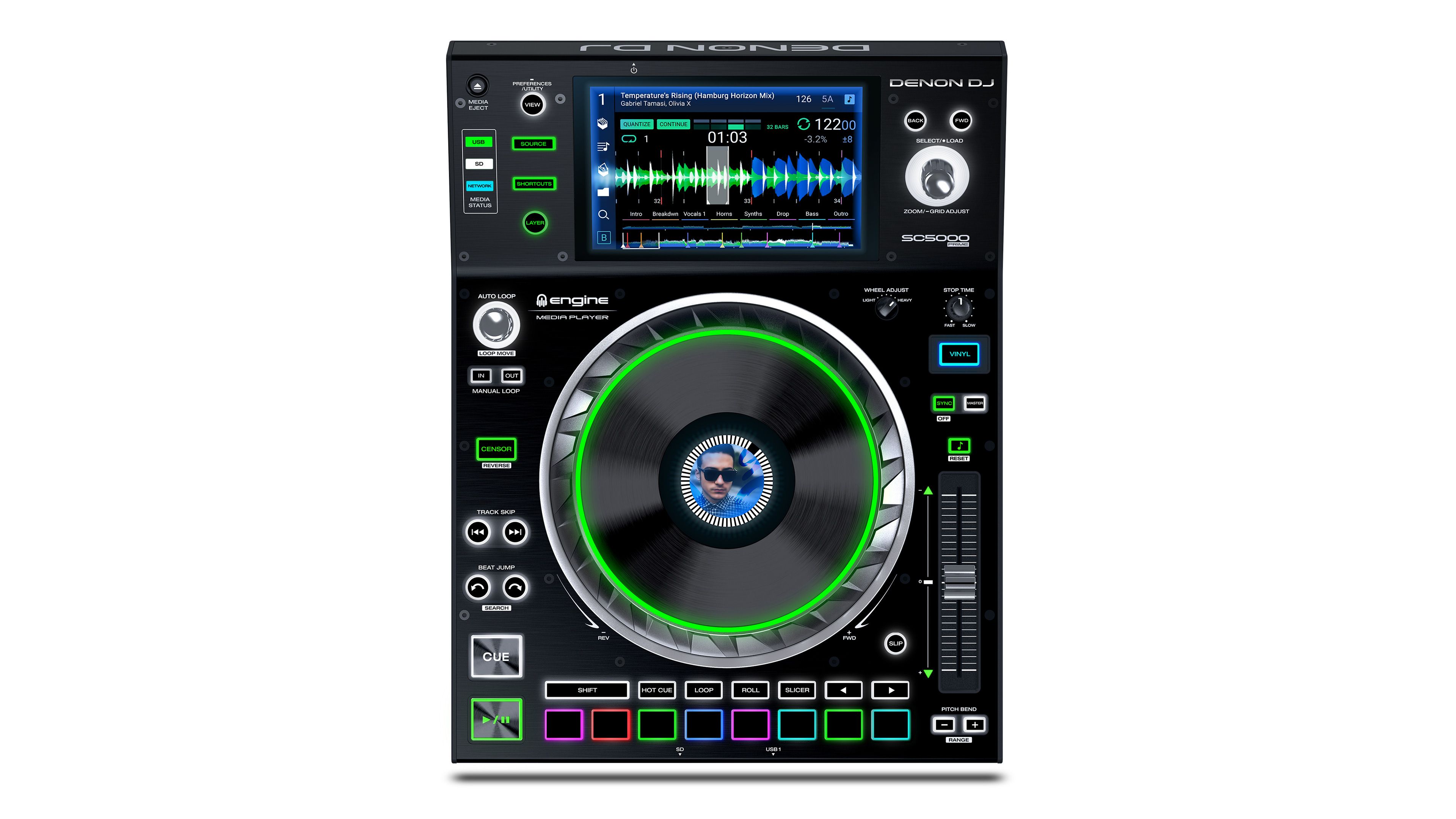 One strong point of the Denon DJ SC5000 Prime is the main touch screen display. The touch screen includes a multitude of features including the track quantize on/off, continuous play on/off, a beat counter, track tempo, track key, key lock, Deck tempo and more. At the bottom of the screen is a track overview that can be used to quickly scroll through the track while it's paused. This is a helpful feature that can help DJs to preview new tracks, or jump ahead in the track to set cue points. There are two layers on each player that can be accessed by pressing the Layer button. The Layers are a welcome feature because this enables two-deck mixing with only one deck. Each layer has a customizable RGB colour around the jog wheel, so they can easily be distinguished from each other.

On the left hand side of the player is the Browse View that can be used to sort through your music library using Crates, Playlists, and a Prepare list. There's also the Search option and ability to browse through your Files. I found the navigation system and touch screen were both easy to work with.

Pad Modes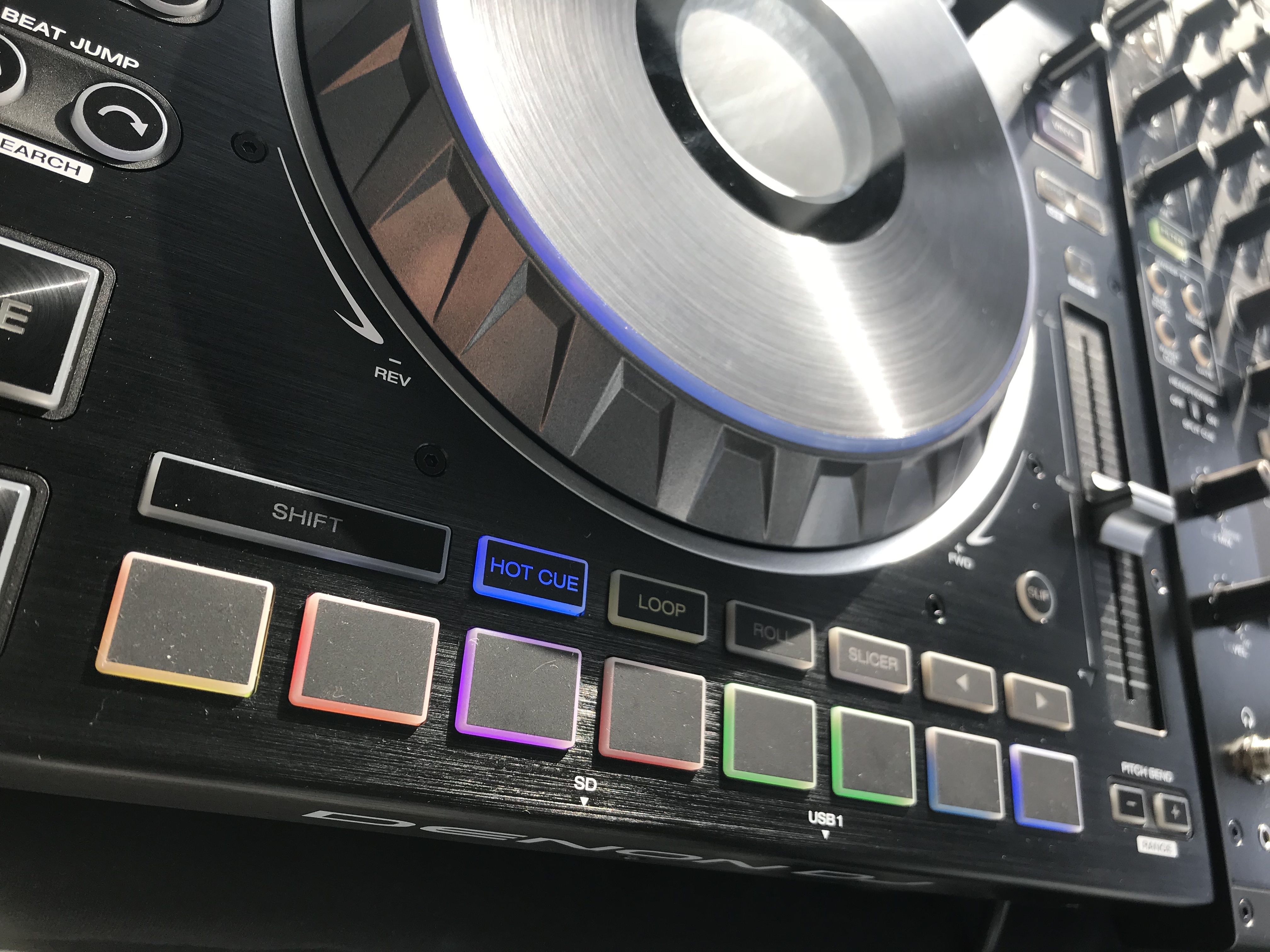 There are four different pad modes on the SC5000 Prime, including Hot Cue, Loop Mode, Roll Mode and Slicer Mode. Hot Cue mode allows you to assign each pad to a cue point, while Loop mode allows you to use a pad to activate an assigned loop. Roll Mode allows DJs to press and hold each pad to trigger a Loop Roll while Slicer Mode allows users to play Slices from an eight bar loop. I'm used to seeing features like this on a controller rather than a media player, and I'm positive DJs will enjoy putting these welcome additions to good use. 


Engine Prime Software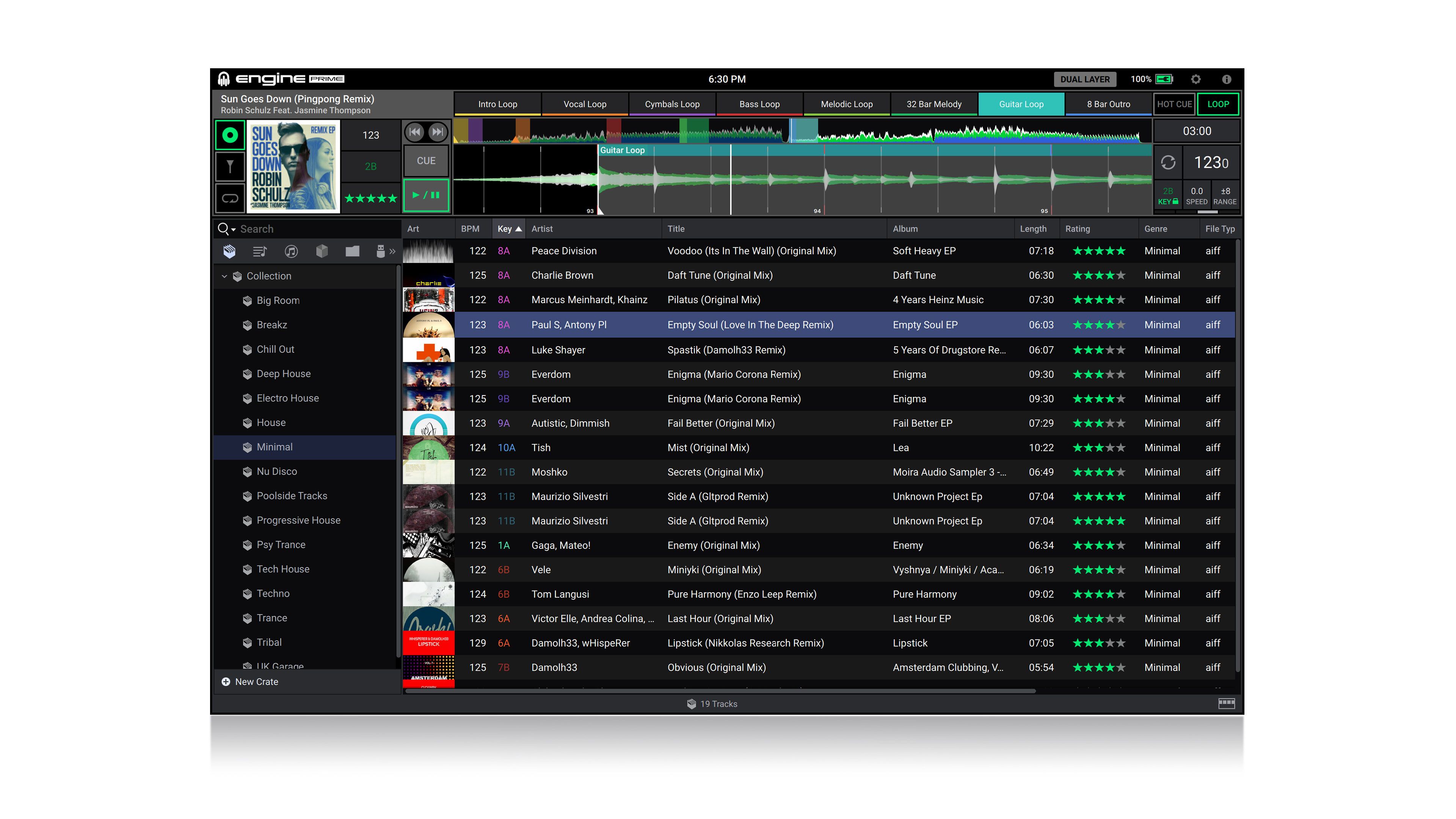 The Denon DJ SC5000 Prime players are compatible with Denon's Engine Prime Software. Currently the latest version of the software is 1.2 and the focus of this update is on database management. Overall, I found the software a little more challenging to use than the players themselves, and the program lacked the professional feel that the players have. It was a process to learn how to properly import my files, and I found this part of learning the technology to be a little time consuming.

One of the new notable updates in 1.2 is the ability to import playlists and songs from Traktor, including loops and cue points via Traktor's Collection .nml file. Serato Playlists can be dragged to Engine Prime Crates/Playlists areas and Playlists in Engine Prime can be added to folders. Rekordbox users still are able to import files and database content from an inserted USB/SD, directly into the SC5000.
There's a new added 98 - 195 BPM analysis range, which is useful for analyzing faster tempos like drum and bass. I was disappointed to find out that importing playlists from iTunes is not enabled yet. If iTunes is used to manage music, each playlist will need to be individually imported and sorted into folders. The ways music can be imported and organized in Engine Prime has been improved, but it still takes time to import and re-organize music from other programs.

On the 1.2 firmware for the players, the ability to instantly double tracks between or within players has been added. This is good news for hip hop DJs and turntablists who juggle, or any DJ who enjoys working with two copies of the same track. If a song is loaded on one deck, hot cues or loops created on the track will appear on all decks that have the same song loaded.
Wrap Up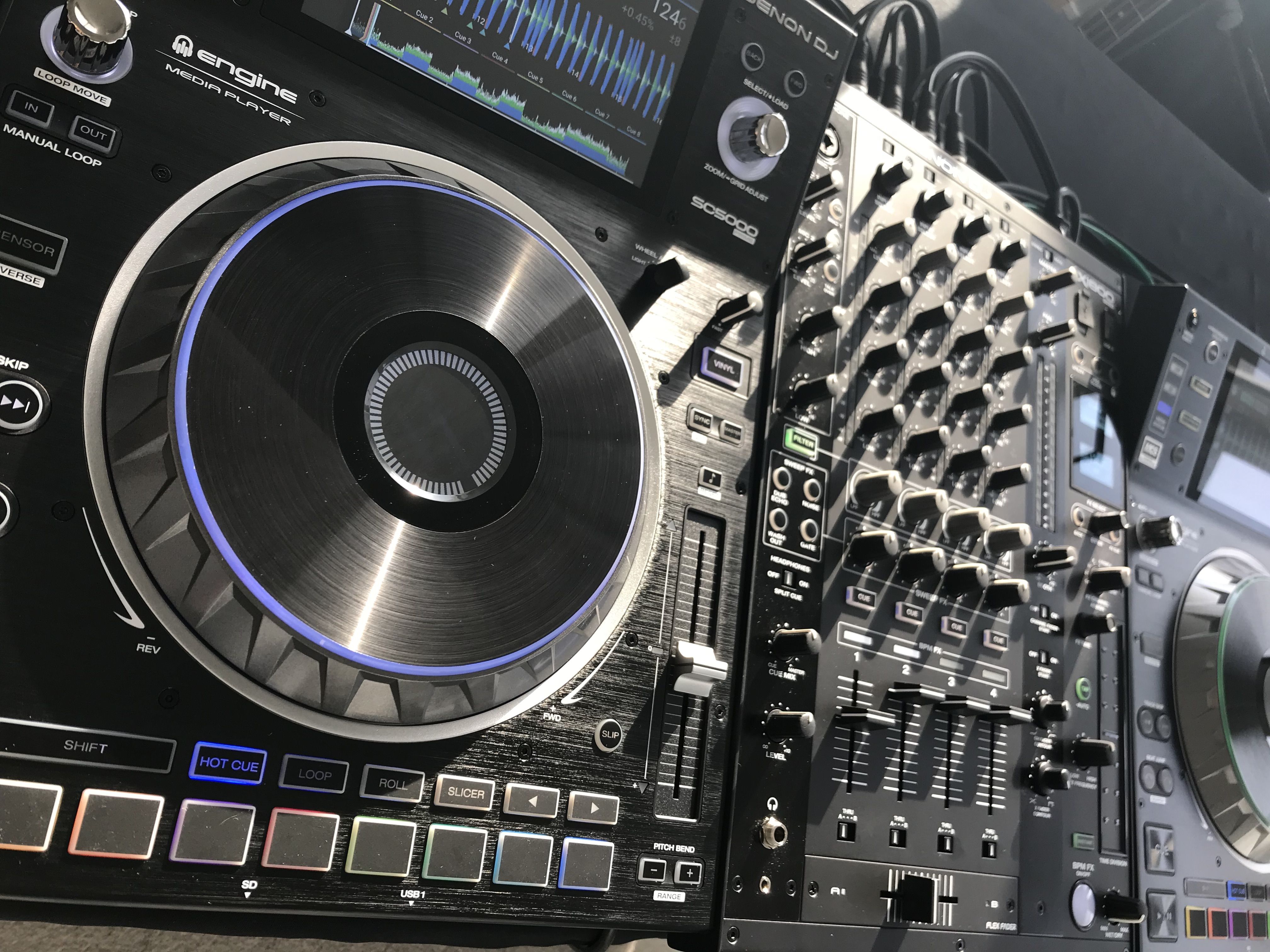 Overall, I think the Denon DJ SC5000 Prime players are brilliant and include innovative features. The multi-touch display is a pleasure to use, and makes it easy to search, prepare and access pertinent information about tracks. The players allows DJs to mix as simply or as creatively as they would like to using features like the browsing section, Performance Pads and Layers. In terms of usability, the Engine Prime software has a bit of catching up to do and I'd personally like to see HID support for both Traktor and Serato.
Ideally, it would be great if the music collection from either program could be mirrored in Engine Prime, making integration seamless. The Denon DJ SC5000 Prime players are worth checking out if you have an interest in music technology. They're an innovative and futuristic player, and it's interesting to see how Denon is helping the the future of DJ media players to evolve.
Price: $1,899.00
Pros: 7-inch HD display with multi-touch gestures. 
8-inch rugged metal jog wheel. 
Dual layers and customizable RGB color around the jog wheel. Three USB inputs for music playback.
Cons: Engine Prime Software is not quite as professional as the players, and loading music into it can be time consuming. iTunes playlist integration is not supported yet, leaving some DJs (like myself) who still use iTunes for file organization left out of the equation.