Voice processing is an art form that I've been more than familiar with for several years of my life, while working in the video games industry. My job, and favorite past time for many years was coming up with ways to turn recorded audio files of actors trying to speak like a very famous character from outer space, into finished, processed performances that sound very close to how those characters are meant to sound.
Sometimes, you'd be given a character that would be like an animal, or a dragon, or something like that. Those could be harder to create because of the tools available at the time. You'd just have to play around with Sound Forge, till you got it right.
Meet Dehumanizer
Dehumanizer is a very slick, easy to use, standalone, audio application that seeks to help you quickly get some character voices that sound almost too good. Combining several audio effects together like pitch shifting, granular synthesis and a very nice convolution engine, Dehumanizer Pro does a great job at doing what it's intended to do.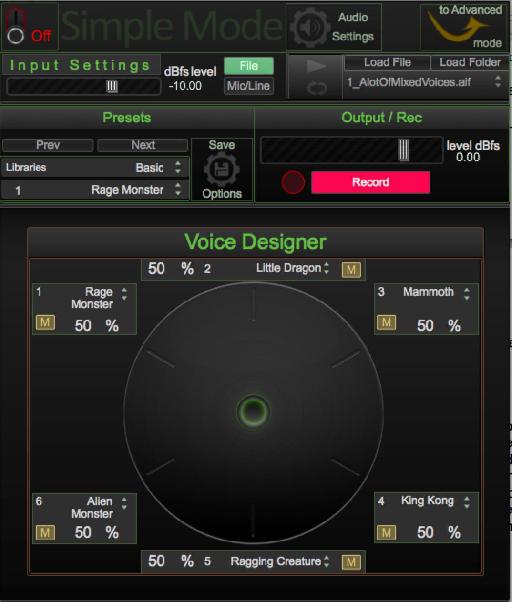 Theatrical quality vocals effects really are at your finger tips. When using one of the Giant Voice presets, you can almost hear the phlegm moving down the throat of a big, ol woodland creature. Or, when using the Dragon preset, you can really just imagine the scaly creature that you're trying to emulate.
Take a listen!
Giant:
Dragon:
As you can hear, the results are more than impressive.
Tweakability
Dehumanizer Pro looks innocent enough, at first. Though, as soon as you press the 'To Advance Mode' button, you're suddenly greeted with Dehumanizer Pro's mixing console, with channels individually inhabited by all the effects that give Dehumanizer its sound. Here, you can create your own creature, voice processes. There is a even a Dual Plug-in channel within the mixer which allows you to set up, up to two of your favorite VST, or AU plug-ins serial, or parallel. Through the routing mode, you can route individual effects within to other effects using the Routing table of Dehumanizer. This can lead to some incredible combinations.
Standalone?
Though Dehumanizer Pro is amazing for what it is intended to do, there will be some, especially in the game development arena, that may not be ready for Dehumanizer, yet. Remember, this is version 1.0, which always means that the developers are frantically building the platform up, at this point. Currently, however, it's not capable of being brought in as a plug-in. There is only standalone. Krotos, the developer has, however, included lengthy descriptions on routing audio in to DAWs like Pro Tools, Nuendo, Cubase, etc. Keep in mind, you can also record within Dehumanizer Pro, too. So, if you need some quick processed files, you can get them fast.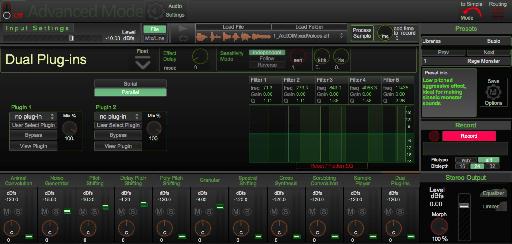 One thing that the game developers are missing currently, and this can be a big one, depending on your volume of voice lines, would be the missing batch converter. Because game developers have to process sometimes thousands of voice lines in a very short amount of time, you may want to reserve Dehumanizer for those special characters that don't have a ton of content, but serve a very creepy purpose in your title.
Conclusion
All in all, I'm so pleased to see an application like Dehumanizer Pro on the market, and really, really hope that Krotos continues to support it with the level of love that has already gone in to it. It's not perfect. But, I think that we're going to continue to be impressed by it.
Price: $270 for Pro version. $67 for the light version, no advanced options, no plug-ins.
Pros: Cinema quality vocal effects that really do sound quite good. And, plenty of customization options. Mac and PC.
Cons: Only works as a standalone application. There's no batch converter, and the challenge and response protection system can be a little frustrating to wait on.
Web: https://www.krotosaudio.com/product-category/dehumaniser/