If you're unfamiliar with Deckadance 2, from Image-Line, the guys that brought you FL Studio, and you're a DJ... well, you're missing out. As someone who's only at an enthusiast level with software-based DJing, I've found the program sounds amazing, while at the same time making someone at my skill-level feel like they really know what they doing.
I'd like to go through some of the things that I noticed and discovered about Deckadance 2, and share my thoughts with you in this review.
Deckadance 2, in General...
Deckadance 2 is an amazingly robust application with a layout and design that, in my opinion, is extremely easy to 'feel your way through'. I mean this, in the sense, that some of the other DJ applications that I've tried seem to leave you searching around frantically for certain features. Deckadance 2, in my opinion, does a very good job of highlighting and informing you of what's where, with very well written tool tips. But, beyond that, I really feel like the layout and placement is extremely well thought out. Even the manual that accompanies the program, and is easily accessible through the Preferences > Help page is extremely well written, and makes great use of using pictures as quick-links. So, if you hate reading through the whole thing, and just want to click on a picture and find out what a function does. Well, you'll love this manual.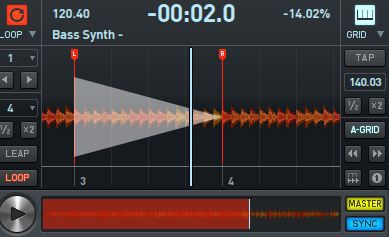 Deckadance in Action...
Very quickly, I discovered that the time-shifting of Deckadance 2 not only sounds good, but its implementation is extremely formidable. There's not much to do in terms of getting it running. Just push the sync buttons on the decks that you want tempo-matched and Deckadance 2 takes care of the rest. Snap & Quantize is also readily available from the top of the interface so that the songs are far more easily beat matched than I've been used to with other applications.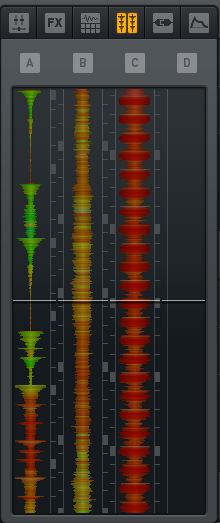 Again, before moving on to other parts of the application, the sound is extremely good. Especially the time-stretching algorithms. The frequency range of my music is ingeniously preserved, along with the transients. I really want to give Image-Line some credit on this.
Since we're talking about frequency, I was equally impressed with the spectral imaging displayed on all of the decks, 1-4 total. Colors identify low, mid and high frequencies so that you can quickly eyeball, when you can't listen. This form of analysis is even more amazing when you start using the built-in PeakScope, which lines the spectral image along with beat 'ticks'. This simple method is surprisingly wonderful for some amazing beat matching, while fun enough to make you think you're playing your favorite DJ video game. Isn't it strange how the worlds of music production and video games are coming together these days?

FX
Of course, where would the fun be without some FX. Deckadance 2 sports some wonderful sounding, tempo-based effects that make you feel like a bad ass, when you're only getting your feet wet. I was particularly impressed with the FX mixers ability to have the FX be applied to either hi, mid, or low frequencies. This is such a nice touch for avoiding mud from delayed basses and just creating amazing transitions that don't blow speakers.

Deckadance 2 also allows the usage of VST plug-ins. However, AU is apparently missing. Nothing was mentioned in the manual about AU, nor did I find any way to activate the AU plug-ins I do have. Hopefully, we'll see this added in an upcoming version. Back to VSTs — Effects can be set up as either inserts, or sends. And, with the handy, little editor buttons, the graphic portion of your VST plug-ins become readily available. This works wonderfully, but I did notice some strange graphic corruption on one of my iZotope plug-ins, where the graphics didn't load up all the way, at first. Though, once I started to press a few buttons, everything appeared and was just fine.
In the meantime, though, you've got to check out Gross Beat FX. Within this very simple interface, you'll find a plethora of stutter-based, sampling effects. And, quite a few of them, I might add. In fact, it goes well beyond simple stutter effects and also affords you gating, ducking, scratching effects and more. This grid-based, drum pad-like system is also crazy easy to customize. Simply right-click on the pad that you want to assign an effect to, even if it's already assigned, and choose from the well organized list of different types of Gross Beat effects. This contextual menu also allows you to determine which effects will be one-shots, loops, or Re-trigger. You can even design your own effects.
Sampler
Deckadance 2 also features a very handy, simple DJ Sampler, just the way you like it. Sample pads are available, with a very easy to use record and playback interface. Simply record and then drag the sample on to the pad of your choice. Samples, can of course be looped, re-triggered and one-shot. In this particular area of Deckadance, I was kind of hoping for a few more features. But, when I started using the Sampler with the Gross Beat effects, I soon forgot about some of the additional features I would've like to have seen. Specifically, Pan controls, as well as Level controls for samples. And, maybe some way to dedicate effects to samples specifically, rather than having to go through the master bus. Keep in mind, these are just icing suggestions. Not a deal breaker, by any means.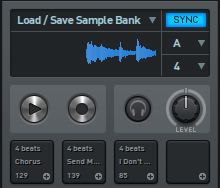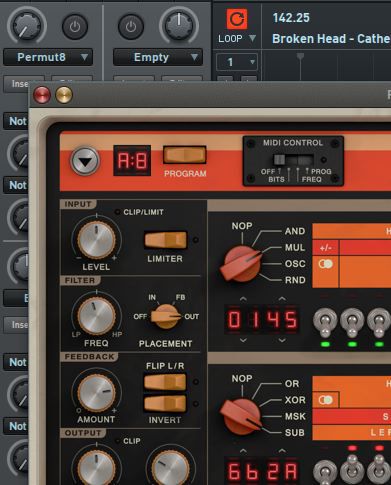 Conclusion
I was really impressed with Deckadance 2. As someone who's still getting their feet wet with DJing, I found it really easy to get up and running, and even learned a thing, or two. One thing that has always impressed me with Image-Line is the way that they are constantly adding new features. Deckadance 2 is no different in this regard. Recently, with version 2.2, MIDI scripting has been added. So, if you have a MIDI controllers laying around, and have some coding knowledge, you can even get your controller in on the action. Or, just wait for someone else to do it on the Image-Line forums.

Deckadance 2 is purchasable from Image-Line at a low, low price of $79 dollars, and there is a trial version available, as well. Give it a try and see if it might set your club sets on fire.