You could scarcely open an Internet forum this year without reading about the new analog drum machine Tempest, a collaborative effort between industry giants Dave Smith and Roger Linn.
According to Dave Smith himself, there were two main factors in the decision to create a new analog drum machine: The first being that no-one has done it for years (not strictly true as manufacturers like Jomox and Vermona have been flying the flag) and the second being that Roger Linn was keen to explore new ways to control and sequence the machine.
Given Dave Smith's heritage as inventor of classic synths such as the Prophet 5, the Pro One and the Evolver, and Roger Linn's contributions to the history of the drum machine which include the LinnDrum and the legendary Akai MPC range, this ought to be something special... let's find out.
What do you get?
At its heart the Tempest is a six-voice analog synthesizer, and if you so wish you can use the Tempest as exactly that, a polyphonic synthesizer. Each voice can be made up of two analog oscillators and two digital oscillators going through an analog low-pass/high-pass filter combination. The digital oscillators can play back samples as well as digital waveforms. The built-in samples come from drum specialists Goldbaby and FXpansion. It's worth noting that the Tempest is not and never will be a sampler. Dave Smith Instruments have hinted that user sample loading may come in the future, but it's not a guarantee.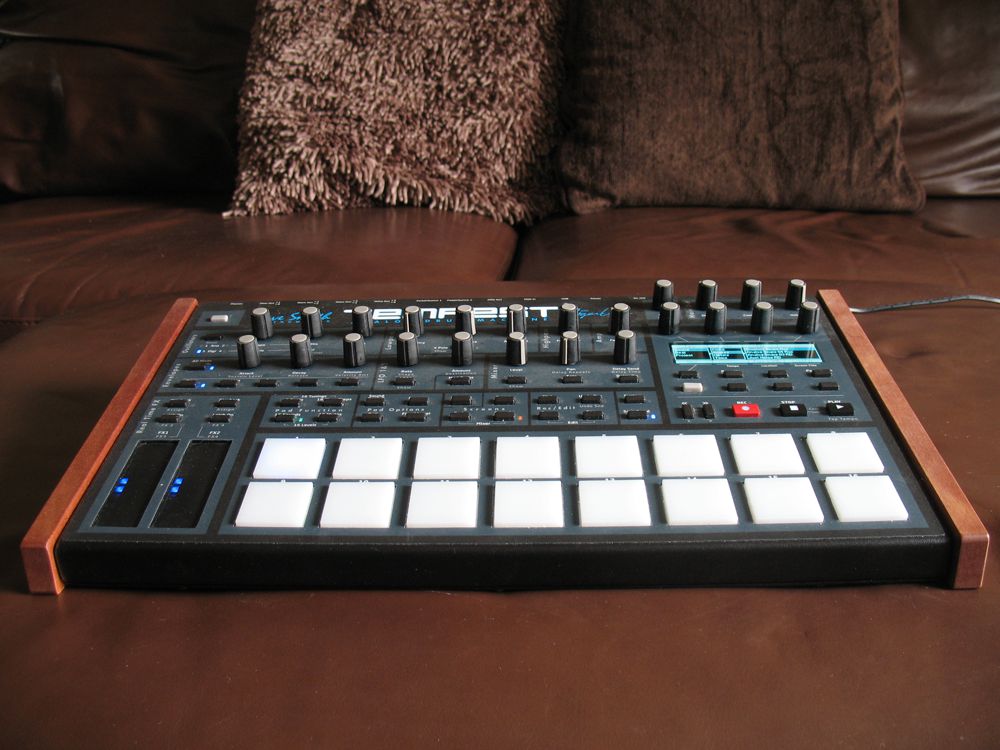 The Tempest is a striking looking instrument. Believe us, it looks great in the flesh, too!
For each voice, you get a generous number of modulators, five envelopes, two LFOs and a modulation matrix. This adds up to a very capable synthesis architecture. As well as kicks, snares, hihats, cymbals, I was able to come up with all manner of more traditional synth sounds like basses, synths, pads and leads as well as some very cool effects. The synthesis engine covers a huge sonic ground.
To shape the overall sound further, there is a master analog distortion and compressor. The distortion is very obvious and colors the signal a lot. I found myself leaving it off for the majority of the time. The compressor on the other hand is very useful and despite having only one control, is great for fattening up the master bus.
In terms of sequencing, it helps to break down some of the terms used in Tempest parlance:
A 'Sound' is a single synth patch, whether it be a drum sound or a bass, lead or pad.

A 'Beat' is a collection of up to 16 Sounds, mapped to the 16 physical pads, as well as an accompanying sequence of up to 4 bars.

A "Project' is a collection of 16 Beats, which can be switched on the fly using '16 Beats Mode'.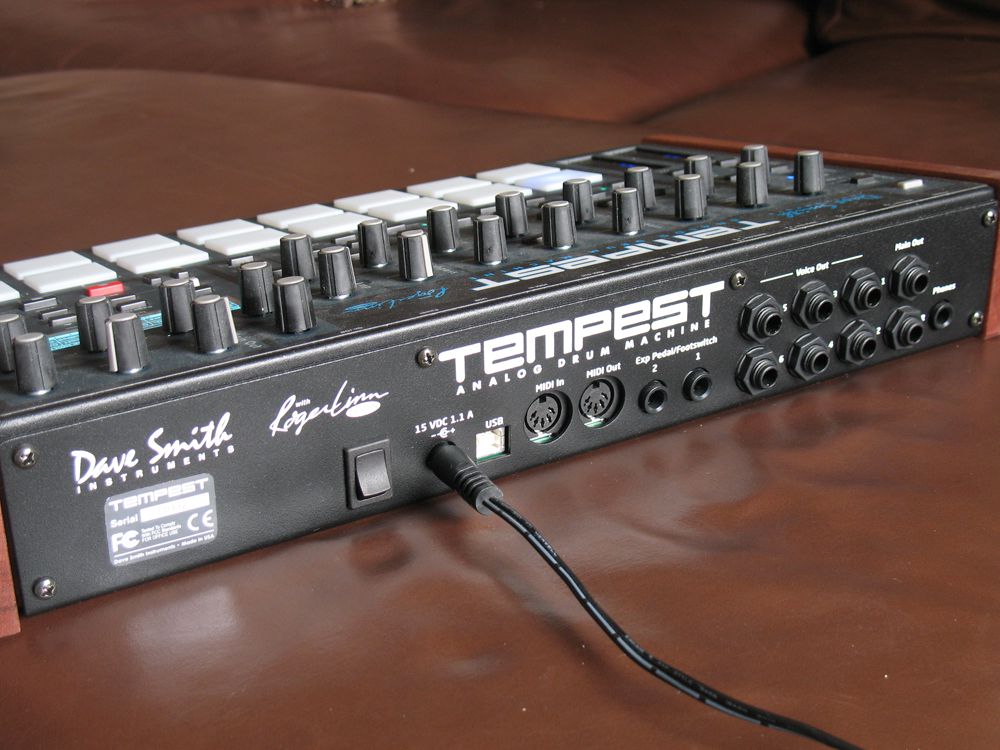 Connections round the back include USB (for MIDI and updating the operating system), MIDI in and out, two foot pedal inputs, 6 stereo voice outputs, 2 mono main outputs and a headphone output.
The sequencer can sequence notes, with velocity, duration, tuning, time shift, reverse and FX1-4. FX1-4 represent the two touch-strips which can be assigned to a large list of synthesis parameters. Even though there are two touch-strips, they can be toggled to respond as either FX1&2 or FX3&4. By allowing automation of these in the sequencer, it means that all manner of synthesis parameters can be given movement from within a sequence.
The sequencer can record in a number of modes. Real-time recording is of course possible (although not unquantized) and you can also use the pads for x0x style programming. Lastly, you can edit using a graphical grid on the screen.

The Tempest's screen is bright and of high enough resolution to make editing a pleasure.
Conclusion
Sonically, the Tempest can probably cover more ground than any other pure synthesis drum machine. This is largely due to its very flexible synthesis architecture which owes more to synths like the Dave Smith Evolver than it does to more traditional drum machine synthesis. The synthesis itself doesn't break any new ground, but is fully featured and very solid sounding.
Where the Tempest does break new ground is in performance abilities. 16 Beats mode is inspired good fun. Instantly switching between sound banks and sequences really opens up live performance options. Combined with the real time FX sliders, 'beat wide' parameter changes, a 'roll' feature for instant micro-looping and a clever 'reverse' button which inverts certain envelope parameters to fake a reverse sound, and you have an instrument that can be be played and performed with.
Here is a little audio example recorded direct from the Tempest master output. This is a single Beat (a 2-bar loop) with various performance tweaks being made live. A tiny amount of reverb was added via an Eventide Space:
The only real downside at the time of writing is that the operating system is currently unfinished. There are bugs and some features simply haven't been implemented yet. Dave Smith Instruments seem committed to continual development and beta updates are appearing on the DSI forums once every few weeks so progress is being made.
Overall it's an impressive and unique machine. It's not initially simple but has power and depth and will suit the kind of user who is prepared to roll up their sleeves and dive in. It's more than just a drum machine, I'd call it an "analog performance rhythm synthesizer" but even that doesn't quite sum it up (It's a good thing that I'm not in marketing!).
For more information on the Tempest, head to http://www.davesmithinstruments.com. The Tempest is available now at MAP of $1999.00.