Price: 299 Euros

Availability: www.native-instruments.com

Requirements: Kontakt 5 or Kontakt Player 5, Mac OS X 10.6, Core Duo CPU, 30GB hard drive space.

Heavyocitys Zusammenarbeit mit Native Instruments haben bereits den sehr erfolgreichen Evolve Instrumente nachgegeben und diese letzte legt die Messlatte sogar noch höher. Eine brandneue, Multi-Gigabyte Instrument und Sound-Library, die in Kontakt 5 oder den freien Kontakt 5 Spieler läuft, ist es voll und ganz auf Sound-Designer und Film-Ziel
Heavy Hitter
Nach der Installation und zur Ermächtigung der Bibliothek in der üblichen Art und Weise Kontakt, sind Sie zum Laufen ziemlich schnell. Damage spaltet die Sounds in einer Reihe von Kategorien und diese kann auf verschiedene Weise verwendet werden. An erster Stelle steht Rhythmic Suites, wovon 16 Loop-Menüs und Single-Loop-Abschnitte mit 849 einzelnen Schlaufen enthält. The Loop Menüs Ort eine Auswahl an exquisiten aufgezeichnet perkussive und rhythmische Loops an Ihren Fingerspitzen, synchronisiert jeweils perfekt Tempo auf Ihre DAW und mit einer unglaublichen Menge an Punsch und Dringlichkeit.
Atmosphärische und actiongeladenen Themen sind die an der Tagesordnung, und die leicht zu glauben, dass fast zwei Jahre und große Anstrengungen in der Aufnahme und Bearbeitung der Klänge ging. Dazu gehören Ausflüge zu Schrottplätzen, Einstellung Klaviere in Brand und mehr unwahrscheinlich, Possen. Heavy, klappernden Drums und rhythyms mit Crunch und Reverb getränkt, und spielen fast jede Schleife schafft einen Augenblick Verfolgungsjagd oder eine andere Art von unmittelbarer Atmosphäre für Film-oder TV nutzen.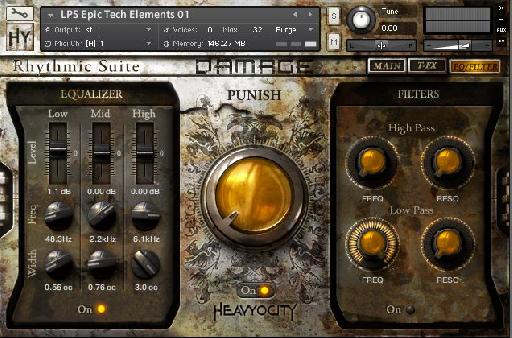 Die Bestrafung des Knopfes in Damage.
Sie erhalten eine genaue Kontrolle über die Auswirkungen auch, und es gibt viele. Distortion, kann Lo-fi, Reverb, Delay und Kompression aufgenommen werden und es gibt Effekte auslösen, zur Verfügung, einschließlich glitch, Rotator, Phaser und vieles mehr. Diese können mitgebracht und aus on the fly mit den Tasten auf der Tastatur oder durch Klicken auf Verknüpfungen in Damages Hauptfenster werden. Sie erhalten auch einen EQ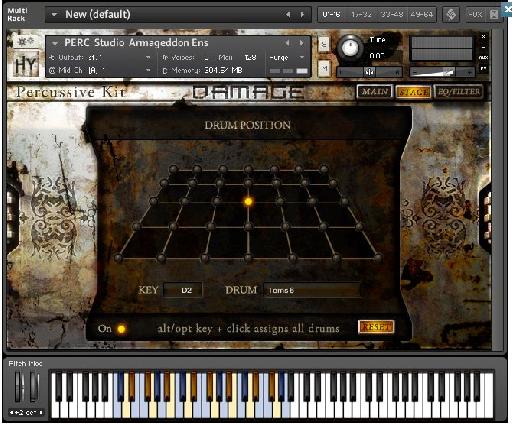 Die Trommel Netz.
Cut auf die Jagd
Wenn Sie in den einzelnen Loops und laden ein auf einmal, werden seine Stücke über die Tasten abgebildet und das funktioniert ähnlich wie ein REX-Schleife. Sie können genau Regelkreiseinstellung und fügen Randomisierung, oder spielen sie mit der Hand in eine MIDI-Spur in Ihre DAW. Theres auch per Drag & Drop von MIDI-Teil Ihrer DAW, so dass Sie kleinere Verbesserungen machen können, wenn Sie möchten.
Navigieren Sie zurück bis in die oberste Ebene der Bibliothek und Sie können wählen, in die Percussive Kits Abschnitt mit fünf verschiedenen Abschnitten gesammelt Trommel und Percussion-Kits enthält gehen. Diese sind wie herkömmliche Kits als Loops, aber immer noch alle Effekte und Bedienelemente zur Verfügung anderswo.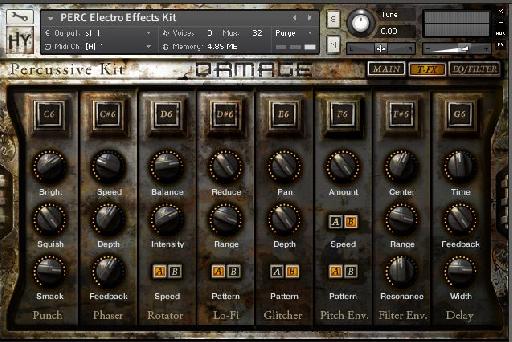 Die FX-Bereich.
Final Thoughts
Damage ist ein wirklich bemerkenswertes Instrument und wird von unschätzbarem Wert für jeden Komponieren für Film-oder TV. Der kiesige Grafiken sind eine schöne wenn auch etwas überflüssig hinaus, aber das Instrument klingt einfach unglaublich. In der Tat, wenn Sie versuchen, sich mit dem perfekten Werkzeug für die Erstellung moderner klingende, Blockbuster-Stil Sound-Effekte und Beats wurden, würde es aussehen, eine Menge wie Damage. Es wird auch eine neue Heimat finden mit niemandem elektronische Musik zu machen oder zu tun Sounddesign, obwohl seine so gut geeignet, Filmkomponisten, dass sie wahrscheinlich das Beste aus ihm heraus. Alles in allem eine beeindruckende Instrument.
Erfahren Sie mehr über Schäden aus der Website von Native Instruments .
Erfahren Sie mehr über die gesamte Palette der Produkte von Native Instruments mit diesen Tutorial-Videos .