Price: 299 Euros

Availability: www.native-instruments.com

Requirements: Kontakt 5 or Kontakt Player 5, Mac OS X 10.6, Core Duo CPU, 30GB hard drive space.

Heavyocity's collaborations with Native Instruments have already yielded the highly successful Evolve instruments and this latest one sets the bar even higher. A brand new, multi-gigabyte instrument and sound library that runs inside Kontakt 5 or the free Kontakt 5 player, it is aimed squarely at sound designers and film & TV composers, as a preview of the demo sounds on NI's website will reveal.
Heavy hitter
After installing and authorizing the library in the usual Kontakt fashion, you are up and running fairly quickly. Damage splits its sounds into a number of categories and these can be used in different ways. First up is Rhythmic Suites, which contains 16 Loop Menus and Single Loop sections with 849 individual loops. The Loop Menus place a selection of exquisitely recorded percussive and rhythmic loops at your fingertips, each one perfectly tempo synched to your DAW and with an incredible amount of punch and urgency.
Atmospheric and action-packed themes are the order of the day, and it's easy to believe that almost two years and huge effort went into recording and editing the sounds. This includes trips to junkyards, setting pianos on fire and more unlikely antics. Heavy, clattering drums and rhythyms are soaked with crunch and reverb, and playing almost any loop creates an instant chase scene or some other sort of immediate atmosphere for film or TV use.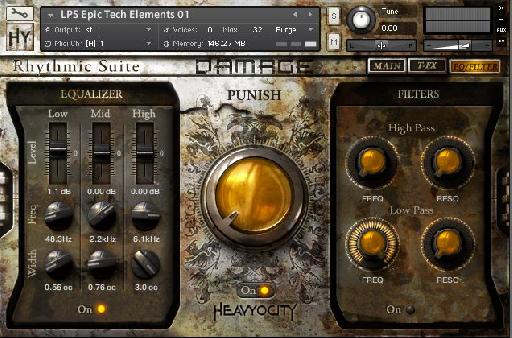 The Punish knob in Damage.
You get precise control over the effects too, and there are many. Distortion, Lo-fi, reverb, delay and compression can be added and there are trigger effects available including glitch, rotator, phaser and more. These can be brought in and out on the fly using keys on the keyboard or by clicking shortcuts in Damage's main window. You also get an EQ & Filter section which has an added bonus : a huge 'Punish'