Review: Dadamachines Automat - Robotic Music Machines Toolkit
Using physical robots to play musical and experimental sequences is an innovative new direction for MIDI technology. Timo Preece put it to the test.
Photo credits: Julia Patey and dadamachines
Special thanks and gratitude to the master of sound-diving Carlos Michael for loaning us his beautiful instruments.
Berlin-based dadamachines is the project of Creative Technologist and DJ – Johannes Lohbihler. Currently running an already successful Kickstarter campaign, dadamachines automat is a unique, easy to use, hackable and open-source toolkit for building robotic music making machines.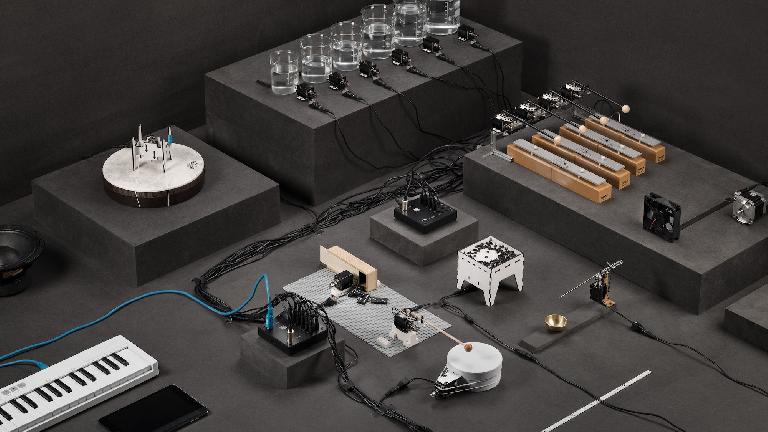 My project Planetary Cymatic Resonance was invited down to dadamachines' headquarters shortly after the Kickstarter launch to play around with the toolkit and to put it to the test. My musical accomplice, Steffen Günther and I had a remarkably exuberant experience and deem it worthwhile to share the associated geeked-out, fun-filled findings with our Ask.Audio readers.
Before I begin, I'd like to point out that I consider this article more of a report than an official review. The toolkit, as it is right now, was developed with a focus on ease of use. The setup is plug & play and doesn't require anything more than the press of a button for learning which notes the outputs react to. Dadamachines has some additional software features planned that will allow even more adaptable, responsive and customizable usage of the automat toolkit.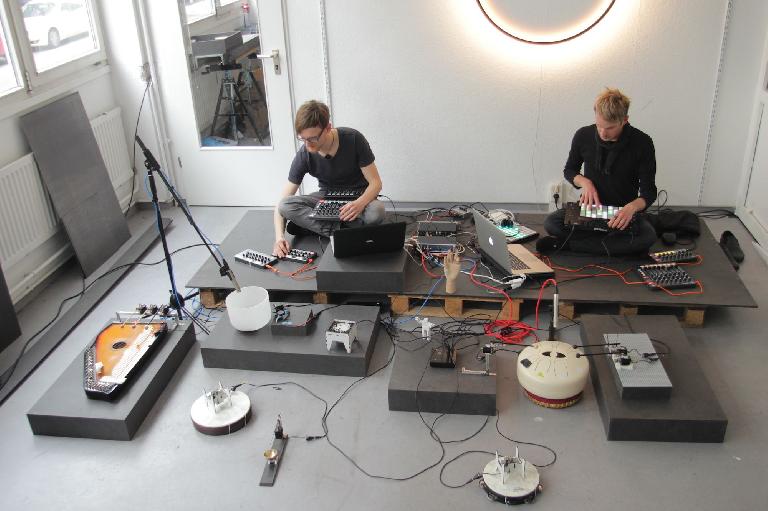 What's Inside the Toolkit
To get the unfamiliar up to speed briefly, the automat toolkit is a plug & play MIDI controller and accessories kit that allows anyone to build awesome music machines using the real world as their instrument. As stated on dadamachines' Kickstarter, "The center of each toolkit is the automat controller… plug in your favorite software or hardware MIDI device directly into the controller. For output, automat controller has 12 universal DC outputs to connect motors, solenoids, LEDs - whatever you want to start playing. No coding or soldering required."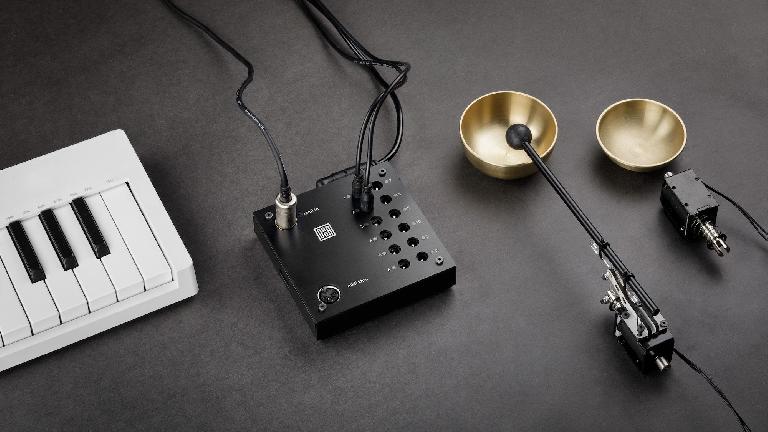 PCR can attest to the quality of the components and brilliance of design. The solenoid motors, adaptors, mounts and various other parts seem sturdy, well constructed and versatile. The automat controller is composed of a durable anodized aluminum panel and powder coated steel shell. We connected our electronics and computer setup to it effortlessly using a standard USB connection. It also comes with the ability to connect via DIN MIDI in and thru and also has an Arduino shields and extension port. All in all, we found it a powerful hub for robotic connectivity that is well-built, portable and extremely straightforward to engage.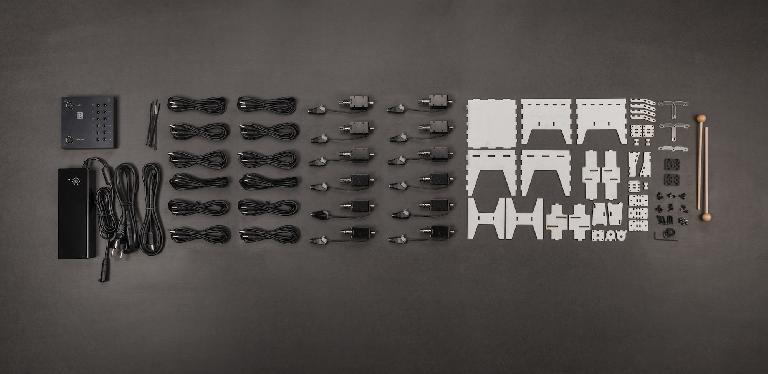 Mindful Methods
Playing with robots is a cool feat in itself (I could dink around all day) but PCR fancied incorporating dadamachines in a plausible real world scenario that augmented what we already do: meditative-based real-time sound performance. For us, dadamachines we ascertained could be useful in contributing to a multi-sensory live experience in at least two distinct ways. First, because we are improvising our performance on the spot we are limited to the amount of things we can control at any given time. But wait, what if we had more robot hands playing with us?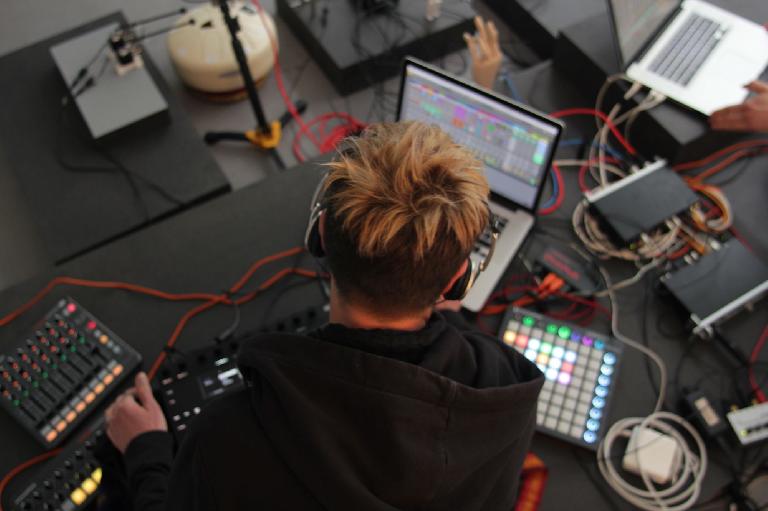 Second, since our performances are sonically constructed by sampled and electronically generated sound sources, we strategized incorporating the musical robots to control acoustic instruments. This in turn would provide a beneficial layer of additional instrumentation as well as give our participants something visually captivating to focus on.
To fit what we do, Planetary Cymatic Resonance acquired and implemented acoustic instruments that included: a wave harp, a metal Klangauge, meditation bowls, a frame drum and a tambourine. Johannes quickly and skillfully attached and adjusted the mallets and striking components to fit the physical proportions and layout of these instruments.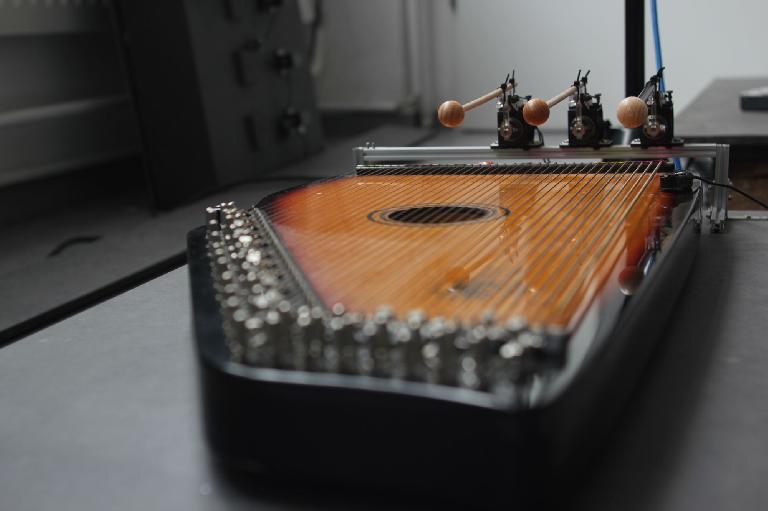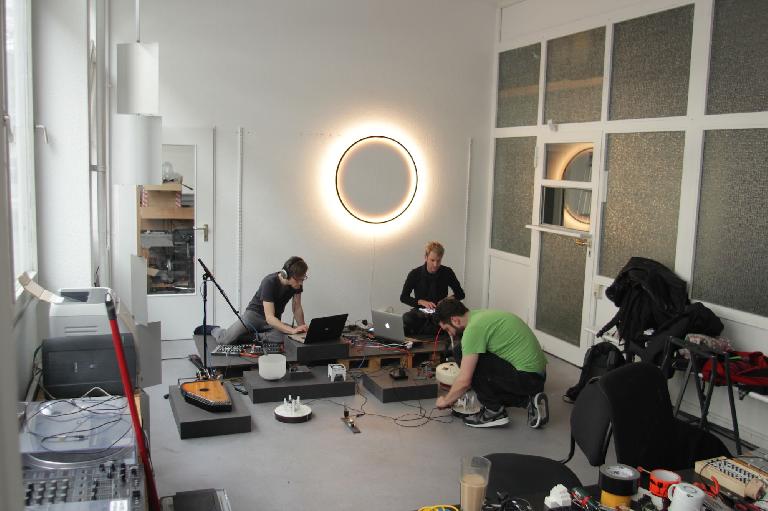 Setup In Action
Once the dadamachines components were cabled and in place, I needed to adjust just how the actuators would strike the instruments. For precision and added flexibility, I created a MIDI track for every mechanism in the setup. Every instance of the automat controller can connect up to twelve universal DC outputs. If you need more connectivity, simply hook up and chain multiple controllers.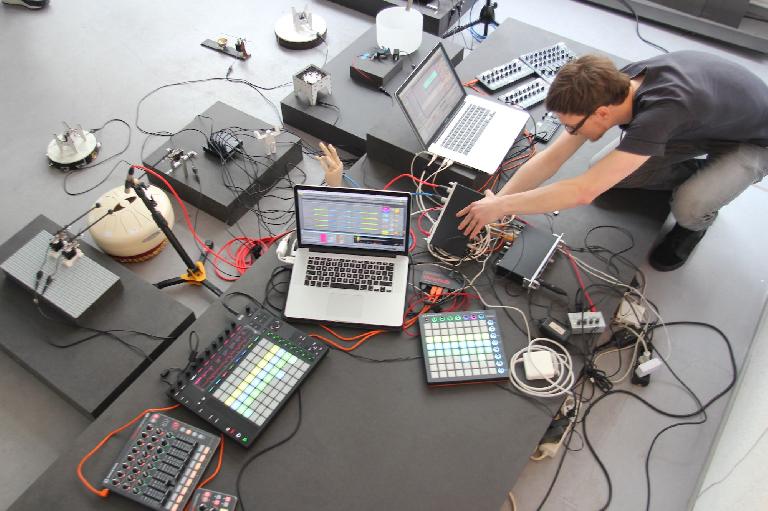 To control how hard or long you want the striking to be, the throw and reach of the strikers is managed by adjusting individual note lengths of the MIDI data you're sending. At this point, there is no ability to control dadamachines via velocity but it is one of their top stretch goals if the project gets funded further. For people not as familiar with MIDI, the velocity value essentially maps to how strong the solenoid movement is when it hits something. This means that if you have variable velocity you have more variety in the values you output. Such extended functionality would really push things to the next level, as it will also be useful for those wishing to gain tighter articulation and/or wanting to hook up LED lights or DC motors.
As a workaround, rather than adjusting all of my individual note values for pre-prepared MIDI clips or attempting to remain perfectly consistent with the length of the notes I trigger live, I used a simple Ableton Live MIDI device, Note Length, to keep hits unwavering. This was a perfect solution as I was able to instantiate an instance of this device on every track and dial in values specific for each actuator by fine tuning the Note Length and Gate parameters.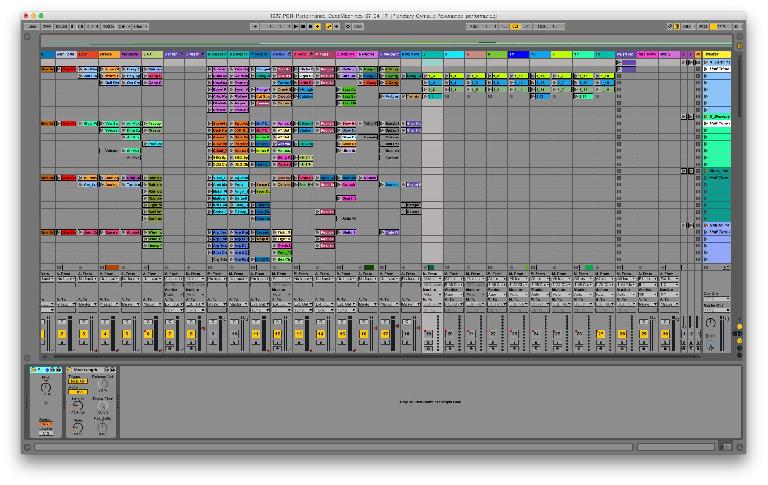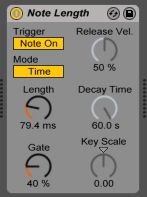 I tested out our configuration by playing back MIDI clips containing prearranged prime number euclidian rhythms and augmented these by triggering additional notes via my Push 2 controller. With my audio buffer set relatively low, I could detect only a marginal amount of latency. If ancillary fine-tuning is needed, Ableton Live users can adjust Track Delay values to compensate.
Conclusion
Dadamachines is an innovative creative toolkit that unlocks an astounding amount of potential for music making, sound installation, real time performance or any other plethora of inventions you can dream up. Because the toolkit is open source, hack your automat and use it with Firmata and the Ableton connection kit, Pure Data or MaxMSP. Connect your own circuits, extensions, sensors or code your own software with Arduino.
Although musical robots aren't something completely new to the market, dadamachines has made it portable, affordable, flexible and easy to implement into all types of setups. If the dadamachines Kickstarter gets funded further by the 28 April 2017, backers are promised additional resources and features.
As a memento of our robotic musical escapade, PCR put together a video and audio example for our readers' viewing/listening pleasure. Designed as a meditative Gamelanesque composition, we've tuned the associated instruments to 136.1Hz and use the corresponding mathematically calculated pitch and tempo associated with the Earth's yearly rotation cycle. The rhythmic patterns are prime number euclidean arrangements that constantly shape-shift, creating a sense of therapeutic relaxation.
Planetary Cymatic Resonance is an audio visual project focused on immersive realtime performance. Devoted to well-being and the resonant recalibration of people to their sonar origin, PCR creates a symbiosis between the sound of acoustic and synthesized instruments. Exploring both internal and external space alike, PCR is a cross pollination of musical expression, scientific calculation, modern technology and ancient wisdom.
At the heart of the collaboration, Berlin based duo Timo Preece and Steffen Günther promote mindfulness and inner awareness through improvised cinematic sound journeys. By transferring vibrating information into hearing range, PCR is able to sonify and perceptualize frequencies, like the movement of planets or the resonances of molecules, in ways participants are able to consciously and subconsciously resonate.