Sonokinetic's Da Capo is an orchestral sample library for Native Instruments Kontakt. The idea behind Da Capo is to deliver the palette of a symphonic orchestra in a simple and straightforward manner. The only thing you need is a full version of Kontakt above 4.2.4.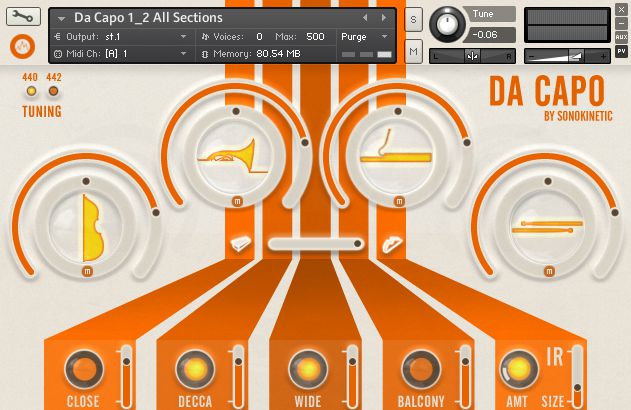 Coming in at about 10 GB, Da Capo provides the four main sections in the orchestra - Strings, Brass, Woodwinds and percussion. Articulations are kept to a minimum in each section, but provide enough for most jobs with Sustains, Legato and a handful of shorts. The only thing I can say I missed is a cymbal crescendo in the percussion section.
There are a number of microphone options available ranging from Close to Balcony (distant). Selecting many mic positions at a time can raise the voice count to rather extreme levels (especially in the 'All Sections' patch) so you may want to stick with just the Decca (tree) position. They also provide a convolution reverb with an impulse from the recording venue which is nice. There's also some 'Lite' patches for individual sections that feature a 'Tutti' mic mix for lowering the strain on CPU.
You have a choice of triggering the dynamic levels of the short articulation samples via Velocity or Mod-Wheel crossfading or a mixture of both using the slider at the center of the UI. The interface is easy to navigate and you'll be up and running in seconds.
The Sounds
What Da Capo lacks in complexity it certainly makes up for in sound. If you're looking for some 'really' awesome lush full string patches then De Capo delivers in spades. This goes equally for big Staccato patches in the strings and brass. Ideal for any action theme.
The percussion is punchy with some very nice Timpani. The Woodwinds also shine in both Sustain and Staccato articulations and are a lot of fun to play.
I like the overall approach of having patches that combine all the subsections in to one place as it makes sketching ideas really fast without having to load a lot of different instruments. The recording quality is overall excellent too.
Breaking It Down
The 'All Sections' contains all the individual sections in one patch. You also get each section as an individual patch.
For more complex arrangements with Da Capo, you'll probably need start splitting up sections into sub sections as key switching affects all instruments in a patch i.e. Violins, Viola, Cellos, Contra Bass at the same time.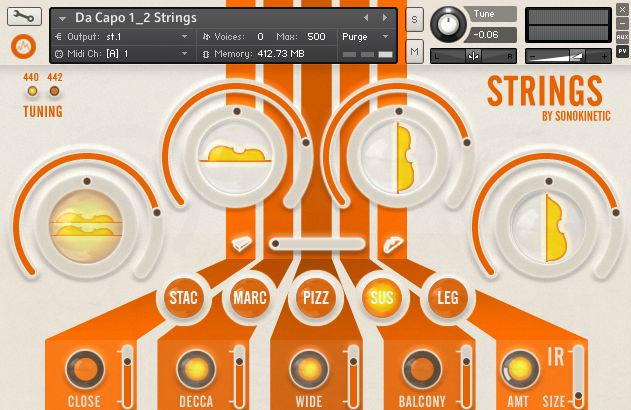 If you want to switch individual instrument articulations for a piece (say Strings Pizz with Cello Sustains) I suggest building a multi and saving it for future use. You can disable any sub section by double-clicking it to leave just the instruments you want in a patch.
One nice feature is that sub sections provide independent Legato in their ranges. This means you can play big sweeping melodies with polyphonic legato in one patch. Ideal for big lines where Cellos double two octaves below Violins.
Conclusion
Da Capo doesn't claim to be an in-depth library with tons of articulations for each instrument. Instead it gives you a very full expansive sound in a simple way. I think of it more as a broad stroke library. Sure it can handle more complex tasks, but not to the extent of a more dedicated library that really focuses on say just Brass or Strings.
Sure some of the instrument ranges come up a little short (the Viola is just about an octave) but combined, Da Capo can make a big noise. From huge Tutti stabs to gorgeous symphonic beds.
I can see this being a go-to library for some jobs and definitely a useful brush to have in your arsenal.