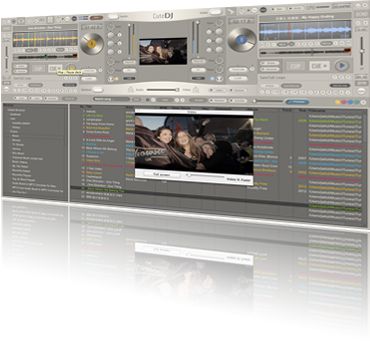 The DJ software market is getting increasingly competitive and more DJ software programs are available now than ever before. CuteDJ is a new DJ software application for mixing, and I believe it will appeal and be useful for beginner to mid-level DJs and hobbyists. It allows you to play your digital music collection and control it using the software or a hardware controller.
CuteDJ is available for both PC and Mac Users and offers you the ability to try out their software for free for 30 days. During the 30-day trial period you can run CuteDJ for 20 minutes per session and restart the software again after 20 minutes. It's a good way to test out the software and see if you like it.
Layout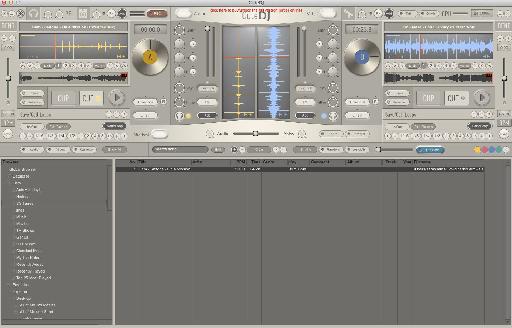 CuteDJ Pro layout.
The software's layout is fairly traditional and looks similar to many popular digital DJing programs. The top half of the screen is the where you mix and control your music and the bottom half of the screen is the audio library. The software's GUI is a soft grey color, which gives it an attractive appearance. CuteDJ is well-named; the design of the buttons and knobs do in fact look cute. This can only be a good thing, as cute never goes out of style.
The bottom half of CuteDJ is the browser window where you can access your music library. CuteDJ offers seamless iTunes integration, which is useful if you have a large iTunes library and multiple playlists created. For those who prefer not use iTunes, you access your music using the browser and create playlists in CuteDJ to store your tracks. The large window on the right hand side of the browser can be used to scroll through the contents of your playlists.
Playing Your Tracks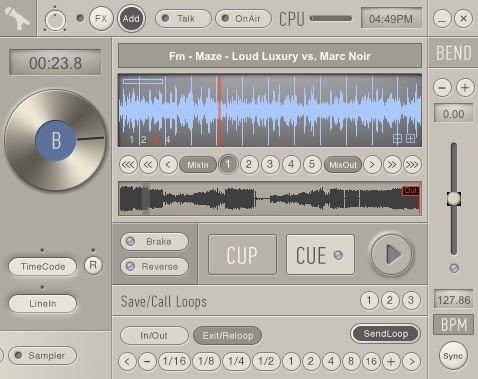 Playing your tracks.
Tracks can be dragged and dropped onto either of the software's two decks. There's a Play button underneath each deck that can be used to play or pause your track. There's an audio waveform that displays the section of the track that's currently playing, with a smaller waveform underneath it that shows the whole audio file. There's functions for both Cue and Cup, as well as a brake feature that slows down your tracks and a track Reverse button. Up to four cue points on each track can be created.

Mixer Section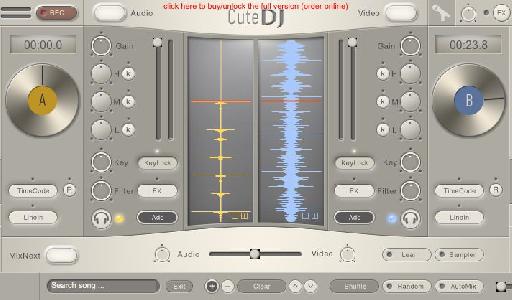 The mixer section.
In the mixer section, you'll find all the standard digital DJ controls. For each channel, there's a gain control, three band EQ, a key lock, filter and a cue for monitoring your mixes on headphones. Each deck has a channel fader to control the individual volume levels and there's a cross fader located directly under the two large waveforms in the centre.

File Formats
CuteDJ gives you the ability to mix audio, video and even karaoke files. Supported file include: mp3, m4a, wma, aac, ogg, wav, flac, aiff and video m4v, mpeg, avi, flv, mp4, mov, mkv, wmv and karaoke files cdg+mp3 and cdg zip.
Beat Matching
CuteDJ offers DJs the ability to manually beat match their tracks or Sync their tracks using the Sync button. The Sync feature works fairly well, it doesn't use a beat gridding system but still seems to do a good job of beat matching the tracks. There's also an interesting feature called AutoMix that will mix the tracks for you. From a professional DJ's viewpoint, this doesn't seem like a necessary feature but perhaps a few beginners may find it useful to watch how mixes are blended. However, I wouldn't recommend playing your next DJ set using AutoMix. This function may be useful for people who want to use this software to premix playlists at an upcoming casual event or party, rather than preform a traditional DJ set.
Looping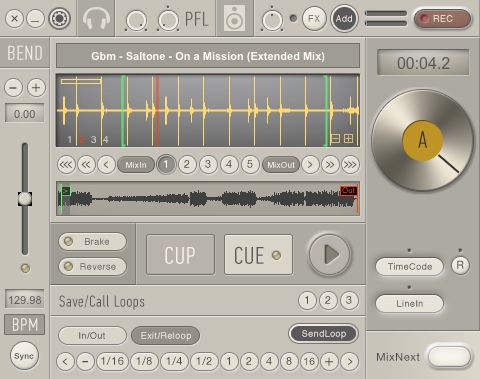 Looping in CuteDJ Pro.
There's a software function for looping parts of your tracks, loops can be created manually or automatically. This is a good feature to see included, it's now standard for digital DJs who mix creatively.
Controllers
CuteDJ has done a great job of making the software compatible with over 50 DJ MIDI/HID controllers on the market. I was impressed with the sheer number of controllers that come pre-mapped for CuteDJ, which makes setup quick and easy. The software can be used with no configuration with controllers by brands like Pioneer DJ, Vestax, Numark, Behringer, Beyond Music, Denon, Faderfox, Akai, American Audio, Stanton, Beamz, Gemini, Hercules, M-Audio, PCDJ, Reloop, and Zomo. If you have a controller that's not on their list, you can use CuteDJ's custom device mapping control to map your controller to the software. CuteDJ comes equipped with ASIO sound card compatibility and multichannel sound card support.
FX, Samples and Recording
CuteDJ offers support for professional VST effects and AudioUnits, EQs and Filters. To access them in the software, simply click the FX button and then the Add button next to it. There's also a on-board sampler that you can use to additional beats to your mix. Once you're ready to record your DJ sets, you can record your sets to MP3, AIFF or lossless WAV formats. All these are good features to have included and will help DJs to advance themselves.
Tutorials
One thing I would really like to see added to either the CuteDJ program or the website is a tutorial on how to use the software. I think that either a user manual or a few how-to tutorial videos would really help new users to learn the program. As a seasoned DJ, I had the advantage of being able to understand what all the controls and functions did. People who are new to DJing are going to need to be able to find out how to use all of the software's features to be able to use CuteDJ to its maximum potential.
Summary
Overall, CuteDJ is easy to use and works well. It includes all the standard features that digital DJs have come to expect from DJing software. The ability to be able to mix videos may make this software useful for those who want to experiment combining audio and visual elements. I think overall this software is going to be more useful for people who are just starting off DJing, or individuals and businesses who can make use of the software's ability to mix playlists automatically. It could also be useful for those want to use it for Karaoke. Although this software is supposed to be marketed towards the professional DJ, I think it's better suited to beginners or mid-level DJs. CuteDJ is a reasonably priced program and it's easy to try out their free 30-day trial so you can decide for yourself whether you think it's a good investment.
Price: $129.95 USD

Pros: Fully functioning, two channel DJ software program, Ability to mix and beat match music and videos, Free 30 day trial.
Cons: Sync feature is good, but doesn't work perfectly, Only two channels can be mixed at one time, Audio Waveforms of the songs are fairly small.
Web: CuteDJpro.com