The latest offering from Cableguys is a major update to their flagship instrument, Curve – a dynamic wave shaping virtual synth with a number of unique features. With up to 10 fully editable oscillator and LFO waveforms and customizable envelope shapes, there's no end to the amount of unique tones and timbres on offer. Throw in some oscillator crossfades, a touch of FM, an extensive modulation matrix and a cloud-based community patch library built right in, and we've got a serious sound design tool on our hands.

Making Waves: The Basics
There are two main areas of curve: the editor and the library. We'll start by looking at the editor.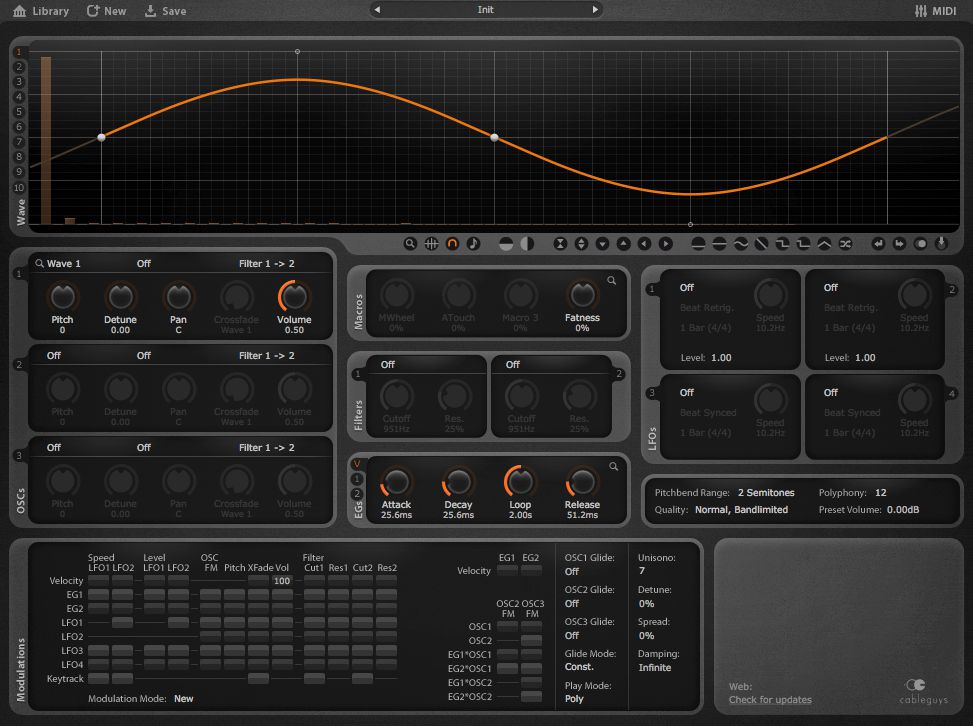 When creating a new patch from scratch, as I've done here, we're provided a default sine wave in the first wave editor section; there are 10 available waveforms in total which we can select by number along the left side of the wave editing area.

If I want to start with a different basic waveform (sawtooth, square, etc.), I can select one from the basic shape buttons beneath the wave display or simply generate a randomized waveform as a starting point.

Now the fun begins: I can click on the waveform to create a curve which I can drag to shape, and double-click to create a new angular breakpoint which I can drag into place as well. For reference, there's a continuous display of the resulting harmonic partials behind the waveform, and in mere seconds, I've created my own completely unique waveform.

For further editing power, beneath the main wave editing section, we're provided with some unique editing functions. To turbo-charge our sound design process, we can invert the Y (vertical) or X (horizontal) values of all wave points.

We can increase or decrease its amplitude and shift it forward or back in the oscillation cycle.

And finally, we can undo or redo editing and even capture a snapshot of the waveform for easy recall.

Wave Synthesis
So we've got 10 potentially insane wave shapes – what to do with them all? Let's start with the oscillator section.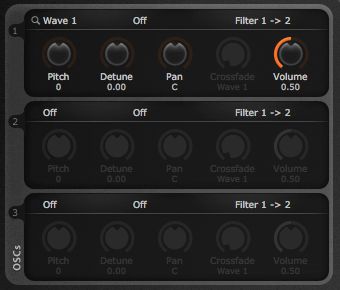 There are three oscillators that we can use in total, which means we can use three of the ten waveforms, right? Wrong: each oscillator can utilize two of the ten waveforms, selected from the "wave" drop-down menus, which can then be blended together via the per-oscillator crossfade control to generate a unique blend of two waveforms for each oscillator. In this patch, I've created a blend of five waveforms across the three oscillator banks, each of which have been panned, detuned and pitched to widen the sound.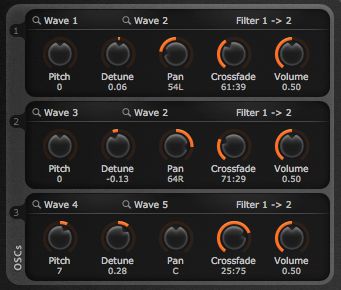 We're also provided with a wealth of filter routing options for each of the three oscillators, which we can send to the two available filters in a number of serial or parallel. configurations.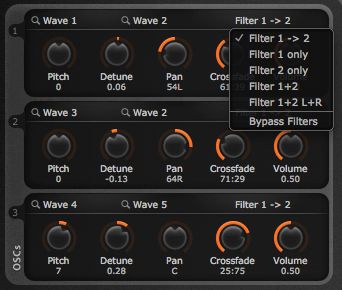 The robust, yet rather straightforward filter section boasts ten filter types available for each bank, ranging from -6 dB to -24 dB poles, allowing for smooth sweeps and precise separation between layers where needed.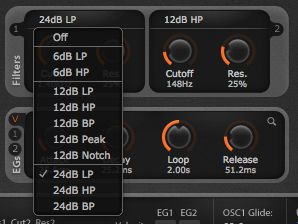 Custom Packaging
Not only are all of our waveforms available for intricate custom editing, but so are our three envelopes, accessible via the envelope section.

Aside from our standard amplitude envelope, we're also provided with two custom assignable envelopes – and if we want to edit them in more detail than the standard ADSR dials might allow, we can simply click the magnifying glass in the upper right corner of the envelope section to view them in the waveform display of the user interface.

We can now zoom into different phases of the envelope and edit them with the same easily created and draggable breakpoints as we saw in the waveform editor. In addition, we have access to another bank of tools that allow us to quickly adjust the overall amplitude of the envelope, invert the values, switch from linear to exponential phase curves, and store and recall snapshots – all of which allows for some incredibly unique modulation options.

Multipurpose Waveforms
Customizable waveforms are cool, but you know what's even cooler? Customizable LFO shapes – and since any of our 10 user-definable waveforms can be assigned to fuel not just our core oscillators, but also our LFOs, that's just what we have here, as each LFO's shape can be selected from the 10 available user waveforms from its own drop-down menu.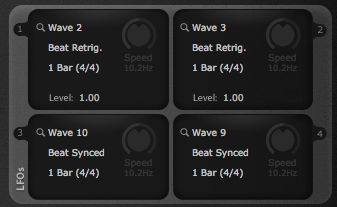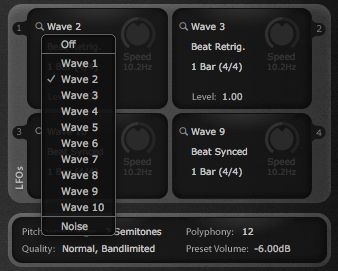 If we wanted to completely utilize all 10 waveforms available, we could use waves 1-6 for our crossfading oscillators at two a piece, and 7-10 for our four LFOs with one each. Now, whatever configuration we decide to go with, once we've chosen the wave shape for our LFO, we can then select from seven timing options, and, if synced, a host of quantization settings.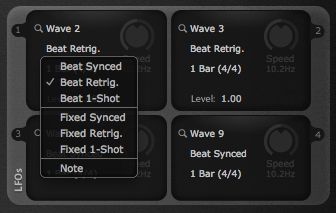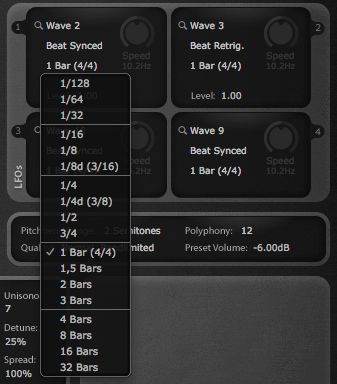 If left un-synced, we can adjust the speed of our LFO in Hz all the way up to extreme self-oscillating values at a maximum of 5.24 kHz. The modulation output of our two primary LFOs is easily set via their respective level controls – but what will these wild LFOs do, exactly? This, of course, will be determined in Curve's extensive modulation matrix.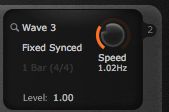 Enter the Matrix
Using Curve's intuitive grid layout, just a few adjustments to set the LFO and envelope destinations allow easy control of numerous oscillator and filter elements; with a few simple tweaks, the sound comes to life with all sorts of new dynamics.

Not only can we use LFOs 3 and 4 to modulate properties of our first two LFOs, we can also control our oscillator crossfade amounts and – that's right – frequency modulation (FM) settings. Better yet, the oscillator modulations (FM, Crossfade, Pitch and Volume) can be specified separately for each oscillator with a special hovering menu that appears if you don't want to modulate all three oscillators to the same degree. Factor in both positive and negative modulation amounts for every parameter except for volume, and a whole world of lively interactions opens up before your ears.
Voluptuous Curves
Without even delving into the built-in performance macros, I can tell you that if you're versed in basic synthesis and willing to take a hands-on approach to sound design, Curve is an extremely fun plug-in for experimenting with extreme waveform synthesis. That said, if you're a beginner who's worried about getting lost in the tide of wave shaping possibilities, the editor view includes a handy info box in the lower right corner of the display at all times which explains whatever aspect of Curve your mouse hovers over.
In terms of sound, the anti-aliasing oscillators are expansive and full-bodied, while the default Fatness macro – a unique blend of spread, detuning and damping – adds to the sense of analog girth. Curve 2 comes pre-packaged with plenty of great sounding presets to start off, and the unique user library offers a "sync" mode, where you can take part in the online Curve user community by simultaneously uploading the patches you've created to their cloud-based system while downloading new patches from other users – an innovative system designed to ensure a steady flow of new sounds, particularly as more producers adopt Curve in their studio.
It didn't perform quite as CPU efficiently as I would've liked, doesn't include effects, and at $199 isn't quite a bargain – but, if you're looking to create your own unique sounds from scratch, there are few tools on the market that offer the powerful combination of options that Curve dials up with style.